4 Advantages of a WooCommerce Product Configurator for Luggage Buyers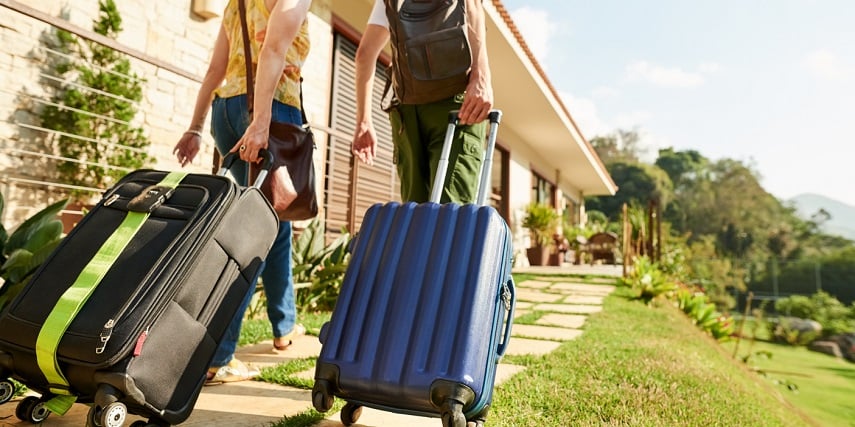 If you're an eCommerce retailer that sells customizable luggage via a WooCommerce store, there's a tool that can help you better meet the needs of your customers and make more sales. It's called a WooCommerce product configurator, and it will help you sell more luggage.
Having the ability to build custom luggage is a luxury for some customers and a necessity for others. Either way, having an integrated online tool offering advanced customization options can turn you into the online luggage retailer best equipped to solve your customers' unique and evolving luggage needs.
Here are four advantages a WooCommerce product configurator can offer customers who visit your WooCommerce store, giving you the edge over your competitors and helping you retain more customers.
1. Appeal to Your Customers' Sense of Style
For some people, their luggage is a fashion statement. They look for add-ons and features that can help them express themselves while they travel.
For these customers, customization is critical. It might be a custom strap, colors, or other changes to an otherwise boring piece of luggage. The ability to customize can put one luggage vendor over another in their eyes.
With a WooCommerce product configurator, you can offer your customers a multitude of variable products and features. They can experiment with different options, turning a simple product into a work of art with just a few clicks of a button.
Our WooCommerce product configurator turns your customer base into a fleet of fashion product designers. For those customers who value luxury and fashion (and who often have plenty of disposable income to spend), being able to create a custom product is a big advantage.
2. Acknowledge That Luggage Sometimes Requires Function Over Form
Of course, not every customer is looking for a flashy fashion statement with their travel bags. Others are looking for something with specialized functionality.
This type of functionality can come in many forms. Maybe they need an optimized handle, additional wheels, or some other kind of modification they can't find on a product in another online store.
That's where the WooCommerce product configurator can become invaluable to them. For your customers who just want something more comfortable or usable, customization can be a real lifesaver.
Using features such as augmented reality and 3D product images, you can enable your customers to toggle through multiple custom product options they likely can't find many other places.
They can create luggage that works for their specific needs. For example, many users with disabilities may need product variations on more traditional luggage types they can't locate at other stores. They may be embarrassed or too frustrated to inquire about them.
The WooCommerce product configurator puts your customer in the driver seat, no matter what specifications they need. They can feel comfortable knowing that with your configurable products, they'll be able to make the customization themselves without a hassle.
Click here to learn more about our WooCommerce product configurator.
3. Help Your Customers Better Meet Stringent TSA Requirements
Another advantage of customizable products in the world of luggage is that they can be changed to meet regularly changing requirements.
Many of your customers likely travel on a consistent basis, either for work or pleasure. Because of this, they'll have to stay apprised with luggage requirements set forth by the Transportation Security Administration (TSA).
If you've ever traveled, you know that getting through airport security is always the least enjoyable part of the experience. It becomes even worse when a piece of your luggage causes disruption to an already burdensome TSA security check.
Maybe your luggage causes an issue at security. Alternatively, maybe you have trouble fitting it in an overhead compartment on a plane.
TSA can also change its requirements at what seems like a moment's notice. This will leave your customers who travel frequently looking for a quick solution to their problem.
With product configuration capabilities, they can mitigate many TSA-related headaches. Your product builder helps them create a piece of custom luggage that can fit any and all TSA requirements.
There are some parts of travel that are unavoidable, and your WooCommerce product configurator can't necessarily make that part of it fun. But you can make it much easier for frequent travelers to board planes with the right luggage.
That's a valuable advantage for any custom luggage company to have.
4. Offer a More Flexible Experience Than Buying Standard Luggage
All of the reasons listed above are great ones for custom luggage companies to partner with a WooCommerce product configurator. But the bottom line is that it creates a better overall buying experience than your customers will get with a standard luggage retailer.
Think of the last time you bought luggage. Perhaps you ventured to a department store and grabbed the bag that looked adequate. Then you realized it had some sort of deficiency you didn't see until it came time to travel.
Make sure your store offers a different experience. With a WooCommerce product configurator, you can:
Prompt the user to consider their luggage needs via your WordPress website or product page prior to checkout. This helps them avoid buying something that they can't use later.
Using your visual product configurator, show them crystal-clear pictures of their final product that they've built themselves before they buy it.
Remind your customer of customization options they may not even know they needed or have previously considered.
In short, your WooCommerce product customizer offers a holistic buying experience that shoppers can't find at brick-and-mortar stores. Simply enabling a WooCommerce product configurator plugin shows your customers you understand that being a luggage retailer often requires flexibility, and you're prepared to give them that.
If you use WooCommerce to sell custom-made luggage online, using the WooCommerce product configurator is a no-brainer to help attract and retain customers. If you need assistance integrating the tool into your existing WooCommerce store, Threekit can help.
We're experts at helping companies who want to have a WooCommerce product configurator as part of their online store.
For more on how we can help you set this up quickly and efficiently, contact us to schedule a consultation with our WooCommerce product configurator team.