3D Product Photography Platforms: The Future of eCommerce Imagery
When you visit an online store, images are the element most likely to draw you in and capture your imagination. This isn't simply conjecture–it's science. 83% of shoppers point to product images as the number one factor impacting their purchase decision. And those shoppers also expect to see at least 8 images per product page. In short, eCommerce websites need more images of higher quality than they ever have before.
For these reasons, 3D product photography platforms (also referred to as virtual product photography) are emerging as the ideal product image photography solution for growing brands and B2B businesses alike.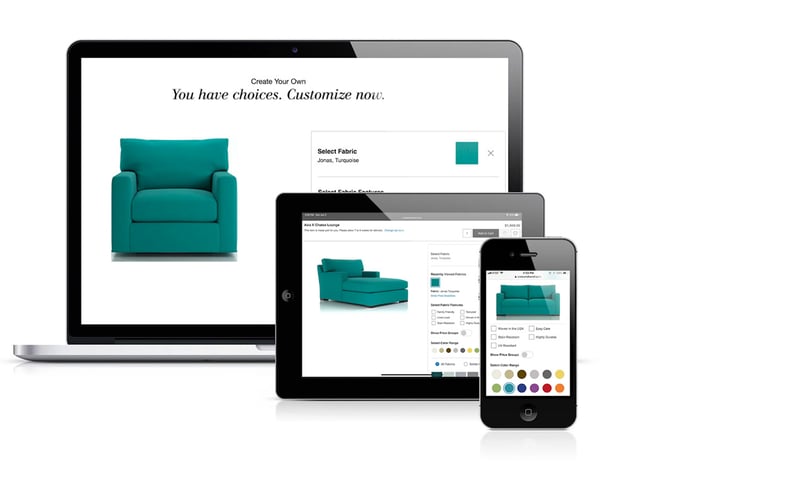 Think about it–if you have a large product portfolio, especially one with customizable elements, you need to generate a massive number of high-quality images for your website or eCommerce platform. A 3D product photography platform enables you to do this without having to snap a single picture.
What is a 3D product photography platform?
Increasingly, eCommerce businesses are turning to 3D product photography platforms to generate the volume and variety of visuals necessary to appeal to their customers.
But what exactly is a 3D product photography platform, and what can it do for your business?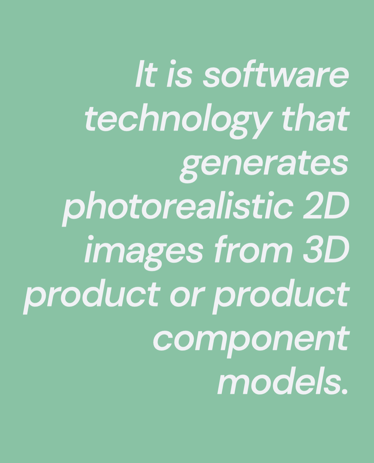 In short, it is software technology that generates photorealistic 2D images from 3D product or product component models. We call it a "3D product photography" platform because it mimics what a complicated and a costly 3D photography studio shoot can start to accomplish for you—creating 3D images of entire products.
The advantage of employing a platform is that it takes 3D models and model components and wields them in all manner of forms—3D configuration, augmented reality or 2D photorealistic images—all while keeping your assets organized and accessible. It is a scalable solution that you build upon and augment to as your business grows.
And while 2D photorealistic images are the primary output we speak to in this piece, it's important to note that a platform provides incredible flexibility. If your brand decides it wants to generate customizable or configurable products, a platform has the ability to use the same 3D models to create an interactive configurator for your site, no heavy lifting required.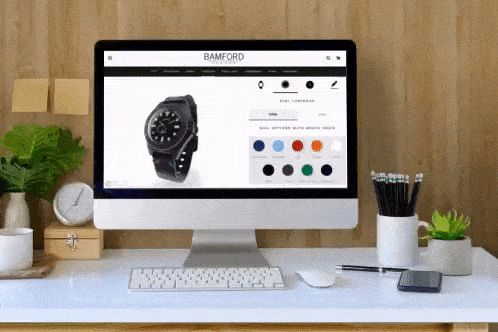 And let's not forget about the appeal of augmented reality—the ability for a shopper to virtually put a product in their own space. Nothing drives more buyer confidence. If you're thinking you might want either of these features down the road, a platform is a must.
The Benefits of a 3D Product Photography Platform
Now that we have the basics out of the way, let's look at all the reasons why a platform like this could be a boon for your business.
Say goodbye to complicated photoshoot logistics.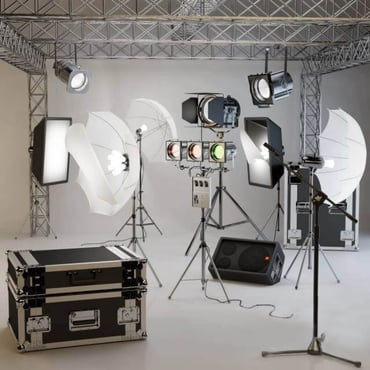 Have you ever planned a product photoshoot? It's no simple task. Depending on the size and the number of products, as well as the location of the shoot itself, you incur a huge cost just getting the product to the site. Then, there's the time and cost associated with staffing the shoot and obtaining product photography equipment to ensure the images are top-notch. And this is all just for standard shots with neutral or white backgrounds...not lifestyle shots or images requiring any major set construction.
You can see how quickly things get complicated.
Using 3D product photography for eCommerce, you can streamline the photography workflow by generating tens of thousands of photorealistic images from a single design file, on demand. The only logistics involved are attaining 3D models, and that can be done remotely. The tool itself does all the heavy lifting and also allows for flexibility, which is crucial, especially amid the COVID-19 pandemic–no more in-person photoshoots.
Visualize 100% of your product portfolio cost-effectively.
For many companies, the above statement reads like fantasy. If you have hundreds of products or SKUs, all of which have customizable features, it is impossible to photograph each conceivable variation. It would simply be too expensive or logistically impossible, even if your products are relatively simple.
---
Interested in using a 3D product photography platform?
---
Consider the case of a custom shoe company that sells seven different shoe styles, all with custom soles, laces, eyelets and toe caps. You're dealing with countless materials, finishes and textures, and you have to actually manufacture and ship every possible combination of each shoe style in order to capture your entire line. Never mind what happens when you want to introduce new customization options!
But with a product photography software, you create the models for each shoe component and scan in each material and finish just once. Then the software does the job of converting them into high-resolution images and configuring them in any way that the end user desires. You never have to "go back to square one" when you add to your product line–you simply add the new components and you're ready to go. Most importantly, you can consistently show the entirety of your product catalog to customers without breaking the bank.
Get peerless image quality and visual fidelity.
For some brands, product imagery isn't a question of volume as much as a question of visual quality. This is especially true for luxury goods. The value of the product overall is a direct reflection of the value of its component parts–think: jewelry, cars, handbags, and couture fashion. Customers often assess the value of these goods by seeing the product in person. But what happens when that's not possible? The truth is, eCommerce as a category has a significant challenge when convincing customers that what they are seeing on a screen is as high-quality and high-value as the product page says.
But 3D technology has come such a long way that visual fidelity is more reliable than ever. So whether you're considering hiring a virtual photography company or going with a 3D product photography platform, you get brilliant product images that are virtually indistinguishable from traditional high-end luxury photography.
There is little you can do to prove this other than show the results, so see for yourself. One of the below images is a photography and one was created for a platform. Can you tell which is which? Email us at marketing@threekit.com with your guess.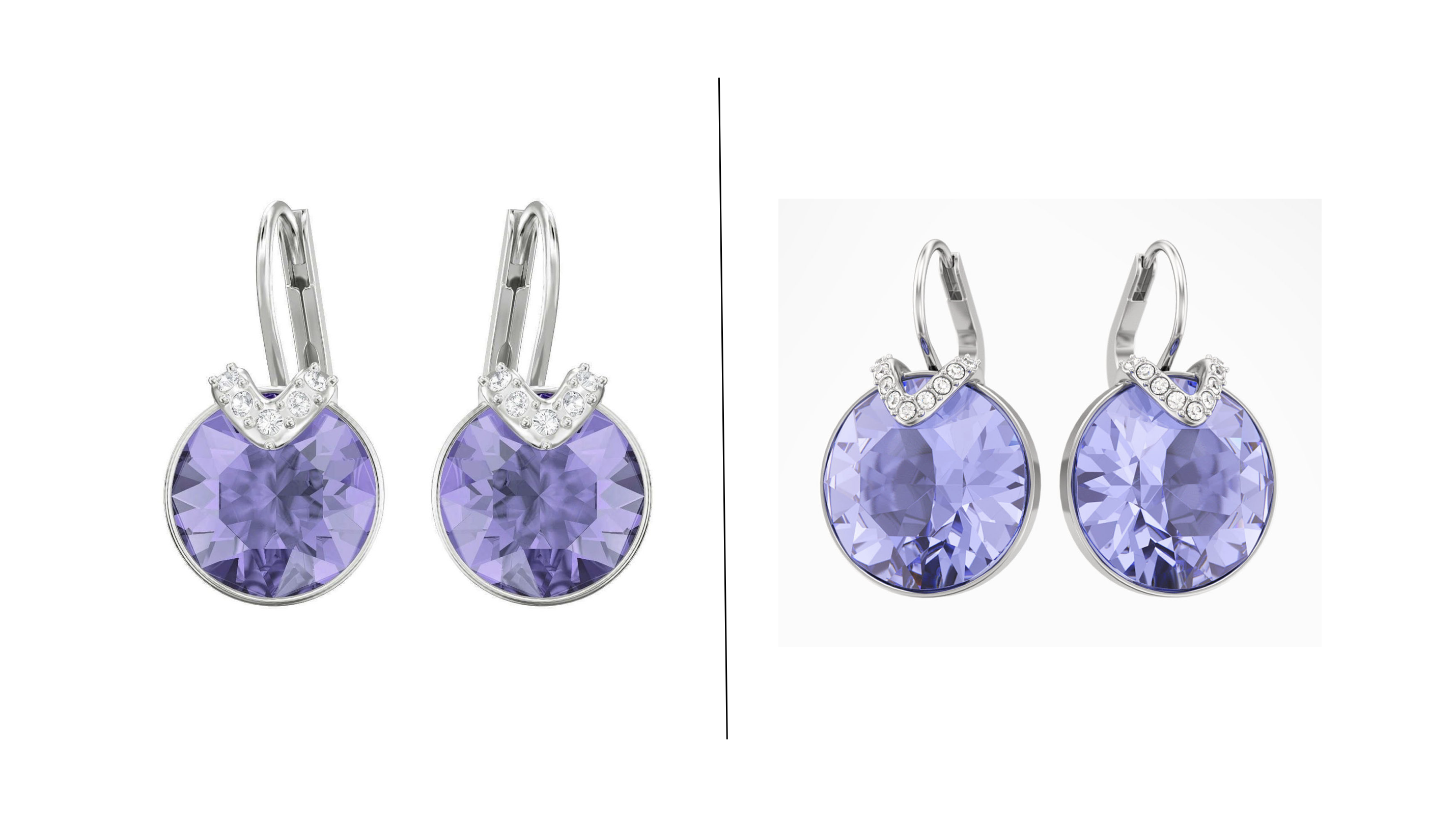 Product research and market testing
Finally, a benefit you probably hadn't considered–a 3D photography platform allows you to visualize products before you actually manufacture them. This means you can show it to customers and analyze whether they are interested in purchasing the product. Depending on the response you get, you can even invest more money in the production process or tweak the product before launching it.
Conversely, if customers encounter a particular style on your site or even in a display ad and do not show interest, you can save yourself the time and cost of producing it. The use of 3D technology not only makes a company competitive in their market–it also aids them in researching how shoppers react to their products.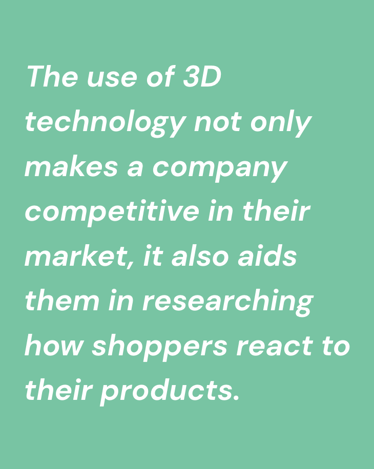 3 Great Examples of 3D Product Photography
Here are three brands that are successfully using 3D product photography to generate 2D photorealistic images on their websites:
Kashiyama
Bespoke suits used to be a product for which customers had to be measured in person, no exceptions. The hands-on, handcrafted nature of the product also made it incredibly expensive. But some brands are making strides to democratize this luxury.
Kashiyama, a custom men's suit brand based in Japan, recently launched their eCommerce suit configurator. With this tool, customers are given the freedom to choose the color, material, and style of their suit according to their taste. The 3D product configurator seamlessly changes different options in real time. You can view the design from all angles and set the screen to "full" to get a larger picture and really scrutinize the details.
Crate and Barrel
Many industries can make use of 2D photorealistic images, but maybe none more than furniture. With a wide array of products that each have their own style elements, furniture companies are naturally geared towards customization. Furniture also happens to be large-scale and expensive to manufacture and ship–all characteristics that make photoshoots hard to pull off.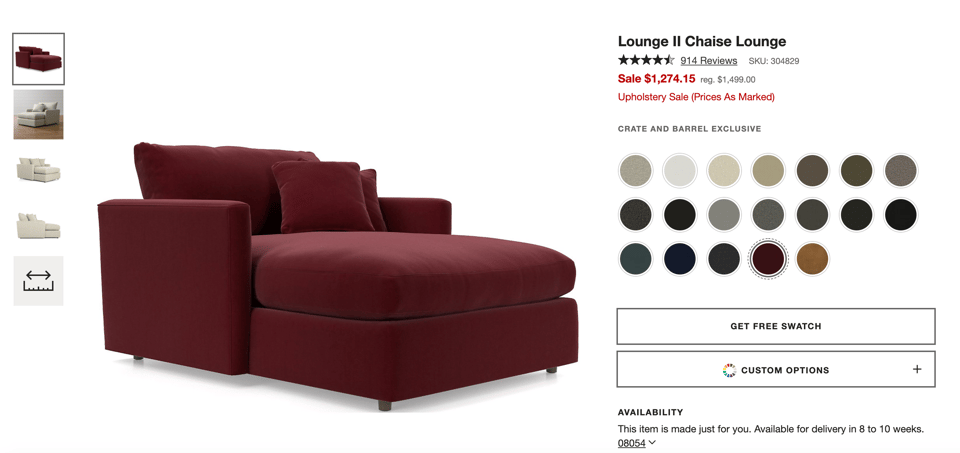 Crate and Barrel is a leader in eCommerce merchandising the space, largely because they make great use of technology. Not only do they use 2D photorealistic images to represent almost 100% of their portfolio online, they also have a 3D iPad app where consumers can input their room measurements and are able to transform a digital photo of their own space into a 3D virtual room. Users can select from more than 3,000 3D models of Crate & Barrel items, alter fabric and colors, and pair them with current furniture and accessories.
According to the company, this ensures consumers that the products will work together before purchasing. Through the app, consumers can browse product photos, details, and upholstery options, as well as share their favorite picks with family and friends via email and social media.
---
Want to demo more examples like this?
---
Ikea
IKEA decided to evolve from the use of traditional photography for their catalog to its current system, where the bulk of its imagery is computer-generated. For the company, traditional photography was acceptable quality-wise but required too much logistical effort.
But they got additional benefit on the manufacturing side as well. By using 3D models, they eliminated the need for creating and shipping prototype furniture to different parts of the world to be photographed. With traditional photography, if there were changes, everything needed to be re-shot.
The most difficult rooms to visualize were their kitchens because they differ widely depending on geography. For example, kitchens in the United States look quite different from those in Japan or Germany. But by using 3D product photography, they eliminated the need to have physical photoshoots.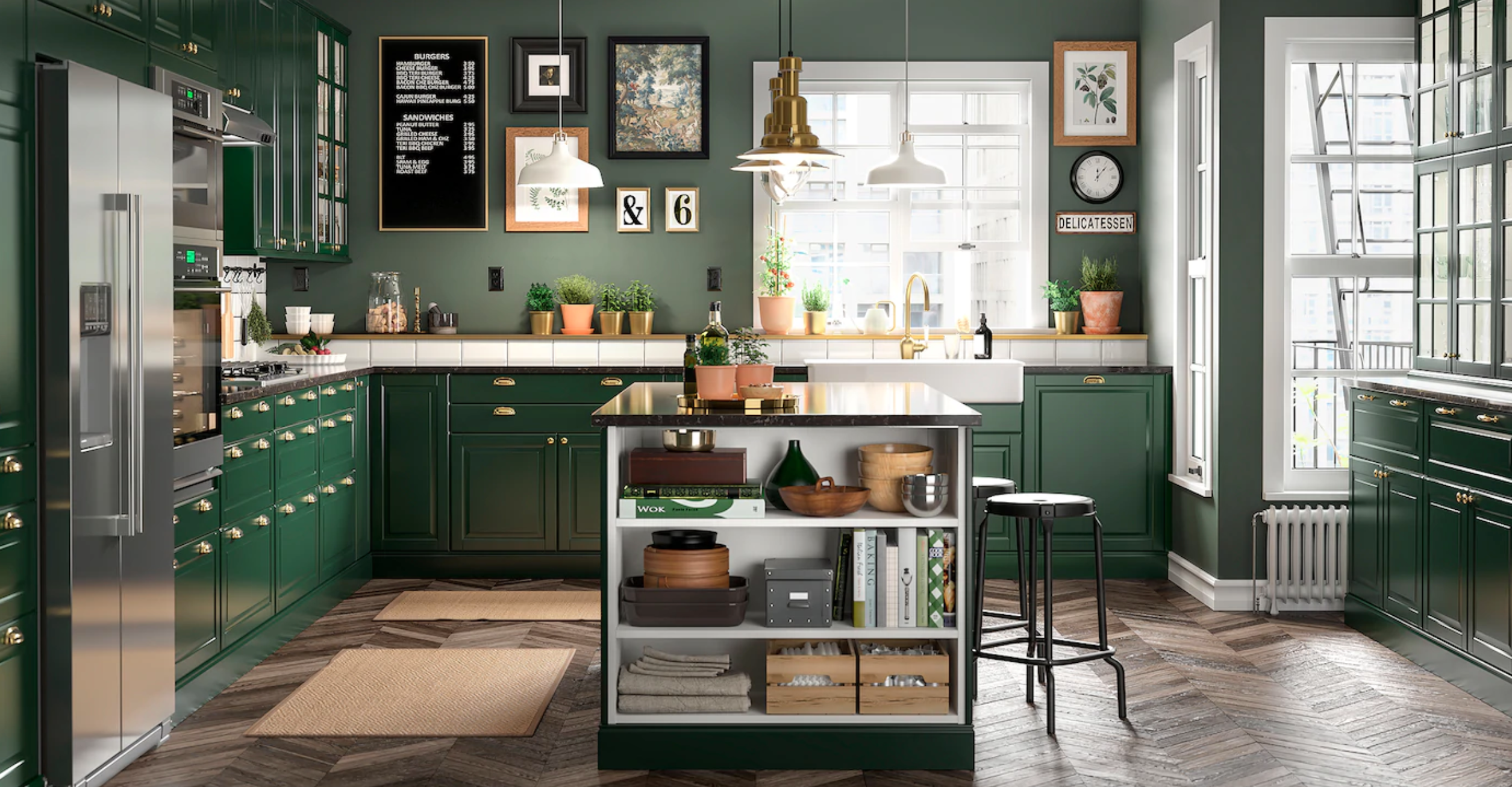 Now, 75% of their images are digitally crafted, and they have around 25,000 models rendered in hi-res. This allows IKEA to print them on large walls in-store, or wherever they need them.
Who should consider using a 3D product photography platform?
While a 3D product photography platform might not be for every business, it can be the game changer for the right ones. Here is a list of the types of characteristics and attributes that make a brand or B2B business a great candidate for this solution. If you answer "yes" to any of the following, you should strongly consider putting a platform on your roadmap sooner than later:


"I have a large, customizable product portfolio."
If your brand has a large pool of products that can be customized or configured with different color options, materials, and styles, then you might want to invest in a 3D photography platform.
You're likely already spending a good deal of time and money on expensive product photoshoots, and this option could provide some relief.
But platform capabilities will also enhance your brand's online presence overall. They will give your customers a sense of just how vast your product options are because they'll be personally interacting with them. And the more time shoppers spend on your site, the more likely they are to form a real connection and make a purchase.
"My industry or category demands that I have the highest quality product representation."
Today, brands depend on each and every product representation across channels to speak to their reputation and quality. We've talked about the importance of this for luxury brands but every brand needs high quality imagery to sell products online. Not only will increase the chance of conversion, it will also decrease the possibility of a product return. The more visual detail you provide, the more likely that buyers will fully understand the product, and happier they will be when it arrives.
"I already have 3D models and want to get the most out of them."
Perhaps you've started to explore 3D visualization or considered a configurator for your site. If so, you know that getting 3D models is the first step. If your brand already has 3D models, you can get the most out of them via a 3D product photography platform. It will take those inputs and create hundreds of iterations of your product in peerless 2D. In a traditional product photography setup, any time you want to expand your product catalog, you'll need to head back to the photo studio. This is no longer necessary. The demand for visual scale is growing, and if you have 3D models on hand, you're ahead of the curve–so take advantage now.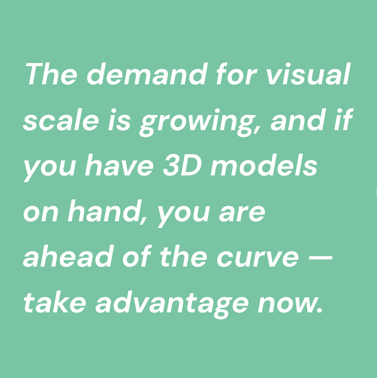 How
Virtual Photographer
Can Transform Your Business
There are several different 3D photography platforms to choose, but Virtual Photographer, Threekit's 3D product photography platform, is the first to generate over a million 2D photorealistic images for a customer (see: Crate and Barrel). It was created to solve a problem that our prospects were wrestling with:
"We need beautiful product images, but we need a lot of them. And preferably for less money than it would cost to get them via photoshoot."
It was a tall order, but one that 3D technology makes possible.
Virtual Photographer makes four promises to its users:
Unprecedented scale
Brilliant 2D imagery, indistinguishable from high-end product photography
Autonomy — you, the customer, manage and maintain full control over your assets
Cost savings and efficiency, especially over the long run (think of what you could do with all the money you spend on photoshoots today)
Threekit is highly experienced in the field of 3D visualization technology and has a great team of developers and 3D artists on staff. We've implemented our platform across every industry you can think of, from furniture to manufacturing and apparel. And we're happy to walk you through what it takes to create amazing product imagery.
Our main focus is recommending and creating the most effective customer experience possible, and our interactive 3D features enable brands and retailers to take full ownership of their visuals without relying on an outside vendor.
If your business is looking to create the perfect visual experience for your customers, then contact the Threekit team today to discuss your requirements or request a free demo.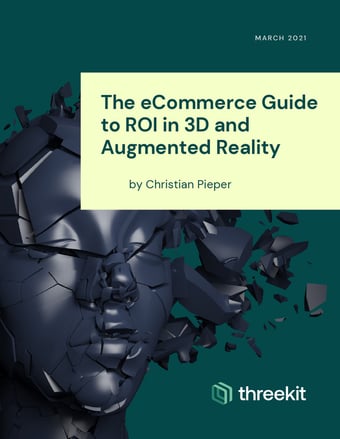 Download our eBook
Learn when it's time to digitize your eCommerce photography and how to automate images with our guide.