How to Build 3D and Augmented Reality on the Back of Your PIM System
The fight for the customer's attention has never been so competitive and the margin of error so slim. The chant may as well be shifting from "a picture is worth one thousand words," to "a picture is worth one thousand impressions," and those impressions are exceptionally valuable to eCommerce businesses and digital brands. Now, what if we can turn that picture in a fully configurable 3D visualization that customers can zoom in, zoom out, and even rotate 360 degrees? You can imagine the kind of impact it will have on customer retention, engagement, and eventually your bottom line.
When talking about eCommerce businesses and improving their bottom line, there's one thing you just can't ignore – the PIM.
PIM is short for product information management system. It is a platform that organizes complex product details and specs. At Threekit, we are able to process all that information as a basis for building 3D configurations. So we layer the product visuals on top of all this product info to create a seamless eCommerce experience. How do we do it? Read on to find out.
In this article, we'll discuss what a PIM is and why it is so useful for eCommerce businesses. Next, we'll take a look at some of the key benefits of using PIM with 3D configuration for your business. Lastly, we'll talk about how our Threekit 3D product configurator can help eCommerce companies better manage their inventory, sell their products, and improve customer loyalty.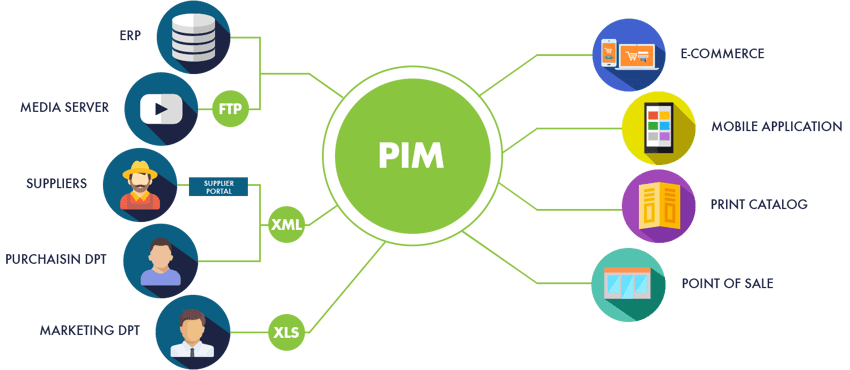 Source: Catsy
Why Do eCommerce Business Need PIM Systems?
Imagine this: Your boss just announced that your company is ready to launch a worldwide expansion strategy next year. Obviously, the localization and currencies issue is just a trivial one. One of the eCommerce managers says your team is ready to set up another store. But then your product manager exclaims, "How are we going to manage twice or thrice the product information and synchronize everything with 3rd party logistics?"
Perhaps, you already knew managing the product information manually would be nightmarish, so you decided to configure an automated system to do that. Your business launched globally and your team put together a system. However, it's been a year since execution, and now things are going south.
Now that's a problem, isn't it? Whether that situation defines where you're at or simply hints at some of the impending challenges, now is the time to appraise how you're managing and executing product information handling.
That's where an eCommerce PIM system enters the scene.
A PIM solution offers a single place to collect, manage, and improve your product information, produce a product catalog, and dispense it to your sales and eCommerce channels. It makes it faster and easier to create and deliver persuasive product experiences.
What kind of data can a PIM system handle? Well, it can manage:
Technical data (such as specifications, measures, ingredients, etc.)
Usage data (such as descriptions, how-to, where-used, etc.)
Emotional data (such as product stories, rich descriptions, etc.)
Media files (such as images, PDFs, videos, etc.)
In a nutshell, a PIM system helps you collect data from current sources like your ERP or suppliers' databases. Next, you define and clean the data you want to integrate into your catalog. You also identify priorities between different data sources. The next stage involves enrichment in which you enrich product descriptions with technical, usage, and emotional information. You categorize products and associate them with one or numerous catalogs. This stage also involves translating product information into several languages. You also have to manage the lifecycle processes of your data (like workflows and audits), as well as control data quality and ensure completeness. The last stage involves spreading data, in which you manage manifold sales channels (such as eCommerce, print, mobile apps, social networks, marketplaces, etc.). You select the specific catalog and attributes you want to dispense to each channel, and also send data to web-to-print software to easily generate printed catalogs.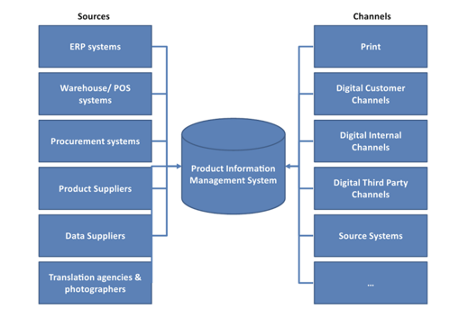 Source: "Product Information Management: Theory and Practice" by Abraham Jorji
Benefits of PIM Systems for eCommerce Businesses
An eCommerce PIM system helps you manage your master catalog of products. It takes product data from every site and consolidates it into a single location. You and your team can revise and manage all your product information simultaneously from the PIM's dashboard, such as item numbers, references, catalogs, SKU data, images and videos, translations, localizations, documentation, etc.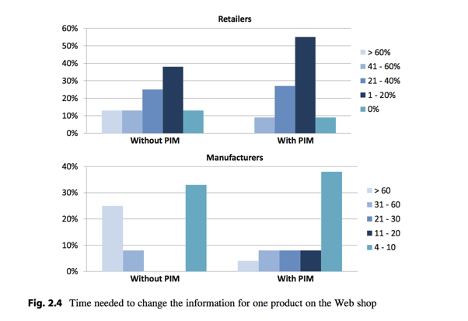 Source: Shopify
With improved information accuracy comes the return on investment (ROI) via cost savings. According to Shopify, businesses investing in PIM see up to 23% fewer product returns. Specifically, a PIM system helps you:
Streamline the onboarding process for suppliers and data providers.
Create one source of truth for product information.
Enhance the quality and consistency of product data across all channels.
Deliver a compelling product experience to drive great customer experiences.
Improve ROI by reducing costs and product returns.
Why Should Businesses Use PIM with 3D Configuration/AR?
PIM has long made it easier for companies to serve up the relevant information, data, and images. However, buyers demand more now. This means your traditional eCommerce PIM system is no longer enough to satisfy the growing needs and demands of personalization-hungry customers.
Using a PIM with 3D configuration allows you to process product information visually. Plus, let's not forget that augmented reality (AR) and 3D are the future of eCommerce advertising and sales. When businesses use a PIM with 3D configuration, they can store and produce amazing content across the web, email, marketing, as well as offline so that they can drive confidence, conversion, and operational efficiency.
Today, we've entered what's called "the visual economy." Although we are still using our smartphones to make phone calls, our usage of data has augmented by almost fifteen times. And guess what? According to Ericsson's 2019 mobility report, the majority of this data comes from streaming video.
Did you know, the human brain processes images 60,000 times faster than text? No wonder your customers prefer images as they get the information they're looking for faster. Beyond the speed of image processing, the human brain constructs its first impression in 50 milliseconds. By leveraging 3D product configurators that deliver solid visual marketing, you can ensure that the first impression is a progressive one. It's more challenging to do the same with plain chunks of text. A visual channel is a more effective channel to convey your brand's message. You want customers to create a quick positive impression of your brand, right? But don't you also want to make an unforgettable impression? When customers receive information combined with relevant imageries, they will preserve 65% of that information three days later.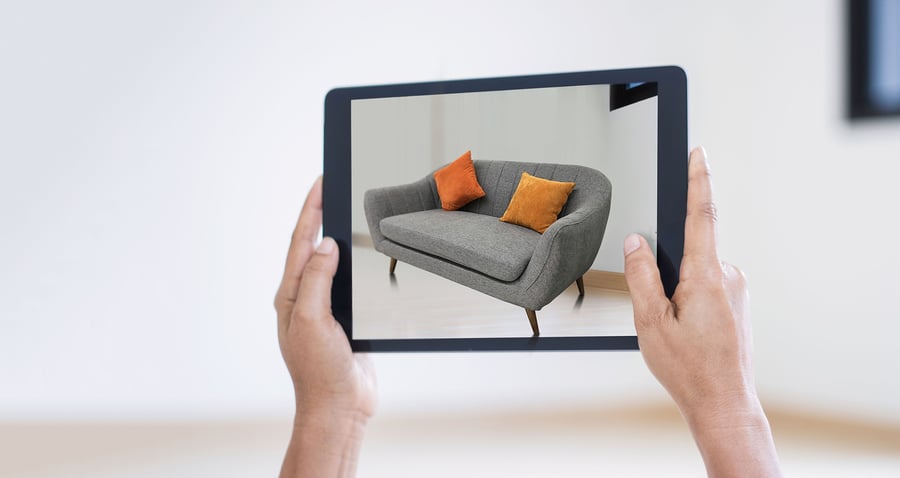 Let's face it: Merchants of big-ticket products like custom furniture and jewelry have never seen as much success in eCommerce as have merchants of less-costly merchandise. Why? Mainly because consumers aren't eager to spend a lot of money unless they're 100% sure they'll like what they get. 3D visualization on its own, as well as used in AR applications, has the authority to give customers cast-iron certainty. Consequently, it helps reduce the apprehension they might have that's hindering them from clicking the 'Buy Now' button.
When it comes to eCommerce, the significance of pictures can't be overstated. After all, 59% of consumers contemplate pictures the most significant factor in their verdict to make an online purchase. This makes images more important than product descriptions, reviews, or even price. However, the eCommerce consumer journey doesn't finish at the moment of purchase. It's not until a consumer actually obtains a physical product that they're pleased with. Frequently, they're not. That's why eCommerce has a 20% return rate, more than twice what we see in brick-and-mortar trade. But here's the good news. With the right product visualizations, you can boost sales and decrease returns.
Around 82% of visitors to the product page activate the 3D view, and 95% of them prefer an interactive 3D representation to video playback. So, it doesn't come as a surprise that 3D product imaging allows for a substantial increase in key metrics like conversion rate.
Interactive 3D/AR Use-Cases in the eCommerce Industry
According to research, B2B consumers are facing a crisis of confidence in their capability to make good online purchasing decisions. That's mainly because of the superfluity of written, advice-giving content they have at their disposal. Interactive 3D cuts through the noise, displaying purchasers exactly what they'll acquire and increasing their confidence that an online product matches their requirements.
Here's how the PIM system with 3D configuration can help your business:
Full product rotations
It allows customers to manipulate 3D renderings of products to see every side and angle. Full rotations tend to be beneficial for complex products with tons of detail, highly technical products (think: dishwasher components), and customizable products.
Product explosions
Products with important internal layers (such as the safety features in a football helmet) are ideal for product explosions, which allow customers to look at the discrete parts of a product. An explosion can help demonstrate why your product's price tag might be higher than your rivals'.
Click-and-move product markups
Think of these as an interactive owner's manual. By offering clickable 3D, you can exemplify how to use intricate and mechanical products such as printer-scanners and offer supportive ways to troubleshoot common problems.
A PIM-ready Solution
According to Shopify, eCommerce sellers using 3D have augmented conversion rates by up to 250%. Today's consumers want to explore your product. However, when it comes to visually customizing features, colors, shapes, and sizes, brands run into multifarious and horrid complications. Threekit helps eCommerce brands offer visual customization simply and strikingly. And in our modern world where in-store isn't always an option, we give you all the tools you need to create an incredible visual customer experience. Businesses all over the world are using Threekit 3D and AR to drive sales as eCommerce is growing 68% year-over-year.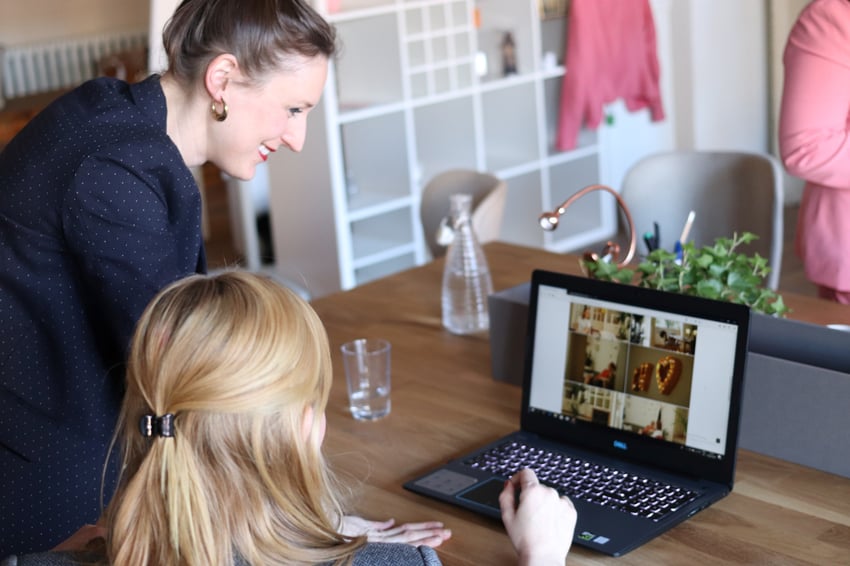 Threekit integrates seamlessly with major platforms, ERPs, and PIMs. Our unified platform transforms the way teams create, organize, maintain, and distribute product visuals. It was created by 3D specialists who brought together the best features of all their favorite tools and put them in one platform. Everything is code-free, making product management a breeze. You can create an intuitive product catalog that any merchandiser could navigate. Our 3D artists render component parts like fabric type and individual features as 3D assets, while business users compile them as products to build out your catalog. The best part about Threekit is that you can store all component pieces and product orders in the platform, along with visual representations. You can also control the project timeline and quality by creating tasks for specific users or 3D artists and approving upon completion.
As the ultimate 3D asset manager, Threekit helps you create a high-quality 3D representation once, distribute it across numerous platforms, and iterate off it for years to come. That means any single asset you create has exponential ROI potential. We offer real-time rendering based on our standardized high-tech PBR+ model and compatible with glTF and USDZ. It also supports the physically-based standards of Autodesk Standard Surface and Dassault Enterprise PBR, making data easily interoperable with glTF, USDZ, Substance, and UE4. The platform comes with dozens of high-grade default materials for common use-cases. You can upload images, personalize type, and change color in real-time. Moreover, you can combine numerous SKUs into a single configuration to upturn average order size.
One of the driving principles of Threekit is to give eCommerce companies more control over their product assets without having to learn coding. Ready to take your business to the next level? Contact us today to learn more about our 3D configurator.