3 Ways Visual Configurators and AR Boost Clothing Shoppers' Confidence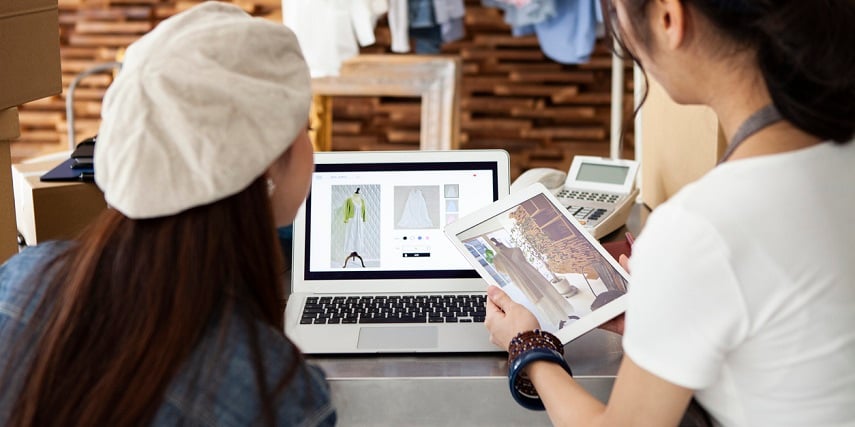 It's no secret that eCommerce customers can be demanding, impatient and easily distracted. But tools like a visual configurator can both hold their attention and give your sales team more insights into their mindset.
The elusive nature of shoppers is a challenge for sales teams, especially when the sales cycle ends with abandoned shopping carts more often than it ends in a sale. Yes, you read that correctly: more eCommerce customers — nearly 70% of them — abandon their cart than make a purchase.
While this can throw a wrench in the sales process, the key to improving the buying experience and increasing eCommerce conversion rates is understanding the cause. Many believe eCommerce buyers are just flaky. While we won't go so far as to say that's not a factor, it's definitely not the whole story.
Why Shoppers Are Nervous About Online Clothing Purchases
Many consumers just don't have the confidence to make a purchase online. Some have just had too many bad experiences like getting the wrong item, damaged items or clothes three sizes too small.
Even with reputable sites, many people think the risk that they'll have to return them is too high since they can't try them on.
Clothing is a very difficult issue for consumers. The industry often isn't standardized, making people wildly different sizes depending on the brand.
If their body is the average size, shape or height, it's even harder. That's not even accounting for body image issues.
Clothing can be a complex product for many to buy for too many reasons to list. However, having a visual configurator with augmented reality (AR) functionality (not to be confused with virtual reality) can greatly improve the customer experience by providing enhanced product visualization.
3 Ways Your Clothing Shoppers Will Love AR
The benefits of visual configuration software aren't exclusive to custom product lines.
While customizable products are a huge hit with consumers, 3D product configurators are capable of so much more. Here are the top three ways having a visual configurator with AR helps customers overcome their clothing purchase issues and gives them the confidence to buy.
1. They can virtually try on clothes to find the right size
For a lot of people, buying clothes online is too much of a gamble. Without the ability to try them on and know they fit, they risk having to return them and try another size.
This is a huge deterrent for a lot of shoppers.
If they've purchased clothing from the brand before and have a good idea of their usual size, they might be more willing to take the chance. eCommerce sites looking to increase customer acquisition, however, will be targeting customers who aren't familiar with their brand.
They have no idea if your clothes run small or large or how these new products will fit them. Enabling AR in your visual configurator can ease their minds and add on a layer of confidence in their purchase.
Seeing is believing, after all.
2. Make sure the cut and fit are flattering
Even when online stores provide an extremely accurate sizing chart, there are other issues eCommerce clothing customers have to watch out for. The cut and fit can be just as important.
If you've ever tried on an outfit to find that, despite how good it looked on the model, it just lays weird or falls in an awkward spot, you'll know exactly what we mean.
This can happen to anyone. No matter how well-made the clothes are or how perfect the size is, sometimes one person's height and body shape just won't work with the cut or fit of the item.
Many people have specific areas of their body they don't want to draw excess attention to or preferences for where skirts and shorts should fall on them. AR can use 3D visuals of your products to show them exactly how it will look on their body.
3. Match clothing options with existing wardrobe pieces
A lot of people shop for specific occasions, looking for an item or two to complete an outfit they already own.
Some people have a great visual imagination. They can look at an item and just know if it goes with their outfit instinctively.
For others, it's really hard to know if they like a piece with the look they're going for unless they actually see them together. AR's 3D models can accommodate them.
As people grow more environmentally conscious, more consumers are trying to build long-lasting, versatile and sustainable wardrobes. They choose staple items that all go well together to create many outfits using fewer pieces and alternating accessories.
Members of Gen Z — the oldest of whom are already consumers at 24, with even the youngest coming of age in only a decade — tend to be especially passionate about environmental issues. So this trend will likely grow over time.
As you can see, many people have their reasons for needing to see the clothing options they're considering alongside their own clothes. While this deters many consumers from using eCommerce, you can make it your main selling point and draw in all the shoppers alienated by traditional images and even standard 3D images.
Simply introduce them to the next generation of 3D product visualization via your visual configurator and product customizer's AR software.
Click here to learn more about Threekit's visual product configurator platform or learn about our integrations for eCommerce platforms. Plus, you integrate your ERP, CRM and CPQ for added functionality like automation features and real-time price quotes.
Data Supporting AR's Effect on Purchase Confidence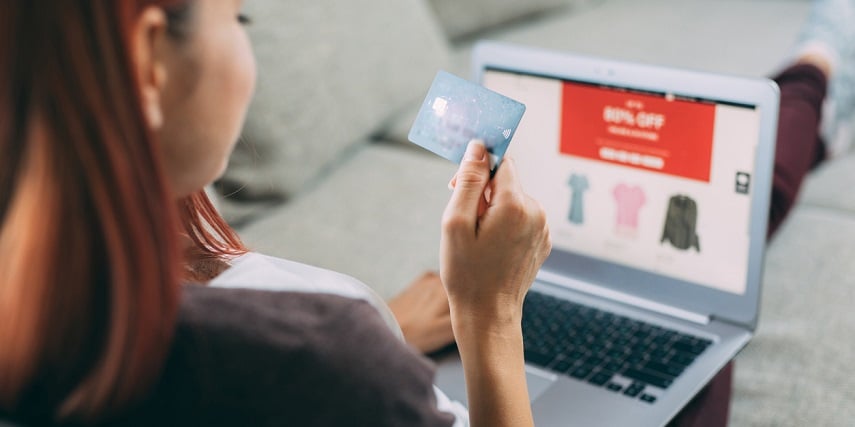 AR can play a huge role in increasing consumer confidence. Being able to see what the clothes will look like on them before they make a purchase assures them of their choice, increasing their chances of making a purchase. Seeing items on them helps them feel as if it's already theirs, a feeling called psychological ownership.
This is especially true when they configure and design the clothes themselves using your visual configurator and product customizer features to tailor items to their personal style. These factors, in turn, boost:
It even leads them to expect, and happily pay, higher product pricing while reducing returns.
Consider these statistics on the benefits of AR:
The Future Is Now
Product customization is on the rise. More consumers want configurable products than ever, causing more industries to add 3D product configuration and more complex product visualization methods to meet demand.
AR is becoming so popular that even many brick-and-mortar stores are adopting it! Advanced product visualization is the future of eCommerce. Don't wait too long to get on the bandwagon, or you might be left behind.
Get in touch to learn more about how Threekit's product customization platform can help your business.