How Shoppers Can Create Ergonomic Home Offices With a 3D Customizer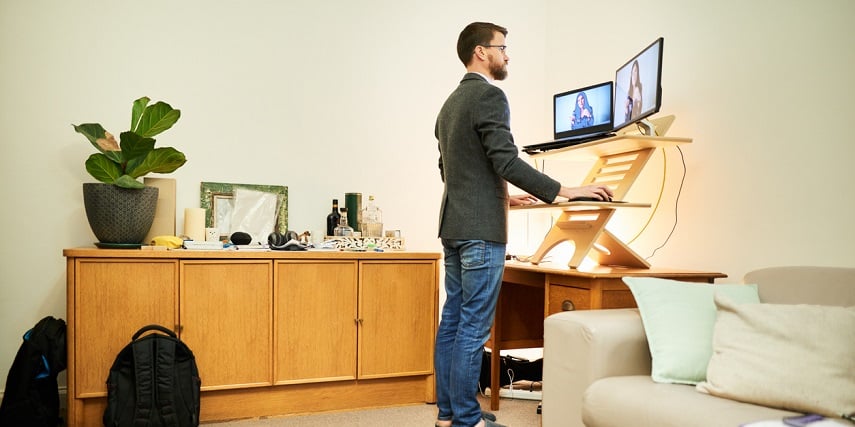 In the first twenty years of the 21st century, only 6% to 8% of the US workforce worked remotely. Today, remote workers make up 35% of the working population. Although many people may start out working on a laptop at the kitchen table, it doesn't take long for a sore back, stiff neck, and tired eyes to take hold. That's when they realize they need an ergonomic home office, and a 3D customizer can help them get the right one.
eCommerce merchants are in the right position to reach remote workers, but only if you offer the right shopping tools. A recent article on buying home office furnishes listed the following pitfalls customers experience when shopping online:
Buying pieces with the wrong dimensions
Choosing incompatible pieces
Forgetting ergonomics
So how can online merchants counter these pitfalls with a 3D customizer? A product configurator lets shoppers see furniture dimensions from multiple angles, shows items in real-world environments and reinforces the ergonomic qualities of an item.
What Makes an Ergonomic Home Office?
Correct posture is at the core of a comfortable work area. Desks and chairs must have the right proportions, and lighting must minimize eye strain.
According to the Mayo Clinic, an ergonomic office should have the following qualities:
Chairs should support the spine and allow one's feet to rest flat on the floor or a footrest. Armrests should allow shoulders to relax while gently supporting the arms.
Desks must allow for clearance of knees and thighs. Legs should be parallel to the floor at a slight angle. Footrests may be required to maintain the proper angle.
Lighting depends on the office space, with natural lighting being the best option. Flexible task lamps make it easier to direct light away from the screen and onto a keyboard or paper.
Customizing products online lets shoppers visualize their selections. Not only does a 3D product customizer let shoppers feel more confident in their ergonomic choices, but it can also ease the pain of higher pricing of office equipment.
With 3D designs, online merchants can deliver a strong customer experience. Click here to learn how 3D designs and a 3D customizer can make for a better customer journey.
Finding the Right Size With a 3D Model
As an eCommerce merchant, you know people struggle to visualize spatial relationships. They frequently buy furniture that doesn't fit their space.
When that happens, items are returned, adding to your costs and frustrating customers. But using a 3D model can help.
Researchers found that how the eye perceives size determines how the brain processes it. The brain does not attempt to adjust it for better accuracy. But using a 3D customizer provides shoppers with more data points for better images through:
360° views
With a 360 view of a 3D model, consumers get a better feel for the dimensions of a desk or chair. They can turn the chair or desk to see how it looks from all sides. Overlaying dimensions on a 3D rendering provides shoppers with detailed information on an item's size.
Zoom features
Potential buyers can view furniture in real time, adjusting the product to display colors and finishes from multiple angles. They can zoom in to see fabric details or the construction of a desk drawer.
For example, customizer apps could show dimensions for a fully extended drawer, letting shoppers know if the desk will work in their space.
Choosing Compatible Furnishings
Ergonomic offices are more than the right desk and chair. Some accessories might also impact shoppers' muscles and joints.
Incorporating the latest technology, such as augmented reality, lets shoppers add accessories to a desktop to ensure that their most-used items stay within easy reach.
3D configuration
With product customization, merchants can enable a "show ergonomics" feature that places a person standing at a desk or sitting in a chair with the correct ergonomic angles in place. If the height of an item is adjustable, you can let the buyer play with the 3D product.
How?
Display a top-down view of the desk. Then, let potential buyers position a workstation, laptop, or printer to see how much space is available.
Allowing consumers to see the functionality of a desk or floor lamp in the space brings the image closer to a buyer's in-home reality.
Augmented reality
Letting shoppers see items in their environments through augmented reality can minimize incompatibility. Furnishings may work well ergonomically, but they can also create discord aesthetically.
Seeing how furnishings mesh with existing decor can help people create visually pleasing environments that improve productivity.
A Harvard study found that the physical environment of an indoor office had an impact on productivity. Helping shoppers find furnishings that harmonize is another way to counter the pitfalls of online shopping because consumers are happier with their selections.
Focusing on Ergonomics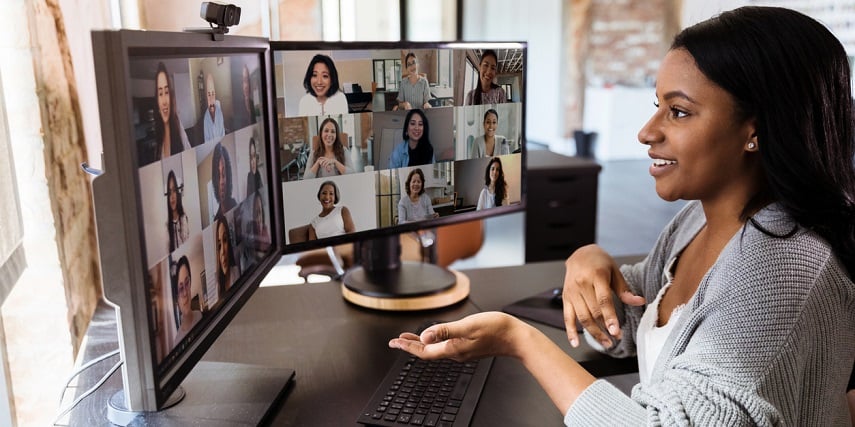 When shoppers can't sit in a chair or desk, they have difficulty imagining its ergonomic impact. Sometimes, consumers may simply ignore the warning signs in favor of a "must-have" item.
To minimize buyers' remorse and the possibility of returns, eCommerce merchants should look at a product configurator that incorporates ergonomic details such as leg slant or illumination range.
Satisfy customer curiosity with virtual photography
Before adding zoom or 360° views, eCommerce merchants need the best product images. Virtual photography can produce detailed 3D images without the expense of a traditional photo shoot.
More importantly, these digitized images make it possible to add configuration options. Letting site visitors change product finishes or adjust materials can make shoppers feel more confident in their choices.
Give them more control with a 3D customizer
Customizing products may give shoppers choices, but it's a challenge to get them to buy unless they can visualize them in real time. With a 3D customizer, merchants can counter many of the so-called pitfalls of online shopping.
Buyers can view their custom products and make adjustments before purchasing. The added confidence in their purchase moves them closer to checkout.
Threekit offers merchants a 3D configurator, virtual photography, and augmented reality from a single platform. Our solution delivers interactive capabilities online or mobile devices.
Our platform integrates with eCommerce sites such as Magento and Shopify, making it easy to begin using 3D designs for increased sales and improved customer experiences. Contact us to learn more about how our platform can drive your business growth.