10 Brands Using Online Product Configurators to Boost Sales
Giving shoppers the opportunity to customize purchases in real-time used to be an added benefit. The seismic shift in how people are shopping in 2020 - increased demand coupled with an enormous drop in physical footfall - means that customers now need, and will increasingly grow to expect, the ability to choose, customize, and personalize their items online before proceeding to checkout.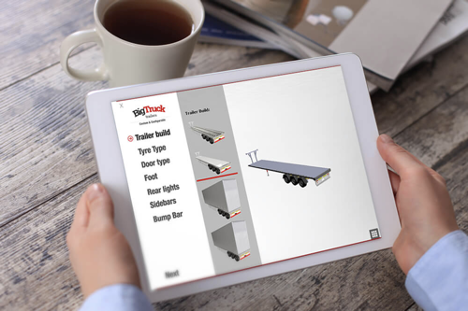 Online product configurators meet that increasing demand. Configurators give buyers the opportunity to see products as CG photorealistic images and make real-time customizations and personalizations. Whether you're in the market for a new pair of sneakers or a self-driving car, configurators give you the ability to adjust color, materials, finish, size, and more.
Online product customization is a game-changer both for the consumer and businesses. The Motley Fool reported that products configured online can sell for up 50% more than products purchased in-store. Add to that the reduced overheads of e-commerce, and the business case for product configurators is hard to ignore.
So let's take a look at 10 brands that are using online 3D product configurators to meet the ever-changing nature of retail.
1. Bespoke Cycling
The company's name says it all: the emphasis here is on giving serious bike enthusiasts the ability to build their next, bespoke, bike in real-time. The process is split over seven super-simple steps—just choose a component and click the arrow to move on to the next. Once you've built your ideal bike, there's the option to see an overview of individual components in detail. A running total of the purchase price helps you keep an eye on what you're spending.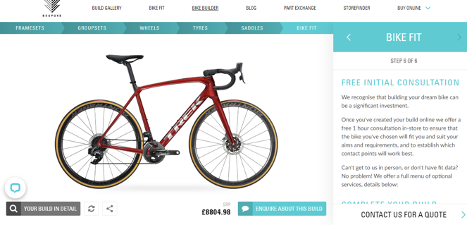 During the build process there are two ways to get in touch with Bespoke, although you'll need to fill out a form rather than using live chat, unfortunately. Need a second opinion? You can share your build with one click.
Once you've finished the build you'll be given a free one-hour consultation in store to check everything's in order before finalizing the purchase. The consultation is giving you the best of both worlds: you're in control of the online build but you also benefit from face-to-face advice and fitting. Something that would have made Bespoke's use of online configurator software even better would be the option to rotate and zoom in on the image.
2. Konitz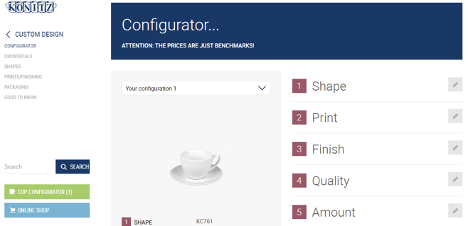 Honestly, we were quite excited to try out German mug manufacturer Konitz's configurator. The brand has a nice artsy feel and using the software was fun and creative. There's a ton of customizations available including heat-activated prints and metallic finishes.
The configurator experience wasn't the most intuitive; it was hard to actually find the configurator option on the site and the language is sometimes in English, sometimes German.
Once you've gone through all the options you get to check out your creation, but it's just a static image and there's no zoom or 360 rotation features. The next stage in the purchase process is to send an inquiry and/or to download a PDF of your masterpiece. The configuration option only deals in large volume fulfillment, with a minimum order of 98. This makes sense: if you're a retailer, you want the option to add exact brand customizations, especially when you're investing in large orders.
3.
Steelcase

Steelcase offers a range of architecture, furniture, and technology products and services. Working from home and need a chair designed exactly to your needs and design preferences? The Steelcase product visualizer, developed by Threekit, allows you to customize everything: the lumbar support, the upholstery, arm length etc.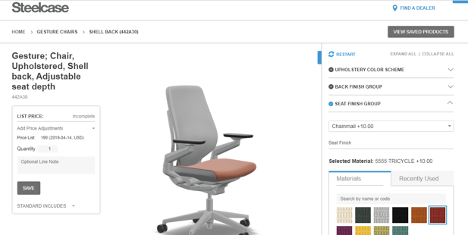 The online 3D configurator zooms right in close without image distortion and all the way out so you can see the chair in all its glory. Select your model, add your customizations, then download your build.
4.
Tesla
Tesla's whole philosophy is disrupting industries and traditional ways of designing products. Tesla owners, like Apple aficionados before them, take pride in being part of cutting-edge innovation. Combined with this level of brand loyalty, the ability to customize a Tesla really reduces the gap between producer and customer. Emotional, hands-on purchasing can only benefit Tesla and its bottom line.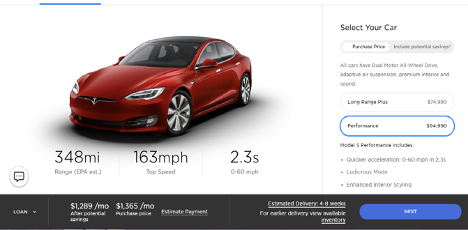 You jump into Tesla's visual configurator straight from the homepage. The 5-step customization process is very simple: choose your model, the color, the interior, whether you want to take the full self-driving option (cool!), and then payment. Boom, you own a piece of the future.
The last screen presents an image of your customized car and the price. It's a shame there;'s there's no way to zoom in or rotate the image, which would have been great, but it might have cluttered up the process and its simplicity is impressive.
5. Nike
Lifestyle brands like Nike really understand how consumers have moved away from mass-produced uniformity to highly personalized buying behaviors. Nike By You allows you to select one of its iconic sneaker designs and customize every area of the shoe from the base to the eyelets using its online interactive configurator.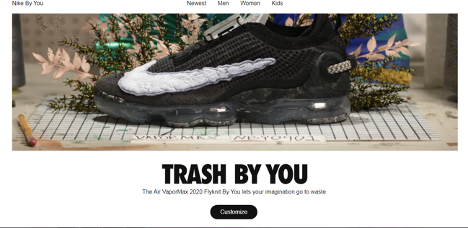 There's a good range of color options and you can view the sneaker side on and from above. There's no zoom or rotate function during the design process but once you've made changes the sneakers are presented in a series of six close-up photos from all angles, including the soles.

6. BOSTONtec
Ergonomically designed office desks might be as exciting as a new pair of Nikes, but an online furniture configurator is the perfect way to showcase and customize products with moving parts. BOSTONtec have really mastered product configuration. There's a quick video explaining how to use their configurator and the build and customization process is smooth, responsive, and intuitive.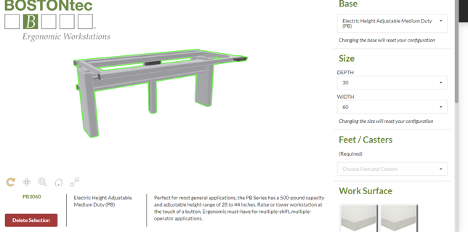 There are a range of elements to choose from such as work surface finish, manual or electronic adjustment, shelving, electric lights, and drawers.
The online product configurator software, developed by Threekit, allows you to zoom in extremely close and zoom out to get an overview. Drag and drop the photorealistic product image to adjust the viewing angle. There's 360 rotation to get a good look from all angles. Changes made reload the image but it's fast and actually pretty cool to watch the product "rebuild" itself after each change.
7. Lilitab
Lititab produces the kind of kiosks with tablets you see in stores or at conferences. They've really taken advantage of their Threekit powered configurator software: the quality of the 3D product image is so sharp that the apps on an iPad are visible when using the zoom feature!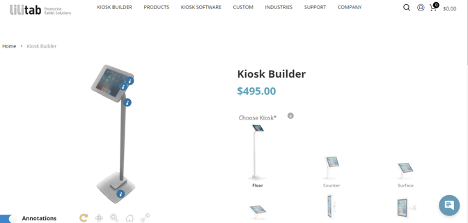 You can also drag and drop the product, rotate it, and expand to full screen. What's really great is that they've added text pop-outs to important elements of the kiosk, giving you additional information such as set up instructions and the sizes of tablets it can accommodate.
If you want to add a branded board or "floor front" you just upload an image right there in the configurator. A running total keeps pricing transparent.
8. Bamford Watch Department
This luxury watchmaker has used the most modern product visualization software to recreate the lost art of bespoke watching making by boutique craftsmen. The intricacy of their manual timepieces is reflected in the sheer number of customizable and personalizable elements in their configurator. The watches strap, dials, hands, logo, personalized initials, date wheel— basically everything can be adjusted to your specific taste.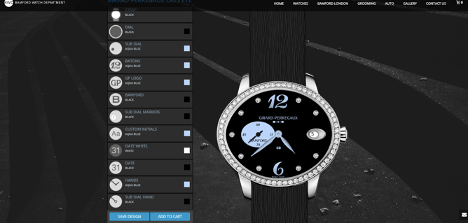 Powered by Threekit, Bamford's configurator is a simple and intuitive point and click system, which instantly displays changes to the large product visual. No zoom feature with Bamford but the image is large and crisp enough so you can clearly see how your customizations will look on the finished product.
9. Choiss
How many times have you found a jacket that's cut well and fits perfectly but you wish it came in a different color or shade? Well, Choiss gives you the freedom to make exactly those changes. This is a game-changer for clothing retailers as the level of customization available will inevitably cut down on returns.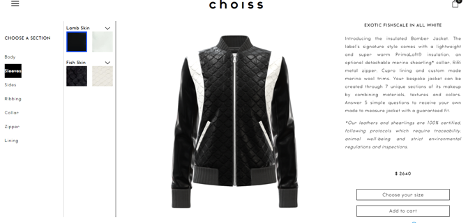 Choose your preferred style of jacket and then go ahead and customize the body, sleeves, sides, ribbing, collar, zipper, and lining. Its interface, developed by Threekit, is clean, crisp, and easy to use and the price updates after each customization. Gone are the days of rifling through rack after rack to find just the right color or design in your size.
10. Oak Beams & Frames
Oak Beams & Frames is a leading manufacturer and supplier of oak frames to both consumers and trade. Their state-of-the-art product configurator, fueled by Threekit, allows you to design your own oak framed garage kit or oak truss.
You can customize the garage's length and width, cladding material, roof style, number of vehicle bays, door materials, and the placement of the log store.
The configurator is highly intuitive, supporting zoom and 360 rotation and the product auto-updates as you make adjustments. There's even the option to view your garage from the inside, giving you a real sense of the interior's spatial dimensions.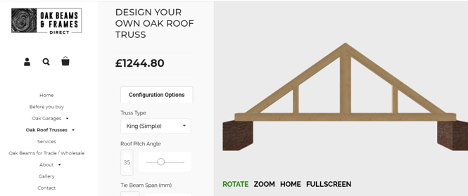 The images are hyper-realistic even down to the wood grain and the shadows cast by the garage. A car is positioned in a bay so you get a good sense of how the end product will look.
If you're happy with the price that's clearly displayed and updates as you make changes, submitting your order is easy. Oak Beams and Frames will then send you full drawings and material lists that you can pass on to a structural engineer for approval.
From our selection, it's clear how powerful product configurators can be in offering customers, both B2C and B2B, the opportunity to engage with and customize their purchases.
For sellers it's a simple equation: those who create seamless, personalized, and customizable shopping experiences will earn a larger share of their given retail market. You'll also notch up other business benefits:
Reduce Returns
Customers who are more deeply involved in the customization of their goods are less likely to request a return. According to Forbes, brands using configurators reduced their online return rates by 80%. When a customer is involved in the build process - whether jackets or garages - the gap between expectation and disappointment is drastically reduced. What's more, personalizing a product increases the positive emotional connection to that product and the wider brand.
Increase margins
Using 3D product configurators increases your margins. Simply put, you can charge more. As we discussed earlier, The Motley Fool reported that custom-designed products sell at an eye-watering 30%-50% premium over what customers are willing to pay in-store. The emotional investment of designing a product uniquely for yourself means customers are more inclined to pay premium prices.
Shorten Sales Cycle
B2B companies especially benefit from a reduced sales cycle: cut out the back and forth communication between customers and sales teams, and between sales teams, engineering, and fulfillment and you cut costs. Customers aren't left waiting for call backs, stock checks, or quotations. Everything is presented to them in real-time, shorting the purchase journey and reducing the risk of them looking elsewhere for a faster service. Don't forget that a shorter sales cycle means lower customer acquisition costs.
Scale back inventory
Employing configurator software helps companies reduce their stock burden. Creating products on demand lessens the need for large quantities of stock, with the associated logistical, storage, and processing costs.
The natural response to growing consumer demand for personalization pushed some companies to expand their product range in an attempt to meet the demands of their customers. This, of course, has serious cost implications.
However, using a 3D configurator gives a business the flexibility to respond directly to product requests as specified by their customers, reducing the production and storage of unsold stock. Using a configurator helps you see the patterns in the customization process, and the relationship between individual elements. In other words, you don't need to try and second guess consumer demand and preferences by buying bulk in advance.
These are just some of the benefits, to both businesses and their customers, of using 3D product configurators.
If you'd like to add custom products to your store, let us know. We love building online 3D product configurators that engage customers and increase sales.
"Before Threekit, we had to manually design workstations, but now, our customers and dealers can build and visualize their workstation instantly in 3D. This visual experience puts us head and shoulders above the competition because when our prospects get their hands on our workstations, they never let go."
Meagan Steffes, Project Manager at BOSTONtec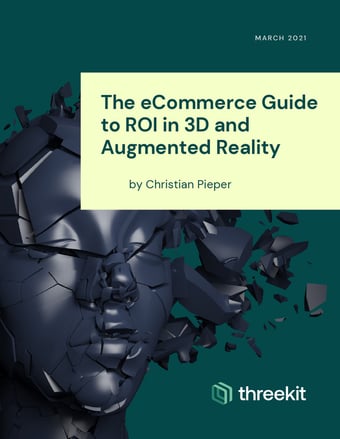 Download our eBook
If you're making the business case for 3D and augmented reality product visuals, this is the guide you need. Get real data on how this innovative technology pays off.