Why You Should Add a 3D Product Customizer to Your WooCommerce Site
WooCommerce has become a popular choice for eCommerce because it's a free and open source platform. This means anyone can modify, audit, and extend the code. It is also user-friendly as it doesn't need you to be an expert in launching an online store.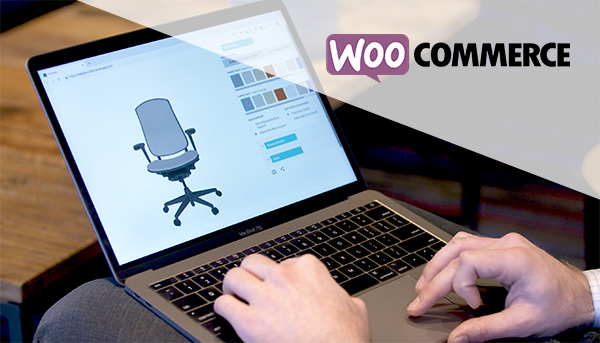 Statistics show that WooCommerce is used by nearly 5 million stores today which makes it 3.8 million websites. This is the number of active installs of the WooCommerce plugin. Data also shows that the present 2020 market share for WooCommerce stands at 26% of the top one million websites that are using different eCommerce technologies.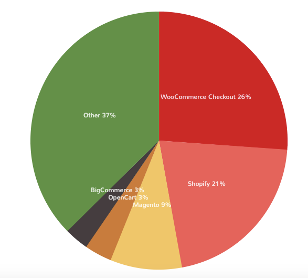 No matter how high the percentage of consumers using WooCommerce may be, there is always a certain percentage who still prefer visiting real stores instead of online stores. There can be a variety of reasons for this preference.
Online stores have one disadvantage over conventional brick and mortar stores. Customers tend to miss out on first-hand experience of the product that they are planning to buy. They cannot really see, feel, or judge it in person.
Online stores offer pictures of the products that they are selling but they are often not enough. This creates a lot of problems in decision-making for the user and their final purchase. For instance, let's imagine that a customer wants to purchase a backpack. The customer would like to have a proper idea regarding the product's dimension, its material texture, and the level of comfort that it provides.
In several cases, especially where high-cost purchases are involved, consumers may still choose to visit a real store.
But all this can change if the seller uses the proper technology.
3D modeling of products has started to take the eCommerce world by storm. It has changed the entire game by providing customers with a near real-life product interaction. Online retailers are shifting from the traditional photography illustrations and techniques in the form of product images. They are depending more on unique 3D visualizations and illustrations which attract customers' attention and makes them comfortable with their purchase.
Simple 3D product modeling has taken a giant leap forward with the WooCommerce product configurator, a software application that allows for virtual product customization on its shops.
A product configurator allows consumers to experiment with the design of the merchandise and create their own personal version of it. It is an innovative digital tool which helps eCommerce businesses in boosting revenue. It also allows retailers and manufacturers to sort out problems related to creation, promotion, and selling of goods.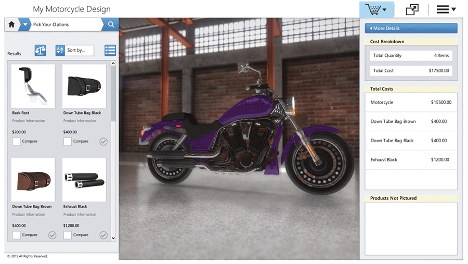 While using a 3D product customizer, consumers can change product materials, textures, colors, and much more. This allows them to customize any feature they want and receive a totally exclusive item. Configurators also allow consumers to see a 360-degree view of their product so they can scrutinize it from all sides and understand it fully.
How can a 3D Product Customizer help WooCommerce stores?
From a business perspective, when shoppers are able to view their products from various different angles and views, it solves a lot of the retailer's problems. These problems can be of varying degrees and types including:
Receiving bad reviews from buyers
Frequent shopping cart abandonment
High rates of product returns
Low sales
Inventory overload
All of the above issues occur when the shoppers are unable to gain a full understanding of the product design by only viewing the pictures and a description on the website. Consequently, at times they may decide against purchasing the product at all or may get disappointed by the purchase once it is delivered to them – all because they imagined it quite differently.
However, now with a product configurator, all these unpleasant outcomes can be prevented.
Here's why WooCommerce stores should add a 3D product configurator to their site:
1) Enhances Customer Experience & Satisfaction
The 3D product customizer opens up a lot of opportunities and avenues for product customization. This way the consumers can design and view the products exactly the way they want.
How does this actually work? The consumers are offered a base model of the product that has several changeable features. In just a few clicks, these features can modify the product according to the consumers' personal needs and preferences.
When the consumer is allowed to apply various design options to a product, they naturally learn quite a lot about the product that they have chosen. They will get to know whatever options and characteristics are available, what is the distinction between them and how much each added configuration or customization will cost.
The fact of the matter is that users tend to enjoy the 'creation' process of designing their own customized products. This helps them in not only envision the product they want but also build an emotional connection with the item. It increases the chances of them making the purchase.
Some very famous brands are already taking advantage of this new technology. For instance, Porsche is offering its potential consumers with a chance to configure a perfect car as per their requirements. By using the 3D product customizer on the brand's website, consumers can choose a standard vehicle and then begin trying various options. This 3D visualizer allows for changing the car's color and configuration of wheels, material and types of seats, vision and lights, chassis, leather upholstery, accessories, and wooden decorative features.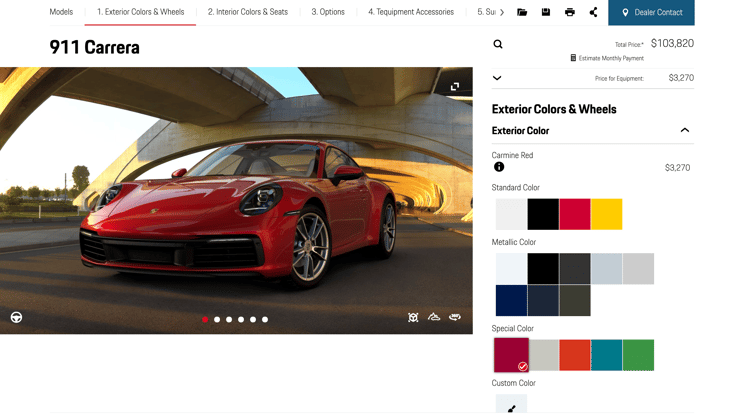 2) Shortens Sales Cycle & Reduces Return Rates
The 3D Product Customizer allows consumers to spend some time with their product and apply different features to it. By the end of it, they are already educated enough regarding the merchandise. They will now have fewer or no questions regarding the item to a sales representative. This automatically eliminates all the needs for any transactional calls, and consequently shortens the sales cycle.
The consumer does not have to wait for someone else to provide them with the information that they want because everything has been shown to them by the interactive 3D product customizer. This is why Forbes has clearly stated that the online brands using 3D product customizer have been able to reduce their return rates by 80%.
3) Increases Revenue
The best part of using a 3D product customizer is that you can charge more for personalized products. You can also charge higher for a few specific options, more than others. It is completely on your discretion. Consumers are always willing to pay extra bucks for products which are unique to them.
4) Allows You to Sell Effortlessly
Selling a product with a lot of options makes the sale process repelling for any potential customer. A 3D product configurator turns this around by making the process visual, fun and precise for everyone. Your potential customer can now see how their final product will look like for every choice they make. No more time wasting, confusion, forgetting details or deception.
5) Attracts More Customers
Product personalization is the new key to customer loyalty. Human beings are always looking for unique products that reflect their personalities. That's why customized products have been trending for so many years, no matter the industry.
Examples of WooCommerce Businesses using a 3D Product Configurator
WooCommerce has acquired 29.16% of the entire online market this year. According to statistics, the US online market alone will reach $735.4 million by the year 2023. This means that it is an effective leader of the global market.
Many brands today are adopting the 3D product customizer to ensure their consumers acquire the best product experience possible. Two of these popular brands are discussed in this section for your inspiration.
Craftstone Knives
Craftstone Knives gives knife lovers with an option to make their knives truly their own. They have a 3D product customizer which allows consumers to choose their own knife blade style, handle, gemstone at the knife's back, blade engravings and much more.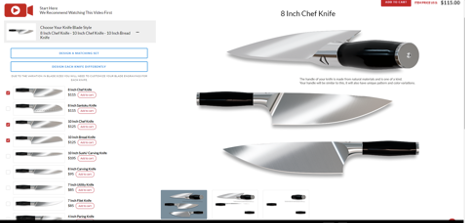 This allows the store owner to provide a shorter and more convenient process for getting orders for their products. The consumers are able to build their knives the way they want until they are completely satisfied with the results.
Ana Tomy
Ana Tomy is another famous stationery brand that has taken heed of the increasing popularity of WooCommerce. They sell custom notebooks for encouraging creativity in writers. They have differentiated themselves from their competitors by providing customized stationary including notebooks. Their notebooks are not just notebooks – they are personalized and individually designed using modern technologies.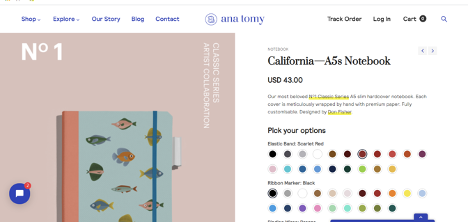 The design aspect is left completely to the consumers. They are provided with endless choices which result in tailor-made items. They can mix and match various elements for adjustment of design combination while creating custom notebooks.
The customization on Ana Tomy has been broken down into organized steps to make the whole purchase process easy for the consumers. These steps encourage them to personalize their notebooks and view their selections in real-time through the customizer.
Final Word
No matter what product is being sold at your WooCommerce store, the 3D product configurator can handle anything. You can use it to set up a product with its custom parts and generate a final preview of the consumer's personalized product. This is something which is inevitable for WooCommerce businesses now and must be adhered to in order to generate more revenues.
Threekit is a leader in visual technology which can help your online business gain that edge that it needs through implementation of a 3D product customizer. You don't need to be a technical person to understand how our WooCommerce product configurator works. We've designed it to be intuitive. It's also well-documented with video tutorials and a live chat in case you need immediate support. We can help you let your consumers play with different options such as material, color, texture, and countless other variables in high-quality 3D.