Why Threekit is the Ultimate Custom Product Designer Tool
The ultimate custom product designer tool should meet the needs of the business and its customers. A solution that allows designers to leverage existing assets while creating new ones can reduce their workload.
As a merchant, one factor to consider is whether the solution can streamline experiences. According to PwC, one in three customers can leave their favorite brand after one bad experience. So, the best solution for your eCommerce store should deliver the best user experience consistently.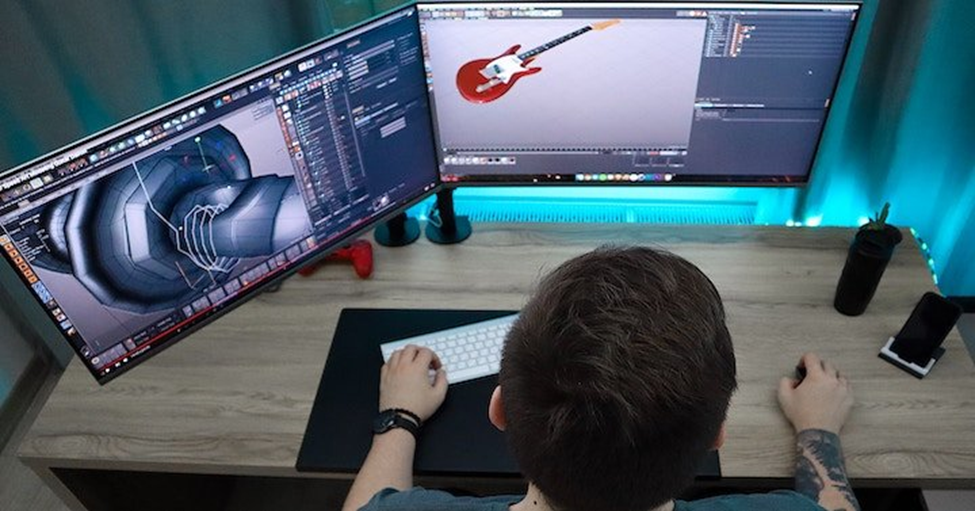 Using virtual photographer software is easy and quick (threekit.com)
If you offer products across multiple platforms, your designer tool should be compatible with each platform to streamline your processes. Also, about $1 in every $4 generated in eCommerce comes from mobile. Your product customizer should be mobile-friendly and responsive. Other factors to consider include ease of use, cost, integration, browser compatibility, and so on. Threekit meets all these requirements. It is the ultimate custom product designer tool.
Threekit's Solutions, Unique Features, and Capabilities
Threekit is a unified visualization platform that transforms how eCommerce stores create product visuals and present their merchandise on the storefront. It is a three-in-one platform that offers a virtual photographer, 3D configurator, and AR. With Threekit's virtual photographer, you can generate photorealistic images of your products cost-effectively, and without additional training or help from an expert.
Virtual photography delivers high-quality images to created from 3D models of your products. These images also allow for customization. For example, J. Press uses a customizer that breaks its shirt into 3,000 combinations or custom options like collar styles, pocket designs, types of cuffs, and unique cuts. Customers can interact with an image of the product to customize the shirt to meet their needs.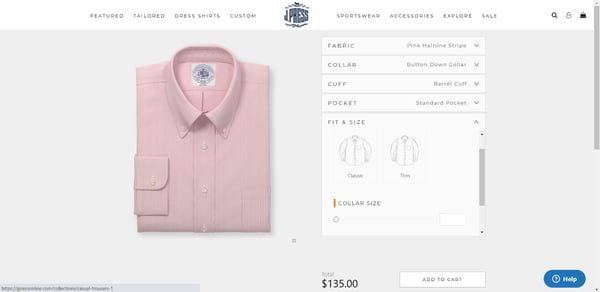 J. Press shirt customizer offers several custom options (jpressonline.com)
With Threekit, your customers can also view product visuals in AR. It brings your products to life and allows customers to place items in their homes. Threekit is a leader in 3D configuration and AR, which are the future of online shopping.
While there are several product designer tools in the market, Threekit is the ultimate thanks to its features and core capabilities. The platform offers a pre-built connector and plugs directly you're your existing ERP, which enables instant updating and enhances accuracy in your processes. Its Built-in Materials Library comes with high-quality default materials that can simplify common use cases. With Parametric Configuration, you have unlimited flexibility for product customization in terms of width, height, and depth. This feature allows for engineering-to-order, which can help you meet any design parameter. Other features for designing custom products include nested configuration, real-time rendering, product bundling, smart assets, and unlimited personalization. You can rely on Threekit's features and core capabilities to deliver interactive and responsive 3D configurations for your eCommerce business.
The Benefits of Using Threekit to Design Custom Products
As a merchant, you need a solution that's built for eCommerce with features that can help you focus on your day-to-day operations without losing sight of your long-term ambitions. Threekit has pricing systems to resolve current challenges in your store. It integrates with multiple platforms in anticipation of your store's future expansion. Here are four reasons why Threekit is the ultimate custom product designer tool for your business:
1. Streamline User Experience
Access to a virtual photographer, 3D configurator, and AR gives you full control of your product customization, which is essential for streamlining experiences in your store. You can generate or reconfigure virtual photos quickly to improve product visuals and experiences. The platform's seamless integration with your store also allows you to store your configurations online and leverage them using in-store tools to deliver an endless aisle experience. Customers can also view 3D models in AR, which is known for delivering great immersive experiences. According to statistics, 71% of customers are likely to shop in a store more often if it offers AR experiences. Brands are using AR-viewable models to enable customers to place their products in their homes.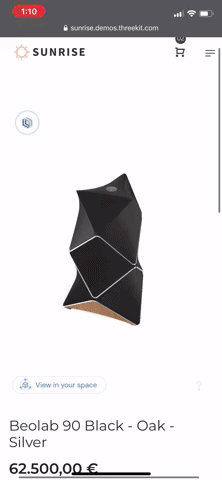 Placing the product virtually in their home can create a sense of ownership for the customer and also allows them to see how it fits with other pieces. They can inspect complex features to enhance understanding. Both 3D configuration and AR can streamline your customers' experiences, boost confidence, and increase conversion rates by 40%.
2. Seamless Integration
Threekit is built for eCommerce and has a pre-built connector for the platform to plugs directly into your existing ERP. Its integration with Shopify, Magento, WooCommerce, BigCommerce, SAP, and Oracle comes in handy if you offer products across multiple platforms.
You don't have to worry about integration since Threekit's standalone CPQ is highly advanced and works with your BOM to generate quotes in real-time. Potential buyers can see any changes in the price as they add features to customize the product. Seamless integration can streamline your processes and enhance the accuracy of mission-critical operations.
3. Cost-Effective
With Threekit's ultimate 3D asset manager, you can create high-quality 3D product images once and distribute them across multiple eCommerce platforms. Unlike traditional photos, merchants can iterate off their virtual photos for years by reconfiguring specific aspects to reflect any changes in their inventory. They cost only a fraction of the price charged for traditional 2D photos, even though they offer the same level of quality.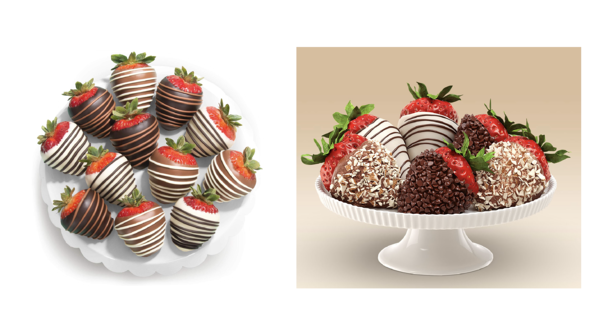 Virtual and traditional photos are similar (threekit.com)
Virtual photos are also multipurpose, which means you can reuse them to create interactive 3D models for your customizers. Threekit is a cost-effective designer tool since any asset you create on the platform has exponential ROI potential.
4. Easy to Use, Update, and Navigate
The platform is designed to plug directly into ERP to allow for instant updating and works with your Bill-of-Materials (BOM) to help you generate the components for customizable products. It is powered by a rules engine, which means you can customize products without coding.
The parametric configuration offers unlimited flexibility that enables engineering-to-order to deliver your product's unique design. If you offer customizable helmets, you can use the Threekit configurator to create parts and offer them as custom options. For example, Xenith uses a product builder that allows customers to create their dream helmet.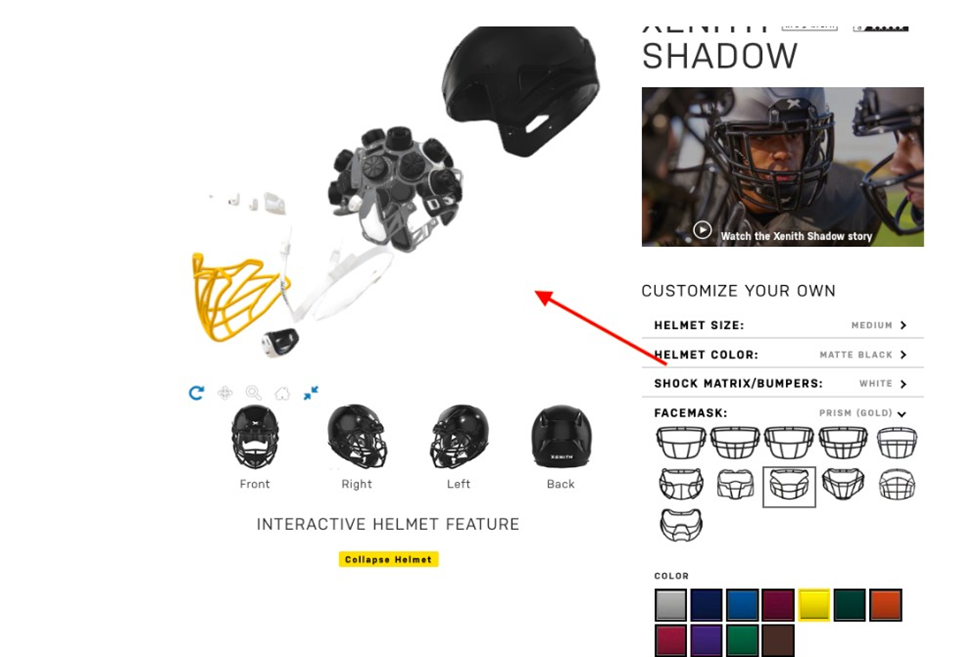 Xenith's exploded helmet (threekit.com)
They can also 'explode' the helmet into independent parts and use a 360-degree viewer to inspect the components. Your product presentation can also benefit from unlimited personalization, while product bundling can help increase your average order size. All these features make Threekit easy to use, update, and navigate.
5. Reduce Manufacturing Errors
Moving your assets and resources from one platform to the other increases the risk of errors. If customization data and manufacturing processes are not handled on the same platform, you risk losing crucial details of customers' orders during the transfer. With Threekit's Order Tracking, all configuration and production data are stored in one place. You can add data based on workflows and benefit from instant integration of actions and your workflow enabled by Webhooks.
The platform also has Custom APIs that automates workflow like mass renders and allows you to edit, publish products, and update assets. Manufacturers can set their APIs to create renders, assembly instructions, and BOMs automatically. These features and capabilities enable direct manufacturing and workflow automation, which can reduce errors and costs.
Threekit's unified product visualization platform is the ultimate custom product designer tool. It offers 3D configurations, AR, virtual photographer, and features to streamline processes and user experiences. Schedule some time with one of our experts to get started.