Why Tech Titans Are Investing in AR & What It Means for Your Business
Augmented reality (AR) is the process of layering some type of organized digital information onto a real-world scene. The process augments–in other words, improves or makes more complex–our interaction with the world around us. Augmented reality has been available for several years, via smartphone apps like Niantic Inc.'s Pokémon Go and apps that let shoppers see what a certain piece of furniture will look like in their living room.

Today, tech titans like Google, Apple, and Facebook have ambitious plans for launching AR-based products in the future. There is an infinite number of potential applications of augmented reality–it's not just for gaming anymore. These prominent companies know AR is required for state-of-the-art products and customer demands. Self-driving cars and smart factories have been touted as primary applications of augmented reality. But with 5G wireless service comes ease of applying AR technology to consumer-based products like smart glasses.
It's time for every business to assess the ways AR can be applied to improve both in-house operations and customer experience. Below are some examples of tech industry investment in augmented reality.
Google recently purchased a developer of smart glasses.
Google recently purchased a Canadian startup called North, a maker of Smart Glasses. The buzz is that North will no longer market Focals 2.O smart glasses, but will join with Google to advance its "hardware efforts and ambient computing future." This indicates Google knows that smart glasses are the wave of the future and that the company is determined to come up with a new and improved version, following the failure of Google Glass. Whether Google uses the merger to produce a new iteration of smart glasses or to focus on other ways businesses can utilize the technology, it's clear that Google knows the age of AR is here.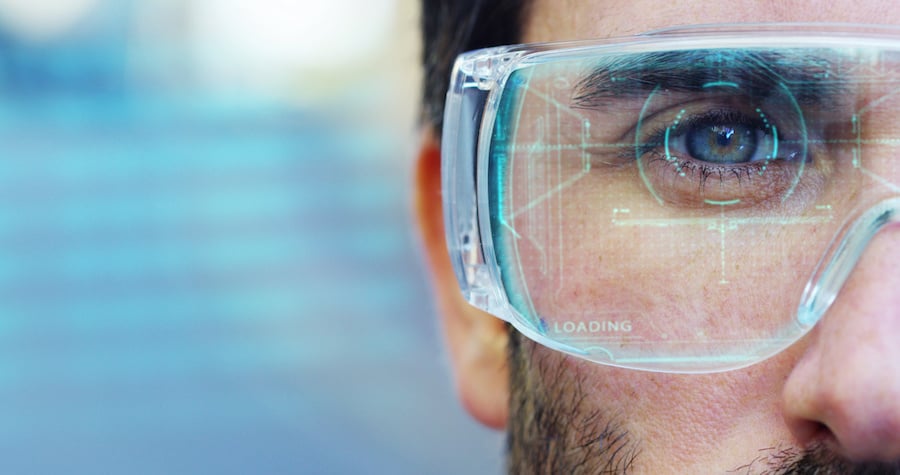 Apple is getting in on the AR eyeglass trend, too.
While Apple chief Tim Cook isn't sharing key details, he agrees AR is critical to Apple's future.
Augmented reality is turning out to have more practical applications than virtual reality. Google's advanced mapping technology and Apple's talent for augmented reality and making consumer-friendly tech devices bodes well for success in their combined effort to make smartphones into highly functional AR devices.
Smart glasses are also a goal for Apple. Apple's AR-based headset, believed to be poised to hit the consumer market next year, may be followed closely by AR-powered glasses. A post by macrumors.com details Apple's previous investments in companies with supporting data, as well as design developments believed to be included in the rumored AR-based headset.
Facebook's plans include AR products.
Facebook recently announced it is working on designs for AR glasses and sensor-packed wristbands reportedly able to detect finger movements. The wristband plans are part of the push to develop software and hardware for superlative smart glasses. Before the completion and launch of the completed smart glass design, the social media giant reportedly plans to release eyewear this year with some technology capabilities. The glasses to be released this year will be produced in partnership with EssilorLuxottica Sa's Ray-Ban brand.
Facebook describes its vision for a completed smart glass design. The description, which appears in this linked post, is of a pair of eyeglasses that can anticipate the wearer's needs.
The scenario of walking into a cafe is used as an example: as the wearer enters the cafe, the glasses could automatically order the wearer's favorite beverage. They could pull up the wearer's contact list and make a call without the wearer opening a phone or laptop. The glasses could send reminders to the wearer concerning scheduled calendar events, as well as suggest the best travel route based on current traffic conditions.
Snapchat is demonstrating the future of sales promotion with AR.
Snap, another tech giant, plans to offer AR-enhanced smart glasses very soon. May 2021 is the target date for the release of the latest version of its Smart Spectacles. The new glasses will reportedly "incorporate existing Snapchat Lens AR into a Spectacles display, creating a new wearable AR experience."
One of the most prolific uses of AR in the future will be in sales and marketing. As AR capabilities expand, the field of product promotion will never be the same. Snapchat's experience with top designer Christian Dior is exemplary of the AR-powered opportunities for promotion.
Christian Dior tapped Snapchat's AR capabilities for the launch of its B27 Sneaker. The B27 ad, released last fall, simulated an in-store shopping experience. Users were prompted to try on six pairs of B27s, then given the option to purchase. The B27 ad reportedly resulted in significantly greater sales than expected, thanks to the creative AR-enhanced promotion.
Luxury brands in particular demand AR technology for merchandise promotion, but soon every brand will follow suit. Visual communication is the choice of Generation Z consumers in particular, but every age is receptive to the realistic display experience. Trying out clothing and home furnishings first through augmented reality brings greater assurance to every consumer that they're making the right decision.
What does tech leader investment in AR mean for you?
Investments from big players in tech typically signal a huge bet on what's next. So if you're a brand or a marketer, what should you be thinking about?
Online shoppers are going to want to see your product in 3D and AR.
These Harris Poll results from August 2020 tell the story:
66% said that 3D/AR visuals would increase their confidence that they're buying the right product.
66% said they would be more interested in shopping on a website if it offered 3D/AR images.
42% say they would pay more for a product if they could see it in 3D/AR.

In conclusion, here are the steps your business needs to take today:
Consider what kind of eCommerce experiences this could facilitate for your brand. Have some fun thinking about the possibilities. If you need some real-world examples, take a look at Shop Threekit to see how Crate & Barrel, TaylorMade and Herman Miller are using this technology.
Start putting the infrastructure in place to take advantage of this technology. Make sure you have 3D models of your product. Being ready with everything when the technology is put in place gives you a head start on realizing the advantage.
If scale is a KPI for you, make sure to consider your entire portfolio. Remember you need to apply 3D and AR to every part of your product line, not simply a single product.
Right now, 3D and augmented reality may not be earmarked in your budget for this fiscal year. That doesn't mean you shouldn't consider it. Think about how you can innovate to make it a reality. Perhaps you should think about it as a replacement cost. For example, you might consider moving away from traditional photoshoots and using visual software instead. These kinds of forward-thinking moves will set you up for long-term success.
Check out Threekit Augmented Reality, a SaaS platform that allows shoppers to customize products in 3D and place them in their own space with A