Why Brands Should Use Shopify Augmented Reality
Frustrated by low conversion rates on your eCommerce store? Augmented reality (AR) can help you increase online sales significantly. According to Shopify's data, the conversion rate of products with AR content is 94% higher than products without AR. This is why brands should use Shopify augmented reality. It exploits advanced graphics and visual effects to bring images to life, visualize products in shoppers' real surroundings, and enhance the customer experience.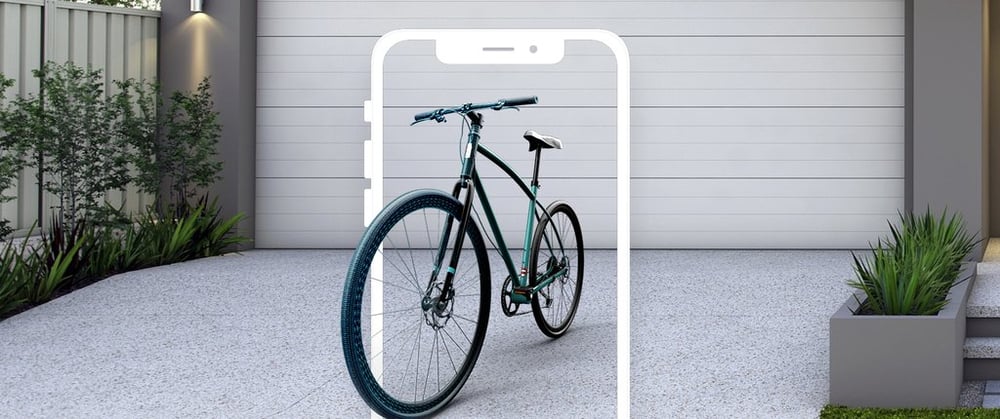 Shopify AR brings a 3D model of a bike into life (shopify.com)
According to a 2019 global survey, 51% of consumers said they were willing to use AR to assess products online. They also listed AR as the top technology they need to help them in their daily lives. Currently, consumers interact with AR regularly via mobile phones, tablets, and PCs. Shopify has partnered with Apple's AR Quick Look to deliver the capabilities of Augmented Reality to small online retailers. eCommerce businesses can benefit immensely by adopting Shopify Product Customizer powered by AR.
What is Shopify Augmented Reality?
Shopify AR is a web-powered augmented reality and product customization service that uses 3D models to bring your products to life on your customers' mobile devices. The Shopify product customizer allows customers to explore 3D models of your products for an immersive shopping experience and an enhanced understanding of the product. Since Shopify AR is baked into the website, customers can just visit any Shopify merchant's website and interact with their products in real time using AR-enabled 3D models. Shopify's AR-powered product customizer has the potential to revolutionize the online shopping process for potential buyers, window shoppers, and loyal customers alike.
The features of Shopify AR include a "size-up" function, which allows the customer to enlarge your product for in-depth analysis. The service also offers 360-degree viewer for customers to scrutinize your products from all angles. Your customers can also use Shopify Product Customizer to determine if one of your products will meet their needs by placing the item virtually in their homes before proceeding to checkout.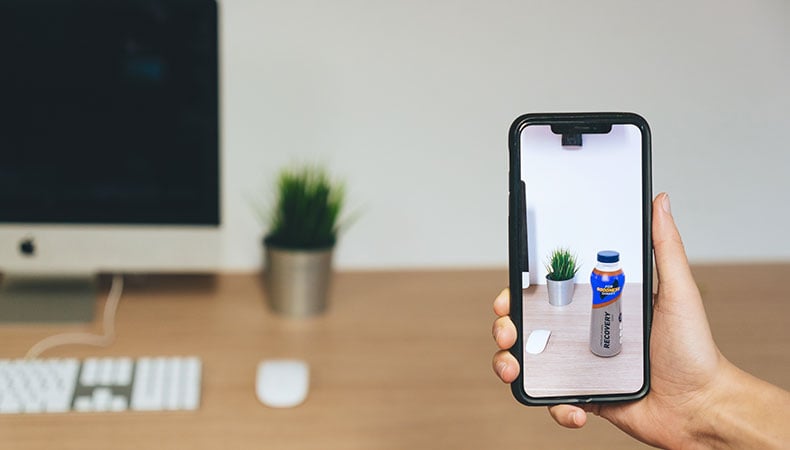 Customer places an item in their home using Shopify AR (junowebdesign.com)
This feature enhances users' understanding of the product, which in turn increases sales and lowers returns. Shopify AR is user-friendly, flexible, and easy to use. You can add 3D models to product pages, just like images, to improve user experience and conversion rate regardless of the size of your inventory. Shopify AR service provides you with an accessible toolkit to create a 3D model of your products and unique AR experiences for your customers. You can store your product models in the 3D Warehouse App that is integrated with the platform. This makes it easier to add any models to your product pages.
How Different Brands are Leveraging AR
A range of online stores on Shopify offering furniture, clothing, beauty, sporting goods, toys, and more have adopted AR with positive outcomes. Here are a few notable brands:
Pure Cycles
Pure Cycles sells affordable fixed gear bicycles on Shopify and through physical retail. It is has leveraged Shopify AR to create 3D models of its bikes.
These product images provide immersive experiences for the customer to explore every inch of the bike from every angle and place it in their homes. For example, they can zoom in on the gear of the bike for better understanding.
For Pure Cycles, Shopify Product Customizer powered by AR has increased traffic and sales.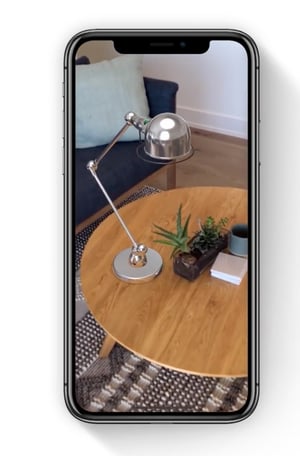 HORNE
HORNE is an online-only business on the Shopify platform offering unique home furnishings. It is benefiting from Shopify AR as a tool for visual merchandising. HORNE's customers can now place new products in their home to see how it complements existing pieces before they purchase. For example, a customer can place a lamp on the table to see how it looks.
Placing a lamp on the table using Shopify AR ( shopify.com )
Shopify AR has brought HORNE closer to its customers, enhanced engagement, reduced returns, and increased conversions. It now has more satisfied customers.
Instant Pot
AR-viewable 3D model has enabled Instant Pot to highlight the features of its pressure cooker to potential customers. They can also place it on their kitchen table to see how it looks in context.
Instant Pot leveraged Shopify AR effectively and made it easier for potential buyers to examine and understand the product personally before they purchase.
Nomatic
Nomatic offers travel gear on Shopify and is leveraging AR-powered 3D models to highlight how different features and compartments are designed to deliver comfort on the go. For example, you can spin 3D models of its bags to scrutinize zippers, buckles, and pockets.
Nomatic uses Shopify AR to showcase its travel bag (nomatic.com)
Nomatic's Shopify AR also allows you to compare the bag with the one you want to replace or check the features from inside the bags.
Kohl's
Brands on other eCommerce platforms are also using AR innovatively to enhance user experience. For example, Kohl's AR Virtual Closet provides an AR dressing room.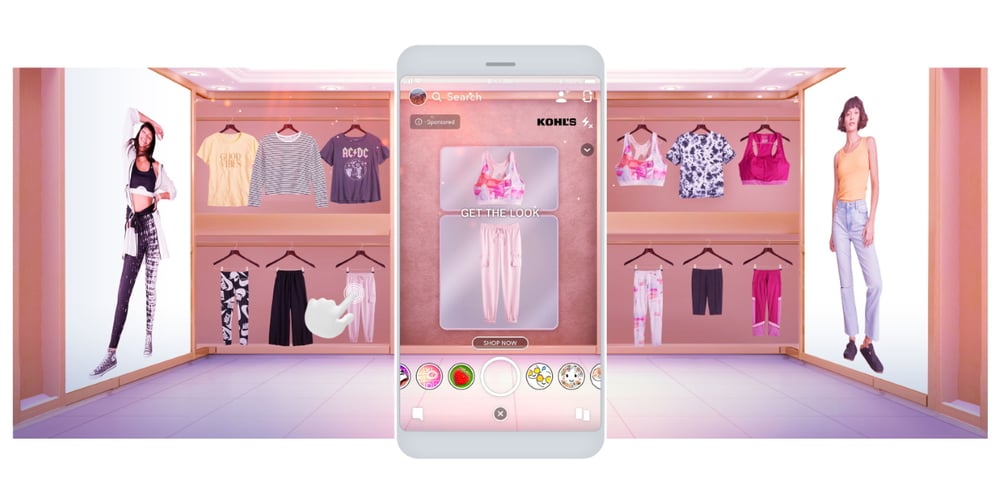 Kohl's AR dressing room
(
adweek.com
)
Customers access Kohl's AR dressing room using their smartphone, just like taking a selfie to mix and match different items before making a purchase all in the app. Other major brands leveraging the capabilities of augmented reality include IKEA, Home Depot, Ulta, Sephora, Louis Vuitton, Gucci, and many more.
Why should you adopt Shopify AR for your brand?
As a merchant on Shopify, your store's conversion rate, revenue, profitability, and sustainability are all influenced by user experience. This refers to the perception a customer has after interacting with your Shopify website, which can either be positive or negative. Consistently delivering a positive experience is crucial because the customer doesn't so much buy a physical product as they do the experience it promises to provide. In a physical store, the customer can sit on an electric bicycle and envision how it will give them freedom from public transport, enhance their happiness, attract new friends, or improve their health with exercise. Your Shopify website has to recreate these experiences to entice the customer to purchase your electric bicycle without physical interaction.
It's also crucial to ensure all visitors to your Shopify website have positive experiences every time, because 88% of customers may never return to your website after a bad user experience. With Shopify Product Customizer, you can strike the perfect balance between all factors that influence user experience. It exploits the capabilities of augmented reality to improve the user experience for higher conversion, revenue, and profitability. Shopify AR answers the simple questions that were complicated by the complexities of shopping online. Here are a handful of benefits that using Shopify AR provides:
Provides your customers with what they need to make an informed purchase
Allows your customers to see the actual product in front of them
Communicates hard-to-define selling points like the compactness of an electric bike
Integrates your online and physical store seamlessly
Helps customers to understand your products better
Eliminates the need for physical space to showcase or display your products
Reduces transactional interaction and shortens the sales cycle
Creates a sense of ownership by letting customers visualize your product in their own space
These benefits of adopting AR can reduce returns, increase engagement, enhance brand loyalty, streamline operations, and cut down costs. They contribute to positive user experiences, which is what your Shopify store needs to increase conversion rates for higher sales. 40% of consumers are willing to pay more for a product if they use AR to explore it first. According to Shopify, AR has enabled some brands to increase conversion rates by up to 250%.
To gain these benefits and more, you'll need detailed, responsive, and photorealistic 3D models of your products and a robust Shopify product customizer to exploit AR more effectively.
ThreeKit offers a Shopify product customizer with photorealistic images, interactive 3D, and augmented reality experiences that help improve conversion rates. To learn more, contact us to schedule some time with one of our teammates.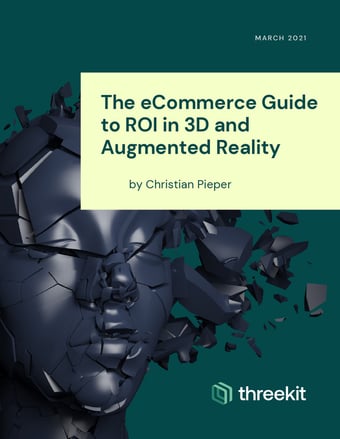 Download our eBook
If you're making the business case for 3D and augmented reality product visuals, this is the guide you need. Get real data on how this innovative technology pays off.