What's the Best Shopify Product Customizer?
They say content is king. Well, customization is a close second. The best Shopify product customizer for your business may be completely unlike the other options and there are quite a few out there. But let's agree first that a product customizer is right for your business. The truth is it's right for every business selling on Shopify. Consumers crave engaging shopping experiences, but arguably, they want personalized products even more. Today, shoppers see the things they buy as a reflection of their individuality and with so many brands boasting nearly infinite possibilities it's critical that every brand manager seriously consider incorporating product customization into their plans.
The pandemic raised the bar for shopping online. For the first time in modern history, we were forced to do virtually all of our shopping from home, but our thirst for making purchases was at least as strong as it had been when we could hit the store. Even more so. During that time, smart brands upped their eCommerce game and nearly every consumer was trained to expect far more from their online shopping experience. Some brands began offering more product customization as well. In the world of eCommerce of today, the competition is just one short click away so it's safe to assume that those offering the customization people want will win.
So, it's clear that your Shopify store likely needs to provide product customization at some point, right? But each business and category has its own unique needs. So what's the best Shopify product customizer for your operation? There are myriad functions, tools, and qualities to take into account when analyzing our options. Of course, some brands may be looking to start providing customization and call it a day while others may feel prepared to invest in a scalable option that can accommodate the growth in the future. Each can definitely find a platform to suit their needs. Let's take a close look at a few popular platforms that integrate with Shopify to help you choose the best Shopify product customizer.
Product Options & Customizer
The name says it all. Or at least, gives us the broad idea. Product Options & Customers is a Shopify app that enables stores to provide their browsers with options to change the available inventory based on a handful of variations. The app boasts a Swatch Picker, Date Picker, and Font Picker along with bulk actions for customers purchasing large volumes. It also offers upcharging, which is great for the Shopify store but might turn some shoppers away. Product Options & Customizer could be considered an entry-level customization option that would be ideal for those looking to get their feet wet in the new technology.
Zakeke Product Customizer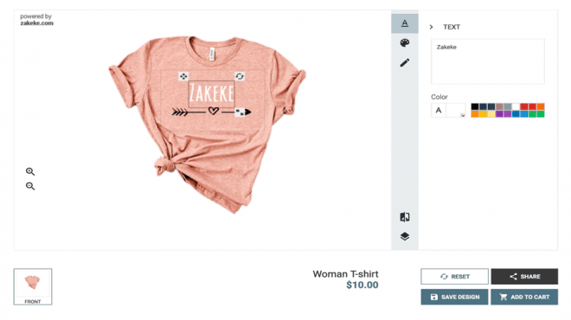 Zakeke offers a Shopify product customizer that's easy to use, which is likely a huge selling point for smaller operations. It's available at a low monthly fee making it a wise choice for brands keeping a close eye on their bottom line. The app truly is turnkey--Shopify store owners can install and deliver customizations in a few short steps--meaning it requires minimal manpower. Zakeke is a solid Shopify product customizer for Shopify stores with small, easy-to-manage inventories.
Customify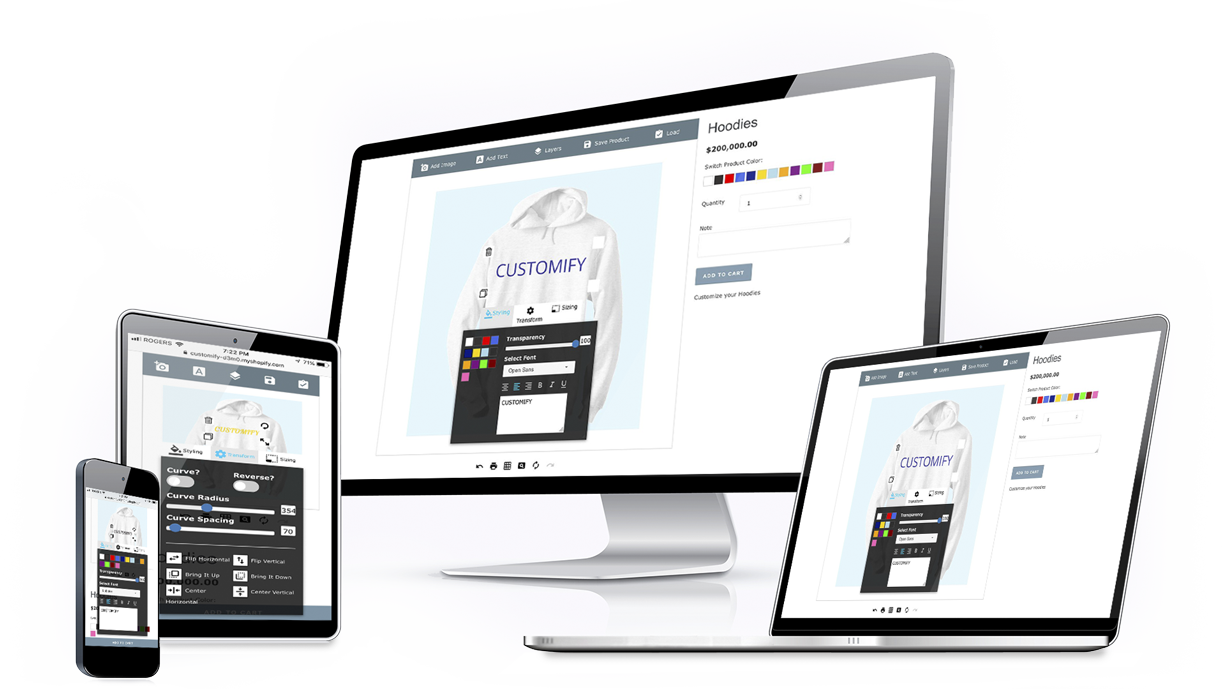 For starters, Customify has a fun name. It's a great tool for those buying in bulk like bars or coffee shops that want to promote fun swag like hoodies, T-shirts, and pint glasses. But they also boast a wide selection of clip art options, which would come in handy for brands lacking a design budget.
Inkybay
For those planning to send image uploads to print shops, Inkybay may be a great option. The app offers an intuitive, easy-to-use experience and can work for virtually any product. The app includes a product configurator and visualizer, meaning brands offering product customization with Inkybay can provide their customers with the visual experience they crave. Inkybay is a solid tool for smaller businesses looking to test whether a product customization experience may benefit their overall digital marketing plan.
Shopstorm
The Product Customizer from Shopstorm sets itself apart by breaking from Shopify's three-down and 100 variant limits. The app also has a sleek, modern design making for a pleasant, rewarding user experience even for the novice digital marketer.
Threekit
The leading platform in Shopify product customizers for brands looking for scalability is Threekit. They've helped brands in nearly every category design, develop, and build high-quality visual experiences including robust product configurators for years. While Shopify businesses looking to maintain their current market share may not need scalability, those offering premium products would be wise to partner with a platform that can accommodate future growth. They also offer higher quality 3D visuals, which is mandatory for brands selling premium products.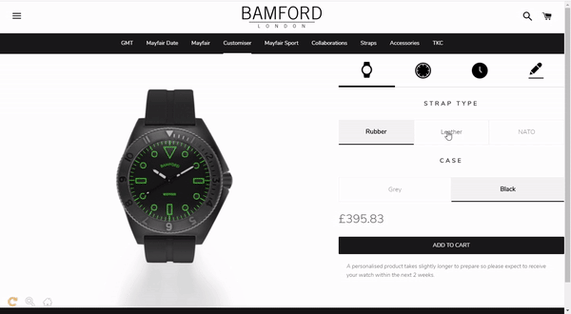 Threekit has its roots in Hollywood CGI. In fact, their founders worked on Marvel films and big-budget series including Game of Thrones. Brands that partner with Threekit get that same state-of-the-art quality right in their Shopify store. The virtual photographers at Threekit partner closely with clients to ensure they're getting precisely what they need and can create literally infinite permutations to provide shoppers with a limitless inventory of options. There's no better way to give consumers the power to customize products than with a platform that can make any catalogue on the market available for browning in real-time. If you're ready to provide a Shopify product customer with custom service and unmatched visual quality, get in touch with us today for a consultation or demo.