What's Next For Augmented Reality in Retail
For retailers, augmented reality (AR) has evolved from auxiliary to essential. Through virtual try-ons, hyper-customization, and immersive in-store experiences, AR for retail has created an inflection point.
AR technology's rapid rise from obscurity to prevalence—the majority of augmented reality apps gained prominence within a single year—suggests that it's not finished redefining the landscapes of both eCommerce and in-person shopping.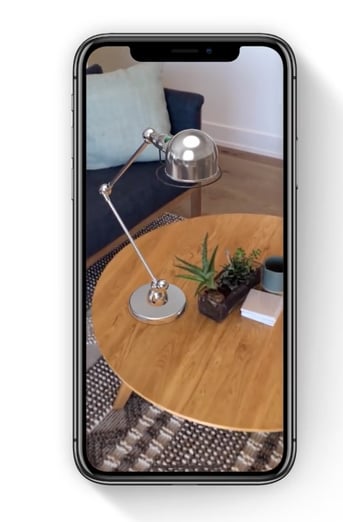 As the COVID-19 pandemic kept consumers out of physical stores, online shopping took over supplying both the goods and the experiences that brick-and-mortar sellers provided, and the sites that invested in augmented reality led the way.
By April 2020, 41% of retailers were already incorporating augmented reality into their web and mobile platforms. Since then, investment in AR technology has only grown, thanks to statistics showing how it drives consumer behavior. For example, 40% of online shoppers say they would pay more for a product they can customize in AR, and a whopping 73% of mobile AR users report high satisfaction levels with the experience.
The new technology matured just as the unexpected catalyst of Covid-19 demanded a solution. By 2024, the AR market will be worth $50 billion, according to Global Market Insights. In the United States alone, 83.1 million consumers used AR every month in 2020.
It's clear that modern retailers must compete for sophisticated consumers who have a developed a taste for the experiences and services like those provided by Ikea's Place app and Amazon's website.
It's not only big brands taking advantage. AR in retail has gone democratic. Small business platforms like Shopify and Magento offer built-in AR functionality that allows retailers to peddle their wares with technology like customizable 3D models.
Benefits of AR for Retail
The pandemic may have sped up the retail industry's embrace of AR, but the technology is not a stop-gap measure; it's here to stay.
So far, eCommerce has been the biggest beneficiary of AR's move from specialty apps to browser-native functionality, but the technology holds many advantages for companies hoping to boost their real-world services as well as their online offerings.
Businesses are using AR functionality in mobile apps and web browsers to:
Save money: Using 3D models to sell online products cuts down on expensive photography costs. Platforms like Threekit allow even small businesses to use digital files to create fully rendered 3D models that buyers can personalize on their mobile devices or desktops. Businesses no longer have to take gigabytes of pictures to show options like color, texture, size, and material. Instead, digital overlays allow shoppers to customize a product to match their personal Instagram aesthetic and examine it from all angles.
Drive online engagement: The biggest reservations consumers have about online shopping is the fear of not knowing what they're getting. AR can create a user experience that helps mitigate those concerns. Nearly 95% of respondents prefer an interactive 3D representation to video playback because it more seems more genuine. Research in the International Journal of Internet Marketing and Advertising found that the more customers interact with image, the more they trust the vendor—and 3D models encourage far more interaction than static pictures. 3D models that can be viewed from multiple angles, rotated, and zoomed in on to help establish trust. It's why 82% of all online visitors activate 3D views when given the opportunity.
Reduce returns: When consumers can customize products in real time and virtually place it in their living rooms, they're less likely to send it back. Returns crater consumer confidence and account for 20-65% of a company's cost of goods sold. In a UPS survey, 73% of eCommerce shoppers report that returning an item makes them less likely to buy from that retailer again. Research from Snap36 shows that 360-degree product views and 3D images reduce online returns by 35%.
Increase sales:

Augmented reality-enabled 3D models don't produce a slight bump in buying; it's a mountain of difference. Consumers who interact with 3D versions of products are 11 times more likely to click "Buy Now" than those who don't. TSUM, a luxury goods store in Eastern Europe, found that adding 3D models to its website increased conversion rates by nearly 40%.
Make shopping better: Many physical stores have found ways to harness customer's mobile apps to solve real-world problems. Lowe's used AR technology to alleviate an issue that has frustrated its shoppers for years: trying to find a specific item in a store the size of soccer stadium. Its In-Store Navigation App makes excellent use of Google's AR technology and its own inventory to direct shoppers directly toward the exact product they need. Organized home improvement planners can even enter their shopping list into the app and receive a GPS-like pre-planned route through the store.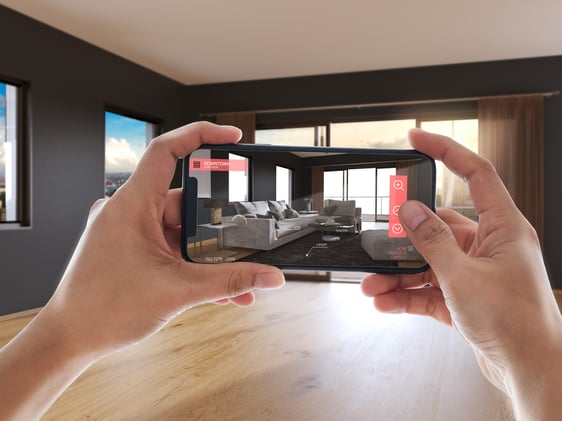 Beyond Wearables: How Other Retailers are Making the Most of New Tech
There's a tendency to think about AR for retail in limited terms. Sure, Sephora can help you try out new eyeliner and Home Depot's AR app can virtually paint your walls different colors. But what does AR offer everyone else?
As it turns out, there's quite a lot.
With augmented reality, physical stores can build engaging real-world experiences that attract foot traffic. Companies like Apple and Burberry have created fantastical in-store AR experiences that transform shopping excursions from mundane to story-worthy.
At Selfridge's in London, consumers were able to whip out their mobile devices and view a four-story moving art installation called Digital Falls that ran throughout the shop without obscuring products for sale.
Businesses are also using AR apps to squeeze more milage out of traditional marketing efforts. A common way for mail-order businesses is to use AR to narrow the gap between leafing through a catalog and placing an order. Some catalogs allow users with iPhones and Androids to scan a photo with their camera to view more product information or be taken directly to a purchasing page.
The same concept works for direct mail advertisements, which makes these digital tools available to businesses of all sizes. Adding a QR code to an advertisement can pull up an interactive 3D model of a product that customers can interact with in real time.
AR functionality can also help consumers post-purchase. For example, automaker Hyundai created an app that helps buyers make simple fixes to their car. Users only need to open the app and point their phone at the problem area to be taken to a video detailing the manufacturer-approved method of fixing the problem.
And while Pokemon Go almost seems almost quaint now, its central premise of using AR for gaming become opened many possibilities for family- and kid-oriented brands. Pizza Hut, for example, allowed users to scan images on pizza boxes that opened a family trivia game.
What does next-gen AR for retail look like?
The road to retail obsolescence is littered with the bones of companies that didn't keep up. After being among the first to recognize and capitalize on the shop-from-home convenience of catalogs in the 20th century, Sears ceded its frontrunner status to Amazon, which offered an even more frictionless service.
AR for retail isn't merely building a better mousetrap—it's transforming the sector in important ways. Harnessing new technology has already moved retailers from printing coupons in newspapers to scanning apps at checkout, allowing more consumers to enjoy savings and business to collect more data. The next-gen applications of augmented and virtual reality will meet consumers wherever they are and provide fun, novel, and interactive experiences that add more value for all parties.
Investment in AR is up, more consumers than ever are embracing the technology, and the growth of "digital experience" marketing alone will jump by 68.5% or more than $2,000 Billion by 2027, according to Data Bridge Market Research.
This is what businesses should be prioritizing as the next iteration of AR for retail takes hold:
Creating hyper-personalized experiences
Today, every customer who ambles through a brick-and-mortar store takes a similar journey. But augmented reality shopping apps have the potential to allow each customer to enjoy a completely unique shopping experience in retail stores. AR apps can direct shoppers to newly discounted products, point out items they're more likely to purchase, and seamlessly integrate a new kind advertisement into omnichannel marketing campaigns.
Building superior virtual experiences
Online shopping is as real to today's consumers as a Zoom meeting is to the modern office worker. It's just a part of life. As technology evolves, AR will be able to elevate online customer engagement to new levels. Just as gamers buy digital clothing and items for their online avatars and art investors have taken to investing in virtual pieces like non-fungible tokens, digital items are poised to seep into work and home life. Expect to see special digital sculptures, backgrounds, and special effects and games infiltrate video meetings, online conferences, and virtual meetings.

Engaging consumers anywhere
AR has the ability to deliver content to users anywhere a mobile device functions. Just as AirWalk shoes used GPS to offer skateboarders a chance to shop at a virtual pop-up store once they entered a specific location, more businesses are finding innovative opportunities for location-based promotions. For example, clothing retailer Timberland launched a pilot campaign that featured AR-powered mirrors on the outer walls of their mall locations that let passersby picture themselves in customizable clothing and footwear.
Training new hires
Augmented reality and virtual reality have enormous potential in education. Not only can new technology help train employees in virtual environments that are out of view of customers, it can act as a safety net for workers who are just starting out. Instead of calling over a manager with a question about how to input a discount code at the point of checkout, employees will be able to pull up an AR-powered app, point it at their terminal, and see the answer shown to them in explicit detail.
Taking upselling to new heights
Augmented reality features have the ability to target specific consumers and reach them in highly effective ways. Customers who interact with high-quality virtual objects have higher purchase satisfaction than those who don't, and companies will be able to track which products are often bought in pairs. Taking a cue from multichannel marketing, businesses will be able to suggest new products to existing customers—and provide them with interactive 3D models that demonstrate exactly how the new items will look and function.
Threekit's product visualization software creates photorealistic images, interactive 3D and augmented reality experiences that help businesses sell more. To learn more, schedule a demo with one of our teammates.