We Guarantee You Can Beat Amazon in this One Critical Area
There are no second thoughts regarding how we are ruled by what we are able to see. Visual experiences guide every decision and judgment we make. In fact, statistics suggest that 90% of everything that we process is visual. Moreover, people tend to respond faster to visuals than text.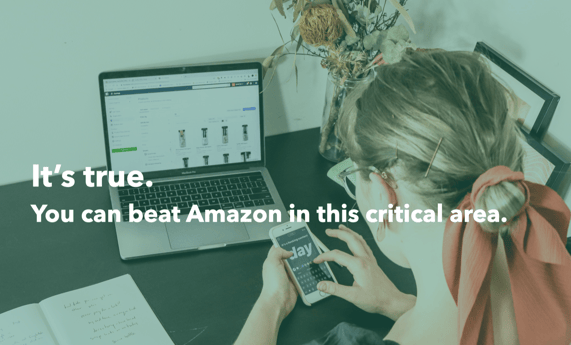 Over the last few years, we've seen a seismic shift in the way eCommerce brands think about and leverage visual content across different channels. As a result, the buyer's journey has also changed. Whether checking out images on Instagram or finding inspiration from a blog, ongoing access to easily consumable content has resulted in more opportunities for people to consume images and discover more products than ever before.
Consequently, visual commerce—the emerging need to understand how images engage and convert consumers at every point of the sales funnel—has become a prominent topic among marketers and eCommerce brands. That's why around 77% of eCommerce marketers agree there is a growing amount of pressure to connect visual content to ROI.
But, the question is: Are Amazon retailers able to fully leverage the massive potential of visual commerce? Read on to find out.
Why is Amazon Failing at Visual Commerce?
When we talk about eCommerce, we cannot go ahead without talking about Amazon, which is one of the world's most powerful retailers. It is perhaps also the most innovative. It has undergone constant digital transformation, from its beginnings as a small mail-order bookstore in 1994, to a global organization boasting $87.4 billion in quarterly revenue by the end of 2019.
Amazon's entire business structure bypassed traditional retail distribution channels and went straight to suppliers – all using 'digital technology' (AKA: the internet and powerful software). This has given customers cheaper prices and the convenience of online shopping while opening up suppliers to international markets.
As a company, Amazon has always been at the forefront of digital technologies to either expand its business offering (think Kindle or Amazon Web Services) or improve core business functions. For example, through its acquisition of warehouse robotics company Kiva, Amazon was able to optimize its warehousing systems to cut costs and increase its capability. In 2014, Amazon installed more than 15,000 robots in its US warehouses to prepare for the holiday season.
Yet, while Amazon may be the world leader in all realms of digital commerce, but they still have a long way to go when it comes to a key factor in the buying journey – visual experience. As discussed previously, product visuals are extremely vital in today's eCommerce landscape. The fact of the matter is: Amazon provides a very poor visual product experience. Amazon allows up to nine images to be uploaded but, generally, only six those are displayed. For a leading-edge eCommerce giant like Amazon, this number is remarkably low.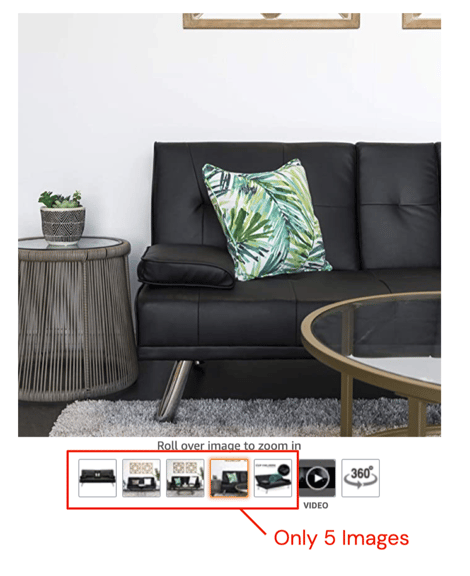 In the visual economy, it is not just about putting up images but meeting the consumer expectations that sit at the base of the selling hierarchy. In order to loop in buyers, a retailer must be able to really 'wow' them. However, before the brands start this climb, they must have a clear understanding of what the expectations are and where they must go.
According to consumers, nearly 51% of the brands fail to meet their expectations. The percentage is very high! Given the variety of alternatives provided online, if a brand is not giving the best, the consumers will not stop to look elsewhere. 57% of consumers simply stopped buying from a company because there were better alternatives offered. The stakes here are very high. You disappoint your consumers once, you have lost them forever
If the world's number one eCommerce destination has not been meeting visual expectations up to the mark, it definitely suggests that many retailers are still naïve regarding what consumers need in order to feel confident in their purchase decisions. There is no doubt that the proliferation of visual content presents a huge monetization opportunity for businesses.
An eBay study conducted in 2018 showed that there was a clear correlation between the increase in the number of product images and an increase in profit across various categories. Missed sales should be able to compel brands in doing better at meeting consumer expectations.
Being advanced in visual technology can enable a 100% representation of products. One single digital asset can be completely redefined and revamped in various ways. The final product may be completely different from what it originally was and it may be enhanced further in the photographs. A brand that uses different methods of visual representation may be able to meet customer expectations far better.
When we talk about the visual experience that Amazon provides, it is also pertinent to mention that its image quality is, at best, inconsistent. Moreover, the 3D, 360 spin images of products are only limited to some select vendors and sellers.
There is a long list of Amazon product image requirements with which sellers need to comply--this only adds to the difficulty. And finally, there is also no real-time customization experience provided to Amazon's increasingly discerning consumers.
So, How Can You Outdo Amazon?
Various reports have suggested that before the actual purchasing, consumers tend to actively seek out visual content for gathering as much information as they can before deciding on whether they want to buy a product or not. For instance, for health and beauty retailers, the consumers might want to understand qualities such as the texture, size, and ingredients of the lotion. Or, in case of an apparel brand, they might want to know what a dress may look like from various different angles.
The key to selling is making the consumer see how and why their life will change with your product in it. At one point in time, going the extra mile with visual commerce would have helped increase sales, but wasn't strictly necessary. But now, with eCommerce becoming an increasingly crowded space, your customers need to be able to see your product as much as possible, whether it is photos of the product being used by normal people who look like them, videos or 360-degree views showing how it looks in 3D.
So, you want to outdo Amazon? Here's what you should do:
The first and most clear-cut step is to put up at least 8 images per product (contrary to the limit of 6 images provided by Amazon). This would ensure that the consumers receive the best visual experience of the product and are able to make their purchase decisions confidently.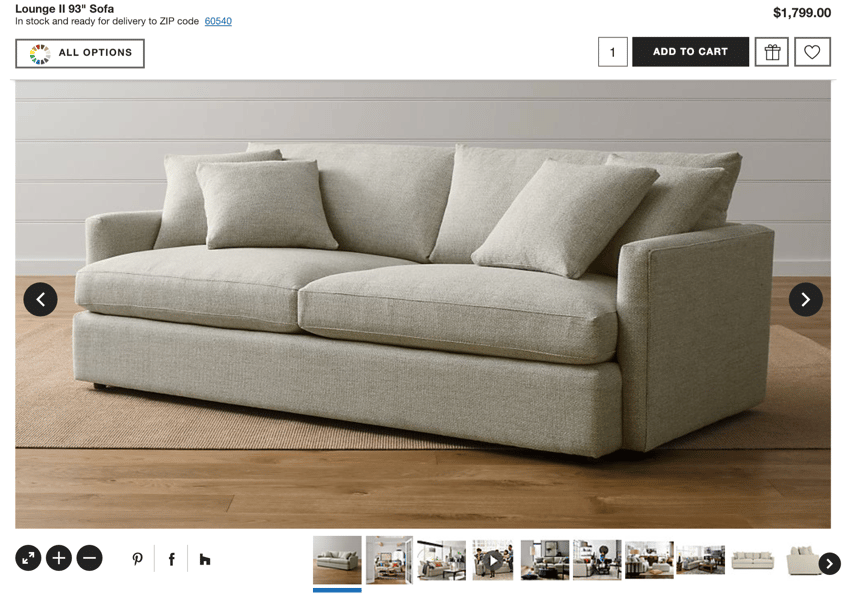 It's best practice to provide 8+ images per product
Not only will better visual images drive more conversion, but they will also decrease product returns which is, in turn, good for the overall consumer experience and your business at large. According to research, eCommerce product returns have become their own environmental hazard and eRetailers all over the world are expected to take appropriate action for it.
If your consumer does not get to see enough images of your product, they are bound to remain slightly unsure or order a product that they were not expecting. In this case, they will be forced to return it, causing harm to the environment.
At Threekit, we are also working day and night to reduce product waste and CO2 emissions by 2% in 2020 with our Visuals Make a Difference program.
3D configuration is a potent marketing tool that is becoming more and more commonplace as design software and processing capabilities increase. It has almost totally replaced conventional product photography and studio sessions in industries like furniture retail.
However, 3D can be applied to more than just interior design. The ability to visualize objects in real-life settings makes digital modeling a smart option on a wide variety of scales, from architecture to fine jewelry and just about anything in between.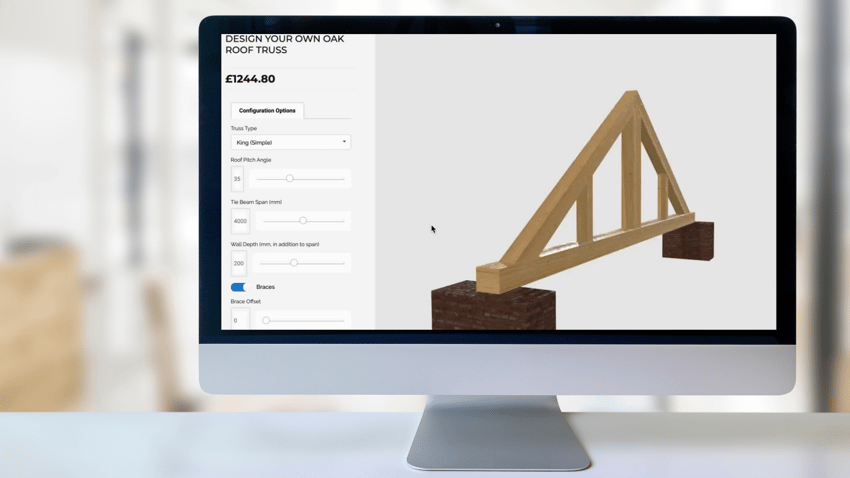 Create and customize practically anything with Threekit's 3D configurator
While several different types of computer-generated 3D configuration solutions exist, Threekit sets itself apart by its emphasis on photorealistic visualization. Fully rendered images include material-specific textures, carefully customized lighting, and incredible levels of detail.
These characteristics are what make 3D product visualization such an advantage to your eCommerce marketing campaign. Customers can interact with these detailed images to assess product quality, functionality, and aesthetic appeal without the need to leave their homes and offices.
3) Use Virtual Photographer
If you have a large product portfolio with customizable elements, you need to produce a gigantic number of beautiful images for your eCommerce website. Virtual photography allows you the flexibility to do this without having to snap a single picture.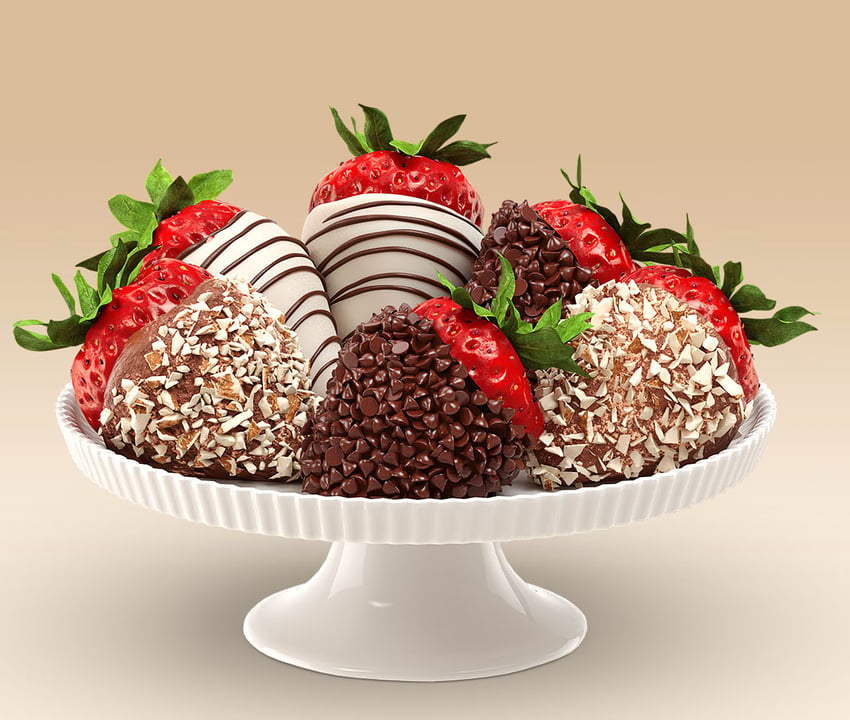 Strawberry confections created with Virtual Photographer
For example, using Threekit Virtual Photographer, you can create, store, and maintain your digital assets for repeated use. You can also integrate it directly into your PIM or ERP for accuracy and instant alignment. It allows you to upload eCommerce images, personalize type, and change color in real-time.
Using virtual photographer, eCommerce brands can create a more engaging product experience. You can enable customization and configuration with 2D images, which can result in up to 40% increase in conversion.
Another powerful tactic is to create immersive shopping experiences for customers using augmenter reality (AR). By adding AR to your online store, you can give shoppers a new way to experience your products. It increases their buying confidence as they get a truer sense of the size, scale, and detail of your products. Moreover, you can bring your products to life by using new technology to showcase realistic, interactive versions of your products.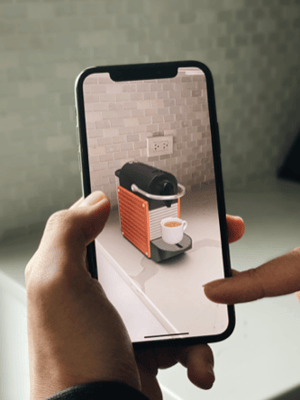 Did you know, 63% of customers are sure that augmented reality may buff their shopping experience? 70% of customers prefer to use AR capabilities to preview product variations such as color or style difference. AR allows you to give your customers on iOS and Android the ability to turn any environment into their own show room.
According to some studies, AR is going to completely take over the eCommerce world within the next 5 years. It is expected that $2 of every $10 spent in eCommerce sales (not including in-app purchase) would be because of using AR.
Wrap Up
Although Amazon is a giant eCommerce retailer, it fails at delivering the visual experience that customers demand today. Using 3D product visualization, virtual photographer, and AR technologies, eCommerce brands can create incredible visuals of their products for better sales and customer experience.
This is not an option anymore – it is a necessity. If an online retailer wishes to remain at the top of the consumer game, they must bring in relevant, updated, and creative images that enhance the consumer experience.
For gaining better sales and best of consumer experience, refer to our team at Threekit which will guide you to the best visual customization and AR solutions for your products.