Visual Product Configurator Highlight: Misty Mountain
A visual product configurator is an interactive online tool that allows patrons to view your products in 3D from any angle, while allowing them to change details of the item, such as texture, color, size and font..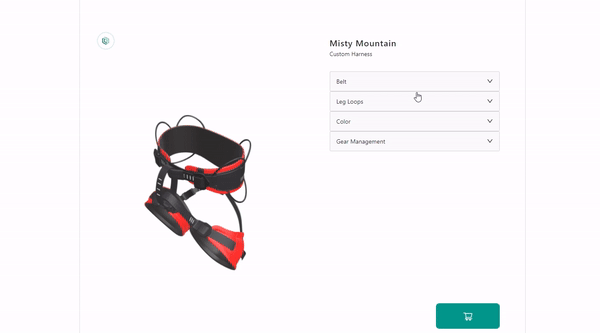 Here, we explore this tool through one retailer, Misty Mountain, and how a product configurator helped to put them ahead of the pack.
Features of Customization
Misty Mountain is a climbing gear retailer that designs and manufactures their own products straight out of the Appalachian Mountains of Western North Carolina. Their unique attention to detail allows you to create personalized climbing gear perfectly fit for your unique body shape and size. Their engaging 3D customizer lets you see how your new equipment will look in real time. We'll dive into the customization aspects of their custom harness as a case study.
The customizable elements of this range include these essentials: belt, leg loops, color, and gear management options.
First, you choose the type of belt you are looking for, in terms of both the style and size. Style options include Titan Belt in double pass or quick adjust, Crag Belt in double pass or quick adjust, Wall Belt in double pass or quick adjust, or Ground Up Belt in double pass or quick adjust. They also carry sizes that range from XS- XL.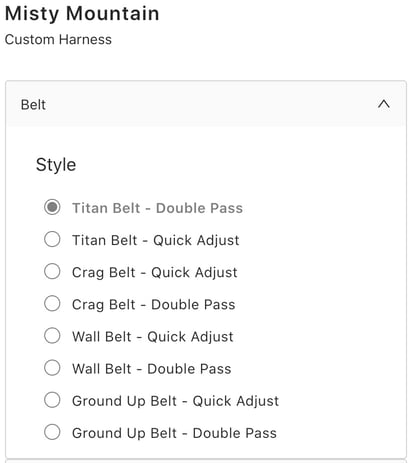 Next come the leg loops, for which you can also choose both the style and size. The style options include Titan Belt in double pass or quick adjust; Crag Belt in double pass, quick adjust, or fixed; Wall Belt in double pass, quick adjust, or fixed; and the Ground Up Belt in fixed. Leg loop sizes range from XS-XXL.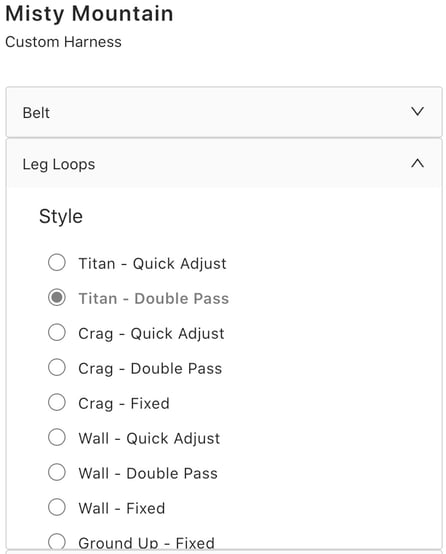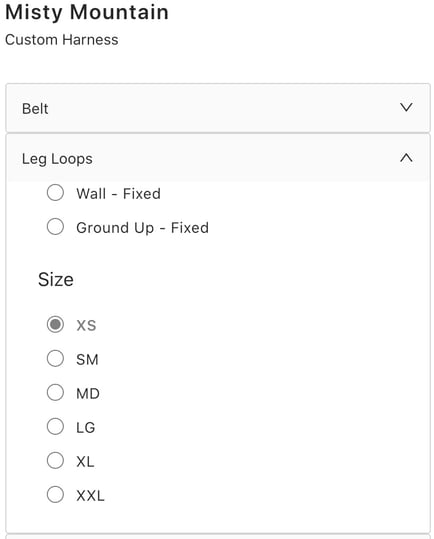 The fun part about Misty Mountain climbing gear is that it comes with a large selection of color options to coordinate with the rest of your equipment. You get to customize the belt/leg loops' exterior color, the exterior color of the harness itself, as well as the belt/leg loops' interior color. The belt/leg loops' exterior color options include clay, coyote brown, hunter green, grey, forest green, purple, teal, black, royal blue, tan, saffron yellow, blaze orange, neon green, and pink. The exterior color options are blue, ruby red, gold, green, silver, brown, and amethyst. Finally, the belt/leg loop interior color can be navy, black, baby blue, hunter green, or mustard.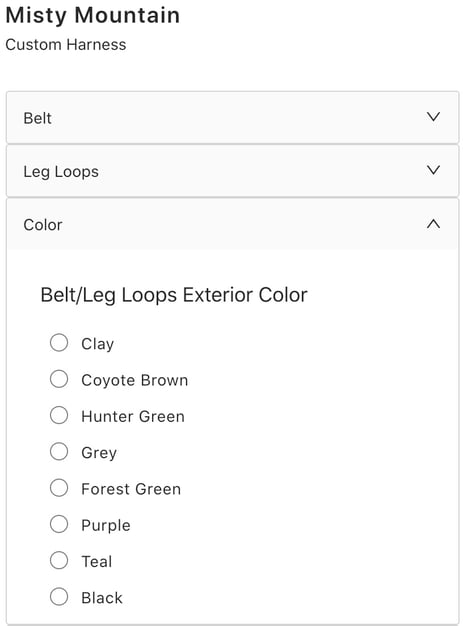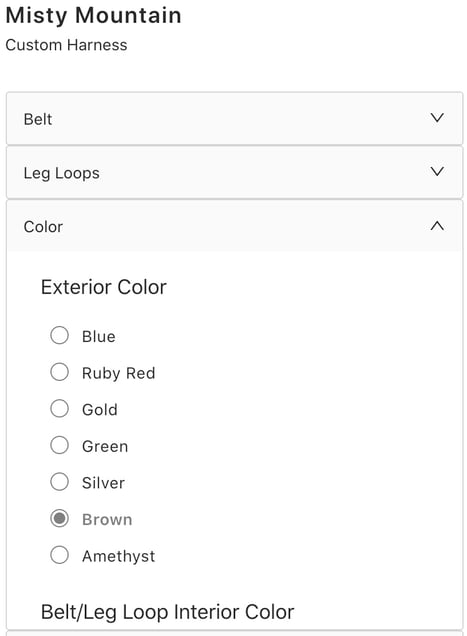 Finally, you have the option of adding extra gear management options based on your individual climbing style. You can choose to add on an additional gear loop, ice clipper slots, or an additional belay loop.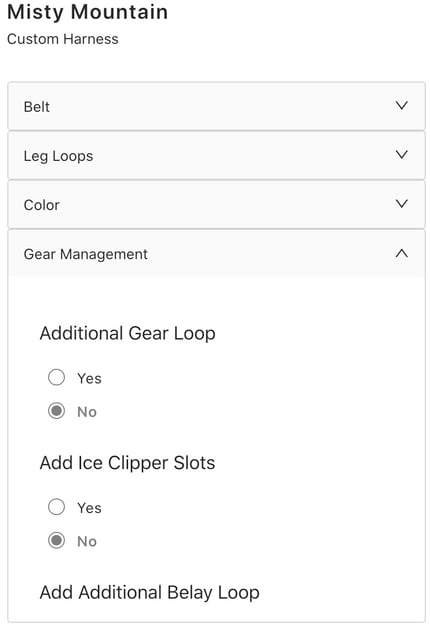 As you select these options from a drop-down list, the product customizer shows you the climbing harness you are creating reflected in real time. Together, it allows you to create a piece of equipment that not only is customized to your body shape, but also allows for the extra gear you might need to carry based on the types of climbing you might do. (Plus, the fun bonus of getting to choose colors that suit your style and other gear.)
Overall Benefits of Customization
There are a number of benefits 3D product customization has for small businesses. These advantages include increasing conversion rates, improving overall communication between you and your customers, providing patrons something engaging to interact with and make their own, and giving you an advantage over the competition.
3D product customization has been proven to increase conversion rates from visitors to your website. The premise behind this is that the longer someone spends on a website, the more likely they are to make a purchase in the end. With a 3D customizer, shoppers tend to take longer interacting with the platform than they would viewing photographs or a video.
In the case of Misty Mountain gear, instead of looking at set harnesses that only differ in size, and maybe color, you can customize a large range of features. This interactive aspect increases the time spent on its website, and therefore the likelihood that a customer will purchase the product in the end. As smallbussiness.chron.com writes, "According to the Nielsen Norman Group, viewers typically leave a website within 10 to 20 seconds." That means the more reason you can get a potential customer to stay and browse, the better!
Additionally, allowing the potential buyer to see an extremely lifelike example of the product helps to ensure that the actual product that arrives is as close to expectation as possible. In turn, this decreases the need for returns and reorders, along with the associated costs. Additionally, with customized products, this can decrease the amount of inventory needed on hand as the exact product that the customers would like will come through the moment the order is received by your business, such as with the custom harness. This allows business investment towards other expenses instead of keeping inventory.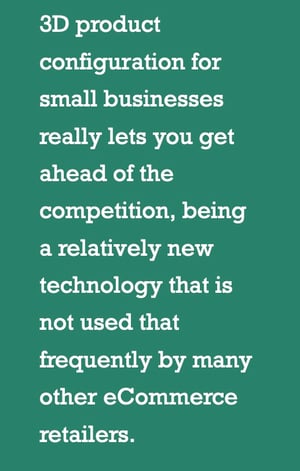 Also, the fun part about 3D product customization is that it allows customers to really engage with a product, as well as truly make it their own. It is the closest thing in today's technology to the experience of holding a product in a store in-person. This is accomplished by the ability to see the product from different views, rotate it, and zoom in & out. It also allows shoppers to swap options like size, color, and extra accessories in real time based on what versions of the product you have available for purchase. This makes the entire shopping process an interactive and creative one, unique from other 2D online retailers.
Finally, 3D product configuration for small businesses really lets you get ahead of the competition, being a relatively new technology that is not used that frequently by many other eCommerce retailers. By utilizing this technology, you signal to customers that you are truly focused on customer service, as well being cutting edge. It also helps to provide shoppers as seamless an ordering process as possible with eCommerce. Don't forget, as well as using the 3D configurations for the products themselves, you can also utilize them for marketing purposes, which is a captivating way to bring more traffic to your company's website.
Different Angles
Here, we illustrate the different types of visuals a 3D product customizer can create for the customer using a Misty Mountain custom harness as an example.
Straight on View: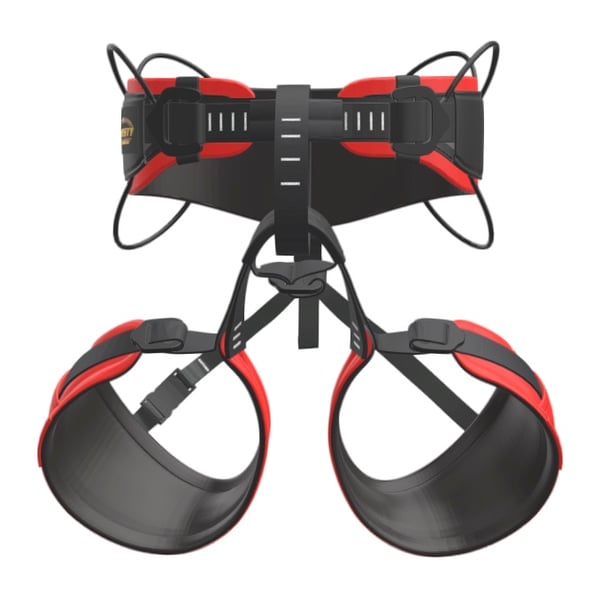 Top View: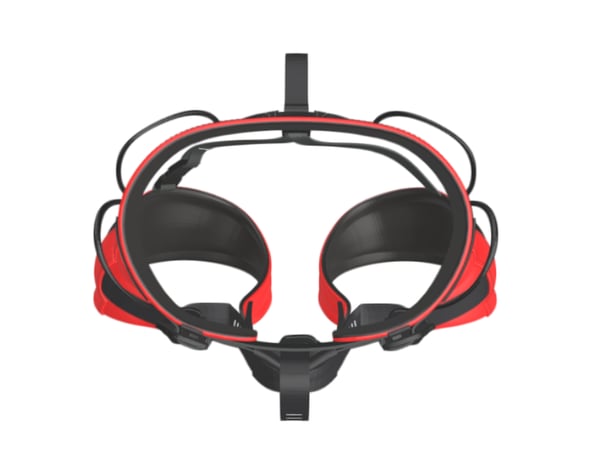 Side View: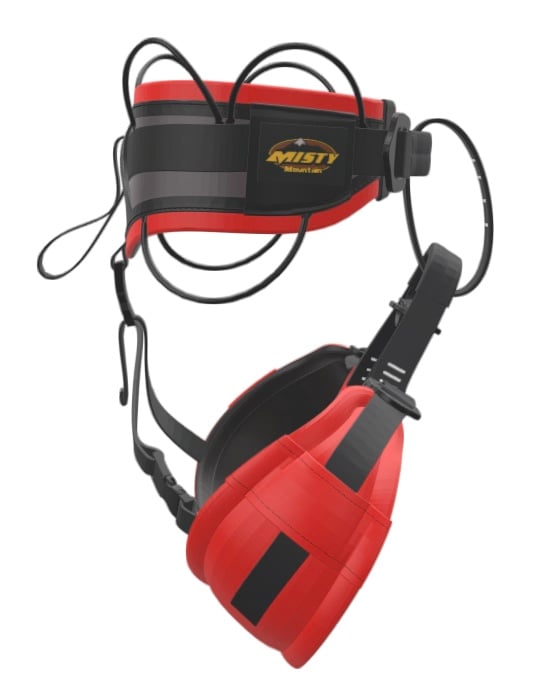 Bottom View: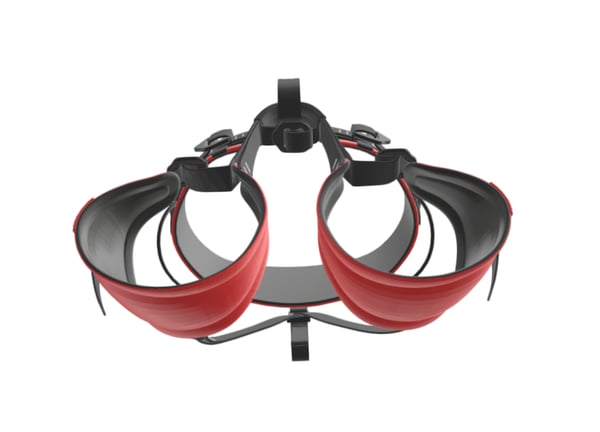 Zoomed in View for Texture: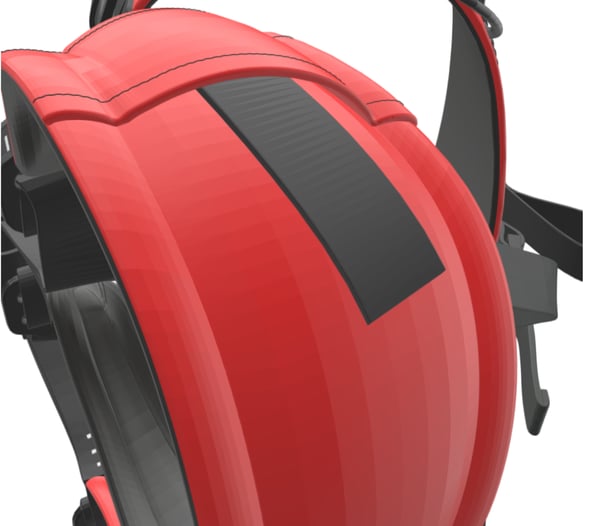 Color Change: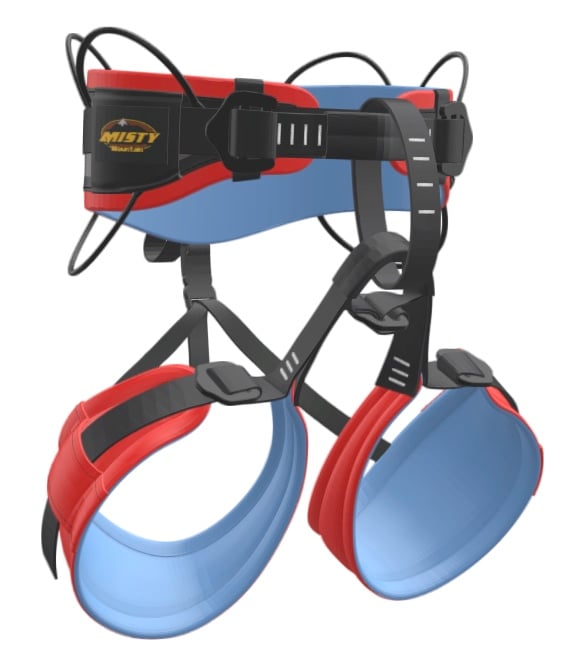 However, do keep in mind that these images do not do proper justice to being able to control the attributes of the 3D product customizer yourself. Rather, they illustrate the level of specificity which can be achieved with 3D product configuration for small businesses.
Summary
If you are hoping to expand the customization features of your business, do keep a 3D product configurator, such as that by Threekit, in mind. Threekit is a great resource for all of your 3D product customization needs. In Misty Mountain's case, they were able to fully customize a number of different products, while allowing for a product that best fits the customer's lifestyle.