Three Ways to Upgrade Your eCommerce Experience with BigCommerce AR
This post is part of our Threekit Webinar Series, a blog series where we recount the most pertinent takeaways from the Threekit insiders and guest experts who are thought leaders in the 3D and augmented reality space.
As long as the everyday online experience gets more immersive, eCommerce experiences will need to follow suit. Which is to say, digital marketers always need to be planning their next upgrade. From 3D configurators to immersive AR experiences, there are always new ways to prepare for the next big thing in digital marketing.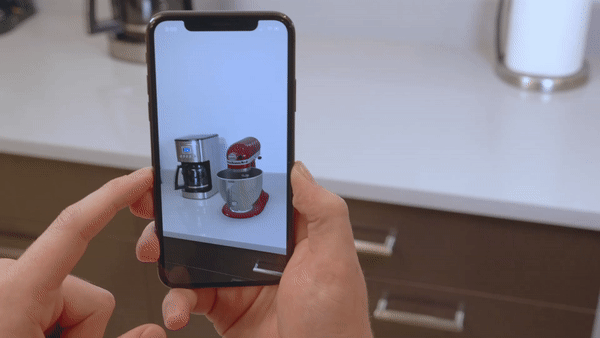 In a recent virtual conversation, experts at Threekit discussed how that can be accomplished with industry leaders from BigCommerce and Redstage. The following capture key highlights of their conversation.
Change is Happening Faster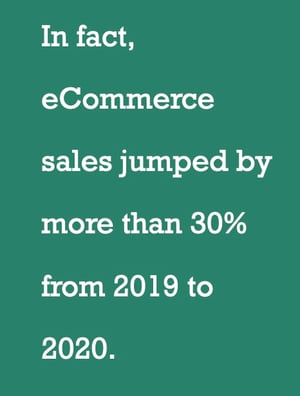 As we all know, the COVID-19 pandemic ramped up online usage, and therefore, online shopping. In fact, eCommerce sales jumped by more than 30% from 2019 to 2020. That's by far a larger boost than we've ever seen in a single year. And while the pandemic will come to pass at some point, the expectations of this past year will remain for the foreseeable future, making adaptability a trait every company needs to start embracing today.
B2B is seeing just as much change as B2C. The B2B world has had to play more catch-up since they've relied heavily on traditional salespeople until just recently. While the B2B sector has been slower to adapt, there are smart marketers out there leading the charge. A recent study showed that 68% of buyers prefer to conduct research online rather than interact with a salesperson. That's a massive share of the market that expects digital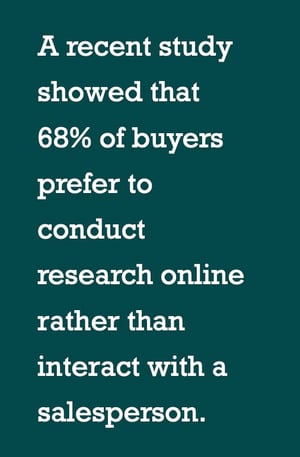 experiences already. It's also understandable, as nearly all B2B buyers today are millennials meaning they're already familiar with the B2C eCommerce journey. They expect a positive user experience, ease of purchase, and the confidence of being able to easily access the information they seek online.
Consumers also expect far more personalization. 77% of customers have paid more for a brand that provides personalized services or experiences — those are serious margins. Furthermore, 57% admitted to abandoning merchants who didn't offer personalization in favor of a competitor who did, proving that there's a lot to gain from personalized experience implementation and a nearly equal amount to lose.
Watch the webinar here.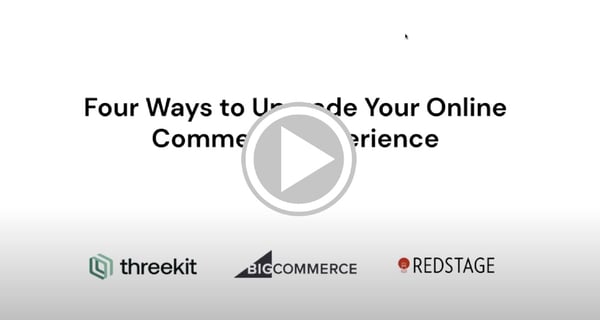 1. Visuals Are the Key to Success
The experts at Threekit have led the charge in providing clients with high-quality 3D images, product configurators, and cutting-edge AR experiences for the past decade. With their roots in Hollywood CGI graphics, they have higher standards and capabilities than any other in the industry. They also partner with the best marketing agencies in the world to provide the most intuitive, customer-friendly data management, user experiences, and CPQ integrations available.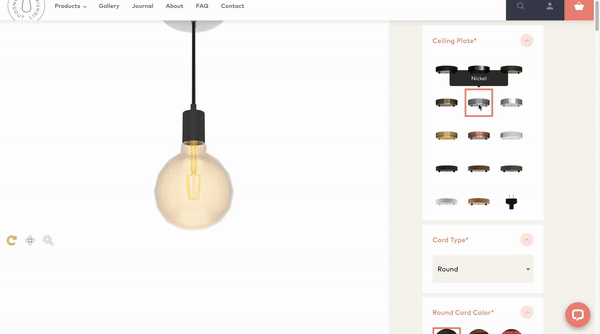 2. Threekit + BigCommerce
While Threekit brings the power of high-quality 3D renderings and AR experiences to clients around the world, they need a partner that's equally as qualified to bring that content to life online. A BigCommerce product configurator with AR provides just that. Working together, they're able to create highly visual experiences that can configure literally thousands of permutations in a simple, intuitive platform. Threekit renders virtually every type of visual, including 3D configurators, AR, and a Virtual Photographer™, meaning they can prepare companies for whatever the future of eCommerce may hold. This helps B2C companies achieve the experience their customers already expect while also surprising B2B customers with a self-service journey that's as satisfying as their personal shopping while accommodating for complex inventories.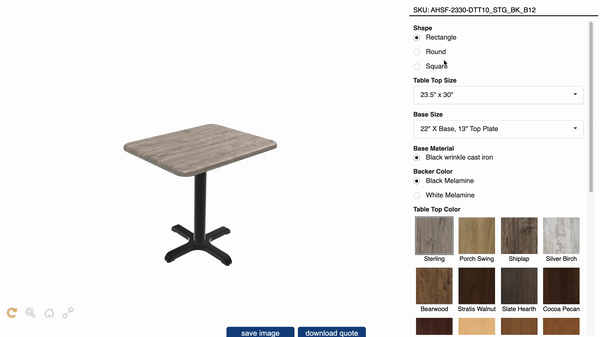 3. Threekit + Redstage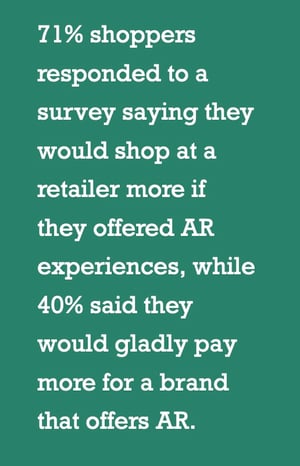 The true-to-life 3D renderings Threekit designs deserve a life-like AR partner to match. Redstage is at the forefront of eCommerce in general, but their expertise in mobile AR experiences are able to help consumers get a clear look at what the products they're considering might look like in their spaces. This is about as personalized as personalization gets and it's only likely to grow in popularity, and therefore, consumer expectations. A few statistics support this prediction. 71% shoppers responded to a survey saying they would shop at a retailer more if they offered AR experiences, while 40% said they would gladly pay more for a brand that offers AR. AR is also making its way into the B2B world. Buyers who handle highly complex or technical purchases for business can benefit from seeing not only that shape, color, or style of what they're seeking but also how they'll fit into machinery, and other business-related operations. Clearly the desire for more AR is there and Threekit along with Redstage are prepared to help brands take advantage.
Every online experience could use an upgrade, and Threekit along with some of the most respected marketing partners in the industry are ready to help you plan and execute yours. Our 3D configuration and AR software are the most advanced, highest quality options available in eCommerce and we're always working to get ready for what's next. If you're ready to outperform the competition today, and in the years to come, get in touch with us today for a consultation or demo.