Top 3 Virtual Reality Use Cases in eCommerce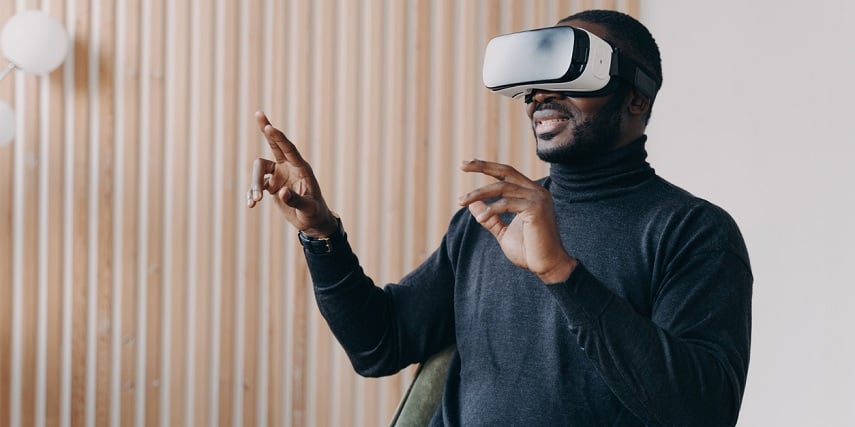 Virtual reality use cases are on the periphery of many eCommerce niches because they help with research; after all, eighty-one percent of retail shoppers conduct online research before buying a product.
But nearly 70% of online shopping carts are abandoned. So how can online retailers close the gap and make that research lead to more sales?
This is a major issue that many eCommerce retailers hope to solve with technology.
You have valuable and innovative products, but if you can't accurately highlight their benefits, shoppers may not recognize their value. So, how can you create a memorable, detailed shopping experience that rivals those consumers enjoy in brick-and-mortar stores?
Many eCommerce retailers are turning to virtual reality to enhance the customer experience. Still, it can be difficult to know whether such an investment is the right move for your business.
By learning more about VR and exploring some virtual reality use cases, you can determine whether it's the right fit.
Virtual reality use cases in eCommerce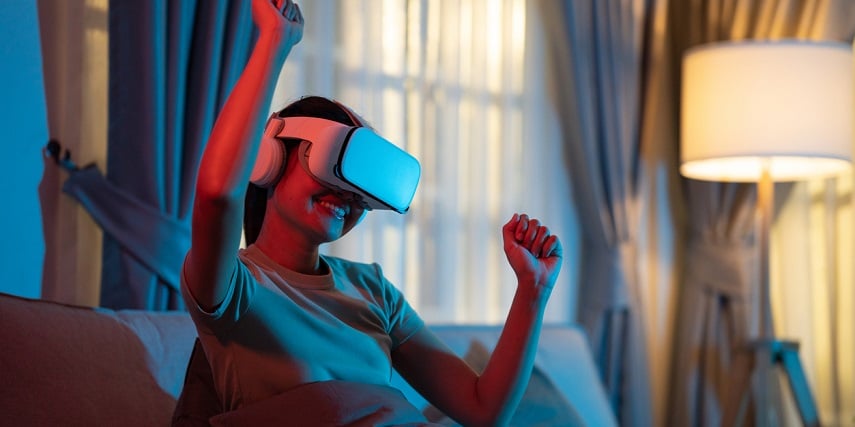 As an online retailer, you want to provide consumers with an enjoyable shopping experience that showcases everything your products have to offer.
VR uses a combination of advanced tools and technology to create an immersive visual environment. It can refer to 360-degree videos, photos and product demos, or it can use the more complex headset VR that most people associate with virtual reality.
So, how does VR improve eCommerce shopping to help retailers achieve more sales? Consider how these virtual reality use cases offer shoppers a more vibrant and interactive shopping experience.
Virtual try-on
One of the most significant challenges for eCommerce is that consumers have to buy products without examining them first. Virtual try-on technology lets customers see how clothes, makeup or accessories will fit before buying.
Virtual reality is a 3D projection that lets you feel like you're in a projected scene. This is most commonly achieved by putting on a VR headset and sometimes gloves. The combination of technology allows shoppers to move around and explore an environment as if they were physically there.
A VR shopping experience allows customers to examine a product from all sides and even simulate the feeling of holding or using the item. A VR fitting experience might also provide an appealing environment, like a simulated fitting room, to mirror the brick-and-mortar shopping experience.
Virtual try-on technology creates a fun, immersive experience that can improve customer confidence to increase purchases and reduce returns. Many consumers have used virtual try-on to shop for glasses, shoes or clothing online.
However, you might have noted from our description of VR technology that the most popular virtual try-on platforms don't use VR technology.
For example, Journey allows customers to virtually try on thousands of shoe choices. Also, Warby Parker allows users to try on glasses from the comfort of their homes.
However, both of these platforms utilize augmented reality (AR) to create virtual try-ons.
Virtual stores
Since virtual reality can completely immerse shoppers in a simulated environment, the technology can be used to create realistic stores. These stores may mirror popular brick-and-mortar stores that already exist or a fictitious environment for an entirely online business.
For example, Ralph Lauren allows shoppers to virtually step into the world of Ralph Lauren's most iconic retail spaces in New York, Beverly Hills, Paris and Hong Kong. On the other end of the spectrum, digitally native beauty brand Charlotte Tilbury launched an entirely virtual storefront.
Some virtual stores use avatars to represent customers, while others simply use online navigation. In both cases, they allow shoppers to meet with friends and shop together in real time.
Interactive education
If your product is complicated to use or customers may not be confident with it, VR can offer interactive education to increase buyer confidence.
For example, Lowe's Holoroom uses VR to allow shoppers to virtually feel the experience of using a specific tool or performing a complex DIY project. The ability to utilize this technology to build confidence around a startup eCommerce brand could significantly increase buyer trust in a completely new product.
Virtual reality vs. augmented reality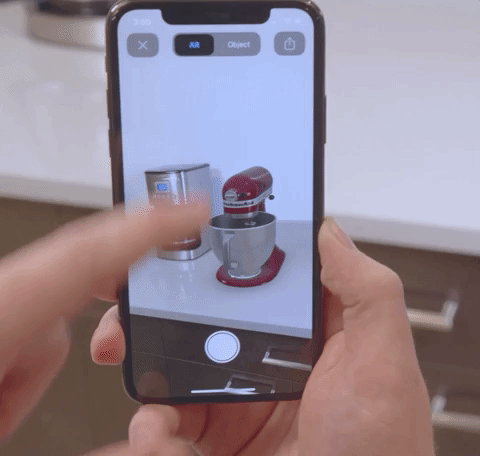 VR is a complex and exciting technology that allows eCommerce retailers to simulate a physical shopping experience. However, it's not the right choice for every online retailer.
AR is another exciting type of technology that creates an immersive shopping experience with many of the benefits of an in-store experience. AR platforms often power many of the retail experiences individuals refer to as VR.
One of the most significant differences between AR and VR is accessibility.
Since VR is designed to create a fully immersive experience, users must use dedicated hardware to surround themselves with virtual reality. While the use of in-home VR technology is growing, it doesn't come close to the number of consumers who depend on smartphones and other devices for daily use.
According to a March 2022 survey, only 18% of U.S. adults own a VR headset. Meanwhile, 85% of Americans own a smartphone.
The truth is that AR use is far more common than VR in eCommerce. In fact, many VR experiences also depend on AR to create a mixed reality (MR) that provides shoppers with the full experience.
For example, virtual stores that have a try-on feature typically depend on AR technology.
Using augmented reality to create an immersive shopping experience in eCommerce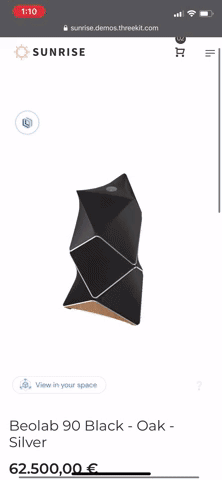 VR really shines when it comes to creating a fully immersive experience that places shoppers in a simulated location like a virtual store or event. That's where most of these virtual reality use cases focus.
However, augmented reality provides shoppers with easily accessible features that share many of the same attributes. AR also takes another step toward increasing buyer confidence by virtually placing products in the real world.
The combination of 3D product configuration with AR allows eCommerce retailers to show customers a product from all angles and even virtually try on products. With AR, online retailers can provide benefits similar to VR and even some that aren't typically available in a VR environment, like the ability to virtually place home goods and furniture in a shopper's environment.
Many of the effective virtual experiences that individuals assume are VR-based depend on AR technology.
Ready to embrace the power of improved visuals and augmented reality to provide your eCommerce customers with a virtual meets real-world experience? Learn how to get started right away.