Top 3 Brands Using Visual Configuration for Building Materials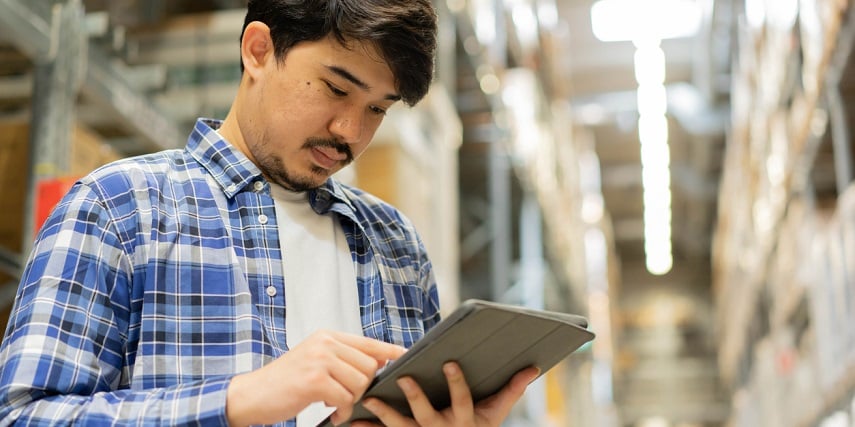 The purchase of building materials requires precise measurements and careful design for a project to come together effectively. For both construction professionals and DIY renovators, it can be challenging to visualize a project before it's complete without visual configuration for building materials.
If you sell building materials, you can understand why it's important to show your customers what they can accomplish with your products. Accurate and beautiful 3D views are the first step to product visualization.
However, building materials are more than objects. They do things.
So how can you show customers the potential of your building materials online? Visual configuration is the missing piece in the shopping process that can actually make building materials come together.
How visual configuration enhances the buying process of building materials
Building materials aren't a complete product on their own. They're part of something bigger, and without an effective way to illustrate their potential, you could fail to catch the attention of your ideal customers.
Visual product configuration is a powerful tool that allows customers to mix and match options and view immediate results as they build a product in a 2D or 3D space. As customers make changes in real time, prices automatically update to reflect those changes.
In other words, visual configuration allows your customer to see their project come together before the building process (with an accurate quote).
The process provides customers with a clear view of exactly what they can expect. It also offers an engaging shopping experience that boosts online conversions by 42%.
Visual configuration doesn't stop at sales. It's also an effective tool for completing custom orders and configuring complex products.
Your system can automatically generate CAD drawings as a product is configured. This takes the manual process out of personalization.
Parametric configuration is another important feature in visual configuration for building materials. It allows you to create design rules for 3D models and drawings and generate a bill of materials for manufacturing.
Product visualization improves the buying experience for customers. It also streamlines the sales process for companies so building materials become easier to buy and use.
How top brands use visual configuration for building materials
Like the products they help create, visual configurators are highly customizable to help meet the needs of different vendors who produce a variety of items. Many highly successful brands depend on visual configurators to help illustrate the functionality of their products.
These three top brands use a visual configurator to improve the sales of building materials.
1. Tuff Shed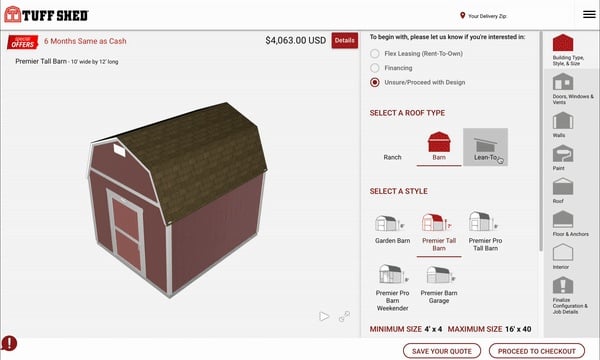 Founded in 1981, Tuff Shed is America's leading seller of storage buildings and garages. They're committed to providing exceptional customer service. So the company works with customers to help them decide on the building size, style and accessories that are right for them. A visual configurator assists in the process of creating customized buildings.
Tuff Shed's design tool is a 3D configurator that allows customers to bring their shed vision to life with just a few clicks.
Users start by selecting their preferred building size and style. Then they can add customizations like color and the size, style and placement of windows and doors.
Each addition updates the price in real time to help customers stay within budget. Every addition can be reversed or changed until the customer configures the perfect building that meets their needs.
Customers can also use the configurator when shopping through Tuff Shed partners like Home Depot, where different selections for siding, shingles, flooring ramps, etc., are advertised.
2. Hangout Lighting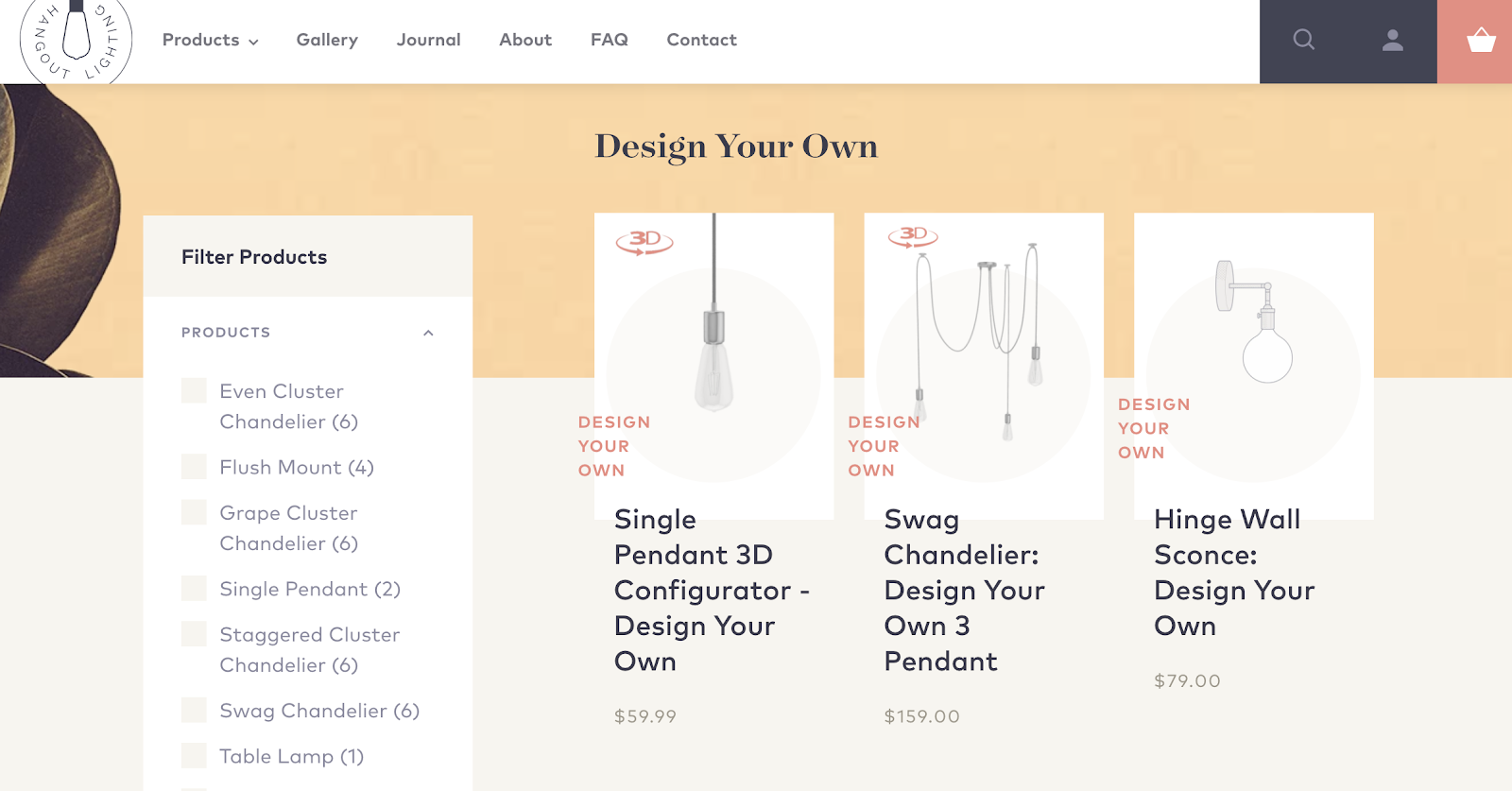 Hangout Lighting is a premium lighting company that helps customers customize lights that are just right for their home or business. The company offers nearly endless ways to personalize lights, including the ability to mix and match vintage, industrial and modern styles and elements.
Among their extensive product selection, Hangout features a "design your own" category that allows customers to design their own light fixtures using a 3D visual product configurator.
The process begins with a product choice that defines the style of the light. Then customers can select the base, cord, sockets, shades, bulbs and colors they want to use in the finished product.
The process is engaging and fun. Also, the company's tool for visual configuration for building materials updates pricing in real time so shoppers can stay within their budget.
3. Abodu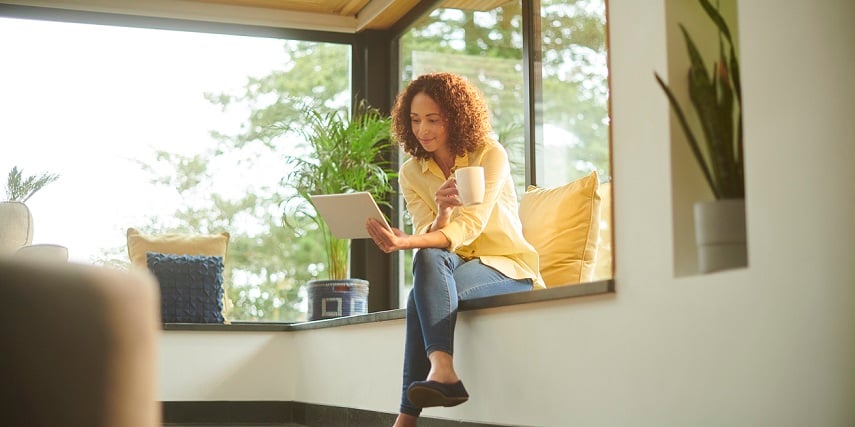 Homeowners are looking for ways to expand their homes' living spaces. Mother-in-law suites, rental homes and backyard offices or game rooms in entirely separate structures are becoming more popular.
Abodu, which was founded in 2018, has successfully branded itself as the one-stop shop for completely customizable, prefabricated accessory dwelling units (ADUs). They design and build complete backyard homes that buyers can customize to suit their unique needs, space demands or style.
Visual configuration plays a key role in every step of how Abodu creates these dream dwellings.
Buyers can look at different layouts or choose between different siding colors, La Cantina door styles and other interior and exterior options. Instead of the design process being tedious or drawn out, customers can use a selection of dropdown menus and clickable options to customize their new building.
The process is highly visual, and customers can see configured views or photographs of completed ADUs to make the process even more enjoyable. Abodu also carefully measures the space and the layout to make sure the entire process, from online design to on-site installation, goes smoothly.
The company offers an excellent blend of visuals, intuitive online tools and behind-the-scenes QA.
Visual configuration accurately displays building materials in action
Building materials are used to create a variety of products. Consumers increasingly demand personalized products that fit into their space and lifestyles. So companies that can help them reach their goals are becoming more popular than ever.
Although these companies sell vastly different products, they each depend on visual configuration to illustrate how customizable parts fit together to form a completely personalized product.
Visual configuration for building materials:
Clearly defines how parts come together

Offers accurate dimensions for a specific space

Helps customers envision how to complete a personalized product
With tools like these examples, customers get a better understanding of the product. As a result, they are more likely to make a purchase. Get started today by learning more about how visual configuration from Threekit can help your company revolutionize the sale of building materials.