Introducing the Threekit Virtual Shopping Index
Our Virtual Shopping Index is our ongoing effort to monitor the COVID-19 crisis and its impact on commerce.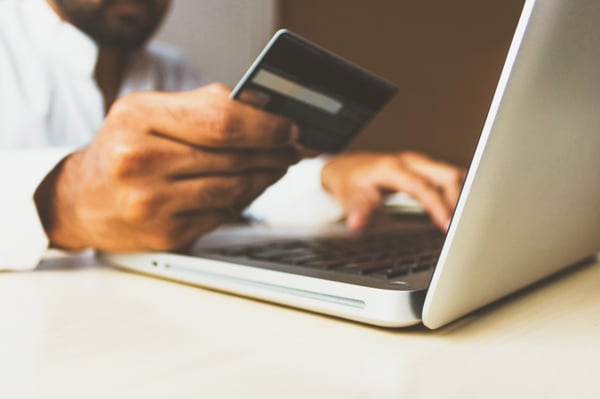 Update 5/13/2021
After more than a year of gathering additional data on buying habits through the duration of the pandemic, we're revisiting our Index to provide the updated observation on consumer trends. The data shows astronomical increases in online spending and reliance on eCommerce as shoppers were forced to remain at home for extended time, including traditionally busy holiday purchase seasons. The pandemic affected shorter term behaviors while also spurring rapid growth and longer term changes in consumer actions and expectations.
Overall Spending Shifts to eComm
Staying home didn't slow purchasing for most Americans; it just changed how they shopped. Online spending increased by $183 billion from March 2020 through February 2021.
The pandemic also changed the items of interest for online shoppers. This caused high gains throughout 2020 in online traffic and sales across grocery, technology, and fitness brands while non-essential items like cosmetics, fashion, and accessories experienced minimal to negative gains.
Global online traffic increases:
Grocery: 34.8%
Retail Tech: 7%
Sporting Equipment: 23.6%
Cosmetics: 3.7%
Fashion: -10.3%
Jewelry: -8.2%
Varied Growth for Small Businesses
Without doubt, the pandemic took its toll on small businesses of all types: 22% of small businesses were closed as of February 2021. Federal relief options including PPP and EIDL loans offered some retailers ways to stay staffed and stave off damage from lost revenue.
Those small businesses with products and services geared toward – or open to pivoting toward – eCommerce were better able to adapt to changing buyer behaviors and COVID-19 restrictions. More than two-thirds of small business now accept online payments, up from 47% pre-COVID. Increased access to small business offerings as well as growing concern in communities and a push to support and shop local helped as well.
For the 2020 holiday season from Thanksgiving to Christmas, small businesses came out a winner. Surprisingly, Small Business Saturday beat Black Friday and Cyber Monday in year-over-year growth in eCommerce revenue, up 21.6% with $9.0 billion in sales.
Holidays: Less Spending, More Online Purchasing
Keeping with holiday eCommerce trends, small businesses were not the only sector to see growth. Overall, online holiday sales were up in 2020 compared to the previous year. Web-only stores, or those without brick-and-mortar fronts, increased their holiday business by 23.9%.
Buyers took to the internet to find gifts, but they didn't overspend. Economic uncertainty brought on small year-over-year growth in overall holiday spending at just 2.4%.
While buyers cut back their holiday budget, 83% of consumers shopped online for their gifts. eCommerce sales experienced a 47.2% increase in response during the holiday season. In-store sales increased as the holidays crept closer due to longer shipping lead times and concerns about delayed, with most shoppers opting for curbside pick up or alternatives to long lines and prolonged browsing.
Bulk Buying Continues
At the onset of the pandemic, consumers raced to stores – in person and online – to stock up on what they believed to be essential items. First to go and experience short supply were hand sanitizers, personal protection items, and paper products.
But as tensions ease, bulk buying continues. Consumers are still looking to head out to the store less often, consolidating online purchases and shipments instead. Buyers are also remaining relatively conservative when it comes to spending, and bulk purchases can offer longer-term savings.
Grocery Purchase Habits Permanently Altered
Thirty percent of shoppers continue to prefer curbside grocery pick up well into 2021, and online grocery sales continue to set records compared to 2020 figures. Online grocery sales hit a high of $9.3 billion in January 2021, showing consumers continue to prefer the flexibility and convenience provided by eCommerce for food sales.
To support this growth, retailers continue to improve eComm and digital platforms, with online purchases expected to soar to 21.5% of all grocery sales by 2025. Brands will need to accommodate buyer expectations for quicker experiences and product variety.
Loyalty engagement will also be key with consumers ready and willing to switch to cheaper options. Buying online lets consumers easily purchase from more than one store and take advantage of discounts. Eighty percent of shoppers are proactively looking for the best deals, and 61% have switched to cheaper brands since the pandemic started.
Omnichannel Wins Over Multichannel
While both methodologies help brands connect with their customers, omnichannel demonstrated success adjusting to consumer browsing behaviors. Online shopping is not linear in the least. Eighty-five percent of buyers start at a potential purchase on one device and make that purchase from a different one.
Consumers expect more seamless experiences, with the ability to easily find and pay for items from any device. Orders placed on mobile devices remained high at 69% compared to 28% from a home computer.
Omnichannel marketing, and the eCommerce companies who have chosen this approach, centers around customer behaviors makes the process more natural. Multichannel marketing gets brands in front of consumers across platforms but does not personalize the experience around the customer. And with 81% of buyers researching items online before they decide to buy, retailers embracing eComm must also embrace the customer as the center of their marketing plan and processes.
Online Shopping Is Here to Stay
While health outcomes trend toward improvement and millions of Americans are now fully vaccinated, buying patterns continue to reflect preferences for online shopping. Gains in online market share are expected to remain higher than pre-pandemic figures for almost all industries. But long-term momentum in eComm will vary depending on the sector.
Apparel brands are seeing only 10-20% retention of online sales, given buyer preference to try items in store before buying. Department stores are expected to see 20-30% of business permanently shift online. Even as markets and stores open up, consumers plan to keep shopping online.
Consumer intent to return to stores compared to intent to shop online once retailers open more permanently show more balance between the two options in a post-COVID world:
Grocery: 77% in store vs. 17% online

Apparel: 54% in store vs. 34% online

Health & Beauty: 56% in store vs. 28% online

Appliances: 53% in store vs. 32% online
Update 4/21/2020
Since we created the Virtual Shopping Index on March 27, 2020, there has been significant data flow indicating peoples' increased dependency on eCommerce for both essential and non-essential goods.
eComm Boom Continues
According to an insight tracker by Emersys and GoodData, pure play eCommerce revenue was up 37% in the first week of April compared to the same time last year. Additionally, orders were up 54% overall.
Sectors on the Rise
Not surprisingly, sectors that experienced a historic transaction volume increase over the previous year seem to correspond with objects and activities "of the home" or related to communication.
Home products and furnishings: +97%
DIY products: +136%
Garden essentials: +163%
Electronics: +26.6%
Telco: +18.6%
Conversely, Travel and Online Dating transactions were down 44% and 9% respectively.
The Online Grocery Shift
As noted in our original update, despite online grocery delivery being broadly available for several years, it had never really had its moment. The current landscape may change that.
According to a 1,500-person survey, conducted by RBC, 42% of respondents purchase groceries online at least once a week, up from 22% in 2018.
But perhaps more importantly for long-term impact, 55% online grocery shoppers surveyed said COVID-19 is "leading them to permanently boost their willingness to buy groceries online." And of the people who don't buy groceries online, 41% (up from 19% in 2018) said they would do so in the next six months.
The mass act of "practicing" ordering groceries online has us even more bullish about its growth potential in the months to come. We're altering our VSI projections to show a 80%/20% split between in-store and eComm sales. Not a majority shift by a long shot, but still hugely significant considering that eComm only accounted for about 3% of grocery sales as of January 1, 2020.
(Projection updated 4/21/20)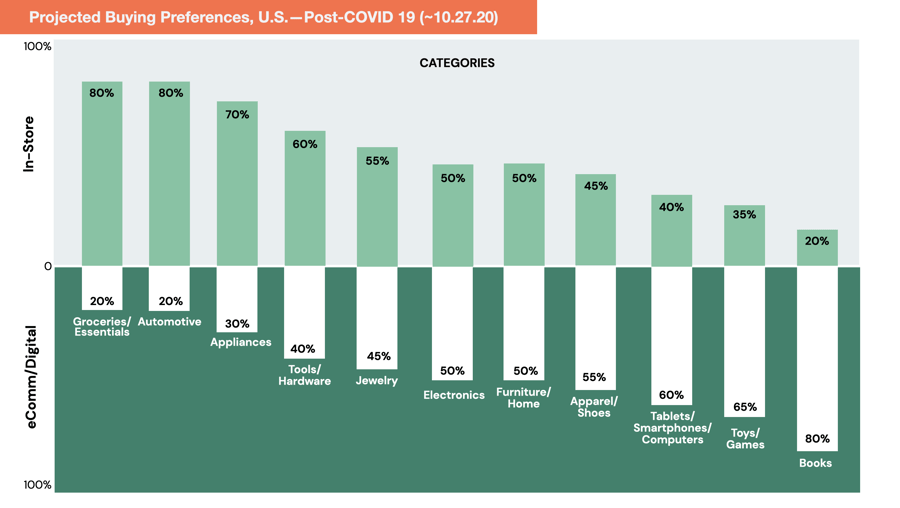 The eComm Scramble
Some of the more disconcerting data we've discovered is the degree to which many companies and brands were caught flat-footed by the COVID-19 crisis.
According to a Profitero and Kantar survey of 200 brand executives just prior to the crisis, only 17% believed their organizations were leading competitors in eCommerce. The vast majority (71%) said they were playing catch up.
At Threekit, we've been hearing more from brands/businesses who need to quickly upgrade their online experience to compensate for lost store sales. This could mean getting interactive and configurable 3D product experiences online, using our Virtual Photographer essentially replace cancelled product photoshoots or adding augmented reality to drive buyer confidence. There is no shortage of ways we can help make the eCommerce experience work harder for you during this unprecedented period and into the future.
Original Post 3/27/20
This week, we spent some time developing the thing that brings comfort to any team during periods of tumult and uncertainty—perspective. A truthful thread of logic that gets us out of the moment and helps us all to see the big picture.
We always start from what we know. First, this is an opportunity to learn—a rare occasion where we've had to institute massive behavioral change, seemingly overnight. Such a shift, while uncomfortable, will reveal a lot about our society's collective capacity to adapt to new behaviors, as well as each individual's response to those changes—namely, what she can tolerate and what she may actually learn about herself.
And the same goes for commerce.
This marks an inflection point in retail. Some business disruptors come in the form of game-changing products or technology. Some, unfortunately, come in the form of global crises. In either case, by definition, disruption means irrecoverable change. For better or for worse, things will never quite go back to the way they were before.
eComm's growth has been steady over the past 10 years, but it has never supplanted in-store shopping.
Overall, some 51 percent of Americans prefer to shop online, while the remaining 49 percent would rather go to a store

E-commerce is growing 3 times faster than traditional retail, with a growth rate of about 15 percent compared to 5 percent growth for brick and mortar stores
However…
People spend 64 percent of their shopping cash in stores, compared with 36 percent online
In other words, there hasn't been a watershed moment where consumers gave themselves permission to buy "anything and everything" online. They've never been forced to, and old habits die hard.
It's easy to see in the following breakdown of purchase preferences by category, pre-Covid 19.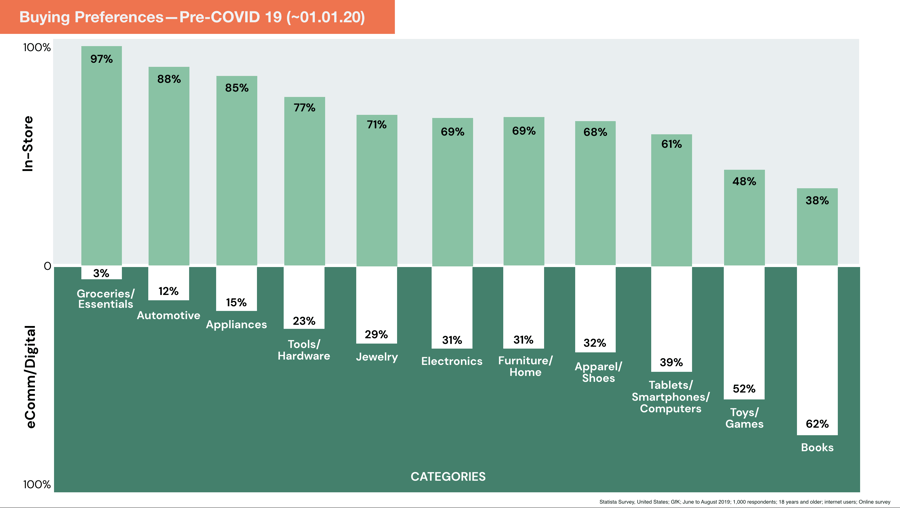 We believe that this period is that 'watershed moment' and that this chart will look fundamentally different in 6 months. So, we're introducing the Threekit Virtual Shopping Index to track this change.
Here's a view of buying behavior at this moment (no surprise, and quite literally by force, eComm is the primary buying channel, with the exception of grocery/essentials).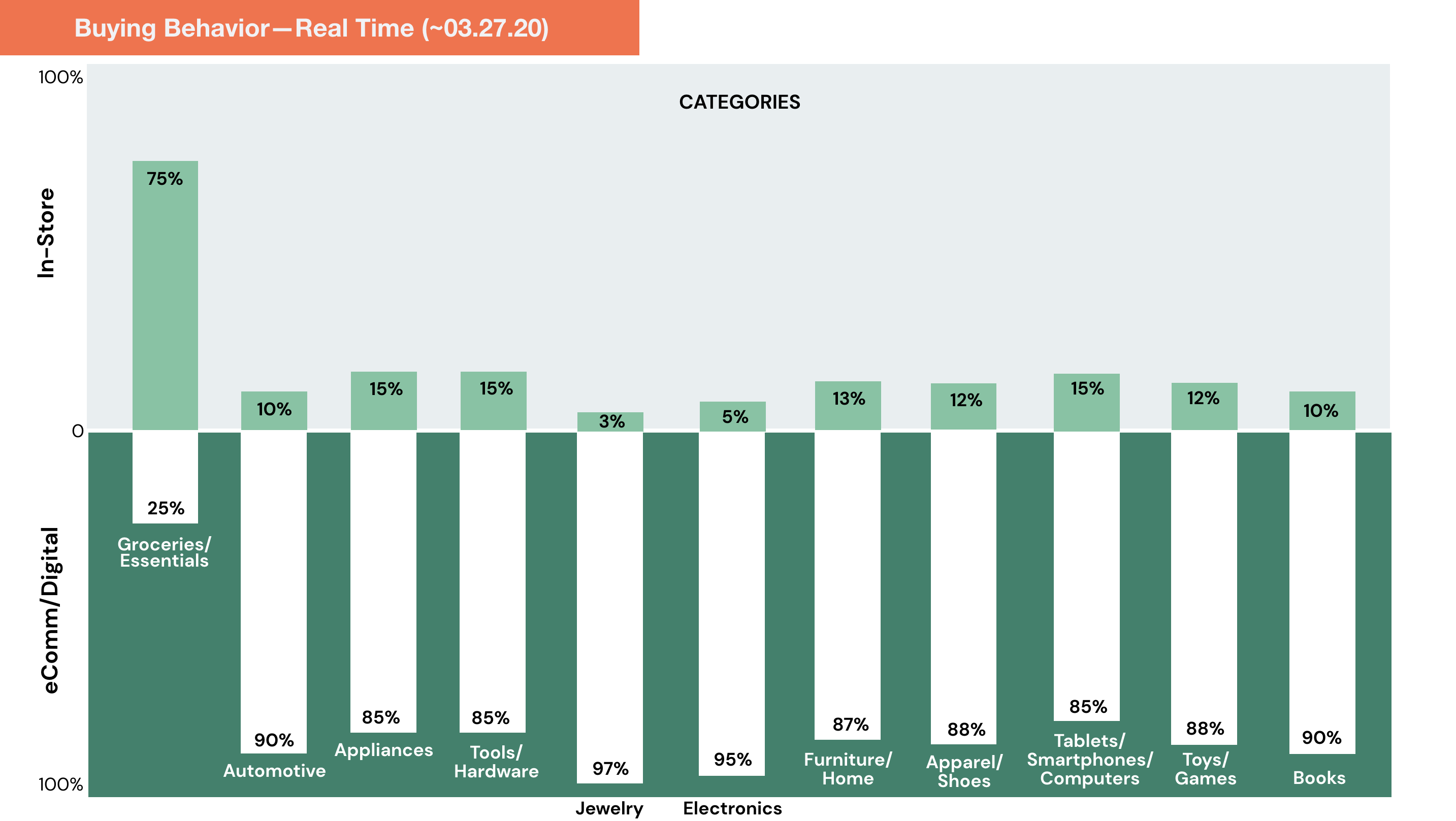 This isn't forever, and there will be a correction when stores and restaurants re-open.
But, until then, buyers are going to experiment with virtual shopping in a way they never have before. They may discover that the thing they were always sure they needed to see in person—the watch, the sofa, the shoes—are kind of fun to shop for online. They may also find that, while they most definitely miss getting out, they don't miss getting out to go shopping. Old habits will be forced to die and new ones will emerge in their place.
Here is our projection of the index in about 6 months: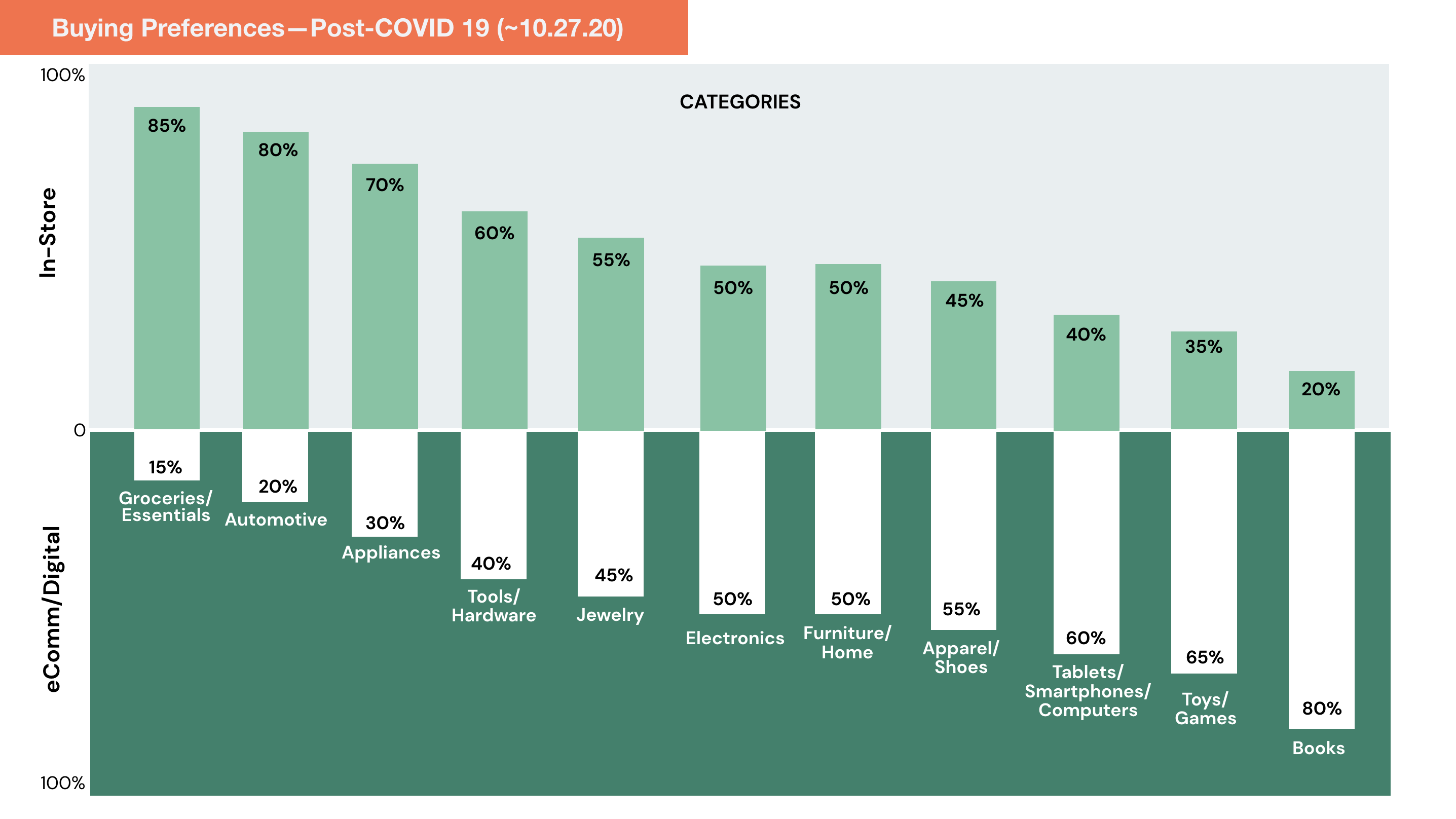 In some categories (electronics, furniture/home, apparel/shoes, tablets/smartphone/computers), we see there being a "majority shift"—more people buying virtually than in-store.
But we're going to keep ourselves honest. We'll be tracking and updating this over the next several months to respond to news updates and economic shifts. It's going to be an interesting time of change, and we hope it's insightful for you as well. Check back in as we observe it together.