Threekit partners with SAP, sponsors SAP CX Live, and lists app on SAP App Center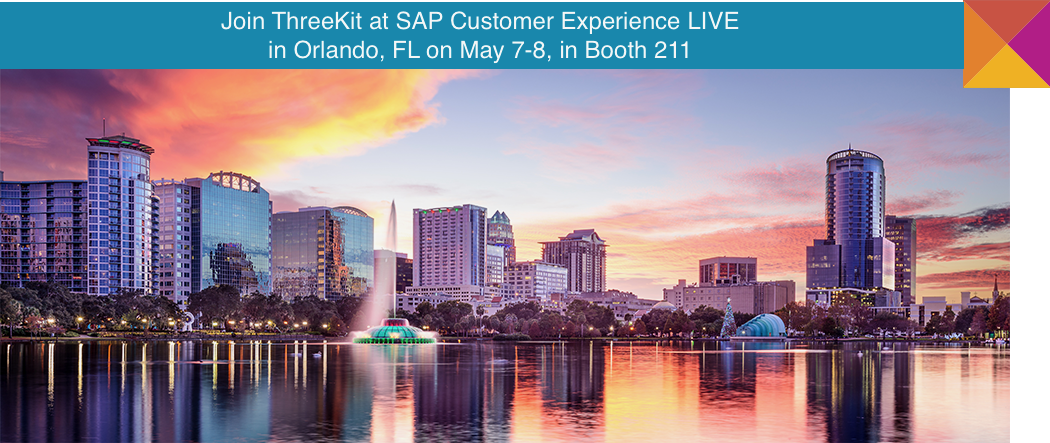 Threekit partners with SAP
We are excited to announce our partnership with SAP, the leading enterprise omnichannel and product content management software, to expand its offering to SAP customers.
Through this strategic partnership, SAP Customer Experience customers can now take full advantage of Threekit's platform features, which include a 3D product configurator, interactive 3D, virtual product photography, and interactive product tours. Additionally, powerful augmented reality (AR) and virtual reality capabilities allow customers to preview their customizations before making purchases. By using the Threekit Platform and showing consumers exactly what they're buying, brands can see a 40 percent increase in online conversions and an 80 percent reduction in online returns.
Threekit for SAP is available on the SAP App Center

The connector app is now available through the SAP App Center.
"We are excited to offer our platform to the SAP customer base," said Joachim Klein, President and COO of Threekit, Inc. "We aim to enhance SAP's offering of a superior omnichannel commerce experience by enabling and enhancing the product catalogs with powerful 3D visualizations."
"Threekit's platform features give our clients a unique opportunity to move away from purely static images and reliance on studio photography," said David Brockington, Head of Innovation Ecosystem, SAP Customer Experience. "We believe that brands will immediately increase their overall ROI by utilizing SAP Commerce Cloud in conjunction with Threekit's platform.
Threekit sponsors SAP CX Live
Threekit also announced their sponsorship of SAP CX Live, which takes place May 7-8th, in Orlando, FL. Threekit will showcase its platform at the SAP CX Live at the booth #211. Threekit will also present in "How to Increase Conversions with 3D Product Configuration in E-Commerce" on stage in Hall D West, Level 2, Theater 3 on Wednesday, May 8 at 3:15pm.
Threekit was founded by Ben Houston, a 15-year veteran in Hollywood visual FX software, and a dedicated group of 3D pioneers and visual effects professionals. After creating 3D-visualization technology for the special effects used in some of Hollywood's biggest blockbuster movies, the group has been working with brands to use this same technology to revolutionize the online experience. Earlier this year, serial entrepreneur Godard Abel led a $10 million seed round investment in Threekit.
To learn more about how Threekit can help brands differentiate their online commerce experience, visit www.threekit.com.