The pandemic shift to eCommerce shopping experiences is here to stay.
As more and more indicators point to the end of the pandemic, many brands may be tempted to believe the eCommerce shopping experience will return to the old way of doing things. While we can't predict the future, we can prepare for it, and a wealth of hard data suggests the new way is here to stay.
As smart brands drove eCommerce innovation forward in record time during quarantine, consumers grew to expect those conveniences today and for the foreseeable future. Nearly every region, demographic, and category saw an unprecedented spike in online shopping activity, and eCommerce in general saw a dramatic rise in revenue. That trend still has momentum, and there are next to zero signs of a slowdown.
A recent article in Forbes Magazine titled "Pandemic Shift is Permanent, e-Commerce to Hit $1 Trillion in 2022" summed up why the eCommerce shopping experience will never be the same in its opening paragraph:
"The pandemic boosted online spending by $183 billion over the past year, and it has permanently accelerated eCommerce, with Americans on track to spend $1 trillion online–a record amount in 2022."

Joan Verdon - Forbes Magazine
The article proceeds to explain that consumers spent a collective $121 billion online in the first two months of 2021–more than halfway to last year's massive figure. Clearly, this trend is only going to pick up steam in the months and years to come.
Some changes in consumer behavior were amplifications of what we'd already seen in the eCommerce shopping experience, while others completely upended traditional marketing strategies. Let's take a closer look at examples of both.
More of The Same: Way, Way More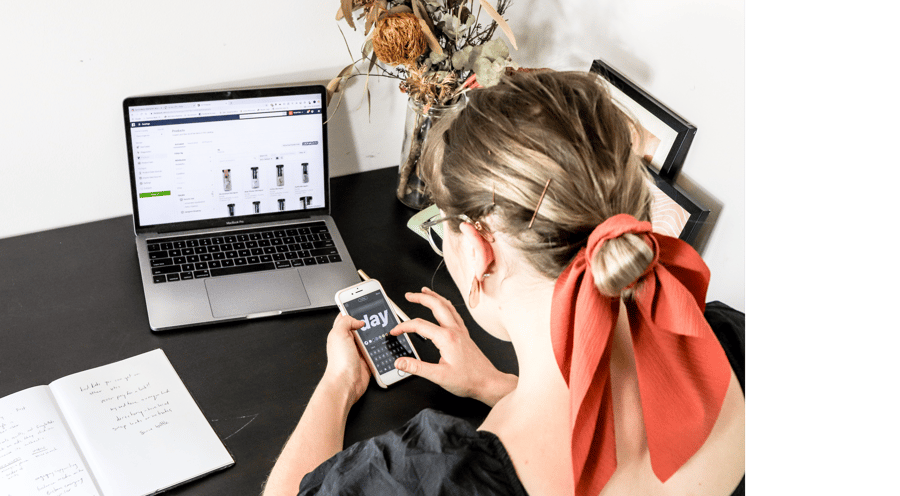 During quarantine, for the first time in more than a century, virtually every consumer was ordered to stay home at all costs. Unlike the flu pandemic of 1918, consumers in this pandemic had a digital marketing system largely in place, enabling them to continue shopping for essentials and more without ever leaving home. For example, online grocery shopping has existed for years but, understandably, many consumers didn't even consider taking advantage of this service until quarantine began. And far more than we could have ever imagined did just that. In fact, in a three-week period in February of this year, the online grocery category grew by a whopping 230% compared to a three-week period in pre-pandemic January 2020.
Additionally, while big box retailers and grocery stores had started to offer dedicated curbside pickup parking spots at big box retailers and grocery stores, most customers had never given much thought to utilizing that service until the pandemic made in-store shopping either discouraged or flat-out outlawed. This category grew 67% year-over-year by February 2021, and a consumer survey conducted by Adobe even found that 30% of U.S. shoppers now prefer curbside or in-store pickup options to the standard delivery option when ordering online.
Changes Beyond the Imagination
While there's no end to the unexpected lifestyle changes we could list off that were a direct result of the pandemic, we can name a few in the eCommerce shopping experience. One of the most notable is the massive increase in the buy now, pay later platform, which enables shoppers to order products before even paying a cent. Delayed payment programs grew 215%–yes, it more than doubled–between January 2020 and February 2021. Just as important as the rise in use of this payment style is the rise in order sizes. These consumers are placing orders that are 18% larger than they had been previously.
Annual holidays have dictated every brand's marketing strategy since marketing began. However, the pandemic turned most holidays into just any other day for online shoppers. For the first time in recorded online shopping history, consumers were shopping in the eCommerce space on an everyday basis, meaning brands needed to completely reimagine their overall eCommerce customer experience.
The dramatic rise in online shopping during the pandemic has also had a major impact on how brands handle inventory, plan product manufacturing, and price their products online. Out-of-stock messaging has become more common than ever–more than four times as common as it was pre-pandemic–meaning brands need to revisit their business models to keep customer orders filled.
How to Ride the Wave
These changes weren't just a flash-in-the pan, flavor-of-the-month occurrence. As mentioned earlier, consumers have been conditioned to expect the conveniences eCommerce shopping has brought and will only spend more time and money online. The best way to earn and keep customers is to provide the best possible eCommerce shopping experience, and research shows that engaging, immersive experiences that are also highly visual and configurable make that possible.
Threekit is the platform leading the charge in providing the digital customer experiences that consumers want. Threekit's powerful platform gives shoppers the power to browse every possible permutation of a product in real-time giving them more confidence, and making them more likely to click the buy button. The team at Threekit also partners with some of the best digital marketing agencies in the world to ensure clients are delivering modern experiences consumers appreciate.
As eCommerce activity continues on its trajectory brought on by the pandemic, it's critical for brands to work with partners like this to stay ahead of the curve. Ready to prepare your brand for the eCommerce world of tomorrow? Get in touch today for a consultation or demo