The Best AR Apps for eCommerce
Augmented reality is the next generation of online shopping. Thanks to their ability to deliver superior online experiences, AR apps for eCommerce have exploded in popularity–and nearly every business can benefit.
AR apps not only provide virtual experiences that rival in-person visits; they're also creating new opportunities that were previously unavailable to consumers. New abilities, like on-the-spot customization, in-home viewing options, and interactive marketing campaigns provide new experiences that neither brick-and-mortar stores nor traditional online shops can deliver.
And the possibilities are still growing. Grand View Research predicts the total market for augmented reality to be worth $340 billion by 2028. What was once the province of Google Glass and Pokémon Go has become mainstream.
How are businesses using AR?
Augmented reality blends real-world and virtual experiences into a new event. eCommerce outlets are using these blended experiences to allow customers, sales reps, and repair workers to better interact with, explain, and fix their products.
For example, Ikea's Place app lets users see how new IKEA products would look in their homes. Customers simply pick items from the IKEA catalogue and then use their phones' cameras to see how those objects would look in their homes.
Eyeglasses brands like Zenni Optical allow the fitting room to happen online. Through their web portal, users upload a picture of themselves and are virtually fit for glasses. Each Zenni customer can cycle through dozens of glasses frames in different colors, tints, and materials in order to see which pair best fits their face and style.
Sally does the same thing, but with nail polish. Simply pan the phone's camera to your hand and — voila! — see how any color would look.
Other brands are using augmented reality apps in order to broaden the impact of marketing. Airwalk, a popular shoe brand among skateboarders and surfers, created virtual stores in popular skate parks and surf beaches. Users accessed the stores through an augmented reality app once they arrived at the location to score exclusive deals and giveaways.
Although many augmented reality examples apply to furniture and clothing, they're far from the only businesses that can benefit. For instance, bicycle shop Pure Cycle has found that allowing customers to view full-size 3D models of bicycles through their smartphone increases online sales.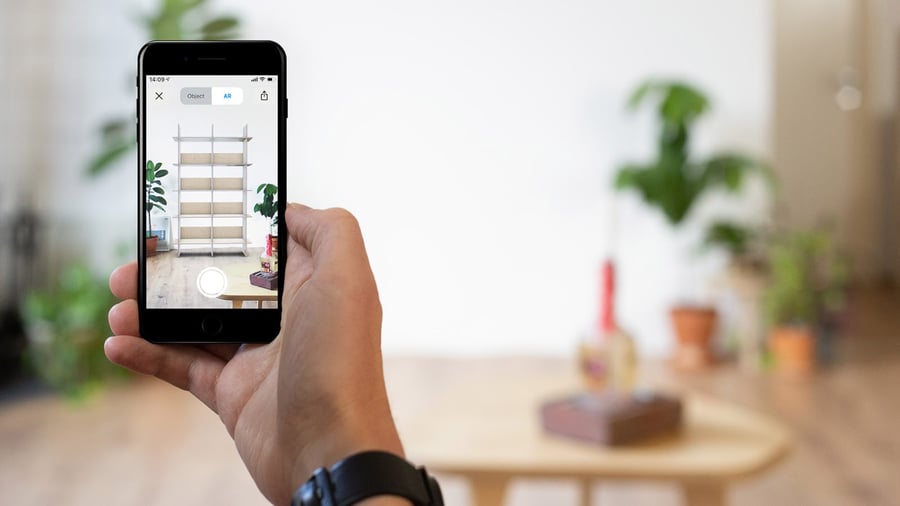 The Best Augmented Reality Apps for eCommerce
What's the best way to incorporate augmented reality into your online plans? Check out the platforms below that allow businesses of all sizes to digitally upscale their offers.
These are the best AR apps for eCommerce:
ZapWorks
ZapWorks offers businesses with a DIY bent the ability to design their own augmented reality experiences without getting too technical.
In the same way that companies like SquareSpace offer non-coders ways to build and customize their own websites, ZapWorks relies on a simple and easy-to-use interface that lets customers quickly create and polish their own AR.
Through ZapWorks, customers can also add augmented reality elements to printed material. For example, Spiritz Magazine added an AR element to a recent cover that played a video when customers viewed it through their smartphones. It also allows businesses to create their own virtual dressing rooms, allowing customers to try on accessories.
Threekit
What began as Hollywood special effects magic has become a boon to everyday businesses. Threekit builds 3D product models for clients using virtual photography that allows customers not only to see products in their own space, but to customize those products as well.
After customers create their own personalized version of products—choosing colors, extra features, and more—they can see their product in their homes, in real time, from 360 degrees. This allows the kind of try-before-you-buy shopping that increases customer confidence, reduces returns, and enhances the eCommerce experience.
Thankfully, customers don't need to download a new app to reap the benefits of Threekit. In today's eCommerce market, app fatigue is real. Threekit's models work within the existing capabilities of today's web browsers, making it one of the simplest and best AR platforms for eCommerce today.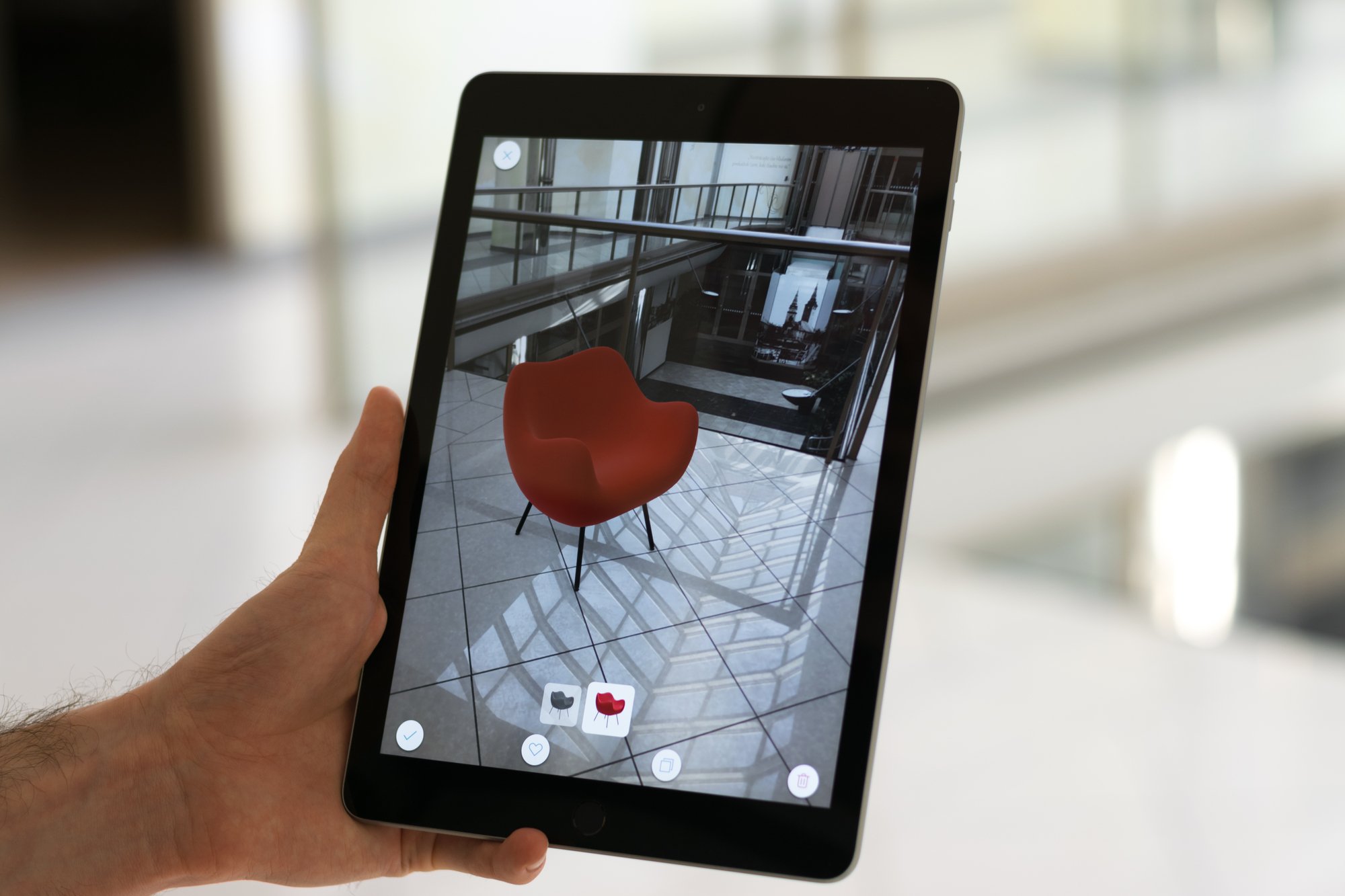 FieldBit
FieldBit is revolutionizing how workers can communicate and collaborate in real time with their mobile AR platform.
Their app allows remote workers to layer diagrams and markings of complex machinery directly on top of their field of view. There's no more describing complex wiring configurations over the phone to experts back at base. Instead, field engineers can easily see what needs to be fixed and how to make it happen.
Augment
Field sales representatives can use Augment's product visualization tools to show shop owners exactly what new products and displays will look like in their stores. Businesses simply upload 3D models of their latest products or displays–vending machines, office equipment, new food items–and the work is done. Field representatives can later call up the models and digitally place them inside building and shops.
Seeing how new products or upgraded machines fit into existing retail spaces can powerfully communicate to store owners the benefits of taking on new items or changing out their old ones.
Marxent
Through a variety of AR products, Marxent allows furniture retailers and designers to showcase their products to eager customers.
One thoughtful addition is the Social Rooms app, which allows social media editors to curate and publish customized room interiors. The ability to showcase products in a variety of places and styles without staging photoshoots allows products to appeal to more audiences with minimal effort.
AirCards
AirCards specializes in deploying augmented reality for marketing. As another tool that uses the functions built into web browsers, it helps businesses cut through the noise of advertising through innovation.
AirCards can turn any surface–from billboards to a product packaging–into a virtual experience. Whether it's adding a video to a postcard, having a mascot leap from a billboard, or letting soda drinkers download a song, AirCards offers one of the most original marketing products delivered through one of the best AR apps for eCommerce. Best of all, each AR interaction is completely trackable, allowing companies to reap the benefits of real-time consumer data collection.
Interested in how AR apps can boost your eCommerce? Contact Threekit and start the journey toward a sharper, more innovative online experience.