Shopify 3D Product Configurator Highlight: Custom Fantasy Rings
A Shopify 3D product configurator can prove to be a game-changer for small businesses. A product configurator is an interactive online tool that allows patrons to view your products in 3D from any side, while allowing them to change details of the item, such as font, texture, color, size, etc., in a way that is specific to them. We'll break down how a Shopify product customizer can help your business stay ahead of the pack, by looking at a case study of Custom Fantasy Rings.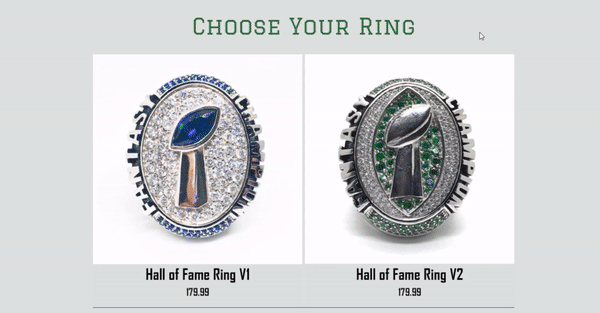 Customization Features
Custom Fantasy Rings is a custom jewelry company that allows you to create unique "Championship Rings" for your fantasy sports league. As stated in apsportseditors.org, "According to the Fantasy Sports Trade Association, Fantasy sports is a $7.22 billion industry with 59.3 million fantasy sports players in the United States and Canada as of 2016." With this abundant number of participants, Custom Fantasy Rings believes that pride and "a handsome wad of cash" only go so far when winning a fantasy sports league.
Meanwhile, a unique ring specific to your fantasy league will really motivate players and add a fun bit of detail to your game. Custom Fantasy Rings utilizes an engaging 3D configurator that lets you literally design your own fantasy sports league ring. They currently feature two types of rings that can be customized, "Hall of Fame V1" and "Hall of Fame V2". We'll dive into the customization aspects of the Hall of Fame V1 for this case study.
The customizable elements of this range include shape, size, material, stone color, engraving text, name text, number text, season record text, and year selection text.
First, you can choose the shape of the ring you have in mind. The choices are oval, square, and circle.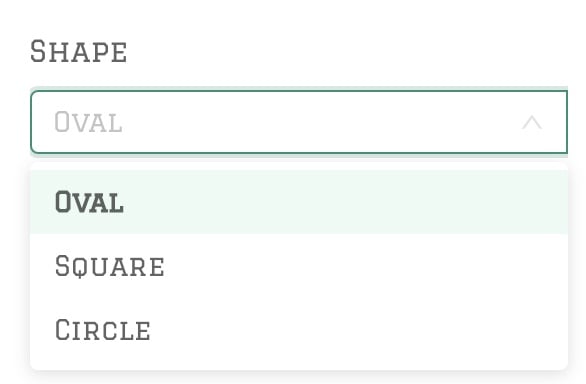 Then, you have size options to select from. Custom Fantasy Rings currently allows you to select from an 8-12.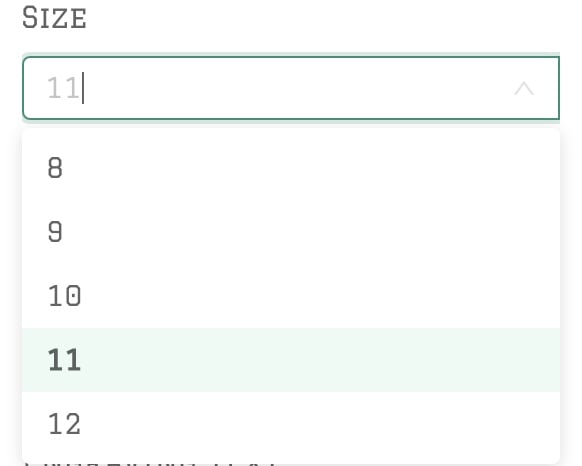 Material choices include: silver, gold, or black.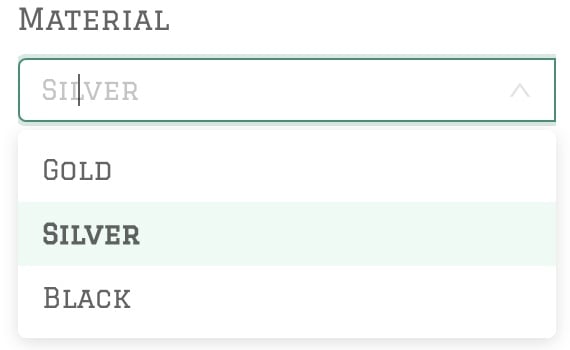 As for the options of stone color, there are many choices to select from. They include clear, red, blue, green, gold, purple, pink, orange, and black.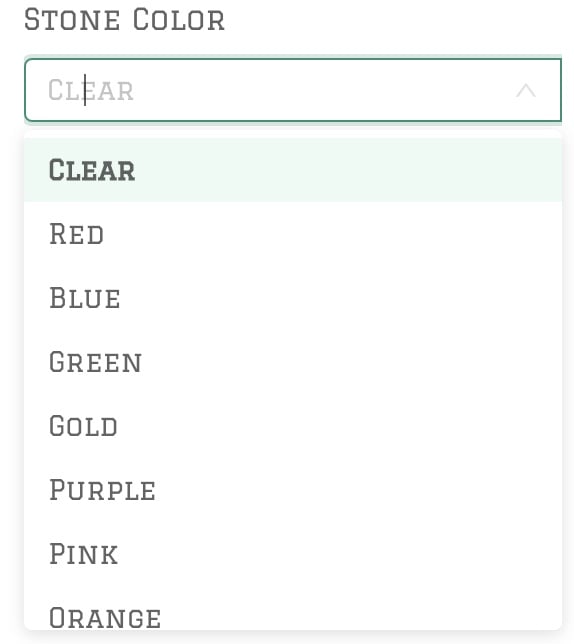 Finally, you are offered the option to write in whatever text that you would like for the engraving, name, number, season record, and year.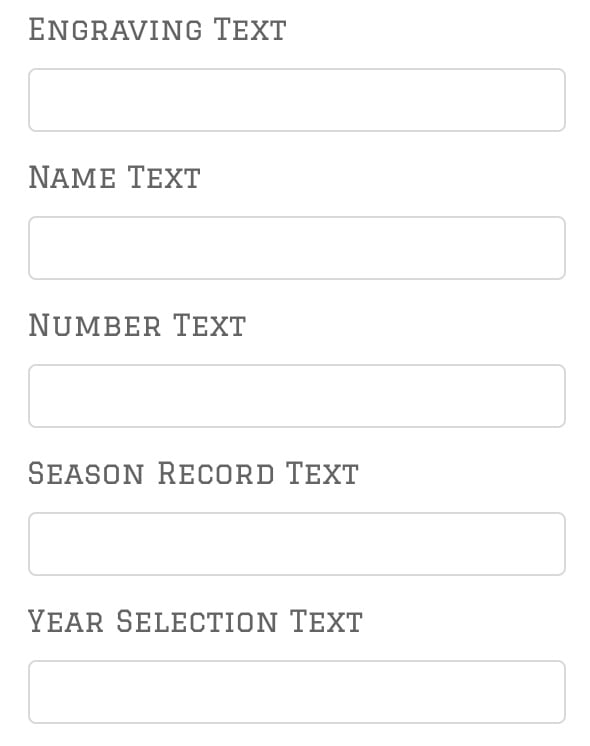 As you select these options from a drop-down list and write in the various text choices, the product customizer instantaneously shows you how your own unique ring looks. It's especially neat to get to see how the engraving of the text looks immediately, and see what fun combinations you can write on the championship ring. It truly is a unique product that will make your league stand out from the millions of other players out there and allow you to boast about (and show off!) your victory for years to come.
Customization Benefits
There are a number of benefits 3D product customization has for Shopify businesses. These advantages include providing patrons something engaging to interact with and make their own, improving overall communication between you and your customers, increasing conversion rates, and giving you an advantage over the competition.
The part of 3D product customization for Shopify that really stands out is the level of user engagement that is possible. It is the closest thing in today's eCommerce technology to the experience of going into a brick-and-mortar store and holding the product yourself. This next-level interaction is accomplished by the ability to rotate the product, see it from different angles, and zoom in & out. It also allows shoppers to swap options such as shape of the ring, size, material, stone color, and the engraving all in real time based on what versions of the product you have available for purchase. This makes the entire shopping process engaging in a way that 2D assets such as photographs and videos will just never be able to be.
Another advantage of 3D product configuration for Shopify businesses is that it allows the potential buyer to see an extremely detailed example of the product that helps to ensure that the actual product that arrives is as close to expectation as possible. In turn, this decreases costs associated with returns and remakes. An added bonus? Customized products mean that you can keep less inventory in stock, as the exact product that the customers would like will come through the moment the order is received by your business, such as with the Hall of Fame V1 & Hall of Fame V2 rings. This allows capital to be re-appropriated for growing the business, instead of throwing it towards inventory.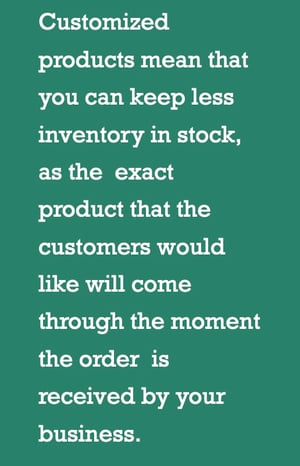 Additionally, 3D product customization for Shopify has been proven to actually increase conversion rates from visitors to your website— some as high as 250%. The reason behind this is because the longer someone spends on a website, the more likely they are to make a purchase in the end. With a 3D product customizer being such an engaging, interactive medium, customers spend longer on your site playing with customization options instead of just looking at pictures or videos of the product. In the case of Custom Fantasy Rings, you are able to customize a big range of features. This interactive aspect increases the time spent on their website, and therefore the likelihood that a customer will purchase the product in the end. After all, in Hub Spot's blog article titled, 19 Ways to Effectively Increase Your Conversion Rate, three suggestions include, "Enhance the purchasing process", "Be creative with mobile marketing", and "Incorporate multimedia elements into your landing page". All of which can be accomplished with the Shopify 3D product customizer.
To this end, utilization of 3D product configuration for small businesses really lets you stand out from other businesses, being a relatively new technology that is not used that often by other eCommerce retailers across the industry. By grabbing hold of this technology and using it to your company's advantage the way Custom Fantasy Rings has, you signal to customers that you are truly focused on a seamless customer service process, as well incorporating the height of technology into your business. It's also important to remember, using the 3D configurations doesn't have to be for the products alone, think of how to incorporate them into other areas of your website as well as your marketing campaigns.
Visual Viewpoints
Below you can find the different types of visuals a Shopify 3D product customizer can create for the customer, based on the Hall of Fame V1 ring from Custom Fantasy Rings.
Straight on View:
Side 1: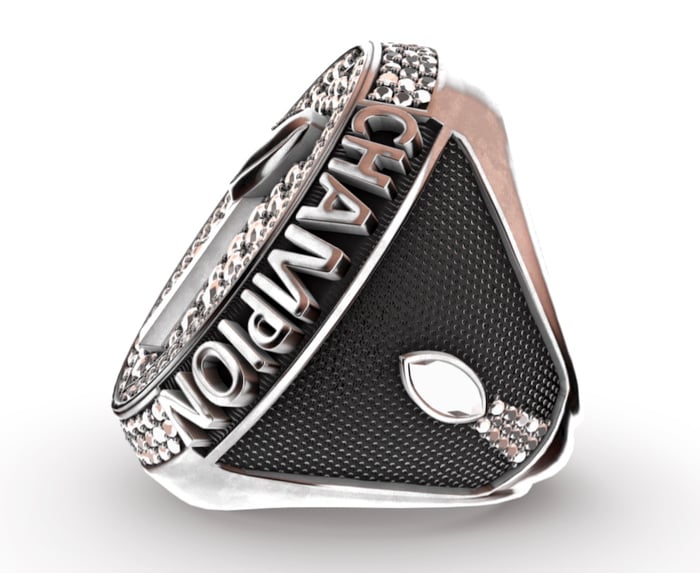 Side 2: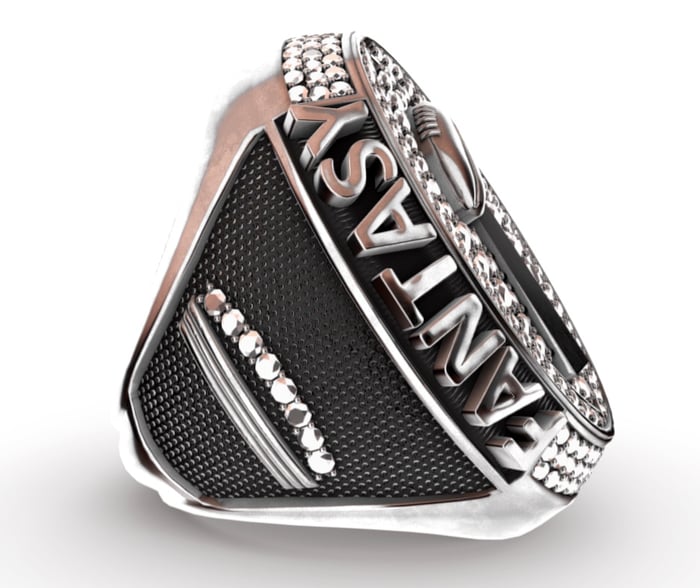 Back View: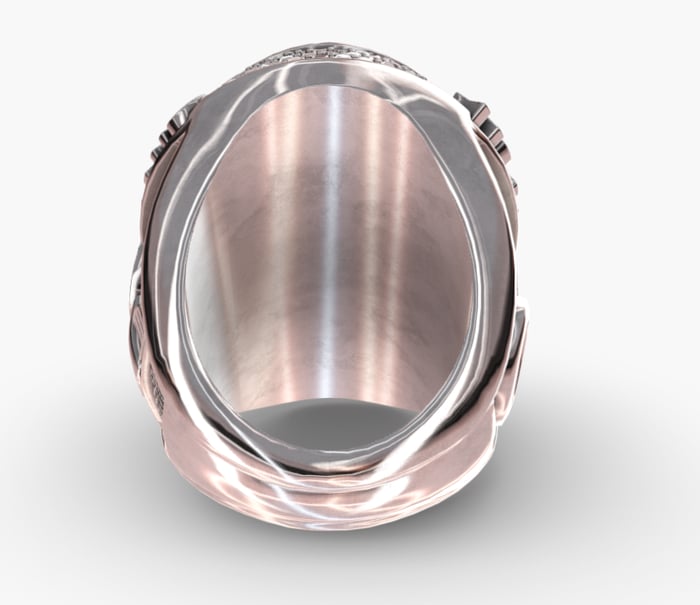 Zoomed in View for Texture: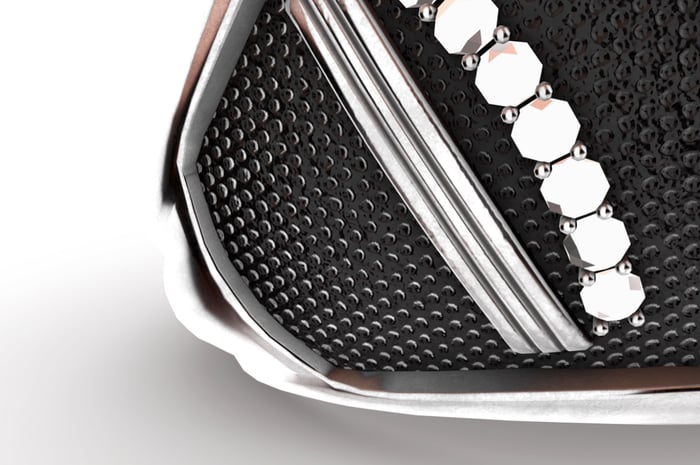 Color Change: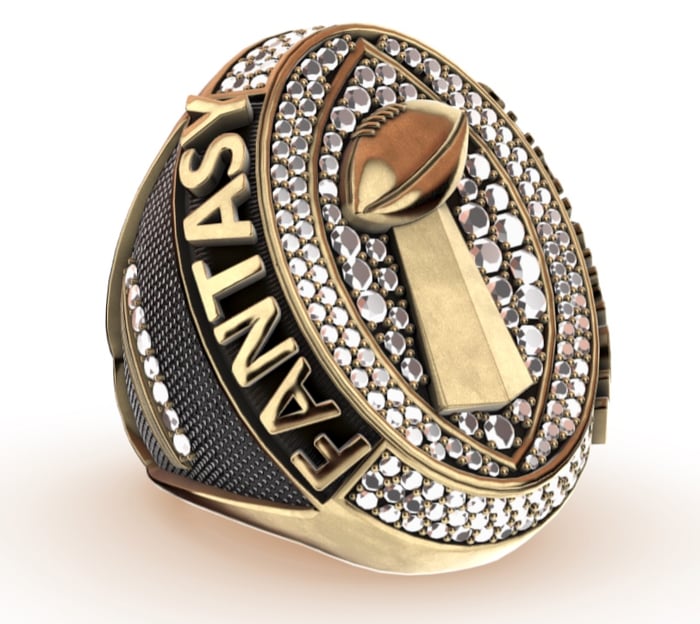 With Text: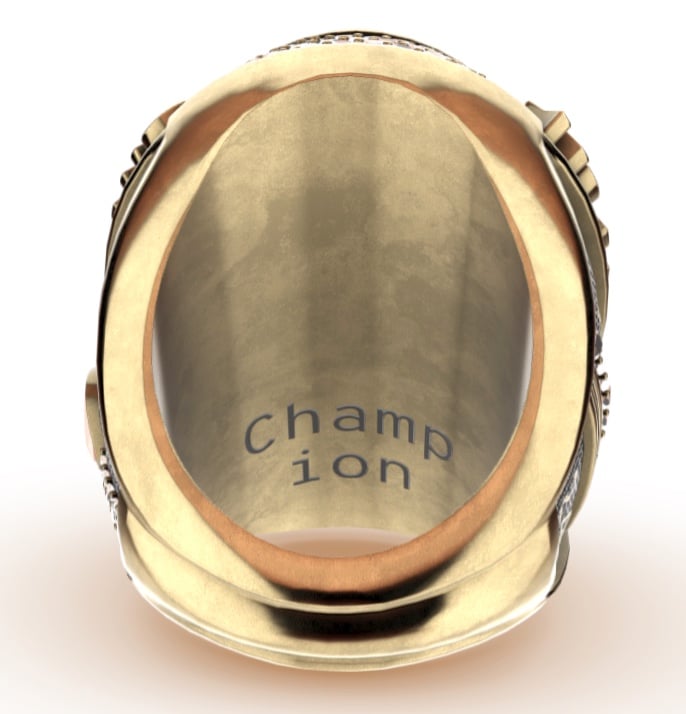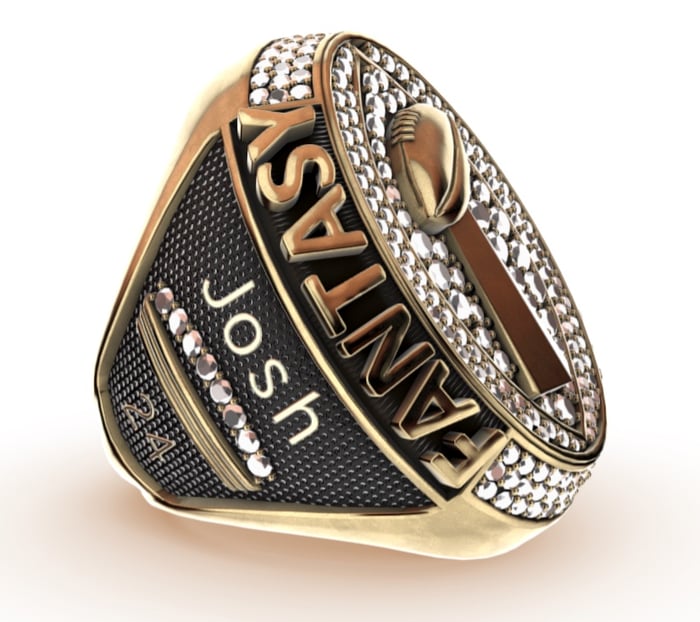 Please remember that these still images do not properly encapsulate the ability to control the attributes of the 3D product customizer yourself, but rather serve to illustrate the level of customization and detail that this technology can provide.
Summary
If you are looking to expand the customization features of your Shopify business, do keep a Shopify 3D product configurator, such as that by Threekit, in mind. Threekit is a company that partners with Shopify and specializes in visual technology software that creates 3D product customization. Threekit is a great resource for all of your 3D product customization needs. In the case of Custom Fantasy Rings, they were able to have 3D product customization for two different styles of rings, Hall of Fame V1, as well as Hall of Fame V2, allowing for a product that best fits the look of what each specific fantasy sports league has in mind. These customization features and different views that are illustrated by Custom Fantasy Rings provide a range of advantages, such as giving patrons something engaging to interact with and make their own, improving overall communication between you and your customers, increasing conversion rates, and giving your business a lead over the competition!