Salesforce eCommerce Integration: Managing 3D Visuals Across Clouds
As customers walk into a retail store, they tend to hold products, see them from various angles, and try them out (depending on the category). When it comes to eCommerce, businesses usually rely on product images to sell, but that doesn't go far enough to address today's customer expectations. The good news is that you have options with Salesforce eCommerce integrations.
3D product configurators have started to gain traction as visual content has become essential to smart marketing strategies, and it is vital to think of creative ways to leverage them. The reason is simple—this type of technology is proven to lure consumers and boost sales.
Many businesses rely on Salesforce eCommerce integrations to streamline their marketing efforts across all their platforms – mobile messaging, email campaigns, social media content, website landing pages, and social media ads. Salesforce offers a number of cloud options including Sales Cloud, Service Cloud, Marketing Cloud, Commerce Cloud, and Community Cloud.
Now that all the clouds are integrated, how can you leverage visual assets—including Salesforce product configurators and augmented reality experiences—across them all? Read on to find out.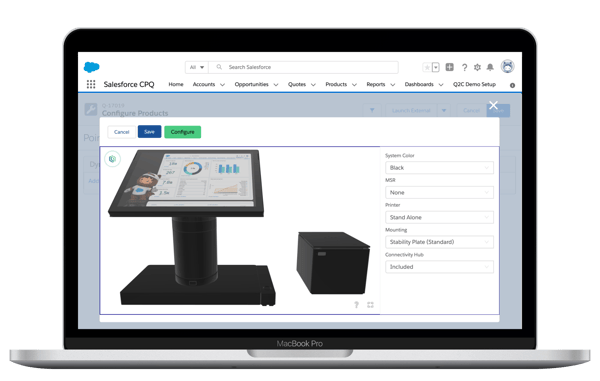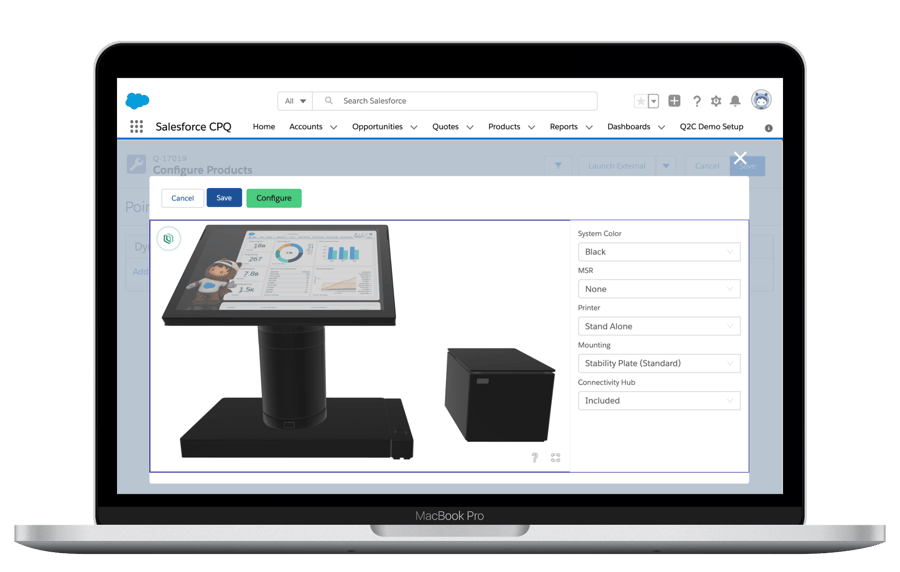 Benefits of Real-time 3D Product Configuration for Your Sales Team
Product visualization allows businesses to use images, renderings, and artwork for communicating their products to customers. Sales Cloud provides companies with opportunities for focusing on leads, opportunities, and sales. There is a significant reason why Salesforce is quickly becoming the world's leading enterprise cloud ecosystem. Salesforce has been built 100% in the cloud, which delivers CRM solutions connecting customers, employees, partners and, most importantly, the products without any headaches.
Salesforce's Configure, Price, Quote (CPQ) software modernizes B2B sales by making it easy to model deal scenarios and quickly provide leads with accurate quotes. It also has a visual component called CPQ visualization software that makes the whole process more seamless. CPQ visualizations are fast, precise, and can render highly configurable, dynamic products. In industries like manufacturing and medical sales, products are generally large and complex. A CPQ configurator can show a potential consumer a 3D rendering of a solution in real-time, complete with all selected options, features, colors, or other inputs.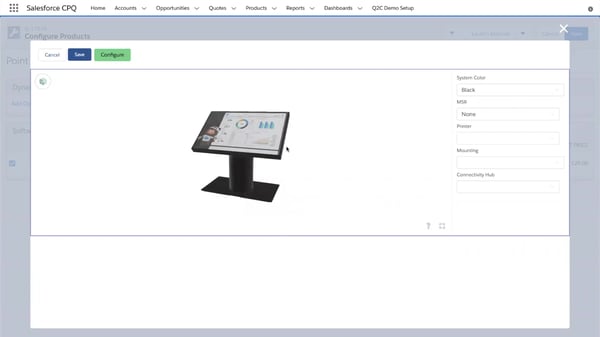 There are various benefits of real-time product visualization for driving sales. It offers impressive features to build long-term and loyal customers. You can connect all of your teams from sales to marketing to customer service to finance and beyond for guiding each prospect through a personalized customer journey. Your salespeople can price and configure in real-time.
Interested in Threekit for Salesforce? Schedule a demo
The best part about using product visualization within Salesforce clouds is that data always remains at your fingertips. You can empower your sales reps to work faster and smarter. You can also boost your team's impact with insights, guidance, and forecasts built from AI.
Additionally, product configurators can help to evolve your sales strategy and expand your company's reach. It enables your team to see what is working in the marketplace to respond to new opportunities and industries. It's like market testing on the fly.
Driving sales, attracting, and converting more buyers has never been easier. Your company can now deliver products' visual configuration in real-time. Threekit's interactive 3D, Virtual Photographer and augmented reality can be the cherry on top, letting you drive more sales, even faster.
Benefits of Real-time Product Visualization for Service
With Service Cloud, users are mainly focused on services and cases. Service Cloud helps your team with Case Management, Agent Workspace, and Service Process Automation. You can use omnichannel routing to automatically match cases to the agent with the best skill set to solve them. The list of features of Service Cloud is incredibly expansive.
Product visualization takes Service Cloud to the next level. Your field agents can learn and select parts and set off automations easily. They can make spatial, geometric and parametric changes based on your rules. Salesforce Service Cloud makes connecting one-to-one with every customer, across multiple channels on any device, extremely easy.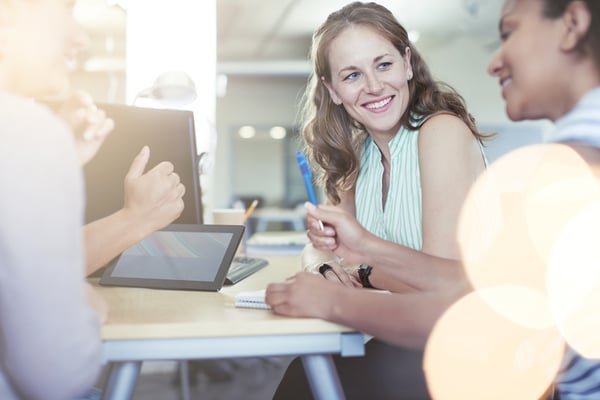 Salesforce managers can also benefit from Salesforce Service Cloud by having access to a complete view of their team's performance with recommendations and dashboards, including pre-built dashboard for customer service. It also has a Live Agent Supervisor for providing a real-time look at your consumer service team. Service Cloud works to boost the efficiency of an organization and increase customer satisfaction by providing easy access to self-help capabilities and by streamlining all customer service interactions.
If you are a company using Service Cloud, you can also reduce case volume with a self-service portal which allows users to be a part of a custom, branded community, connecting them to like-minded users for sharing knowledge. With Service Cloud, you can also recommend actions and guide agents through processes with dynamic and adaptive screens. You can also put productivity tools like keyboard shortcuts, macros and ready-to-use templates at your agents' fingertips.
"A picture is worth a thousand words" is especially true when it comes to marketing. Visual advertising has quickly become a key strategy for retailers and is distributed in a variety of forms. Humans are visual learners and have a natural inclination toward visual branding which includes images, graphics, videos, etc. Visual branding helps consumers remember information regarding your brand and keeps you on their mind long after they have moved away.
Product visualization has taken the marketing world by storm. With Threekit, now brands can automate time-consuming tasks and ditch daunting photoshoots. There are no complex merchandise spreadsheets involved. Threekit enables brands to easily create millions of visuals of high quality in less than a month's time.
Using product visualization for marketing can improve and speed your sales cycle, especially if it is done with interactive storytelling. It improves the overall buyers' experience and differentiates your brand from your competitors. With Threekit, you can use our product visualization services for showing all versions of your product in detail, in no time. Buyers will be able to interact with each of your products and you can then tailor your follow-up based on that engagement—a totally personalized experience!
Businesses can also leverage augmented reality thru Threekit for Salesforce. Visualizing your product in real-time in your client's environment will give you the impactful marketing presentation that you want for your business and will help you close more deals.
Transform Your Salesforce Experience with Threekit's 3D and AR Technology
A lot can be achieved when you combine 3D and AR with Salesforce. For example, you can produce virtual manuals for the field service agents for quickly identifying the model, type, and other configurations of the installed product that helps in finding and fixing the problem more easily. You can get creative 3D views and marketing for giving a real-time experience to your customers.
Threekit gives you brilliant visual configuration across Salesforce clouds. It integrates with these Salesforce Clouds: CPQ, B2B eCommerce, B2C eCommerce, Sales Cloud, and Service Cloud.
Configure-Price-Quote (CPQ)
When your sales and channel partner teams can customize, configure, and price in real-time, it drives confidence and sales velocity. Salesforce CPQ and Threekit let users configure or self-serve your product in real-time inside Salesforce CPQ. It integrates with CPQ with a goal to not only provide a phenomenal visual and configuration experience but also allows users to price correctly and generate their proposal without slowing down the sales process.
You can also expand the use-case to partners, dealers, or distributors when you combine the power of Salesforce CPQ and Salesforce Community to offer a visual configuration experience.
With Salesforce CPQ, users can also visualize products in 3D and AR during the entire quoting process. This will enable businesses to drive more confidence and procure increased sales velocity in eCommerce experiences. Threekit is undoubtedly a platform which lets buyers configure and customize their products in 3D, AR, and through the Virtual Photographer. Our Salesforce CPQ Connector is also live in Salesforce Appexchange.
B2B eCommerce
80% of B2B buyers believe that visuals are the most important factor that affects their purchasing decision. B2B eCommerce with Threekit creates powerful online customer experiences with photorealistic images, 3D configuration, or augmented reality, all from a single design file. You can also do visual configuration with BOM, visual self-service, and more with us. You don't have to creating one-off designs for each prospect.
B2C eCommerce
B2C eCommerce in Threekit creates stunning product visuals in 3D, AR, and photorealistic images at scale for your business. Through your smartphone or tablet you can envision all of your products in 3D and augmented reality anywhere at any time. It enables you to eliminate the presumption of buying and selling by allowing customers to experience products virtually in the real environment.
Sales Cloud
Sales Cloud with Threekit can be the best option for your business, regardless of whether you have a small enterprise or a large one. Sales Cloud can help your company in increasing sales by embedding Threekit visuals in any Sales cloud object. It allows Salesforce users to leverage Threekit's 3D visual configurator during the quoting process. You can enable them to accurately customize and quote pricing, all while having a real-time visual representation of the product.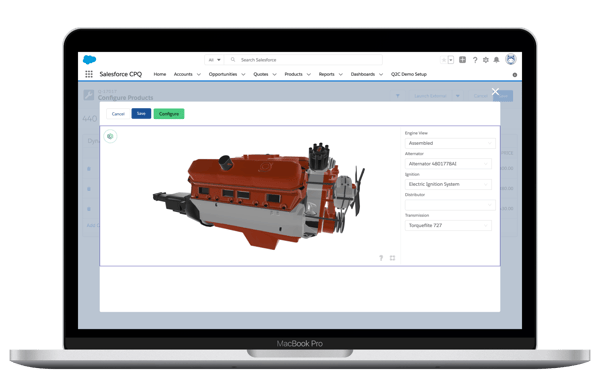 Service Cloud
Service Cloud is built on the Salesforce Customer Success Platform. It provides you with a 360-degree view of your customers and enables you to deliver smarter, faster, and more personalized services. It helps you create a more comprehensive system for streamlining service-based businesses, getting services in front of targeted audiences, connecting with likeminded professionals and being used to serve your clients better.
With Service Cloud, you can automate service processes, streamline workflows, and surface key articles, topics, and experts to transform the agent experience. The best benefit of Service Cloud with Threekit is that it makes connecting with every customer on a one-to-one basis extremely easy. This is possible to achieve across multiple channels on any device. Your reps can do part selection, installation instructions, simulations, and more.
Service Cloud provides users the ability to deliver instantaneous and personalized support via the phone, email, chat, and even an SMS messaging app system of their choice through LiveMessage. Service Cloud goes a long way in boosting the efficiency of an organization and increasing customer satisfaction by providing easy access to self-help capabilities and streamlining customer service interactions.
---
Threekit allows brands to create powerful online customer experiences with photorealistic images, 3D configuration, and AR. We understand that today's consumers have very high visual expectations from businesses. For this reason, we are increasingly committed to delivering an unrivalled product experience to meet those expectations.
The best part of letting Threekit work for you is that you don't have to be a 3D pro to use it. We combine unprecedented scale and accessibility. We also ensure that all the clouds are integrated, and that you are leveraging visuals across sales cloud, service, and marketing cloud – the most important thing to achieve in today's digital world.
We'd love to show you how cutting-edge companies are using Threekit to increase conversions, reduce returns, and cut product photography costs. Want to see it for yourself? Fill out the form to request a demo. Let Threekit help you create an incredible visual customer experience on Salesforce.