A Look at 5 Product Configurators on Shopify
Online product configurators (or "customizers") are gaining in popularity. A Shopify product customizer is a common choice for businesses of all sizes, from the brand-new startup to the seasoned eCommerce retailer. It's pretty clear why businesses would take an interest in product customizers.
Shopify makes starting and running on online business easy, and customization has been gaining steam for years—even more so since the pandemic. With more and more consumers doing their browsing, shopping, and purchasing online, they've come to expect an experience that's as close to the old brick-and-mortar days as possible, all from the comfort of home.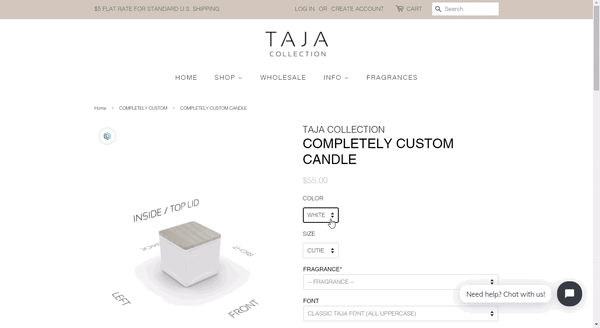 While nearly every physical product can benefit from a digital product customizer, some lend themselves to the feature better than others. For example, products that need to fit well within an existing design scheme (furniture, for example) would be great candidates for a product customizer tool. Others, like fashion, will be worn with pride so consumers want to get a close look at every detail while checking out different colors or styles while browsing.
Let's take a look at 5 product configurators on Shopify to see how that route fairs for online retailers in various categories.
Bamford London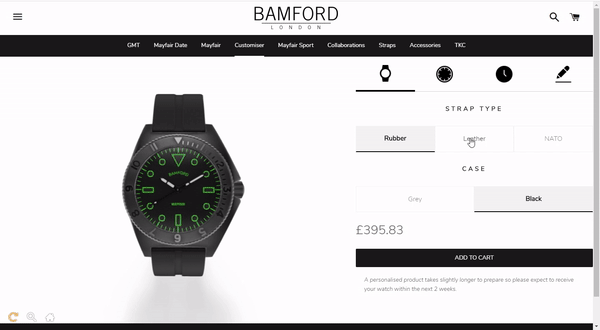 A watch is never just a timepiece. It's both a fashion statement and a helpful tool. Sometimes, it's even an heirloom. Bamford London understood that their customers would want to try a few style variations on for size, so to speak, on their Shopify page. The brand came to Threekit to help them develop and build a robust Shopify product configurator to help consumers build their ideal watch with ease. The experience includes style options for both the strap and watch case. The former allows users to try out various color options, multiple strap materials, and handful of design. The case lets users see what their watch will look like in both black and gray. This helpful customizer delivers on nearly everything and is likely to bring online shoppers over the purchase finish line.
Kaikini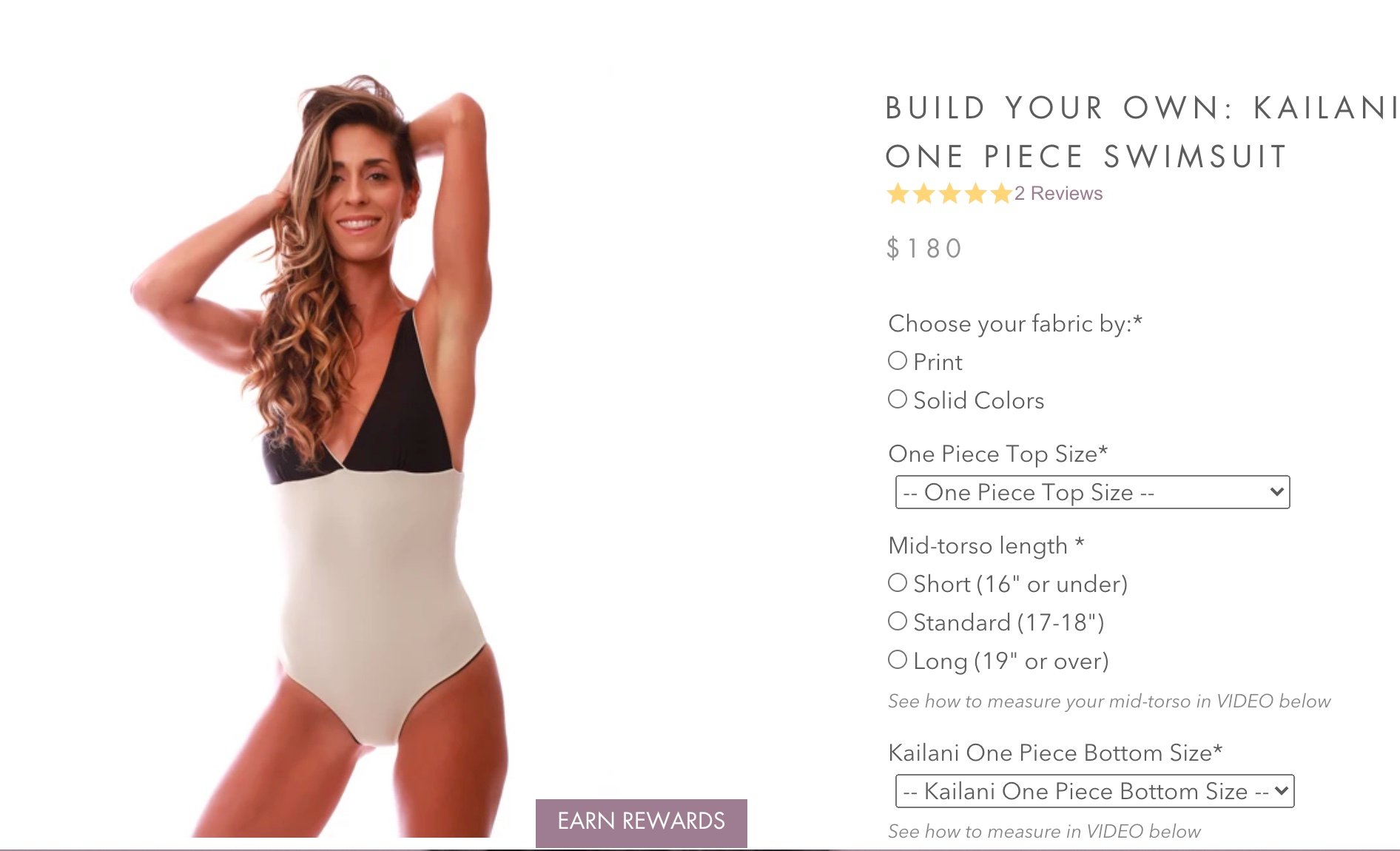 Swimsuits are very personal fashion choices. We all want to look good at the pool or beach, and we all want to know how we'll wear our suits before making a purchase. Kaikini sells ready-made bikinis on Shopify via their studio in Hawaii. Bikinis require very specific, detailed cuts to fit for every measurement, meaning online shoppers can't just rely on a small, medium, or large option. Kaikini developed a Shopify product customizer that enables women to find the perfect fit by inputting their measurements and what they have in mind for their bikinis to get exactly what they're looking for. While they don't offer returns, Kaikini does offer free alterations in the event that their product isn't a perfect fit, and that's a testament to their confidence in their Shopify product customizer.
KOTN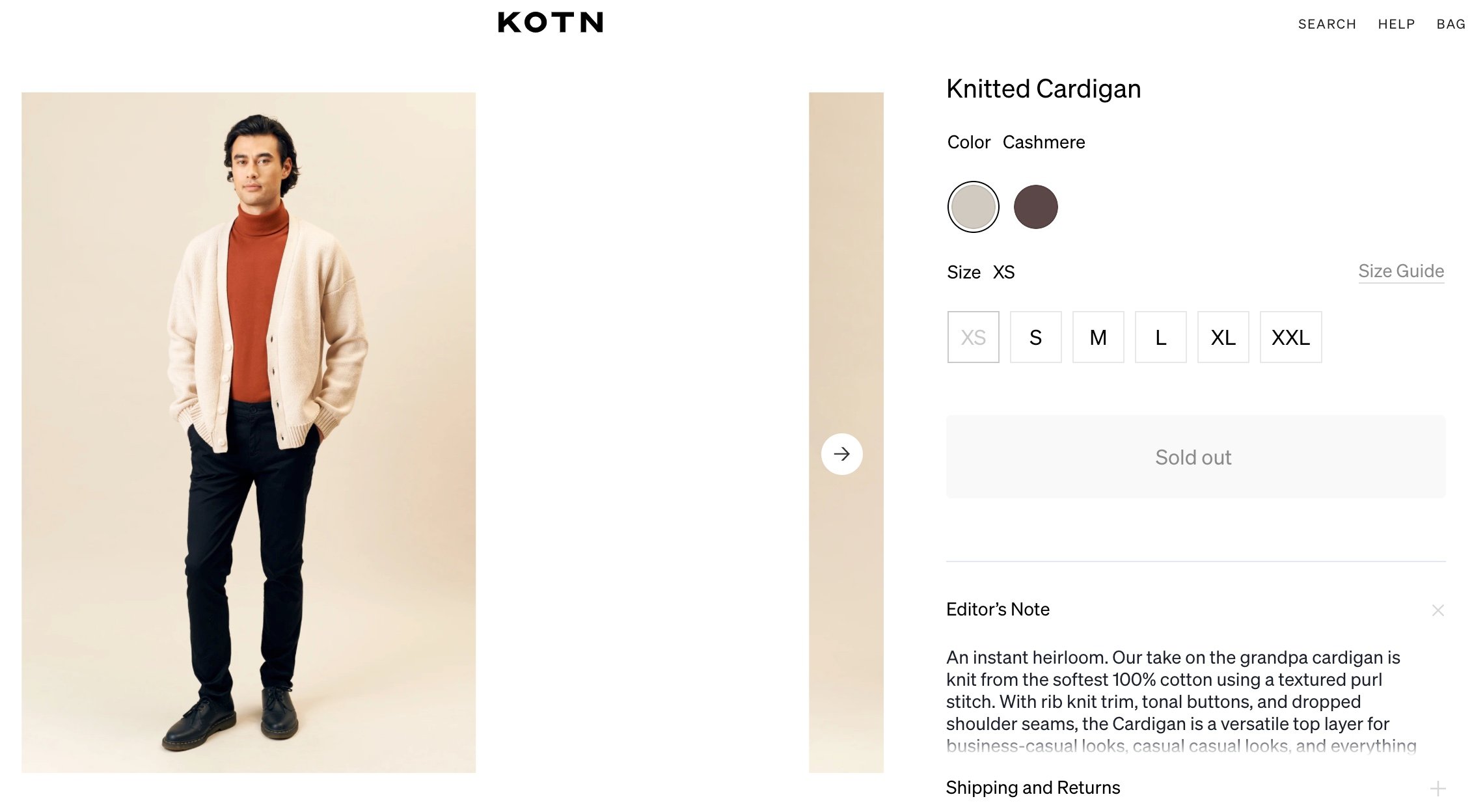 Menswear is an ideal category for a product customizer. Usually, men's sweaters, pants, and jackets come in multiple colors, textures, variations meaning shoppers would appreciate an opportunity to see what's available right on their mobile devices or computers.
As you can imagine, there are plenty of menswear retailers selling on Shopify. One example is KOTN, a retailer that aims to keep online clothes shopping simple for men. Their Shopify product configurator consists of studio photography without much more to choose from. For instance, customers shopping for men's sweaters can choose different colors from a list of icons but can't customize much also. Furthermore, different color selections also show different models much of the time, which makes it difficult to accurately compare. This Shopify product customizer gets the job done but leaves much to be desired for most online shoppers.
Nice Laundry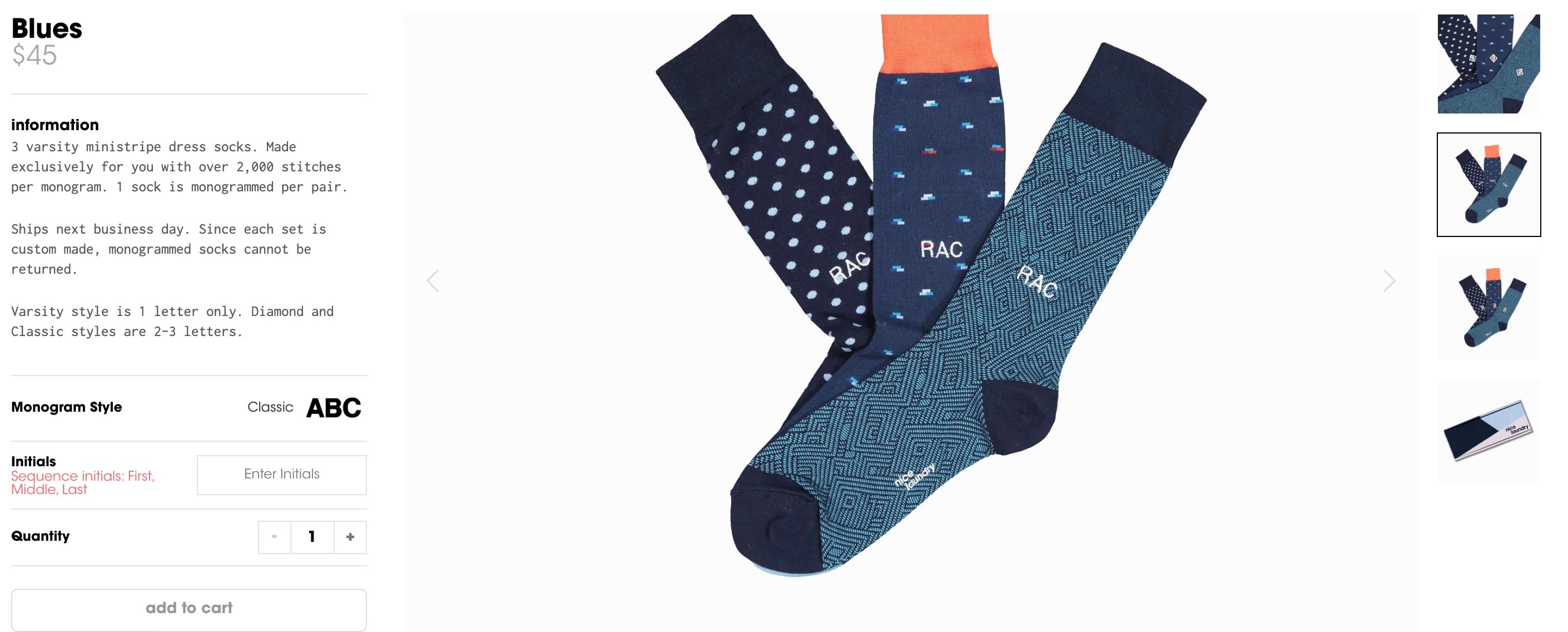 Sometimes the customizer isn't the actual product, but a collection of products. Nice Laundry got creative in exactly that way with their Build Your Box Shopify customizer. Based on the insight that most of us purchase socks in bunches rather than one pair at a time, Nice Laundry decided to empower online shoppers to customize their collection of socks on their Shopify page. They can choose from over 100 sock designs meaning the combination possibilities are virtually endless. If you've ever been annoyed by that one pair of socks in a pre-packaged collection of socks, Nice Laundry has the remedy.
Hangout Lighting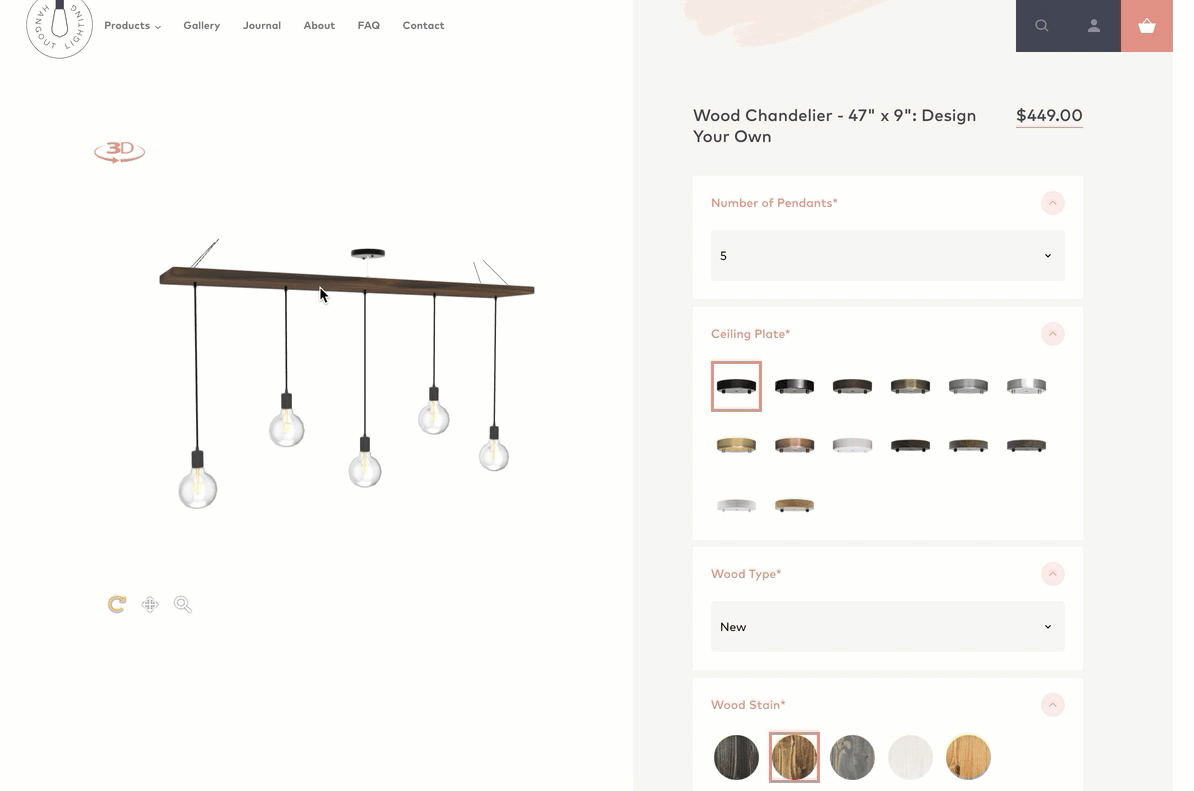 Sometimes a light fixture design can do as much to tie a room together is the light it provides. Hangout Lighting knew their customers wanted to find lighting solutions that would complement their overall interior design plans, so they came to Threekit to develop and build a robust Design Your Own tool. This Shopify product customizer covers nearly every option and view an online shopper may want to use. For starters, users can choose from a vast selection of colors and materials for every aspect of the light setup, from the socket to the cord to the ceiling plate. They can choose from various bulb and cord options. One final feature that's often overlooked in product customers is a full 3D viewer tool that enables users to get a detailed look at every conceivable angle and click the zoom button for a close-up.
Shopify has done a world of good for eCommerce, and their openness to integrate customizer tools from third parties will only continue to lead to improvement for businesses and consumers alike. In the years ahead, online shopping and consumer expectations are only going to grow.
If you're ready to make a product customizer a part of your digital marketing plan, get in touch with us for a consultation or demo.