Frequently Asked Questions about Product Configurators
You probably know the basics of product configurators. Let's go a level deeper and explore some common questions about this innovative digital tool and how it works.

How does a product configurator increase sales and streamline the sales process?
A product configurator can be a helpful tool for businesses selling complex products. The configurator automates the process of selecting different product options, so customers can select product options and interact with a visual representation of that item in real time. In other words, the configurator visualizes product options on the spot to help shoppers see what they are getting. Shoppers can obtain a price quote from the configurator as well, so they can make an informed shopping decision without leaving their home.
When customers use product configurators, this removes some of the risk from online shopping. Configuration software is especially useful for high-ticket products such as cars and furniture, which are both expensive and have many different configurable features. When consumers are able to configure a product online, see a real-time visualization of what the final product might look like, and obtain accurate pricing information, they'll be more satisfied with the online shopping experience, and businesses will be able to sell more configurable products.
Product configurators can be used to drive a more convenient and high-satisfaction sales experience in many different industries, whether you're selling diamond rings or office furniture. Product configurators also make upselling easier; companies can include add-ons that their customers might need in the product configurator user interface.
Most importantly, product configurators automate crucial aspects of sales and create an alternative to brick-and-mortar shopping that provides a superior customer experience. Given the expansion of online eCommerce and omni-channel shopping experiences as a result of the COVID-19 pandemic, product configurators are the wave of the future in the online retail space.
If you operate in an industry with many different configurable options and the sales cycle can take months as a result, an omni-channel product configuration experience could help shorten the sales cycle and reduce reliance on time-consuming, costly training for sales reps. A product configurator can free up your company employees' time to focus on product fulfillment and other aspects of the customer's buying experience.
What are the main types of visual product configurators?
Given the increasing speed and power of the internet and computing in general, product visualization has become more sophisticated in recent years. Currently, there are two main types of visual product configurators. These configurators use either static, two-dimensional (2D) visuals or interactive, three-dimensional (3D) models.
Static 2D product visualizers allow shoppers to visualize a retailer's product, but won't allow them to rotate the image in three dimensions to look at it from different angles. However, 2D visualizers use buttons to change the constituent parts of the product, such as colors, materials, or add-on features.
Another, more sophisticated option is a 3D product configurator. Rather than just providing a static 2D image, 3D visual product configurators are more interactive. Shoppers can rotate the three-dimensional rendering to be able to see it from all angles, as well as customize the product in terms of features, color schemes, and so on. One application of an interactive 3D product configurator is in furniture shopping. Furniture buyers want to know what they are buying from an online store, especially since furniture tends to be expensive. 3D model visualizers can be helpful to their online shopping endeavors by taking the uncertainty out of online shopping.
Threekit's product configurator takes this technology a step further by allowing shoppers to visualize products in photorealistic 2D, 3D, and augmented reality, all from a single platform.

What are the benefits of product configuration for eCommerce?
Product configuration has many benefits for eCommerce, including:
Real-time product visualization for every single option ("Try before you buy")
Reduced guesswork for buyers, especially when shopping for big-ticket items
Increased sales
Reduced quotation lead times
Less ordering errors
Integration with CRM and other retail systems
Streamline process aspects such as bills of materials (BOM) and routings to create configured products faster
Automate and improve communication with distributors
Greater transparency in pricing
Better information on product availability
Convenience of online shopping
An omnichannel shopping experience for buyers
Reduced reliance on salespeople to drive sales


How to choose the right product configurator
There are a few different types of product configurator software out there. They include knowledge-based engineering solutions, enterprise resource planning (ERP) configurator modules, product visualization software, and enterprise product configurators.
Ultimately, the decision of the right product configurator hinges on your individual needs as a business, what existing processes and software solutions you use, and the type of configuration needed. To figure out which type of product configurator solution is best for you, talk to the experts at Threekit.
How do I get started with a product configurator?
It's easy to get started with a product configurator. Threekit's experienced team of computer programmers, designers, and customer service professionals are here to help you get the most out of product configuration solutions. Drop us a line!
How do I put a product configurator on my website?
A web-based product configurator provides buyers with a visual 2D or 3D model of different product options, as the selections would look in the final product. A website product configurator provides a "try before you buy" experience in which shoppers can compare different options in real-time, virtually, before making a purchase.
You can use an online product configurator in conjunction with other automated systems such as a customer relationship management or CRM system.
Threekit can help you get started with a website product configurator to boost sales and improve the buying experience. Check out the Threekit platform and contact us for a demo today.
How can I make a product configurator for my website?
You can either build your own product configurator or go with an out-of-the-box software-as-a-service (SaaS) solution. To learn more about creating a product configurator, check out our post on the topic.
How to add a product configurator to eCommerce platforms
Threekit can help you build a custom product configurator for your online shopping website. If you have a blog or online store, you can also use a product configurator with platforms such as Magento 2, Woocommerce, or Shopify that integrates with Threekit solutions.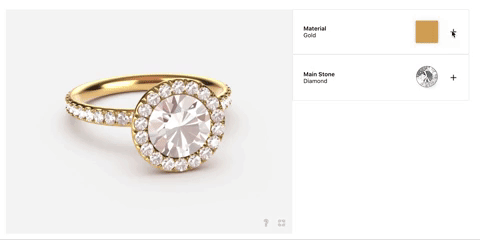 How can I create a product configurator for Wordpress?
It's possible to create a product configurator for Wordpress. There are many plugins available in Wordpress for the creation of product configurators on the platform, which work with platforms such as Woocommerce.
Configure, Price, Quote (CPQ)
Configure Price Quote (CPQ) is software designed to expedite the sales process. CPQ helps companies get a handle on product inventory and availability, and helps companies unlock the omnichannel experience for consumers.
CPQ software enables businesses to provide live pricing via a price application programming interface (API). CPQ solutions provide real-time quotes based on what's actually in stock and available. They also allow shoppers to visualize configurable products in a fast and precise manner. Salesforce is a premier CPQ provider in this space. Threekit's software tools bring additional functionality to Salesforce CPQ.
Threekit's Salesforce CPQ integration provides built-in 3D and augmented reality configurator functionality. Customer experience is improved with visual CPQ, so businesses can close deals without the need for a brick-and-mortar sales transaction or a large sales team. As a result of Salesforce CPQ and Threekit's CPQ integration, companies can sell more products while providing a hassle-free shopping experience.
Axonom (Powertrak), Configure One, and KBMax provide CPQ solutions that can be integrated with Threekit's visualization solutions.
Read more about how Threekit's visual CPQ solution powers B2B sales here.
Product Configuration Stats & Data
According to Autodesk, companies using CPQ reduced the sales cycle by 27%, reduced quotation lead time by 40-80%, and experienced a 105% increase in sales compared to companies who were not using CPQ. Product configurator ROI stats and data abound!
Ready to elevate your brand's eCommerce experience with a top-tier product configuration solution? Get in touch with our team at Threekit for a consultation or demo.