How to Shop for a Product Configuration Tool
If you're in the market for a product configurator you know that there's a world of options out there. As with any other business decision, the more informed you are the better the outcome will be. While the upfront costs of a product configuration tool may appear intimidating at first glance, there are certain features, functions, and overall attributes that can protect your bottom line in the long run. In other words, it's well worth the investment.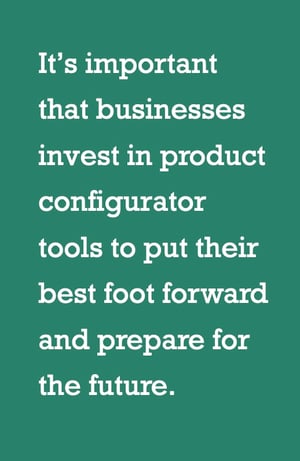 With more people shopping online than ever before, they're becoming more aware of their eCommerce shopping experiences. It's important that businesses invest in product configurator tools to put their best foot forward and prepare for the future. The pandemic has kept people inside but that hasn't stopped them from browsing and buying. Only now, it's their primary mode of making a purchase and that will likely remain the case for the foreseeable future even after the pandemic subsides.
There's a lot to consider when searching for the right product configurator to suit your needs. Here are three critical things every business should look for when making a selection.
Scalability
No matter what industry you're in or what product you're selling, flexibility should be your number one priority when looking for a product configurator tool. Even if your offerings are simple and small at the moment, that could change at any time and you'll want to be prepared to adapt. Your selection should have the capability to build multiple configurators efficiently to support changing inventories, growing selections, and any other curveball that may come your way. If we've learned anything in the past few years, it's that the way we're doing business can change without warning. Choosing a product configurator tool with scalability can help you stay ready for anything.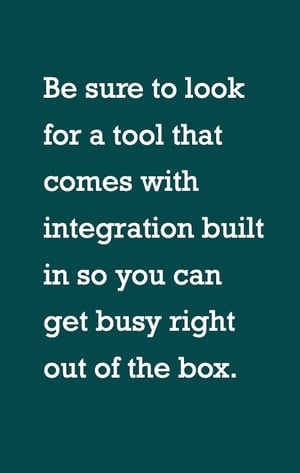 The last thing you want to spend money on after investing in your product configurator tool is integration. Be sure to look for a tool that comes with integration built in so you can get busy right out of the box. Most likely, you've already invested a great deal of time, thought, and — obviously — money into your existing tech stack. There's no reason for an upgrade to your digital marketing to render it useless. Your tool should also be able to integrate seamlessly with your eCommerce platform. There are plenty of product configurator tools out there that have taken these concerns into consideration and designed their software to accommodate your integration needs.
Amazing 3D and 2D quality
Part of what gives a high-end product configurator tool sex appeal is the visual aspect. That is, if the visuals look sexy. This is one area where you can't cut corners. The overall quality of your 3D and 2D visuals should be state-of-the-art. Even the least discerning online user today can spot a subpar image and whether they're aware if it or not, they'll be immediately turned off and pass on the purchase.
Here are two examples of brands that are crushing it with killer visuals in their product configurator tools.
Ulrich Barns
Don't let the product deceive you. "Barns" may not sound future forward, but Ulrich Barns proves that nothing could be farther from the truth. They deal primarily in prefabricated buildings like sheds, small cabins, and playhouses but understand that people in the market for such structures want a full look at every angle before making a decision. They're a perfect example of a brand that made their 3D visuals a top priority and it's given online shoppers more confidence when browsing. When consumers can envision every angle of the product and imagine how it might fit into their outdoor space they're far more likely to go from browsing to buying.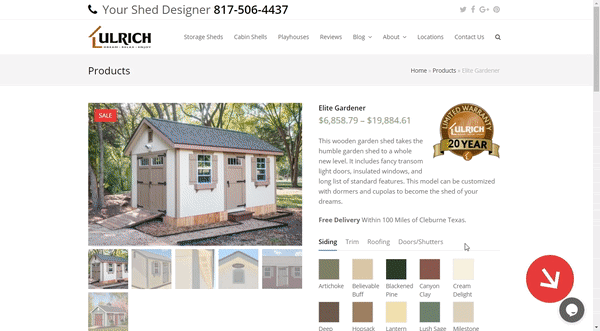 Crate and Barrel
Crate and Barrel understood that a brand selling stylish interiors needed a high-style digital presence to match. That's why they invested in a product configurator that includes some of the most eye-catching 2D photography online. When homeowners are dreaming about the perfect layout, accessories, or design, they want to see beautiful imagery and Crate and Barrels provides them with just that. From high-end furniture to top-of-the-line kitchen accessories to beautiful outdoor décor, virtually every product in their catalogue is showcased at its best with breathtaking photography worthy of being framed. Crate and Barrel is the perfect example of a brand that put their 2D visuals first when they chose their product configurator tool.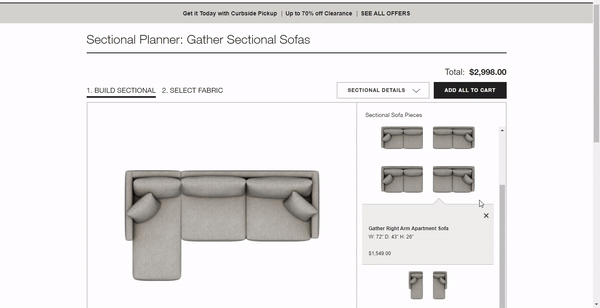 As mentioned earlier, scalability, built-in integration, and visual quality are just three key things to consider. At Threekit, we're prepared and equipped with an experienced team and leading-edge products to help you find the right solutions for your unique needs. And our specialties run the eCommerce gamut, from amazing 3D capabilities to the latest augmented reality possibilities to guidance for the most popular platforms. Our experience runs deep covering nearly every industry online.
We understand that there's a lot to consider when choosing a product configurator tool and we're uniquely qualified to help you set yourself up for the success this year, and in the years to come. If you're ready to make the right choice for your product configurator tool, get in touch with Threekit today.