The Power of Product Visualization Along the Customer Journey
This post is part of our Threekit Webinar Series, a blog series where we recount the most pertinent takeaways from the Threekit insiders and guest experts who are thought leaders in the 3D and augmented reality space.
---
In today's world of eCommerce, visuals are everything. 360 product viewers and 3D configurators are helping brands give their consumers what they want: an up-close look at what's available. In a recent conversation, Hilary Murdock, Head of Product Marketing at Threekit, discussed the importance of visuals during a customer's journey. Here is a summary of the key topics she touched on.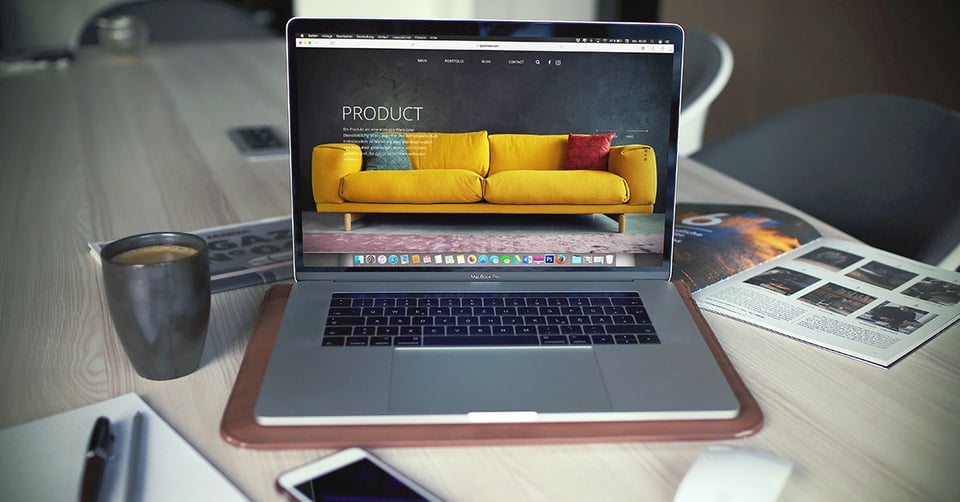 What Makes Visuals So Critical?
Today's customers have higher expectations for the visual product experience than ever before. Threekit generates the volume and variety of product visuals necessary to meet those expectations. The average consumer has a busy online life. Social media. Online news sources. Even communication platforms for their jobs keep them online and have conditioned them to expect attractive visuals at every turn.
Watch the whole webinar here.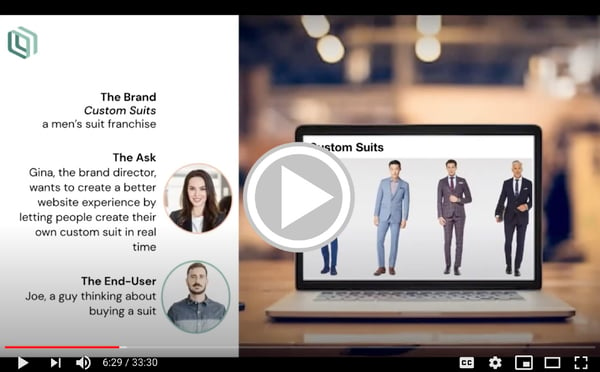 The Threekit Approach to Visuals
Threekit is a product visualization software that creates photorealistic images, interactive 3D art, and augmented reality experiences that help businesses sell more. More interactive experiences get people more involved with the products and guide customers along the path toward purchasing.
First, Threekit gets client input, which could be as simple as having them upload their catalogue. From there, the 3D artists at Threekit assess the visuals and formulate a plan. Next, they create and export visual models based on what they received from the catalogue. Finally, the Threekit team sends the 3D art to Websites, eCommerce platforms, social platforms, and CRM, seamlessly. And that's just the beginning. Threekit continues to track performance so they can continually optimize the effectiveness of their 3D visuals.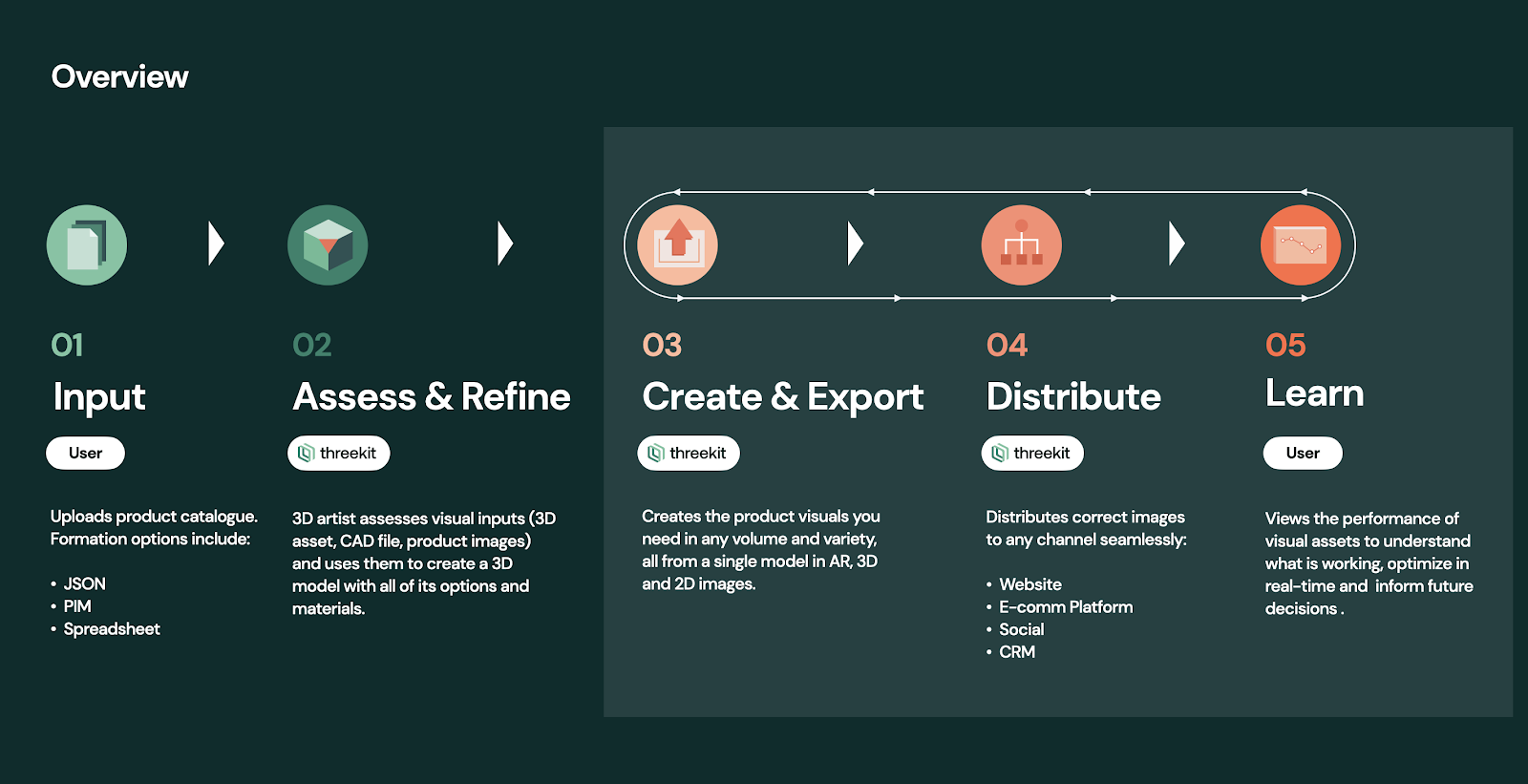 Guiding the Customer
The experts at Threekit are also using "smart visuals" to completely transform the customer journey. Let's look at a hypothetical use case. Say there's a suit brand — we'll call them Custom Suits. The marketing manager at Custom Suits wants to enable people to create their own custom suit in real-time. Rather than focusing on the website build only, let's also think about the end user, or customer. We'll call him Joe. Here's Joe's journey.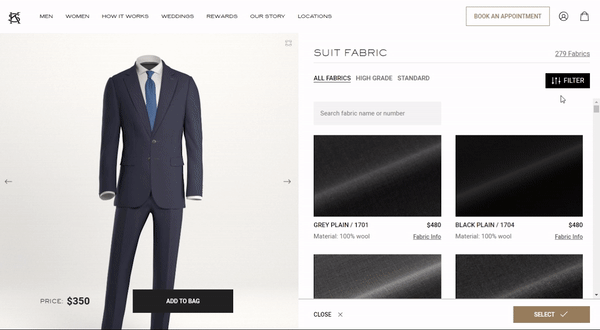 He starts in the Learning stage. This is before he's even visited the website. It's when smart assets can be used for online banners and branded social posts to put Custom Suits on his radar.
From there, Joe is guided toward the Exploring & Researching stage. This is when he might visit the website or even get an email including his customized suit.
This convinces Joe to enter the Committing & Purchasing stage. He goes to a Custom Suits store, where a stylist has his suit pre-uploaded.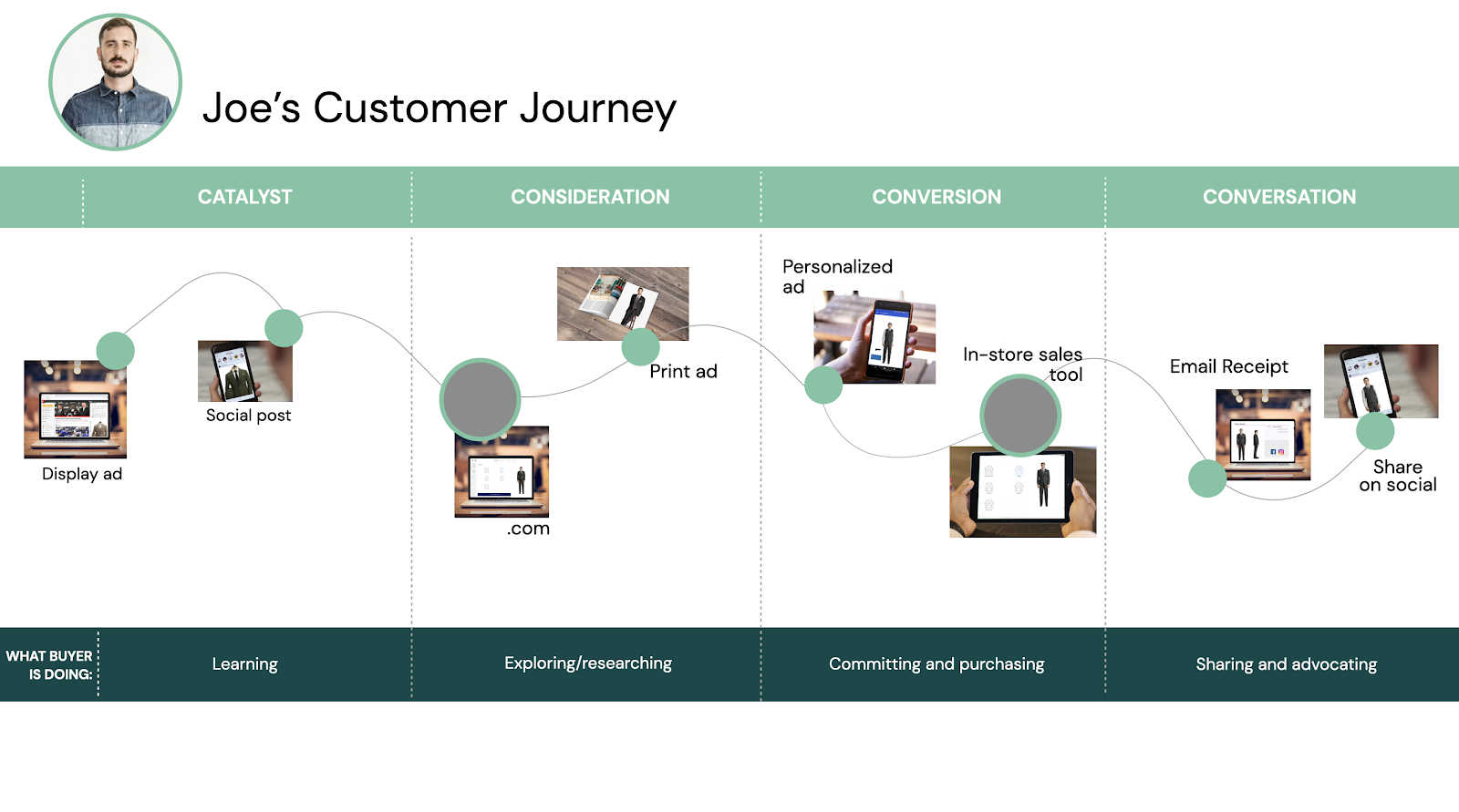 Finally, after Joe happily leaves with his ideal suit, he's ready for Sharing & Advocating. In this stage he might receive an emailed receipt that includes a readily shareable image of his custom suit.
These personalized experiences based on visuals work, and there's evidence to prove it. 80% of customers are more likely to purchase products from a brand that provides personalized experiences, and 40% of consumers say they've purchased additional products simply because their experience was personalized. Personalized experiences also drive customer loyalty. 44% of consumers become repeat purchasers after having a personalized experience with a brand.
Benefiting the Marketer
Marketing departments also gather this data through the funnel during this customer journey. Let's look at a few ways this visual-driven experience might help marketers make the most of their assets.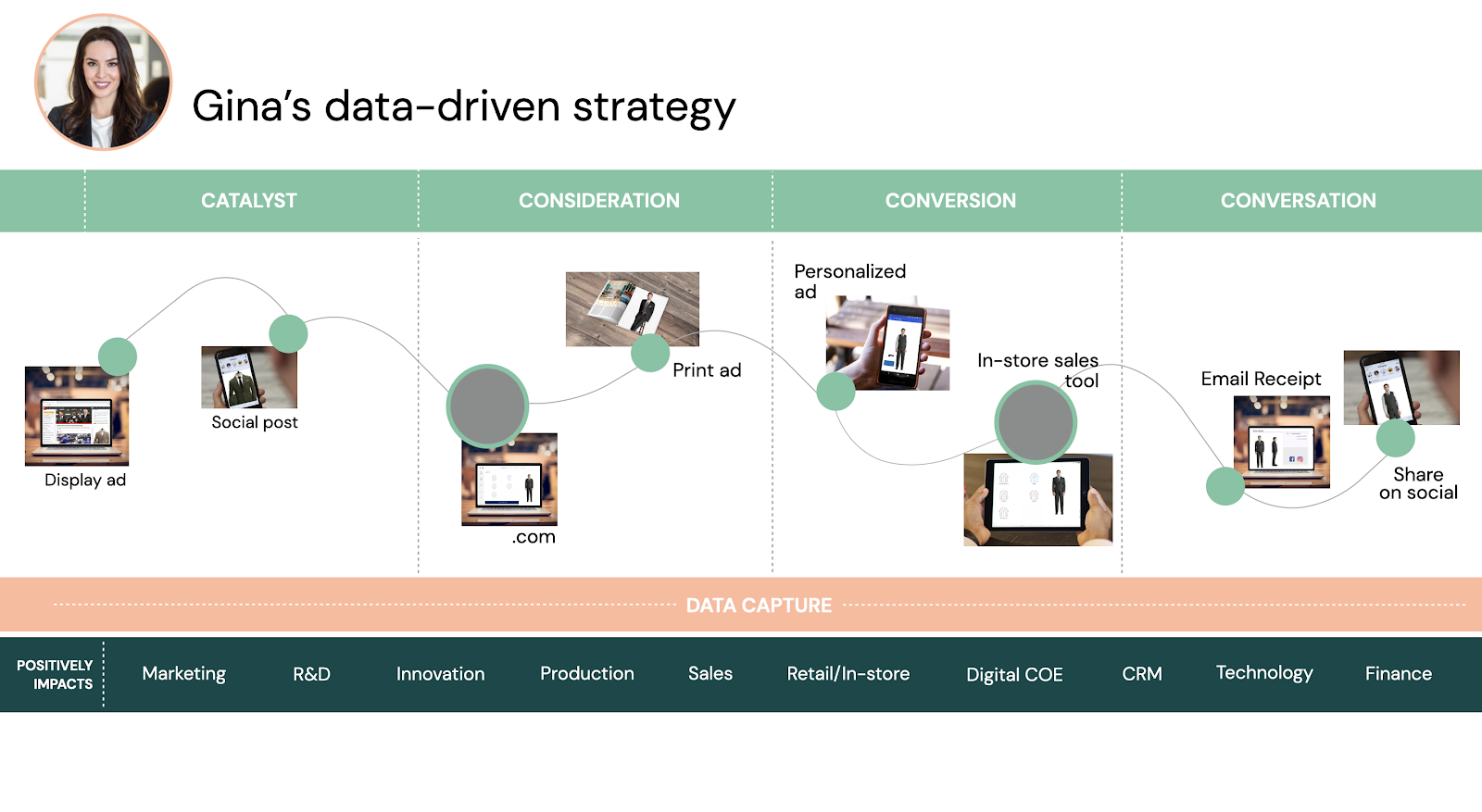 For starters, marketers gather information for product demand testing. Let's say Joe passed on one color. That helps inform what colors will perform, or underperform, even before the products have been produced. Joe's experience can also influence advertising optimization by helping marketers leverage consumer insights from the customization experience to decide what to feature in print and other collateral. Going further along the funnel, marketers can create personalized CRM campaigns to activate communications suggesting incremental items that complement Joe's custom suit.
Beyond this hypothetical scenario, there's clear evidence showing that marketing departments experience huge benefits from personalized experiences like Joe's. 88% of marketers say personalization through data has helped them realize a measurable lift in business results — often over 10%. Also, organizations using their consumer behavior insights strategically are outperforming their peers by 85% in sales growth margins. And, customized customers journeys cut down on product returns by as much as 20% they even protect the bottom line.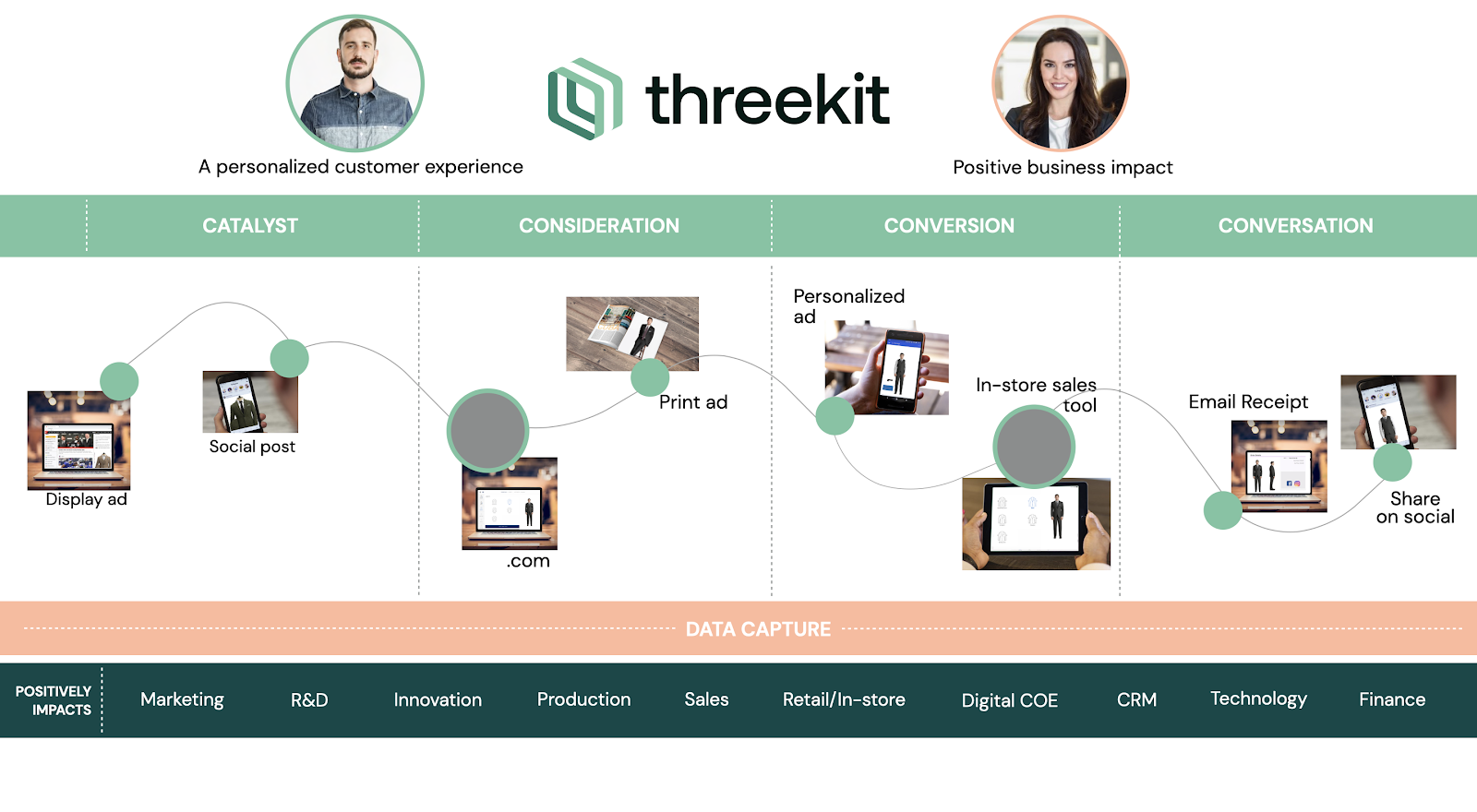 Custom Personalized Experiences
While every eCommerce business can benefit from smart visuals, each has its own unique needs. This is true for both consumer and B2B categories. The 3D artists at Threekit work closely with their customers to tap into their creative visions so they can bring the right qualities to their smart visuals.
We can even use these smart visuals for augmented reality experiences to help them envision how it might fit—or not fit—into their spaces. We help our clients add configurability and customization to their brands so they can give confidence and the power of choice to their customers.
If you're ready to put smart visuals to work helping your brand own the modern eCommerce marketplace, get in touch with us today for a consultation or demo.