Online Interactive Configurators Are The Gold Standard For Jewelry
There's a lot of good news for jewelry and watch e-commerce. More consumers are happy to shop online, even for high-value jewelry items, than they were five years ago. This development was made clear by the two-fold increase in online jewelry sales across the US and Western Europe in 2019 alone.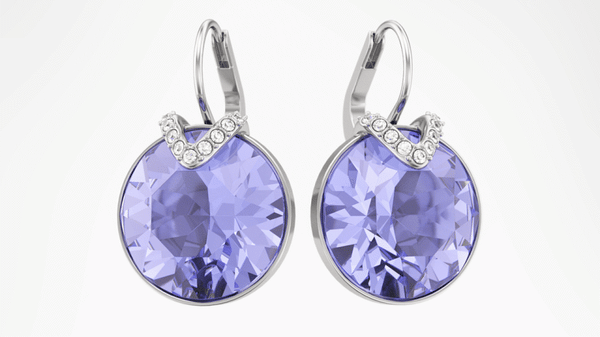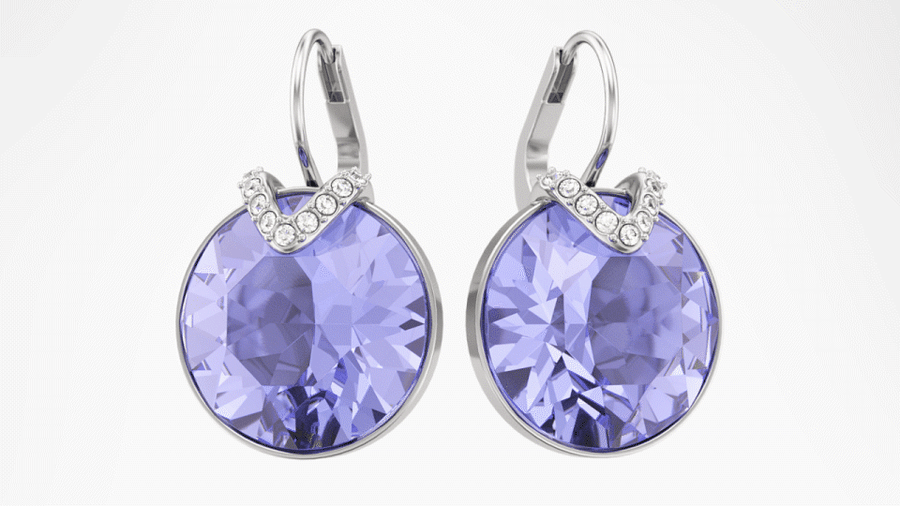 The trick to taking advantage of the increase in e-commerce is to provide the best user experience possible and capitalize on current jewelry industry buying trends. One trend that most commentators have been talking about is customization: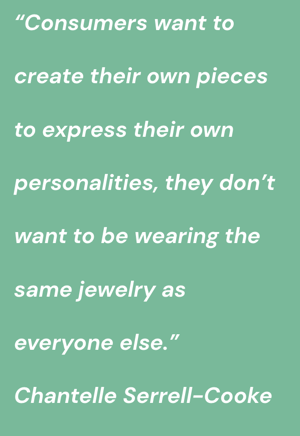 "Consumers want to create their own pieces to express their own personalities, they don't want to be wearing the same jewelry as everyone else." says Domino Jewelry's marketing manager, Chantelle Serrell-Cooke
The days of static images, even showing an item from every angle, accompanied by a few lines of text are pretty much over. Customers want to see and manipulate an item (in the form of a photorealistic image). Basically they want to recreate the in-store interaction with a piece of jewelry as much as possible. They also want to customize their future purchases as jewelry, and retail in general, moves away from the mass produced to the co-created.
Configurator software covers both bases: it gives a great user experience—interactive, engaging, hassle-free—and meets the growing demand for customizable products.
Customizable keepsakes: online interactive configurator
All jewelry and watch purchases are to some extent extremely personal. Engagement rings, watches, necklaces, trinkets, and bracelets all carry a much bigger emotional significance than other purchases.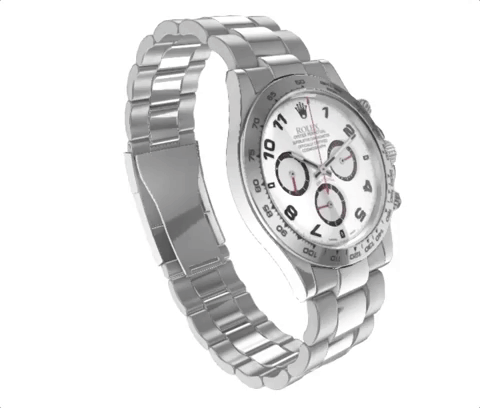 One problem with choosing any piece of jewelry, is all the variables you need to consider, including materials, stones, size, and style. Most people spend weeks, if not months, trawling jewelry stores agonizing over pieces that fail to meet their needs, or more importantly their loved one's, tastes and expectations.
One way to avoid disappointment and compromise is to give customers the ability to design their own. Before jewelry retailers started using online product configurators, customers needed to spend a significant amount of money (that's code for a ton of money) commissioning a bespoke item of jewelry. Now they can customize their own to match their own or the intended recipient's tastes.
Tiffany & Co.
Jewelry retailer Tiffany has made a successful business out of selling customizable bracelets. They're most famous for their range of beautifully designed individual charms made of precious metals and gemstones. Many of the keepsakes mark special occasions such as anniversaries, important birthdays, graduations, and other milestones.
Tiffany now uses an online interactive configurator to give customers the opportunity to build their own charm bracelets. Users first choose from a long list of charms and then add them to a high res image of their preferred bracelet. They can add and remove charms, switch their position, and choose engraving. There's also a crystal clear zoom in function.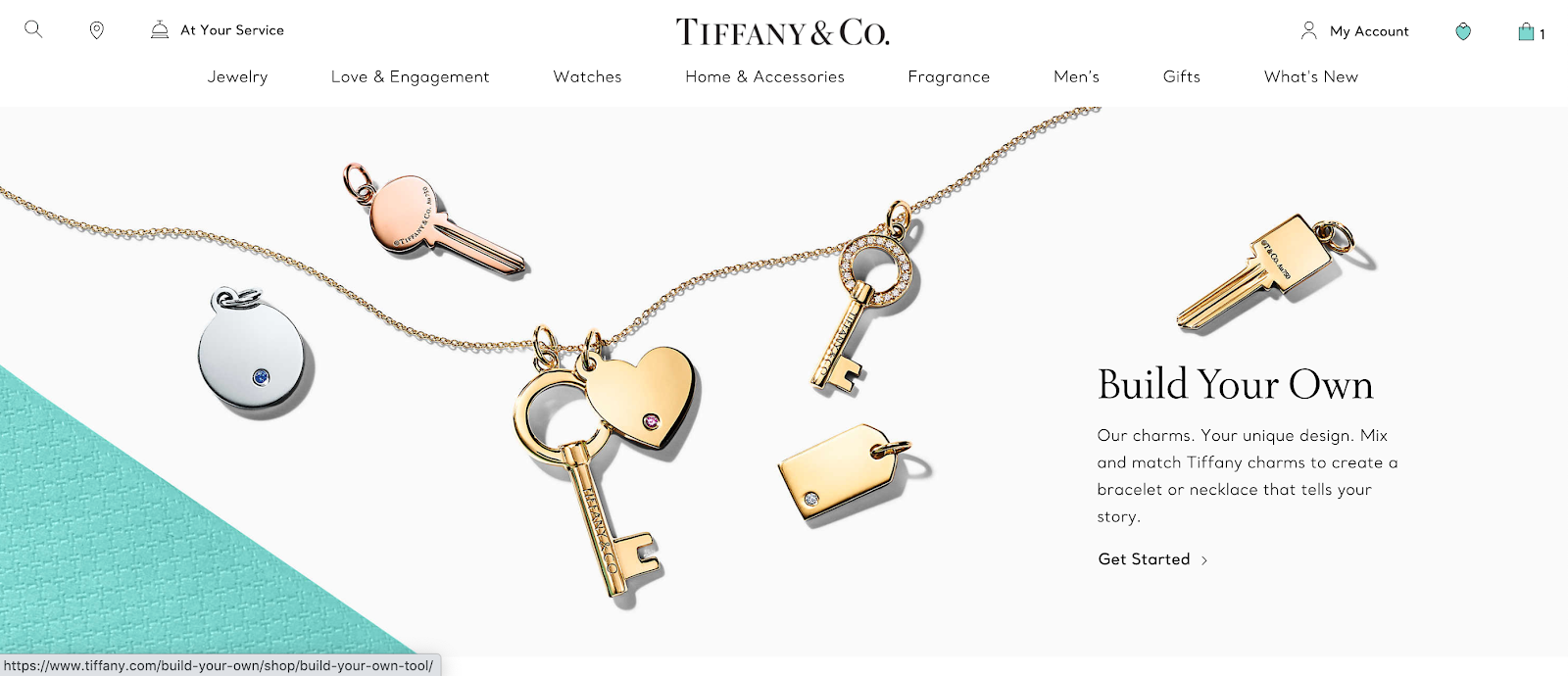 One clever feature that Tiffany uses is essentially a share option, commonly used by most retailers using configurators, but theirs allows you to send a "hint" email—it's basically a cute, and not so subtle way of telling someone you'd like them to buy you something. This feature highlights one of the main benefits of giving users the ability to customize products using an online interactive configurator: you drastically reduce buyer disappointment. How can the recipient of the Tiffany bracelet be disappointed if they've designed it themselves?
Bamford Watch Department
This luxury watchmaker has used the most modern online interactive configurator to recreate the lost art of bespoke watch making by boutique craftsmen. The intricacy of their timepieces is reflected in the number of customizable and personalizable elements in their configurator. A watch's strap, dials, hands, logo, personalized initials, and date wheel can be customized—basically everything can be adjusted to your specific taste.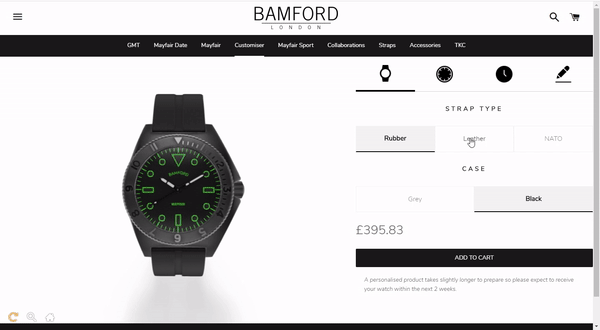 Developed by Threekit, Bamford's configurator is a simple and intuitive point and click system, which displays changes to the large product visual. There's no zoom feature but the image is large and crisp enough so you can clearly see how your customizations will look on the finished product.
Costlier Configuration
You'd be forgiven in thinking that high-end jewelers and watchmakers wouldn't offer product configuration. Perhaps they'd turn their noses up at the very idea. Wouldn't most people want to own a genuine ring or watch from a world-famous jeweler rather than customizing their own? Turns out the opposite is the case.
Perhaps part of this is due to our earlier point about disappointment. If you're going to spend possibly thousands of dollars on a ring, watch, or necklace, you want it to look exactly how you want, right?
Luxury jewelry brand David Yurman uses a configurator to give customers the opportunity to build and customize their own amulet necklace.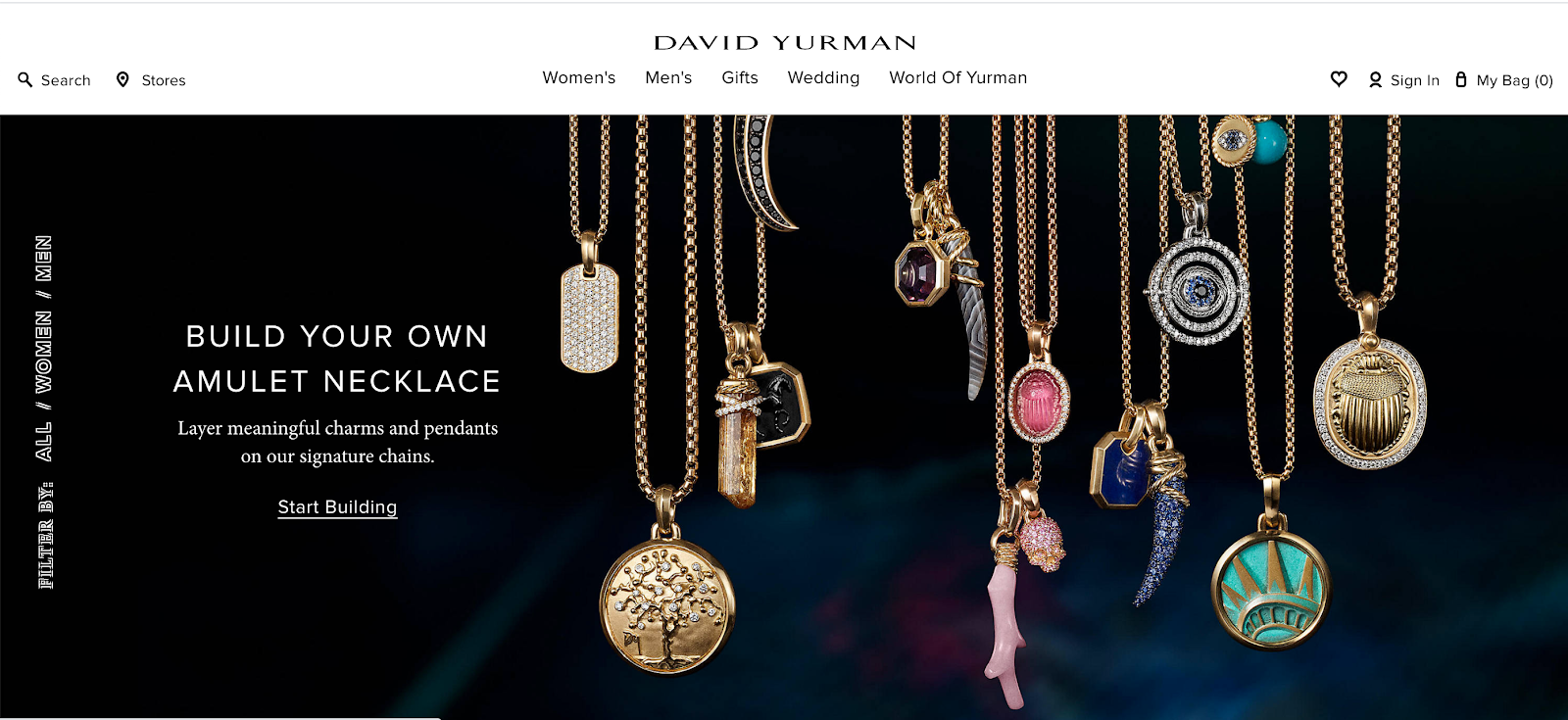 Notice the copy "build your own" and "layer meaningful charms". The standard used to be that owning a piece from a luxury jeweler was enough to satisfy. Now consumers are looking to co-create, building their own jewelry and adding elements that are meaningful to them, not just to the jeweler or designer.
The configurator itself is simple to use and allows you to choose from a good range of amulets. If you add more than one, you can rearrange, adjusting the order in which they hang from the chain. It's not hugely sophisticated, but the images are crisp and the interface is simple and pleasing to use.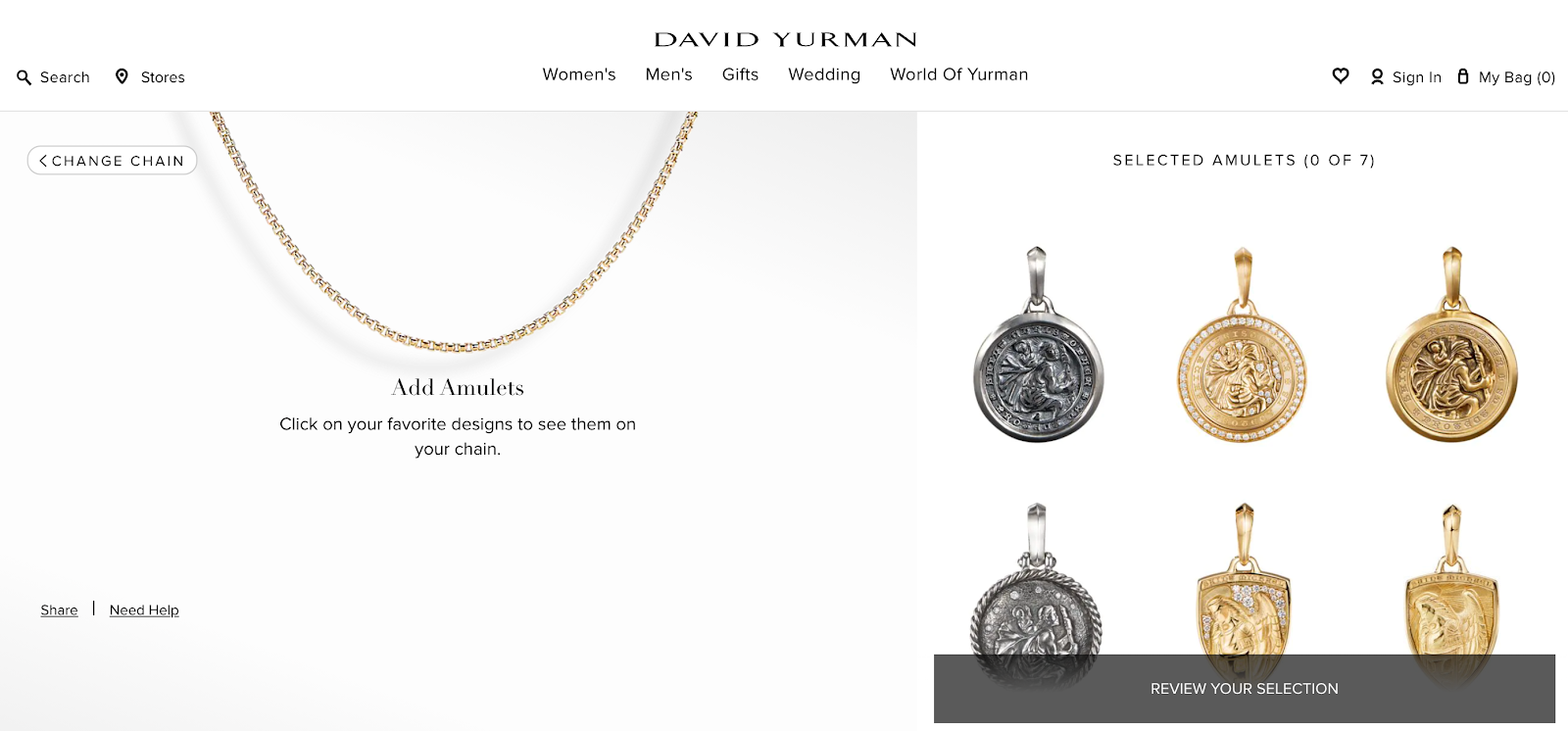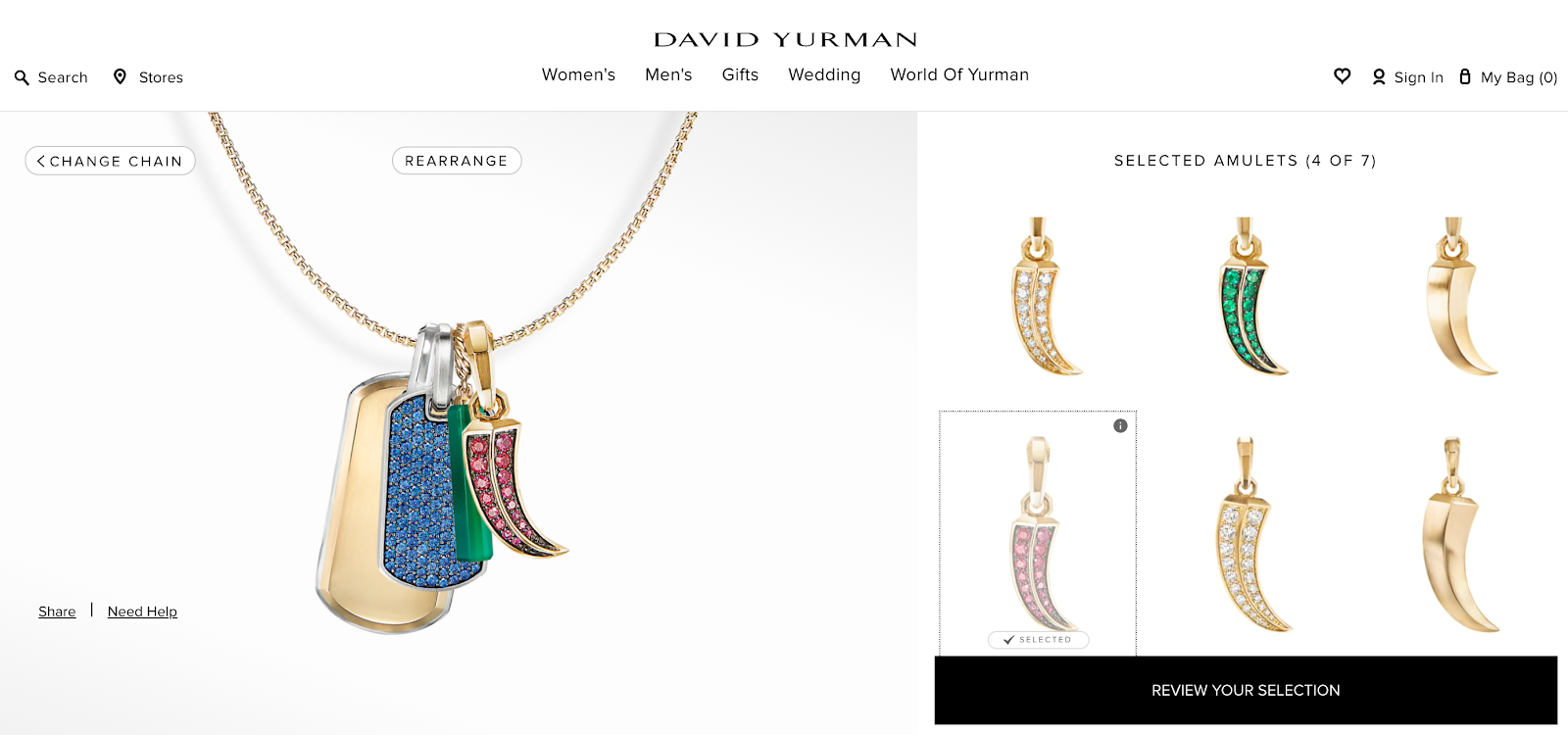 There can only be so many brands like Tiffany, David Yurman, and Cartier and that's good news for smaller, more affordable jewelers. A report by McKinsey into the jewelry industry in 2020 found that customers of fine-jewelers still prefer to make purchases in bricks-and-mortar stores.
For affordable brands, they predicted that the share of online sales for this segment of the industry will increase to between 10 to 15 percent in 2020. Now is a great time to fully commit to selling online, embrace the customization trend, and give customers a great user experience.
Schedule a demo and find out how to launch an online interactive configurator on your jewelry e-commerce site.
Want to see more brands using configurators? Check out our article 10 Brands Using Online Product Configurators to Boost Sales.