Kashiyama: A Magento Product Customization Success Story
This post is part of our Threekit Webinar Series, a blog series where we recount the most pertinent takeaways from the Threekit insiders and guest experts who are thought leaders in the 3D and augmented reality space.
Today, consumers expect product customization options while shopping online. When shoppers have more control, they feel more empowered to make a purchase. Nowhere is that more true than in the menswear category. And Magento product customization proved to be the right solution for Kashiyama, a made-to-measure success story.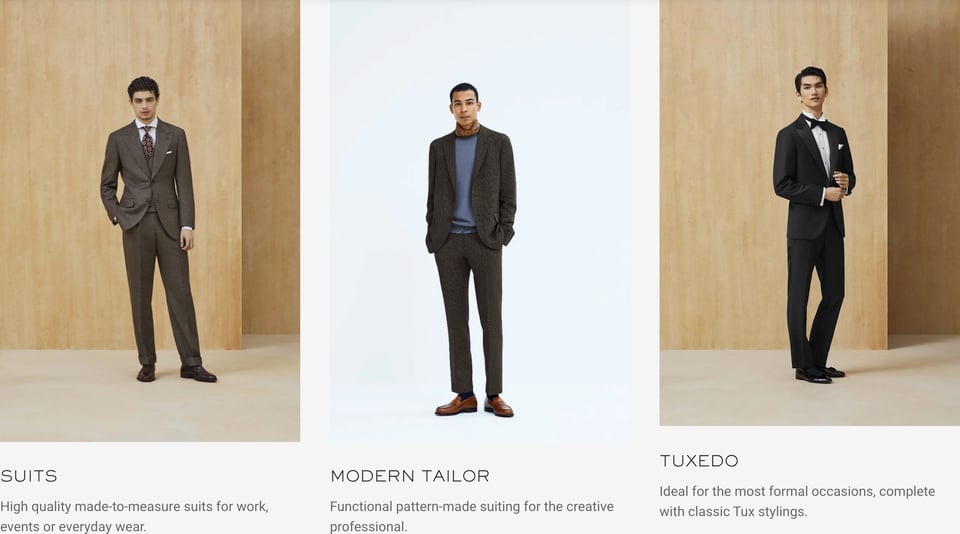 In a recent fireside chat between BJ McCahill, VP of KASHIYAMA and Eldar Rapaport, VP Head of Client Services at MRM Commerce the two industry leaders discussed their approach to eCommerce customer experiences while working to create and implement 3d product configurators with Threekit.
Let's take a look at the highlights from that conversation, where they discussed the unique perspective of a company undergoing global eCommerce expansion.
Watch the webinar here.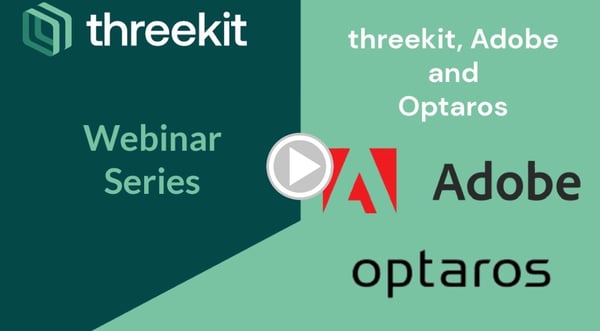 Who is KASHIYAMA?
Founded in 2017 in Japan, KASHIYAMA is a premier menswear brand that's looking to expand its visible retail presence in the digital world. They're a unique client because of the many suit configurations they're able to offer — up 1.2 million combinations thanks to their more than 200 fabrics and more than 200 measurement profiles. That's an intimidating number of possibilities at first glance but the teams at MRM Commerce, Magento, and Threekit knew just how to handle the task. A Magento product configurator made perfect sense, as its easily transferable to China and other Asian markets and could accommodate integrations with various partners, including Threekit.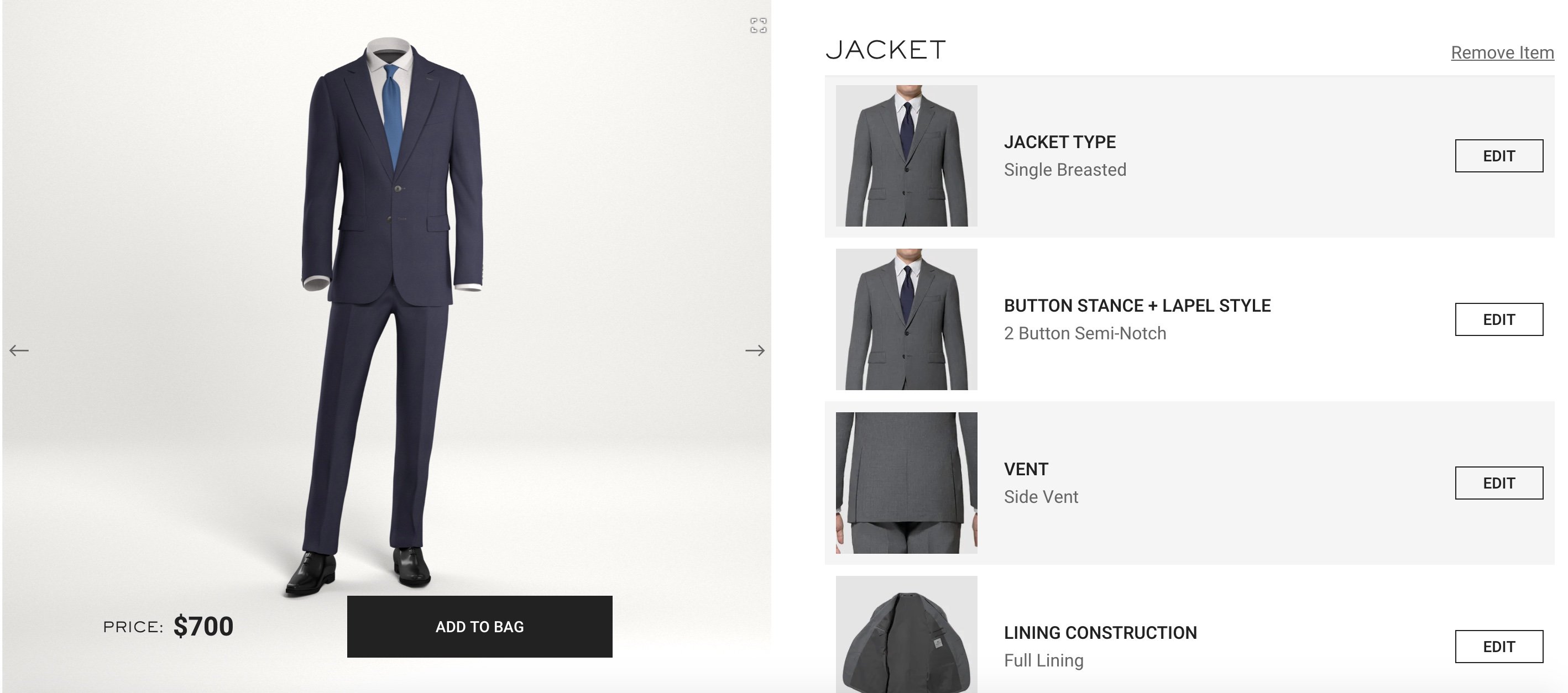 They also had to accommodate for other complexities like different cultures, various countries, and a variety of backend systems that required integration. All while tying back to the smart factory, KASHIYAMA's advanced method of production in Japan.
The KASHIYAMA Business Model
There are two main product launches each year for KASHIYAMA: An autumn/winter launch and a spring/summer launch. They also put out seasonal injections in between making for even more permutations added throughout the year. These created a need for a nimble, flexible, and affordable way to showcase so many permutations on a tight schedule.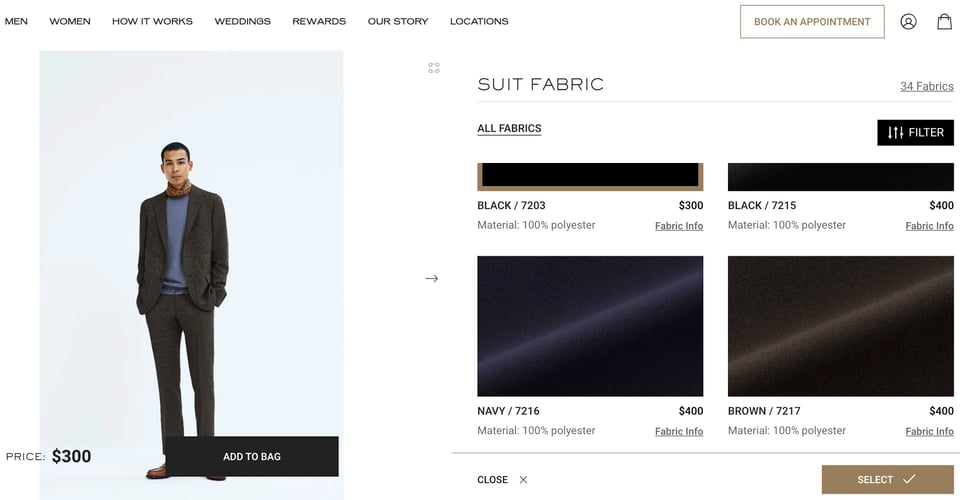 KASHIYAMA has also been in a big push to expand in the American market where the average consumer has different needs and expectations than their native Asian customer base. For example, Americans like brighter colors and patterns while consumers in Japan and China are more interested in traditional business fashion. KASHIYAMA has introduced American-exclusive fabrics to accommodate those different needs, which led to seemingly endless spread sheets for a single product.
"Made to Measure". Not quite bespoke.
To be clear, KASHIYAMA doesn't provide bespoke services to men shopping for the right suit. Rather, they offer "made to measure" services. Here's how it works: Stylists work closely with the customer to guide him toward the right fit and measurements. There are nearly 40 parts of a suit that can be altered, meaning there's a world of possibilities. While they do offer in-person services at their brick-and-mortar locations, Threekit was able to help them get as close to that experience as possible with their cutting-edge 3D product configurators.
The eCommerce Solution
With so many combinations, McCahill and the team at KASHIYAMA knew photoshoots would be cumbersome and expensive. Also, photoshoots result in a lot of waste by producing so many samples that use far more fabric than necessary. The Threekit software makes it possible to create thousands of configurations using one 3D image. This is critical, because consumers feel empowered when they can build their perfect product before entering the store. The core demographic for KASHIYAMA—men—are very visual. They need to see their options and the Threekit product configurators make that possible. Also, this demographic values their time more than most, and enabling them to browse while on the go, even on their phones, sets them up for a better overall brand experience. That means software loading time needs to be fast — Threekit uses layers so they only load what changes resulting in fewer renders and faster loading.
The Threekit software also reduced time spent with stylists at KASHIYAMA locations, which has been important during COVID-19 when people appreciate brief in-person interactions. Stylists can upload customer measurements and preferences prior to their appointments and refer to them on tablets.
Looking Ahead
While their recent applications of the latest eCommerce marketing technology have proven successful for KASHIYAMA, they're not slowing down. Currently, customers can get their measurements at the store but the team is working toward aiding in self-measurement technology to further enhance the experience and promote self-checkout. This will give consumers the choice of starting their journey either online or instore. In terms of product offerings and consumer behavior, the brand has seen a shift toward more casual suits and shirting services since the pandemic. The Threekit software has made pivoting to accommodate shifts like these effortless.
They also have their sights set on more expansion. When KASHIYAMA enters a new market, they go above and beyond to ensure they're communicating with their customers and stylists on a daily basis. That's the most effective way to customize their approach for that specific area. For example, when they entered the U.S. they altered the pattern structure, as mentioned earlier, and expanded measurements.
From product viewers to product configurators to thought leadership like this post, we're keeping brands on the leading edge today so they'll be there tomorrow as well. If you're ready to build an extensive online selection of photorealistic product renderings with an experienced partner, get in touch with us today for a consultation or demo.