How to Reduce eCommerce Returns
As part of our Visuals Make a Difference launch, we're taking a close look at the problem of eCommerce returns and what retailers and shoppers can do to prevent them.
Guide:
Part 2: 7 Easy Ways YOU (the online shopper) Cut Back on Product Returns
Part 1: 6 Tips Guaranteed to Cut Return Rates for Retailers
If you're an eCommerce retailer, you already know that product returns are a big problem. Customer returns are more than twice as common for online store purchases as for those bought in brick and mortar stores.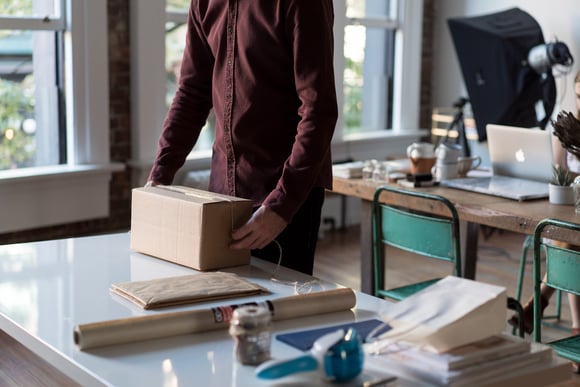 And in the last five years, we've seen online returns explode: a 95% increase in the volume of returned goods, totaling about $350 billion worth of goods returned in the last year. And it's only going to get worse: experts expect online returns to top $550 billion this year.
The ever-climbing eCommerce return rate isn't just a logistical hassle, either: eCommerce businesses are losing serious money. Only about 10% of returned products are reshelved or restocked; the remaining 90% end up incinerated or tossed into landfills.
So how can retailers reduce their number of returns? Read on for six strategies your eCommerce store can start implementing now.
How Online Retailers Can Reduce Online Returns
While it may feel like to retailers like they're at the mercy of customers' whims, they can actually have a major impact on reducing online product returns. And shoppers are starting to expect them to take action: a recent survey we conducted with The Harris Poll found that 82% of shoppers believe retailers have a responsibility to do everything they can to reduce returns because of their negative impact on the environment.
Luckily, there are several actions you can take:
1. Include at least eight images of every product you sell. Not even Amazon lives up to this standard, but today's shoppers expect eight images per product. And no wonder: without knowing what something looks like from every angle and in context, how can a shopper know whether they'll actually like it when they get it in the mail? We're not just speculating here: the number-two reason shoppers return products is that they look different in person than they did online (this accounts for more than 64% of returns!). Crate and Barrel does a great job of providing a variety of product images, with 12 still images and one video for each of its sofas.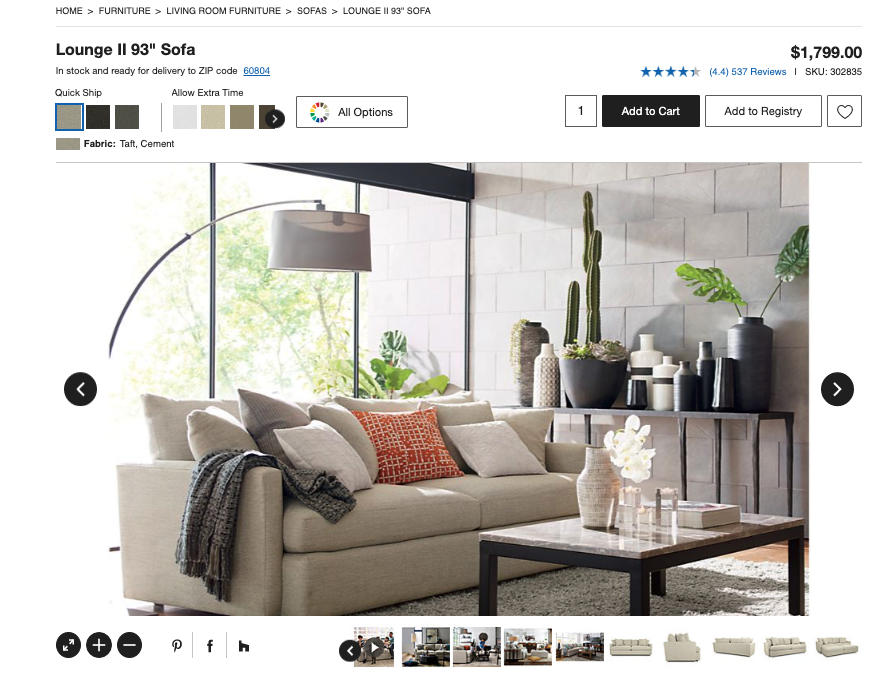 2. Use interactive 3D and product customization capabilities. 3D imagery gives shoppers an even more complete sense of a product than still images can. Enabling interactive 3D, which lets customers see changes to color and other features in real time, means customers can see what they're ordering before they actually order. This customer experience allows shoppers to go into the purchase with more confidence that they'll actually like the final product, which decreases the odds that they'll return it. Check out Xenith helmets to see this strategy in action.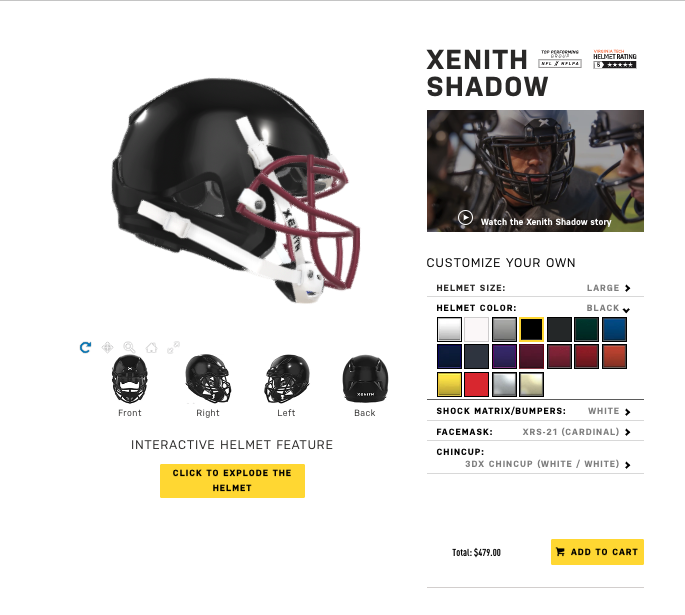 3. Support augmented reality capabilities for furniture and appliances. There's no better reason to return a sofa than that it doesn't fit in your living room. Ditto for that new coffee maker and your counter. By offering true-to-size AR functionalities, retailers make it possible for shoppers to know definitively whether a product is the right or wrong size and fit for their home before they pay for it. Again, when retailers make these features available, mismatches and therefore returns will decrease. Wayfair recently added an AR feature to its app. Here's what it might look like in practice.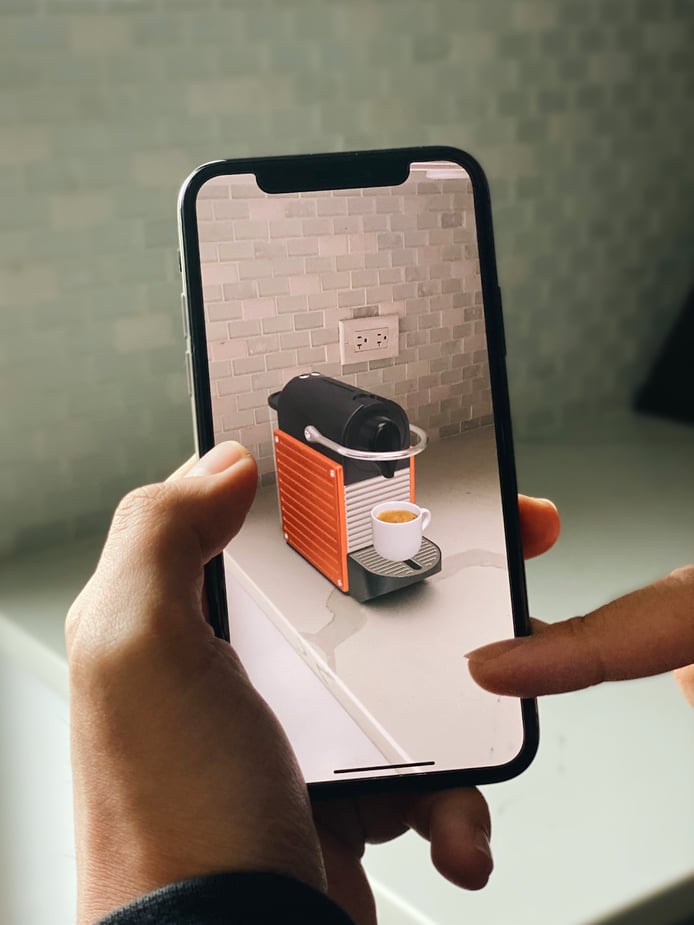 If you're on your phone, try out some AR examples here
4. Include detailed size guides for clothing. Images are important, but they don't tell the whole story for clothing and shoes. And because clothing sizes are inconsistent from brand to brand, it's essential for retailers to provide detailed guides to what their different sizes mean. Ideally, all sizes should correspond to physical measurements of some kind. If you show clothes on models, indicate their height and what size they're wearing. And support review features that let buyers indicate whether items are "true to size." Asos offers great support here: sizing charts, identification of models' sizes, and even the option to get size recommendations.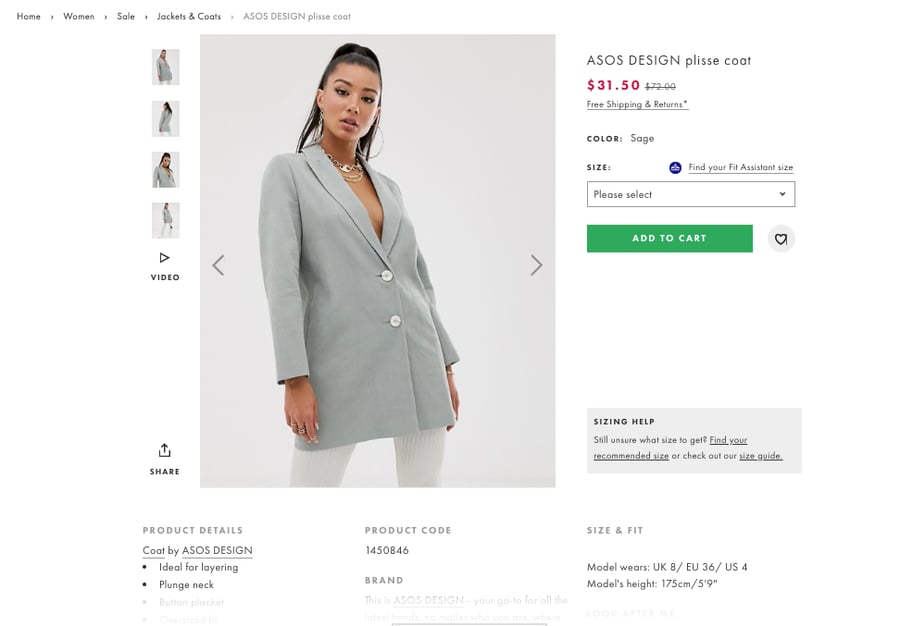 5. Incentivize correct purchases: Give shoppers a reason to avoid returns in the first place. For example, offer 15% off a future order for customers who decide not to return their merchandise. This not only helps reduce the likelihood of returns, it also gives customers a reason to make a repeat purchase. (Note: we have yet to see an online business do this – your chance to lead the way!)
6. Offer BOPUS: Buy online, pick up in store (BOPUS) can help reduce online returns by giving customers a chance to verify that they like the merchandise before they make a final purchase; if they're not happy, they can return or exchange it on the spot. Bed Bath & Beyond offers this service, if you'd like to give it a try.
Reducing Online Returns Benefits Everyone
Online shopping and returns emerged in an era where customer satisfaction was the chief concern of most brands. But as customers grow increasingly aware of the environmental impact of free return shipping, we may need to rethink what customer satisfaction looks like.
Today and in the future, customer satisfaction may not look like fast shipping and a liberal return policy. Customers are starting to pay attention to the larger role retailers play in the world—and they're starting to believe that retailers have a responsibility for minimizing the environmental damage that online returns (and a liberal returns policy) cause.
The good news is that reducing returns will help everyone: customers will be happier when they get what they want the first time, retailers will lose less money to returned items they can't resell and excess shipping costs, and we'll all breathe a little easier as we decrease emissions from last-mile driving.
The even better news is that the first step toward reduced returns is easy to take and completely within your control: use better product visuals on your eCommerce website so your customers have a better idea of what they're getting. Read more about how better product visuals can lead to fewer returns.
---
Part 2: 7 Easy Ways YOU (the online shopper) Cut Back on Product Returns
Let us start by stating that we understand that reducing online returns requires participation from both retailers and shoppers. And in fact, in a survey we recently conducted with The Harris Poll, we found that 76% of shoppers said they'd return or exchange online purchases less often if retailers provided better imagery and product descriptions in online product listings.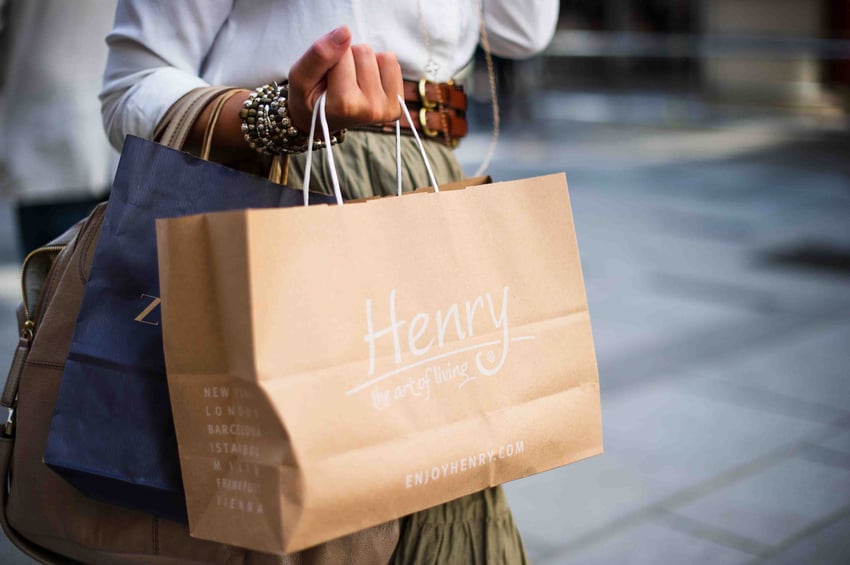 That aligns with data that show that 64.2% of returns happen because an item doesn't match its product photo or description.
Until retailers get on board with providing better images, though, there are several things individual shoppers can do to reduce online returns without giving up online shopping altogether:
Don't plan to return online purchases. Some returns are inevitable, but in recent years, shoppers have become more comfortable with behaviors like "bracketing," which involves ordering several sizes of a single item with the plan to return whichever ones don't fit. This practice makes shoppers into serial returners. Instead of bracketing, read size charts and reviews carefully. Seek out brands that indicate which size a model is wearing and what their measurements are (Asos does a great job of this.) If possible, try a brand's clothing on in store before buying online.




Return to stores when possible. This isn't always a better solution and doesn't always work well for brands, but if a brand offers this option, it may save some carbon—especially if you plan to use store credit to get a replacement item, which you can likely pick up while you're there. To find out whether your preferred online retailers offer a "buy online, return in store" (BORIS) option, search their return policy online. A few we know offer this include J. Crew, Best Buy, Old Navy and Gap brands, Walmart, and Express.
Shop brands with a commitment to sustainability. Patagonia has committed to refurbishing and reselling its gently used garments—and to sourcing its high-quality

materials sustainably. Toms, Lush, and Seventh Generation also have sustainable practices. Do some research and find out which sellers are making an effort to improve the environment. "Voting with your wallet" by shopping with sustainable brands sends a clear message that consumers value sustainability.
Tap into the power of secondhand. Companies like thredUp and Goodwill offer online marketplaces of secondhand goods that are as easy to use as Amazon or eBay. By buying secondhand, you decrease the amount of carbon created to make new products. By sending items you're finished with to places where they can be resold, you prevent them from going into a landfill. It's a win-win!




Be a skeptical consumer. If a vendor doesn't offer sufficient information, visual or otherwise, don't take the risk of buying. Similarly, if a price seems too good to be true for what you're getting, don't make the purchase. There's too big a chance that the vendor is less than reliable and the product you get will not meet your quality standards. (Need proof? Check out these product photo vs. reality fails from BoredPanda.)
Join the movement to demand better visuals from brands. Add your name to the list of consumers asking online retailers to create websites that include enough information for shoppers to make informed purchases that don't lead to returns.
Be patient. We're in an era of instant everything, from shipping to fashion. Unfortunately, fast fashion is bad for the planet and two-day shipping is detrimental to not only the environment but also the Amazon employees tasked with getting stuff out the door. Choosing slower-moving alternatives may lead to positive outcomes.
The Power of Starting Small for Fixing Online Returns
When faced with massive problems like climate change, taking individual action can feel daunting and pointless. What difference can one person possibly make in the face of systems that cause so much environmental damage?
But take heart in the example of green eating: in the United States, the number of people who identify as vegan grew 600% between 2014 and 2017. Many of them adopted the lifestyle because of concerns about how raising animal products impacts the environment. Today, 95% of US grocery stores stock plant-based meat alternatives, and fast food giants like Burger King and McDonald's are starting to offer meat alternatives.
In other words: where there's demand, there will be supply. So take a stand. Play for keeps. Tweak your habits to reduce the amount you return online purchases, and you may just make the world a better place.
---
Threekit's product visualization software creates photorealistic images, interactive 3D and augmented reality experiences that help businesses sell more. To learn more, please schedule some time with one of our teammates.