How to Overcome B2B Sales Objections with Visual Configuration
Selling isn't for the weak-spirited.
Like baseball, if you're able to get a hit—or in sales, close a deal—more than 30% of the time, then you deserve a spot in the hall of fame.
But that ratio also means that even the best sales reps will lose most of the time. Sales are hard because the customer has complex needs and wants, and isn't always willing or able to explain these things.
Almost every time, there are objections or deal killers. Think of it this way: if a customer didn't have an objection, then they would have already bought.
If you're selling a physical product to other businesses, research shows that your job has probably gotten harder:
Deal velocity overall has slowed down as the average number of stakeholders involved in B2B sales deals has gone from five in 2015 to seven today, according to Brent Adamson, principal executive advisor at CEB and co-author of The Challenger Sale.
Prospects are expecting high-quality content across the entire buyer journey. Most buyers (82%) viewed more than five pieces of content during their buying process. Sales is no longer about just selling, but also making sure that your website and other marketing content appeals to prospects.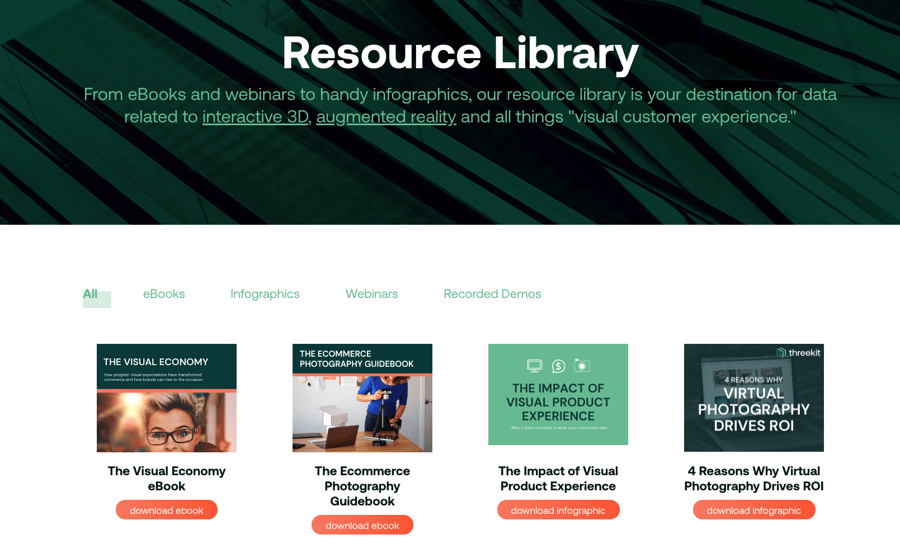 Providing quality visual content to prospects has become a requirement to close deals and increase sales. Above is an example of Threekit's resource library.
Budgets are tight and competition is tough. Especially during COVID-19, customers are fighting internally for every bit of budget. Which means there's more pressure on price in your deal.
These headwinds make it even more important that your sales team overcomes objections and speeds up deal velocity. Here are three common sales objections and how visual product configuration can help overcome them.
Objection #1: "We'll get back to you"
At the end of the meeting, most reps will ask, "When should we talk next?"
If the answer is "We'll get back you", it might mean something went unaddressed, because if the customer isn't clear about next steps, that often reflects that they are not eager to continue.
Nothing good has ever happened between sales conversations. During a "we'll get back you" phase, the prospect is probably researching competitors or the project is losing momentum.
Many manufacturers run into this issue because their sales process has too many back-and-forth steps.
Slow deal-velocity often looks like this: 1) take customer requirements to internal 3D or CAD team 2) wait for custom mock up 3) Draft bill of materials and pricing 4) get feedback from prospect 5) start step #1 again....
Ultimately, the best way to beat the "we'll get back to you" objection is to not get into the situation in the first place.
With technology like Threekit, your sales team and the customer can configure, price, quote (CPQ) the product in real time. Instead of "we'll get back you," your sales team is able to ask, "Is this exactly what you were looking for?" and get feedback in real time, which streamlines the process.
Below is an example of Sapphire Balconies, the UK's leading balcony specialist. They use Threekit's 3D Configurator with parametric configuration so that they could get flexibility around design parameters.
Their sales teams consults with clients: in real time, sales and prospects can configure a balcony to the building's needs and see what it looks like.
For a brand that prides itself on quality and speed, this experience delivers a much better and faster experience, with no "we'll get back you" from prospects and a shortened sales cycle as a result.
At the end of the configuration, Threekit enables Sapphire to create a customized bill of materials (BOM) and even manufacturing specs so that Sapphire can go from idea to execution even faster for the customer.
Objection 2: "I'd like to see it before we buy it"
For many manufacturers, when a prospective customer wants to see the product (particularly in the case of complex products), that may mean an operational headache.
Some manufacturers will create a 3D mock-up, which often takes at least a week and costs money. Other manufacturers will have to actually go through and create an example version of the product, which takes even longer and cost even more.
What if sales actually started on your website? What if you could provide a superior product visualization experience so that you would never be asked again for a proof of concept?
For a bathroom fixture company, Threekit's Virtual Photographer™️ lets customers see various possibilities in context, along with real-time pricing.
Enabling visual configuration on your website won't just overcome an objection. Letting any site visitors experience your product will drive confidence for prospects to submit information to become leads.
It will also lead to better-quality leads, because they know the price and look of the thing they want.
As B2B companies continue to get used to eCommerce, Forrester Research says B2B eCommerce will drive $1.2 trillion in revenue by 2021.
Objection 3: "How much is this going to cost?"
Most manufacturers are spending more than they might think for a less-than-ideal visual customer experience.
Many prospects are doing their own photoshoots and/or one-off 3D or CAD designs, or they are shipping merchandise, or manually checking and editing 3D product files before they go to manufacture.
In a silo, these things aren't expensive. And If you only need a few visuals or if you have a product that has a high risk for errors, then consider doing every visuals on your own.
However, if you have lots of products and you've built an expensive and labor-intensive process to get visuals, then most likely your visual process running costs up which you're passing off to customers. These costs aren't small - sometimes with enterprises, they run well into seven figures.
By the time the prospect is asking your salesperson, "How much does it cost?" your answer might be "too much," too often.
Operating a mix of photographers, 3D artists, studios, and designers is 10-100x more expensive than Threekit operating at scale for visual configuration for your business.
Threekit offers dramatic cost reductions for manufacturers and a visual customer experience that differentiates your brand, drives sales velocity and conversion rates, and opens up your marketing pipeline.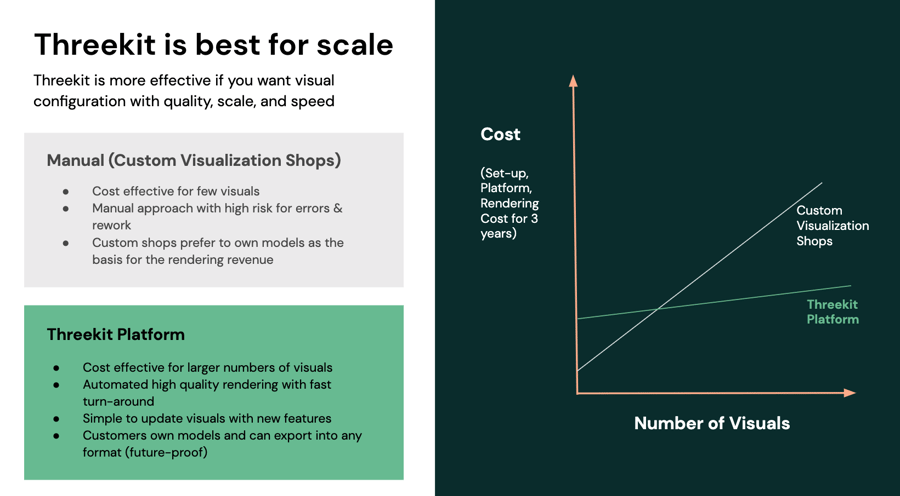 Ultimately, cost reductions mean you pass savings easily to customers. And more competitively priced deals mean more wins for your sales team.
Taking it home
With visual configuration as part of your sales arsenal, you can overcome velocity issues, lack of prospect confidence, and cost problems because visual configuration gives you a better customer experience and scale.
Objections will always be there, and it's on sales to constantly adapt to meet these challenges. The best-positioned manufacturers and brands are continuing to let their sales team offer a better, more dynamic, and faster buying experience.