How to Leverage Threekit Visual Commerce to Drive Long Tail SEO and Massive eCommerce Revenue Growth
SEO is critical to the success of any online business.
Posting quality content that engages your audience is the key to growing organic traffic which is the life blood of almost anyone who sells online.
Paid advertising on Google, Facebook/Meta, Instagram, or elsewhere are useful but require a big investment of time and energy to manage and come with a high cost.
Paid advertising is not likely to be the "solve" for brands selling online. The most profitable and long-term sustainable way to grow is with SEO.
However, SEO is naturally a battle of firepower. Which brands can spend more or innovate more to rank in the coveted top 3 spots?
Some brands are hiring armies of writers, others are paying influencers, still others are leveraging artificial intelligence tools like GPT-3.
Winnable + high-commercial intent keywords are the KEY
Every SEO strategy begins with finding winnable keywords that have high commercial intent.
For most brands, it starts with long-tail SEO. Long-tail SEO are keyword phrases that are longer, more precise, and are more likely to be used by visitors as they approach a point-of-purchase.
Threekit Visual Commerce can be an SEO long-tail superpower for brands that can manufacture a lot of customization.
How to win long-tail SEO with Visual Commerce - an Example
Take an example - A high-end specialty couch manufacturer that focuses on providing a wide range of high-quality fabrics and lots of color options for their sofas.
Winning the SEO keyword for "leather couch" would be extremely difficult since all of the world's largest furniture companies have been competing for leather couches for decades.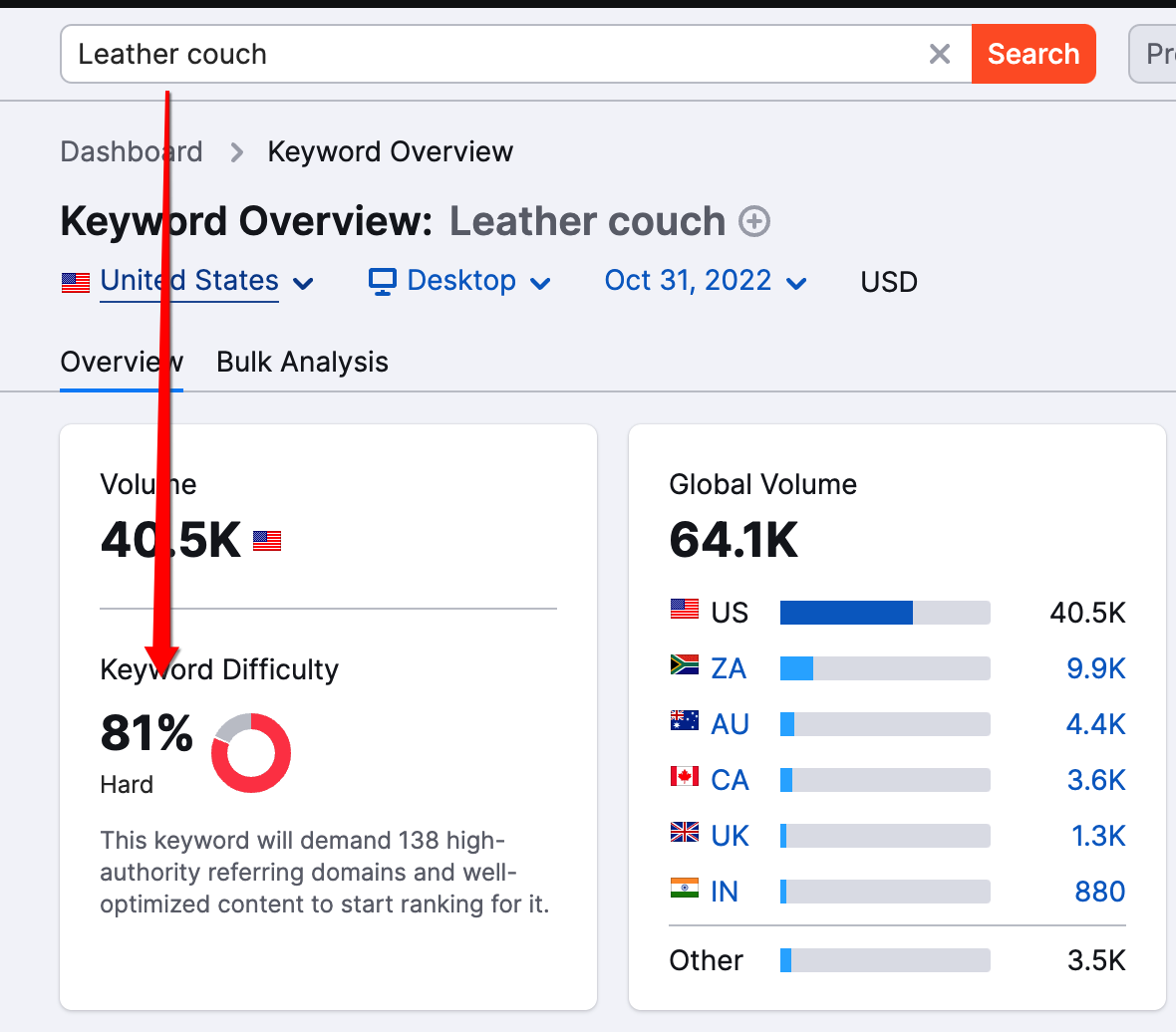 But, let's say you were able to manufacture a silk couch and with Threekit Visual Commerce, you were able to create an incredible visual experience with 2D, 3D, and AR.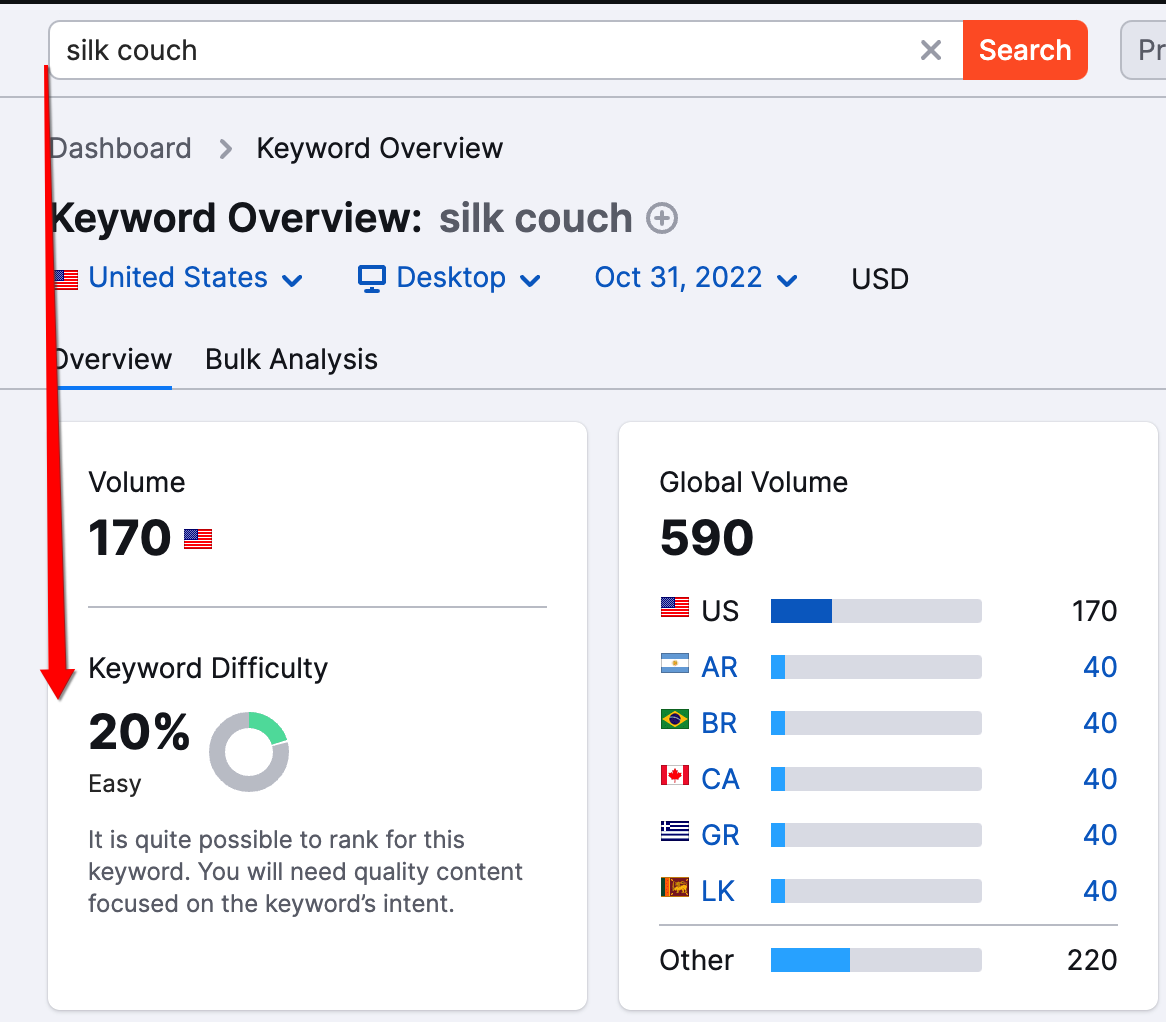 As you can see, "silk couch" less volume, but it's also a lot easier to rank for (lower keyword difficulty). And there is high commercial intent. When people are searching for a silk couch, they are often looking to buy.
Now you can visualize every single version of your silk couch. Threekit can help your business show thousands or millions of variants of high quality images showing you customized product.
With that high quality visual content you are now serving a specific need on the internet. And you're doing it with super high quality, interactive content that searchers (and thus Google and other platforms) will love.
How critical is visual content?
Back to this sofa company that can now showcase 100% of their custom catalog with the aid of Threekit.
Visualization drives people to spend more time configuring the ideal couch they want and buying their ideal personalized couch. They are also certainly spending more time on your page looking at all the content you can produce with the help of Threekit.
When people spend more time on your page, add products to your cart and buy, these are all signs that are going to Google and other search engines which shows that you are a high-quality website.
Visual content helps improve the website metrics that fuel the virtuous cycle of your website:
You create high quality visual content which serves a customer need
Quality content leads to more purchases
Purchases lead Google to increase page authority
More page authority means more page traffic and purchases
More page authority on lots of pages builds overall domain authority traffic and purchases of your brand
Repeat as you create more specific pages answering specific eCommerce search critera
With Threekit, any company who makes a configurable product has the opportunity to supercharge their eCommerce via long-tail SEO.
If all you had to offer was a pink silk couch, you might not have ten searches a month globally. However, with ThreeKit, you can now display thousands or millions of variants to rank high for long-tail SEO keywords where you can efficiently sell and grow faster.