How to Get Amazing ROAS With Dynamic Product Images
In today's digital world, where ads are everywhere we turn—or in this case, click—consumers have become savvier than ever. To the woe of marketers everywhere, shoppers have become increasingly aware when it comes to installing ad blockers, unsubscribing from branded emails, and ignoring ads.
So, what should marketers do? The answer is clear – don't just do more, do less better.
After all, product images can make or break your marketing effort, impacting whether you successfully catch a casual browser's eye. Because online shoppers can't touch, feel, or try ecommerce products as they would in a brick-and-mortar store, photos (and, to some extent, compelling copy and five-star reviews) are king — studies have found that 67% of consumers value good images over other marketing content.
That brings us to our next question: How can you ensure your digital ads visually represent your products in the best way possible? Cue dynamic product images, our favorite solution to getting an amazing return on ad spend (ROAS). Here's everything you need to know about optimizing your product images to attract, engage, and convert shoppers.
Show All the Angles
As a shopper, you want to see how products look from every angle, not just from the front. While it's easy to upload a dozen images to your product page, what does this mean for your digital ads? To maximize ROAS, you can grab attention by:
Designing a split-screen or grid-style ad where your ad creative is spliced up, which allows you to include multiple product images showing different angles.
Developing a 3D product video with Threekit to use as your primary ad creative. (In fact, we've found that 91% of shoppers say they would prefer to see the full rotation of the product they're browsing.)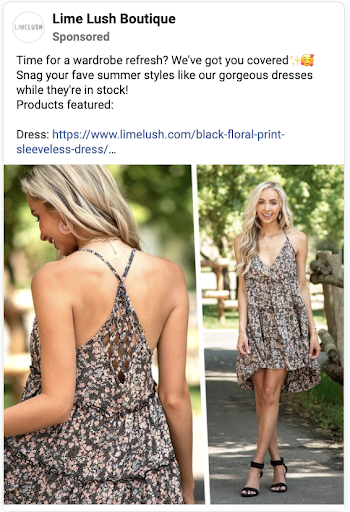 This ecommerce boutique uses split-screen ads to show different product angles.
Giving shoppers a comprehensive look at your product builds trust, which is a huge consideration factor when it comes to purchasing. Having this full range of transparency also means shoppers can make a more informed decision, helping keep returns and exchanges in check — a huge reduction in operational headaches for you.
Pro tip: If you have a product that comes in different colors or patterns, you'll want to feature the range in a similar way as to how you would showcase different angles.
Demonstrate How Your Product Works
Rather than opting for product shots that are laid against a white backdrop, why not make them more dynamic by actually showing your product in action?
If you have a product that is slightly more complex or worth taking a deeper dive into, you can get amazing ROAS by:
Creating a

product video

that not only gives shoppers a

360° view

but also demonstrates how the product works quickly and easily.
Designing a series of images featuring your product in action, which you can then slot into a carousel ad. Adding short headlines in the white space will be essential for storytelling purposes here.
Developing a super short instructional video that alleviates any concerns or worries shoppers may have. This is especially relevant if you're selling a product that may seem complicated, or if it uses technology or designs that could benefit from further explanation.
Featuring your product on different models (e.g., for apparel and accessories brands) or in different environments (e.g., for furniture retailers), so customers can easily envision how the product may work for them.

Crate and Barrel employs a carousel to show their products in action.
Remember: Your priority for these ads should be showcasing the memorable or unique features of your product.
Make 'Em Attractive
While the importance of taking stunning product photos can seem, well, extremely obvious when designing ads, sometimes that's easier said than done, especially if you're focused on shooting your products accurately.

One study found that 93% of consumers see visual appearance as the main factor in their purchasing decisions. While you want your dynamic images to be a proper reflection of your products, you still want to make sure that they're visually appealing to get the best ROAS.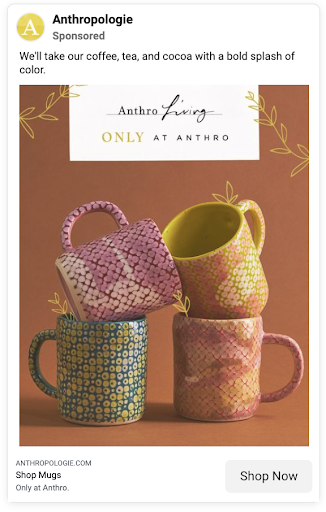 An example of a nicely-staged ad image from Anthropologie.
For tips on how to take amazing product images that will catch a shopper's eye, we've got you covered with this helpful blog.
Add Graphics and Text to Make Them Pop
When was the last time you clicked on a digital ad that was just a product image against a white background and nothing else? It's probably been a while. That's because, in the sea of ads, plain ones simply don't do a great job of grabbing attention.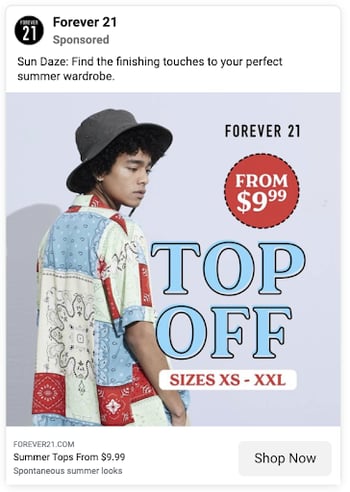 Forever 21 frequently uses bold text and bright graphics in its ads.
To make your ads pop and boost your ROAS, consider creating dynamic product images that:
Include overlays that add unique brand elements, such as logos or borders in your brand color.
Put sales information directly in the product photo rather than burying it in the copy. For example, you can strike out old prices and feature discounted prices more prominently.
Turn static product images into more dynamic videos — we're talking slideshows with transitions, flashing graphics, compelling copy, and different panels conveying important information. Pro tip: If you have limited resources to create this,

Facebook

can automatically design a slideshow for you — all you need is to provide the images.
Dynamic product images and videos can do wonders for your marketing budget. Not only will you see an uptick in clicks and conversion rates — and subsequently, an amazing ROAS — but you'll also enjoy a more memorable brand identity, especially if your dynamic product images are consistent in style and tone.

It might feel like great ads often come with expensive photoshoots and production teams, but it's a lot easier when you have the right partners and technology in place. Threekit is here to help with visual product experiences, while AdRoll can use your dynamic images to then turbocharge your marketing efforts.