How Do You Attract Customers to Buy Your Product? Try 3D Configuration
In a conventional brick and mortar store, customers can see, feel, and interact with the product to determine its benefits or how it will fulfill their needs. Potential buyers can try on a shirt to see if it fits perfectly before they purchase or get on one of your bikes and sense the joy of riding it in the park. Recreating these experiences online is a challenge.
Even though most online stores use pictures and videos to visualize their products online, these traditional options cannot address customers' biggest concerns. Customers have to see the benefits of using your product to buy it. Static pictures are ineffective in highlighting the products' benefits.
Customers also need information like price range, shipping time, and available models to enhance their understanding and help them make informed decisions. If you're offering home furniture, potential buyers need assurance that your product will fit in their home. You may need hundreds of pictures and videos to address the concerns of each customer. To attract customers to buy your products online, try 3D configuration.
How 3D Configuration Address Customers' Concerns Online
A 3D configurator is an interactive tool that allows potential buyers to inspect products extensively from all angles. You can include a 360-degree viewer and zoom feature to help shoppers explore your products. A thorough inspection can highlight the benefits of using your product and attract the customer to buy it. For example, Xenith Helmets implemented a Shopify product builder with an "explosion" view that pulls apart its helmets' components.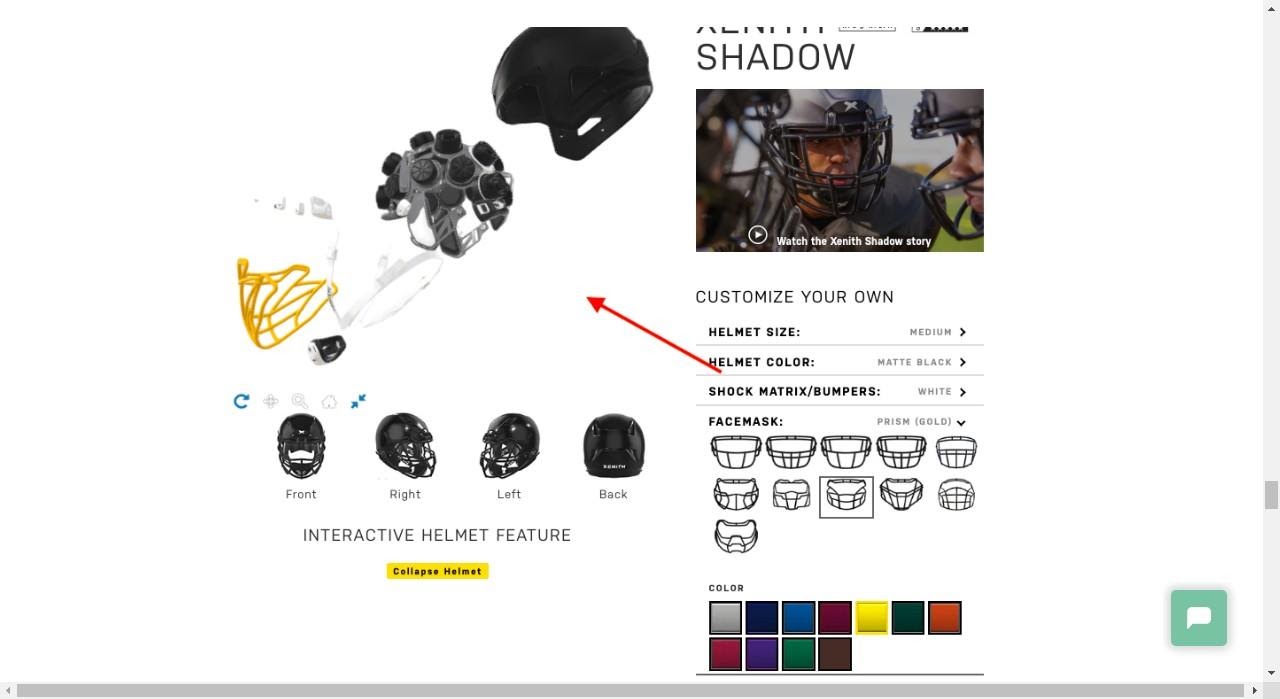 Xenith's exploded helmet (threekit.com)
Potential buyers can use a 360-degree viewer to rotate the helmet and analyze the components in detail. Interactive 3D is a great way to highlight the features that set your product apart in terms of quality or safety. It frames the features of your product as benefits.
Another effective feature offered by product customizers is to include in-context education. This comes in handy if you offer high-end products like engagement rings. You can include lots of information on the page, along with 3D models, to provide consultative experiences during product customization. It can enhance customers' confidence in the product and their understanding of its benefits.
Conveying your product's selling points online is complicated by the fact that each customer sees your product based on their needs. If you offer couches online, some customers will be attracted to buy them because the color matches with existing pieces in their home. Others may be enticed by the level of comfort that it provides. With a configurator, you can create 3D images of the couch's components and offer them as custom options along with available colors, materials, and design features. It will enable buyers to customize the couch to meet their needs. For example, Lovesac uses a 3D configuration that allows potential customers to add specific features to create a couch that they are willing to buy.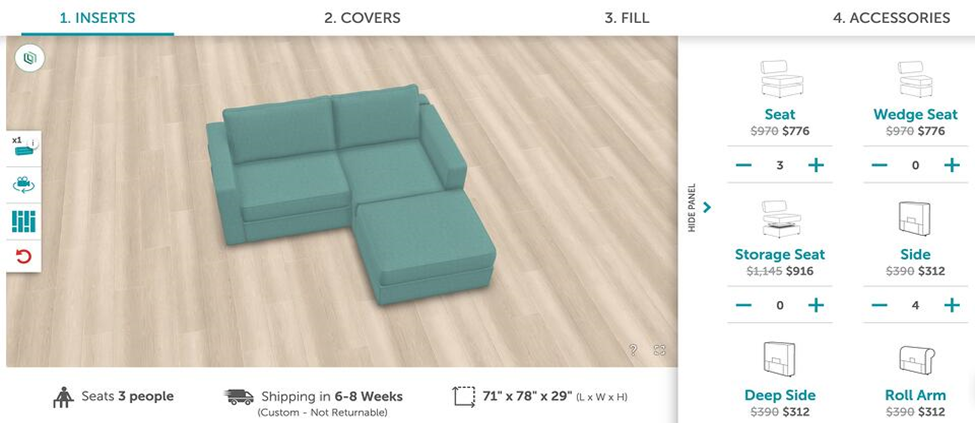 Lovesac couch configurator (lovesac.com)
Some customers are more concerned about whether the couch will fit in the available space in their home. You can use Augmented Reality (AR) to bring your products to life. Potential buyers can view 3D models of products in AR via their mobile devices. AR-viewable models also allow customers to place the product in their home, which creates an emotional connection that can push the customer to purchase. 3D and AR can attract, engage, and convert window shoppers into paying customers.
Using 3D Configurations to Attract Customers to Buy Products
Unlike static pictures and videos, interactive 3D images give you more flexibility in terms of what you can visualize on your storefront. Before implementing a configurator in your store, analyze your inventory to determine the products that will benefit the most from customization. Simple products like t-shirts may need a 3D product visualizer for shoppers to inspect the product from all angles. If you offer highly customizable products with complex features, you can use product customization to allow potential customers to create products that they wish to buy. You also add specific features to your configuration to attract customers to buy.
1. Highlight Product Features as Benefits
Customers never to buy products because of their features. They are attracted by the benefits of using the product. With a configurator, you can categorize different materials or features as benefits to entice buyers. For example, ROAM categorizes its four suitcases in terms of the number of days you can travel.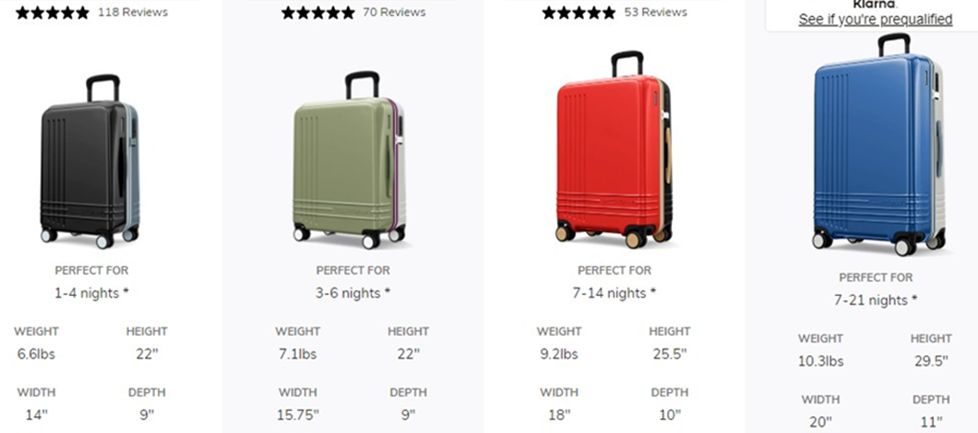 ROAM frame features as benefits (roamluggage.com)
You can carry enough clothes in ROAM's smallest suitcase for 1-4 days, while the biggest is perfect for 7-21 days. Framing the features of the product as benefits can also help customers to choose more accurately.
2. Give Shoppers Control of the Price
Product customization gives shoppers more control of the price. They can add specific features while monitoring the price to ensure it fits their budget. Another option is to include a feature that allows customers to set a price range. If the customers set $100-$150, they add or alter their customization until they get the product that fits their needs and price range. Customers are more willing to buy a product they love if they can afford it.
3. Address Specific Concerns
Customizers allow you to add essential details like shipping time on the webpage to address customers' concerns. For example, Liberty Safe includes information about shipping time on top of its customizer and highlights that the product is made in the USA.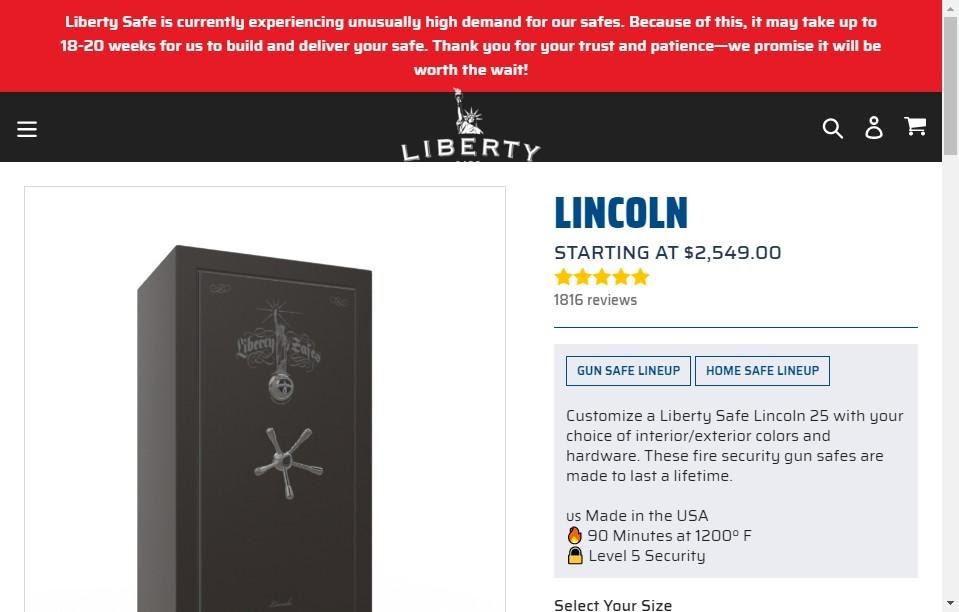 Lincoln's customizer address customers' concerns (lincolnsafe.com)
Online shoppers are more comfortable making a buying decision when they know more. The bad news is sometimes better than nothing. If you don't provide a timeline when you'll deliver, you can lose potential buyers to a competitor who informs shoppers to expect delays. You can also use pop-ups to answer the most frequently asked questions during product customization.
4. Leverage Popular Lists and Reviews
Customers are more confident in their decisions if they align with what others are buying. Providing a list of popular versions on the webpage along with your configurator, can reinforce customers' decisions and push them to close the deal. You can also include customers' reviews to illustrate that previous buyers are satisfied with their purchase. Popular lists and reviews can also give the customer new ideas and expand their shopping list.
5. Create a Sense of Ownership
AR is increasingly being used to attract customers to buy products online. If you offer big-ticket items like home furniture, you can use AR to allow potential customers to place your products virtually in their homes. It can enhance the confidence that the product will fit in available space or match with existing pieces in their home. Addressing customers' concerns about your product in relation to their situation can make them feel special, just like a VIP. AR can deliver personalized experiences and entice potential buyers to purchase.
Threekit is a unified visualization platform that offers a 3D configurator and AR. Both can help entice customers into eCommerce stores. Please contact us to schedule some time with one of our experts.