How 360-Degree Product Photography is Changing eCommerce
The rise of eCommerce has made 360-degree product photography a must-have tool for every online retailer that deals in tangible products. Consumer expectations have grown at least as quickly, and online shoppers have become conditioned to make 360-product viewers a part of their experience.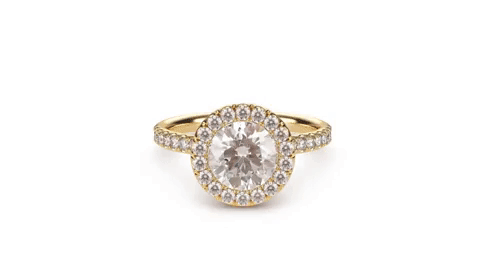 While the pandemic has increased the pace of that evolution, this change was already in motion long before lockdown. The internet and mobile devices have made life more convenient and instantaneous and the way we shop is no exception. People have long preferred as much control as possible when browsing for products, and technological advances have made it possible for them to have that without even visiting a brick-and-mortar store. However, they also expect the luxuries of that in-store experience, particularly the chance to turn available products over in their hands to be sure they know precisely what they're considering.
While the digital equivalent of the traditional in store experience will never perfectly mirror what consumers remember, there are benefits for marketers who choose to utilize 360-degree product photography. Broadly speaking, cost savings, improved efficiency, and reductions in returns are just a few of those benefits. But let's take a closer look at a few examples of how marketers can save money, increase consumer engagement, and build a nimbler marketing plan using a 360-degree product viewer.
360 Spin Images
Consumers are expecting more and more image options as time progresses and the eCommerce experience evolves. For example, just a few short years ago, the average consumer was satisfied with just three product images when browsing online. Recently, that expectation has become eight images. Beyond the number of pictures available on an eCommerce site, shoppers are also hungry for more control, empowerment, and interactive opportunities.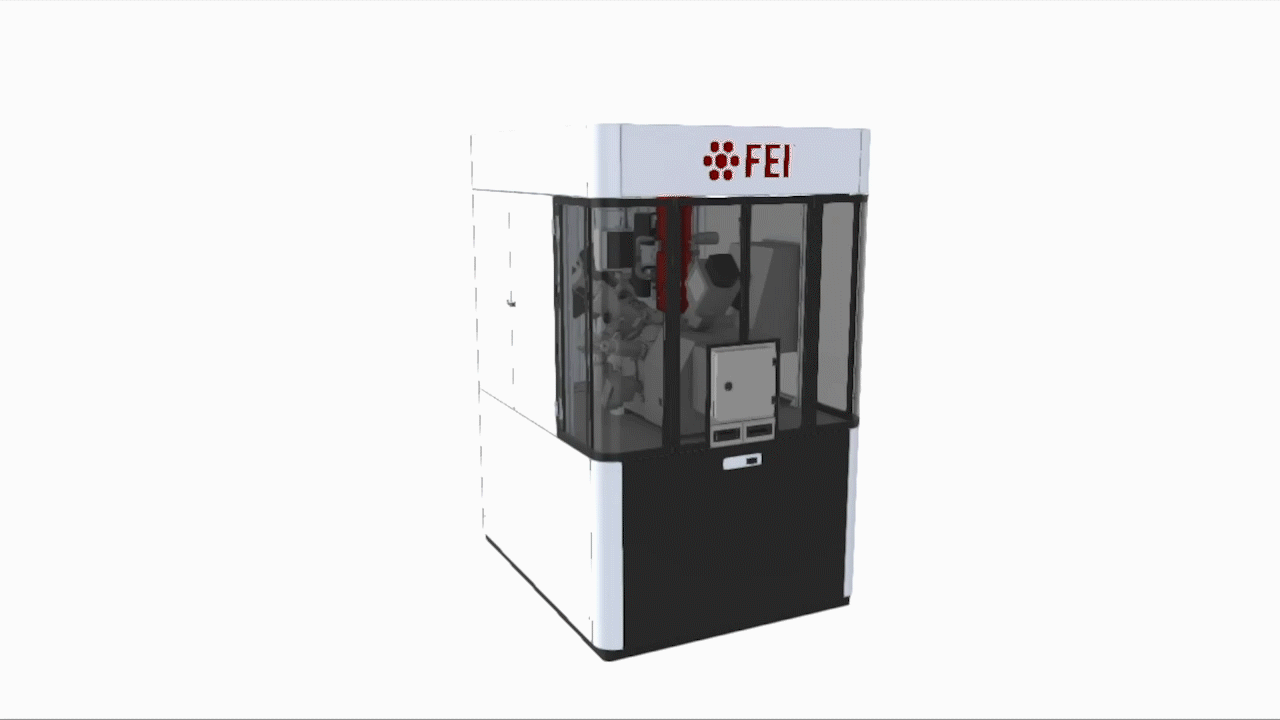 One experience that gives customers an experience much like the brick-and-mortar days while online is 360 product images for eCommerce. These experiences are precisely what they sound like and you've probably encountered them on your own online shopping journeys. Most often, users can click and drag their mouse to turn digital 3D renderings of available products in every direction so they can get an up-close look at the entire item from every conceivable angle. Some experiences go even further by adding options like a zoom feature that enables the shopper to select any area from any angle and magnify it for a clear look at the smallest details.
Product Configurators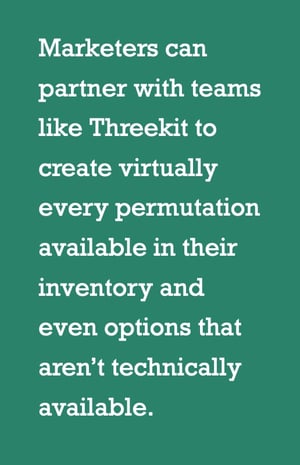 Retailers that offer a wealth of permutations and large inventories can save a great deal of money and prevent a lot of headaches by creating product configurators. These are 3D digital renderings that are so close to life that the naked eye assumes they're photographs. What makes them perfect for clothing designers, B2B manufacturers, and automotive brands is their flexibility. Marketers can partner with teams like Threekit to create virtually every permutation available in their inventory and even options that aren't technically available. The marketing benefits of product configurators go well and beyond the customer experience. eCommerce marketers can gather invaluable data from when, where, and how their potential customers are engaging to help them push specific permutations or even decide whether or not to move forward with a product idea.
From every shade of every color, to every option from every category, product configurators are a fast, economical way to produce thousands of images without ever having to step foot in a photo studio. And as any experienced marketing pro knows, photo shoot costs add up fast. Product configurators are rendering material production, crew costs, and photo development obsolete.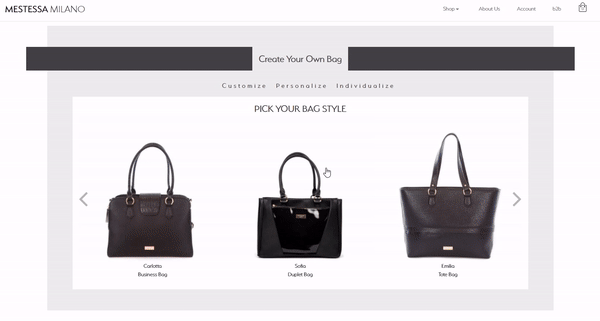 CPQ Integration
Online businesses that use Salesforce or a similar CPQ software can no longer deny that visuals are essential. 360-degree product photography has advanced by leaps and bounds in the past decade and today they usually integrate with existing CPQ software seamlessly. This makes sales not only easier and less stressful, but it also adds an element of tech-savvy that impresses most B2B buyers and other eCommerce customers.
When businesses integrate 360-degree product photography with their CPQ software they see a wealth of benefits beyond the eye-catching imagery. They also get the benefits of product configurators mentioned above, meaning potential customers or salespeople can create the perfect solution to fit virtually any business problem in real-time, all alongside their quote. They can even configure custom proposals that are rich with imagery and company branding to be exported immediately at the end of the experience. This all makes for an experience that's not only effortless, but also personalized to fit the needs and qualities of that specific business.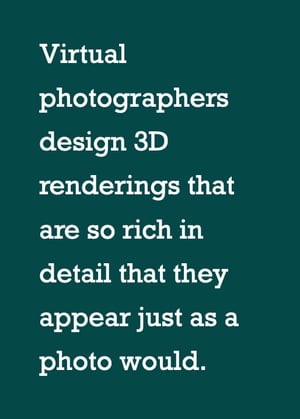 You're likely wondering, how can all of this be possible without a photoshoot? Most often, these digital renderings are created by virtual photographers. While it may sound like a virtual photographer simply shoots photos using digital equipment, they actually rarely touch a camera at all. Virtual photographers design 3D renderings that are so rich in detail that they appear just as a photo would. They have so much control over every last pixel that they're able to add layers to these renderings that can alter the overall appearance, whether that be the color, shape, or features available. When integrated with a user experience, these virtual images can be manipulated to cover thousands of permutations by a customer who knows nothing more than their satisfying sense of control.
The virtual photographers at Threekit work closely with their clients to ensure they're creating precisely the 360-degree photography they need. They've boiled their process down to a science and partner with some of the most advanced digital marketing agencies in the world to create experiences that are equal parts new and expected for consumers in both the B2C and B2B categories.
If you're a marketer of virtually any tangible product consumers can feel, touch, and view from various angles, Threekit is the perfect partner to help you put the power of 360-degree product photography to work for your brand. The team at Threekit is always working to stay ahead of the curve in the eCommerce marketplace, so they can keep their clients there as well. If you're ready to give online shoppers the full view they deserve, get in touch with us today for a consultation or demo.