4 Fashion Retailers Using Online Product Configurator Software
Fashion is probably the most important way to express yourself and retailers are starting to take self-expression seriously by building customization and personalization into their product ranges. Coupled with a reaction against fast-fashion, the move towards bespoke, one-of-a-kind garments is a major trend that fashion e-commerce retailers need to capitalize on.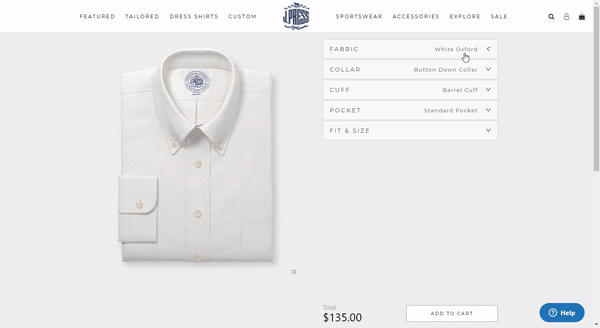 The good news is that major industry leaders are taking note:
83% of decision makers say sell-throughs will improve with custom products
42% strongly agreed that customers are willing to pay more for clothes that fit better and match their personal style
59% agreed that custom products would help sell-throughs
62% agreed that customers want to participate in the design process to get what they want
51% agreed that customers would be willing to wait longer to receive a product that's tailored to them
51% agreed that customers expect the option of shopping customized apparel and footwear
Interestingly though, we're not talking about customers wanting to take over the entire design process themselves. Instead, they want to feel like co-creators rather than consumers:
"They're more interested in taking a style from a brand they
know and adding their own spin—
it's a way to be unique but still part of a club."
-Elizabeth Holmes, Glamour
This level of engagement (being part of a club) and customization (adding their own spin) is where online product configurator software comes in. The software allows customers—or should that be co-creators?—to customize a product in real-time.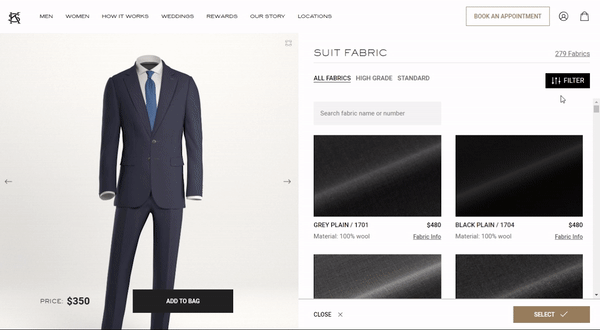 Some online product configurators support 360 product rotation and zoom. Customizations—adding initials, selecting fabrics, the color of stitching etc—is updated and displayed on a photorealistic image.
Brands across the price spectrum are embracing online product configurator software, from Louis Vuitton to more affordable retailers like Zara (see below). We've put together a few fashion brands who are strutting their stuff using configurators and whose customers now really choose what they wear.
Choiss
How many times have you found a jacket that's in your size and the style you're looking for but you wish it came in a different color or shade? Well, Choiss gives you the freedom to make exactly those changes. Customizing jackets isn't anything new: think of the tradition of varsity or letter-man jackets displaying the wearer's initials and their sporting or academic achievements.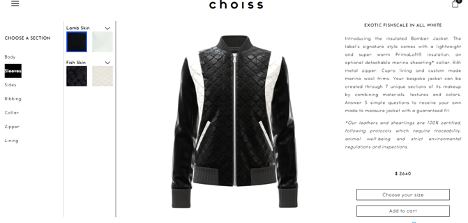 But outside of high-school, customization is a game-changer for clothing retailers. Choose the jacket style you want and then go ahead and customize the body, sleeves, sides, ribbing, collar, zipper, and lining. Its configurator, developed by Threekit, is clean and easy to use. Put rifling through rack after rack to find just the right color or design in your size behind you.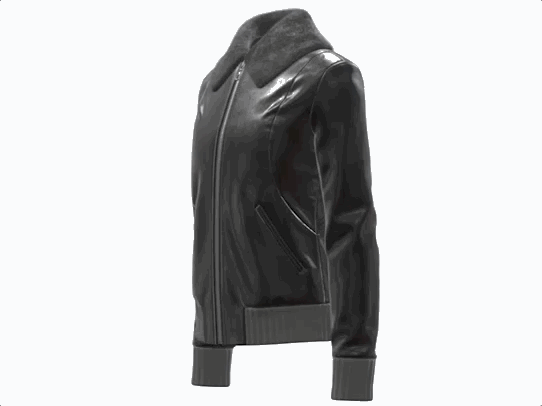 Undandy
As the saying goes, "shoes maketh the man" but footwear retailer Undandy has reversed that, now man or woman maketh the shoes— using the brand's sophisticated configurator.
Undandy's whole business model is based on giving their customers the chance to own a really statement-making pair of shoes. For this to work Undandy uses a very sophisticated configurator. The product is displayed as a large, highly detailed, photorealistic image that can be rotated, zoomed in on, and viewed from above and below.
Everything can be customized: decoration, patina, the upper, quarter, and backstay elements, the straps, soles, and fine stitching. There's even the option, for just a few dollars extra, to add two lines of text to the soles. The whole experience is as smooth as the leather of Undandy shoes.
Here's their Monk Strap Boot in the configurator before we went in and made some pretty extreme customizations!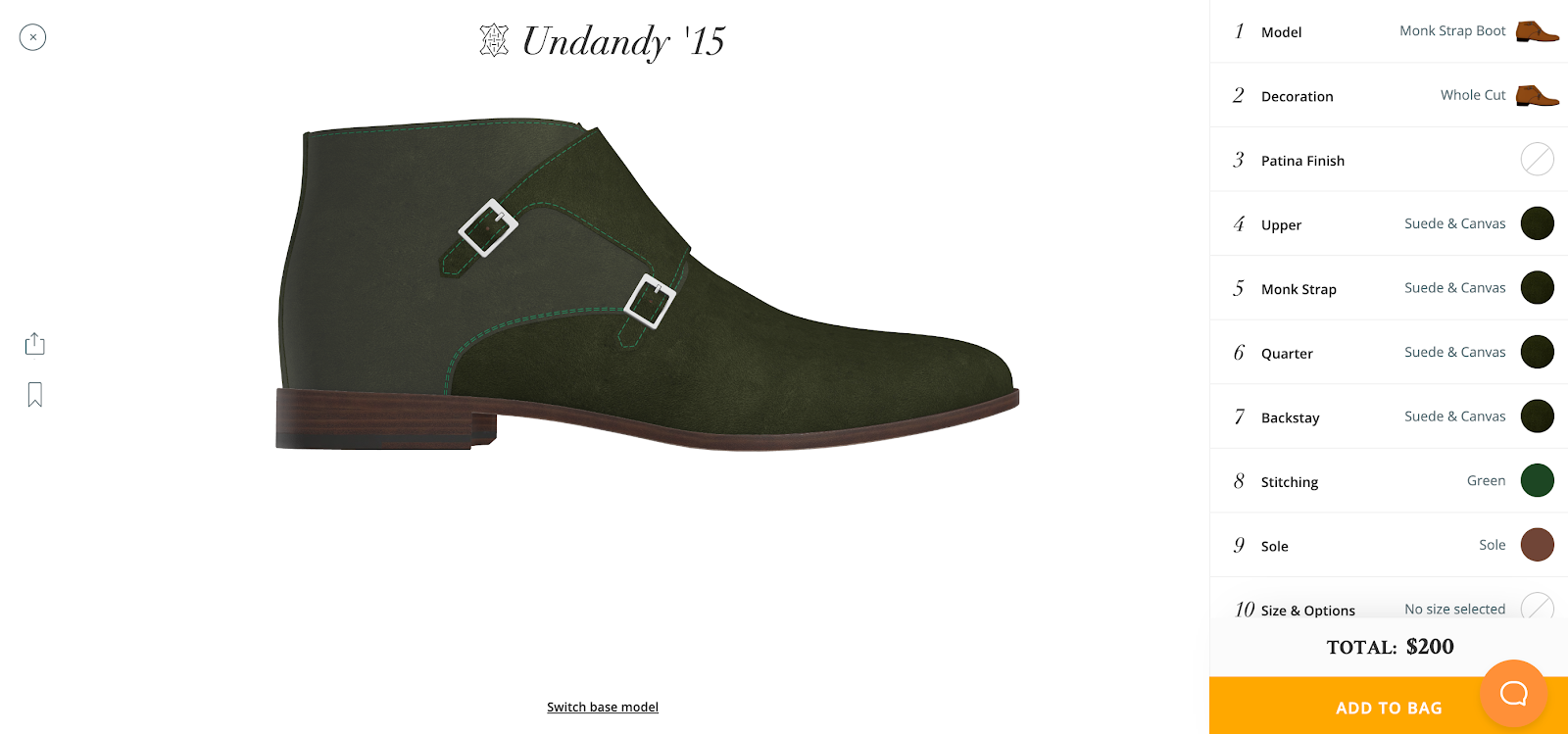 And after (we got a bit carried away!)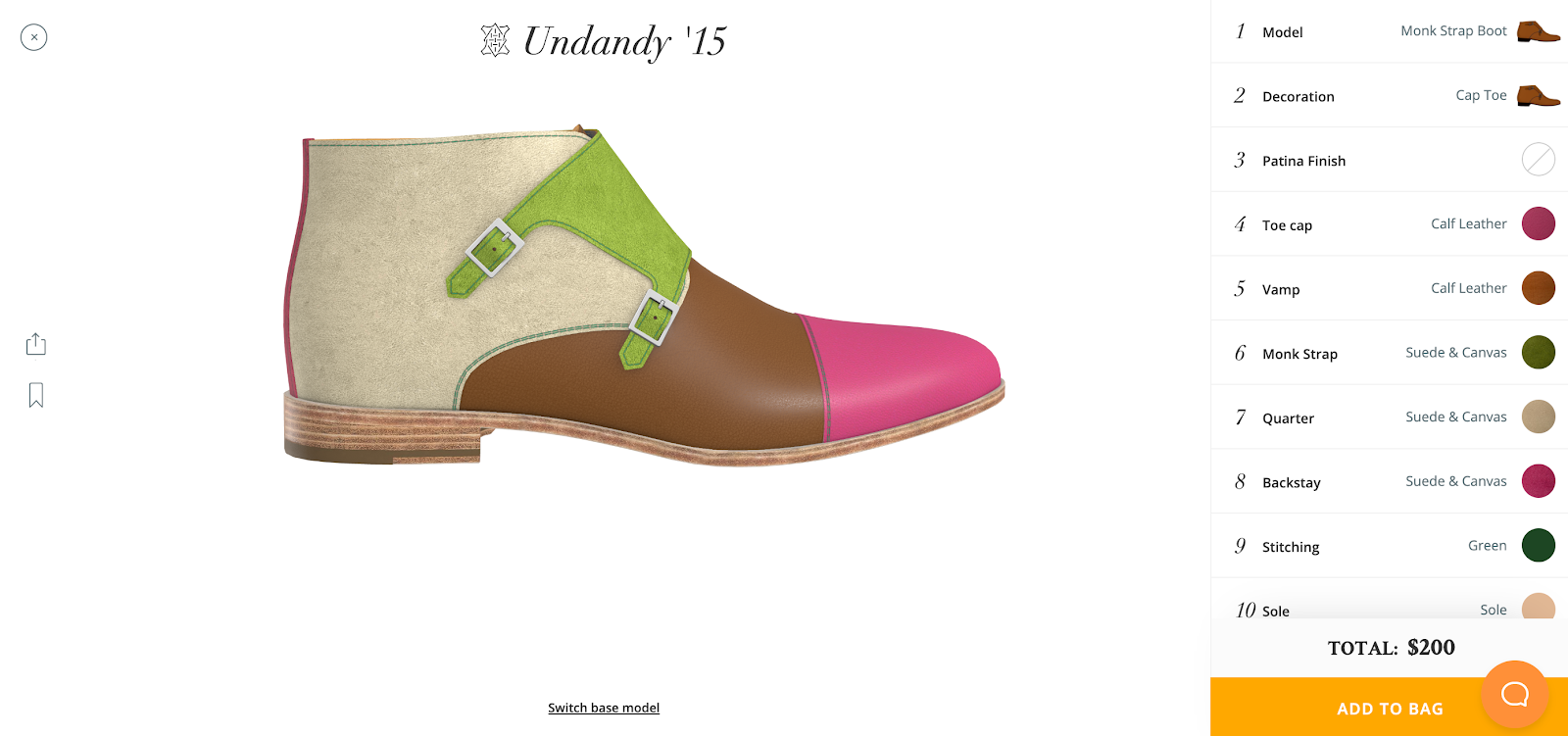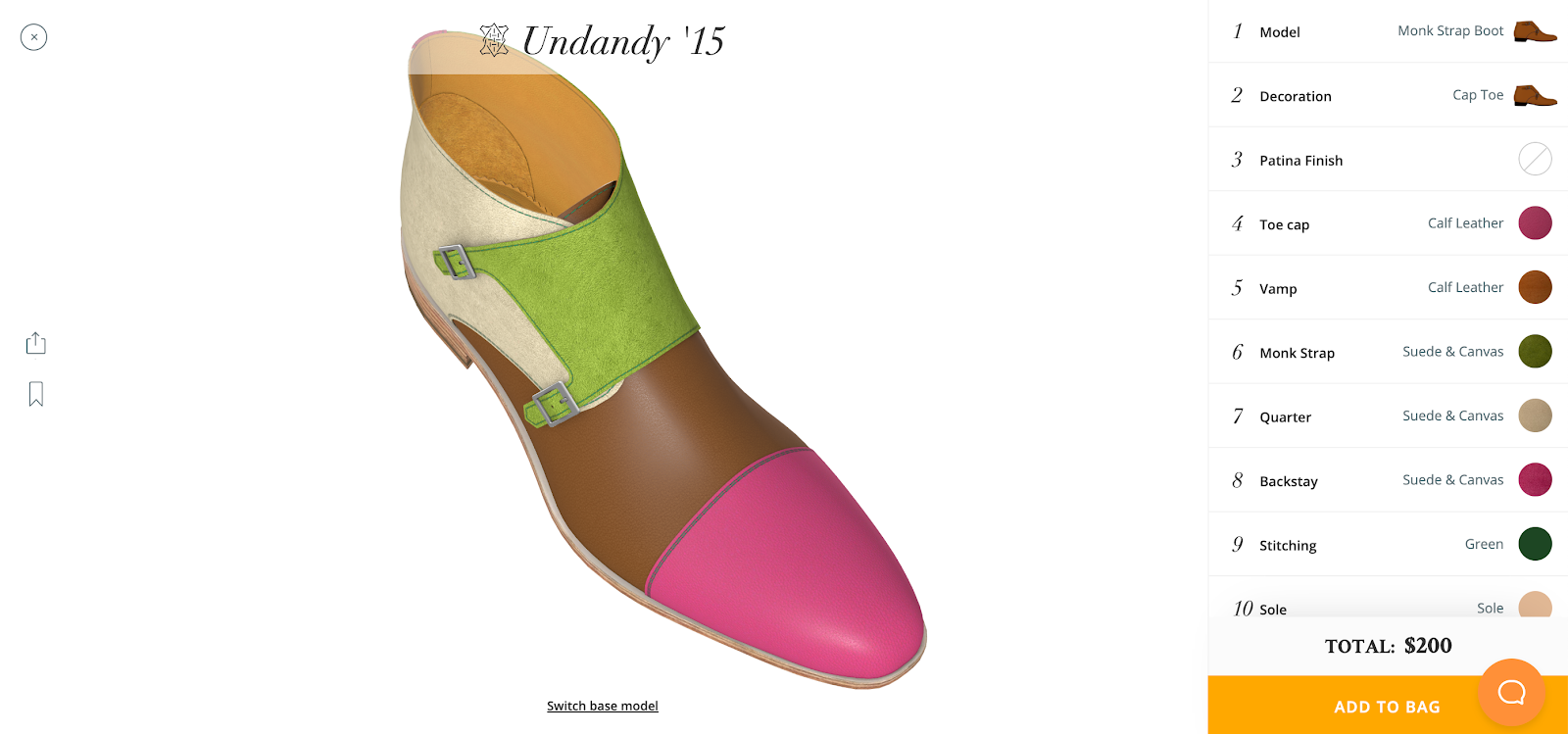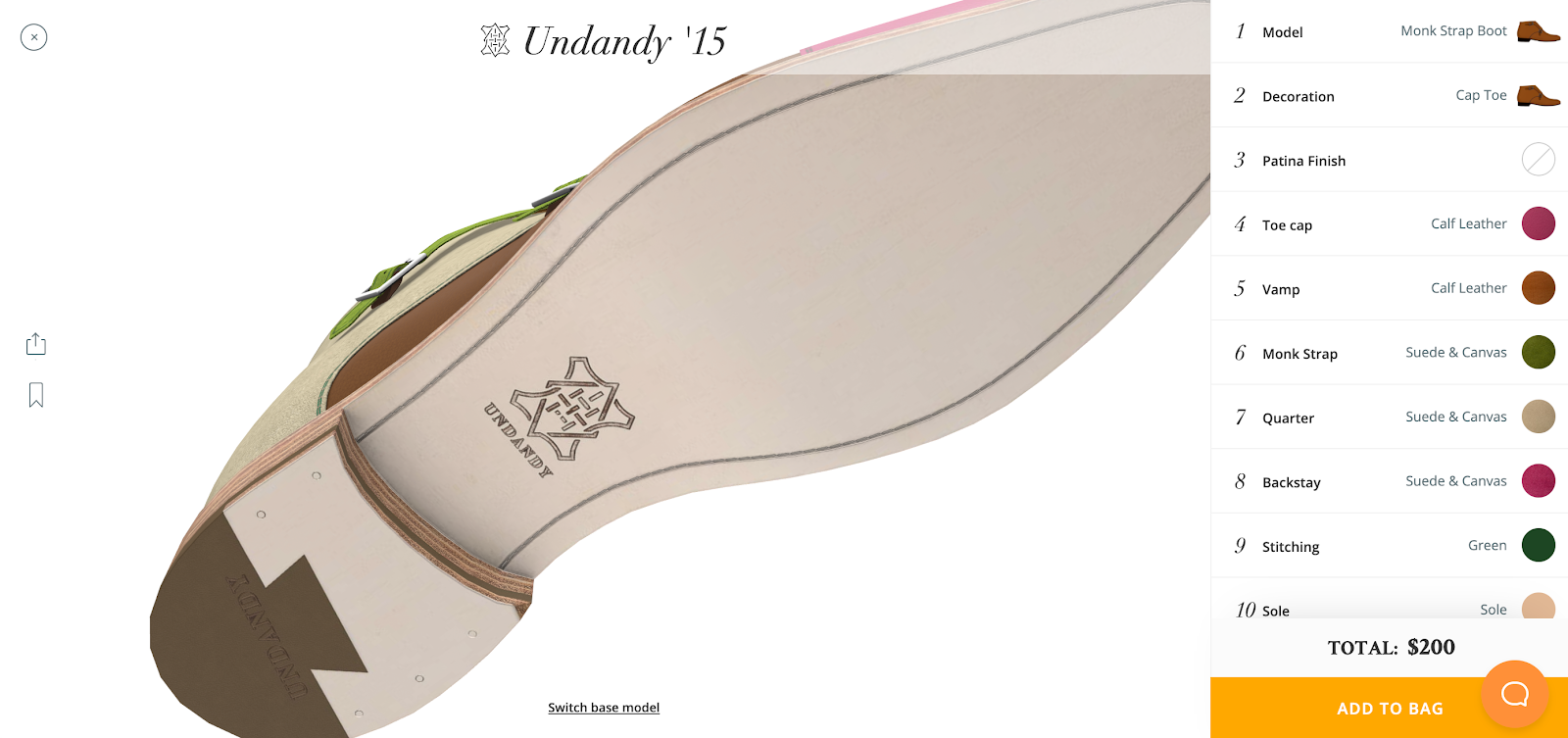 Nike By You
Nike knows its target market—loyal to the wider Nike brand but desiring the ability to inject some of their own personality into the sneakers they wear. Unlike a lot of brands, Nike really capitalized on contemporary buyer demands by launching their Nike By You line—the name says it all. The product line is based completely on customization using a product configurator.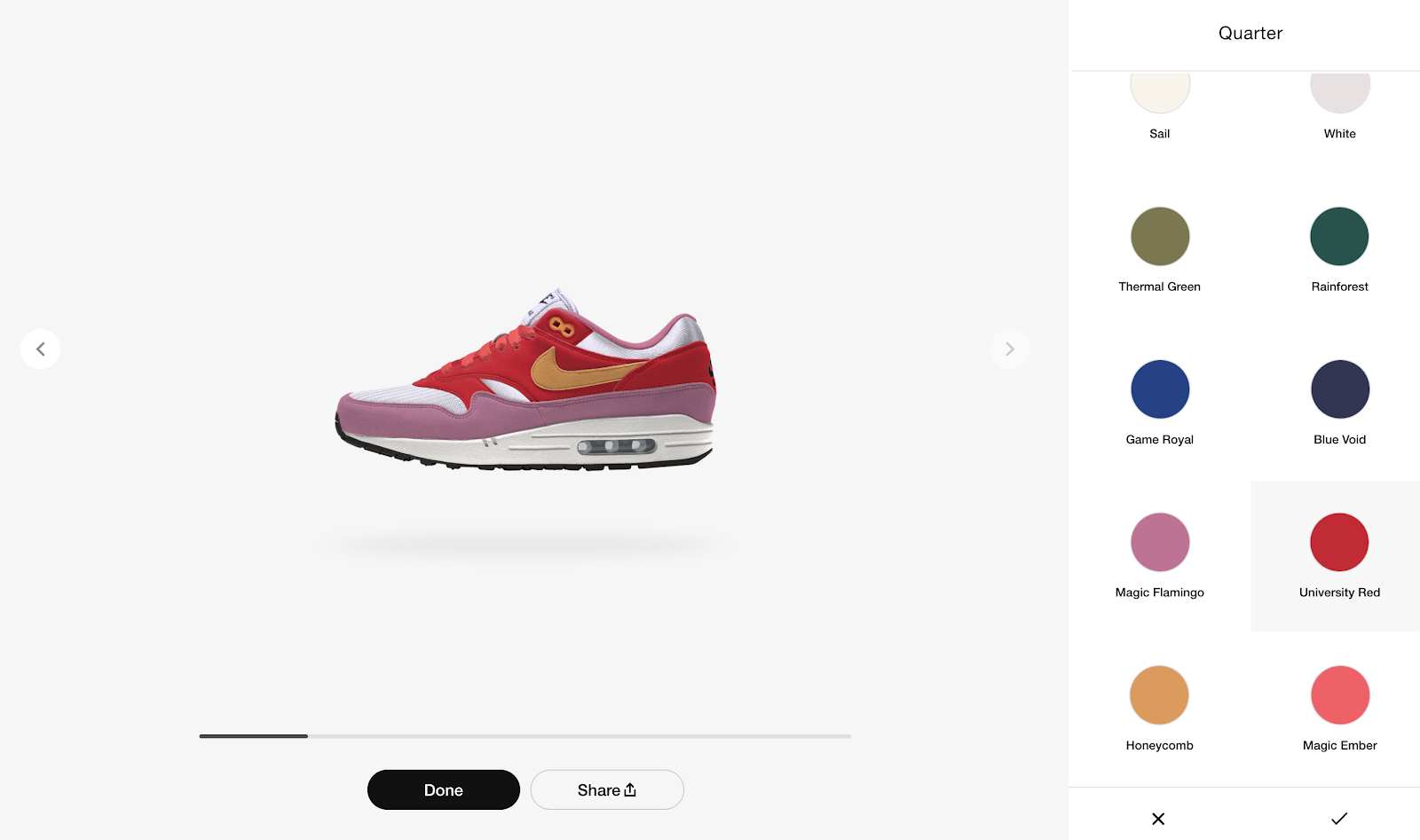 Instead of "customize your sneakers" we're asked to "customize for sport" or stronger still "customize a lifestyle icon". This changes the dynamic of the brand/consumer relationship from transactional to collaborative—you're co-creating an aspect of your lifestyle.
Nike By You describes the 2-step process, again highlighting the creative rather than consumer process: "1. We provide the canvas and tools 2. You create something that's uniquely your own."
The configurator itself isn't as sophisticated as Undandy's but there's a good range of color options and you can view the sneaker side on and from above.
Depending on the sneaker type, the customizations can include almost every component of the shoe: base, mudguard, swoosh, lining, laces, eyelets, airbag, text, and logo. That's some serious customization, especially on such an iconic brand with its own well-known aesthetic..
There's no zoom or rotate function but once you've made changes the sneakers are presented in a series of six close-up photos from all angles, including the soles.
Zara
Even chain retailers are embracing the demand for customization. There's been a seismic movement in recent years away from so-called fast fashion, in part because of its perceived environmental impact and concerns over poor working conditions in retailer's factories, especially in developing countries. This has, perhaps inevitably, developed a consumer taste for more unique, custom creations.
Last year Zara launched a well-publicized 28-piece product line called Edited. Customers can choose from some of the retailer's key pieces—sweaters, vests, and jeans for example—and add text up to 11 characters on some items. There's a couple of font choices and a few colors but the placement of the embroidered customization is limited to predefined areas of the garment.
Overall, the configurator isn't great. On the jeans jacket we tested we were limited to just seven characters and one font choice. The text is then superimposed over the jacket in an uninspiring way—as you can see in the image, it doesn't imitate how it would look when it's embroidered.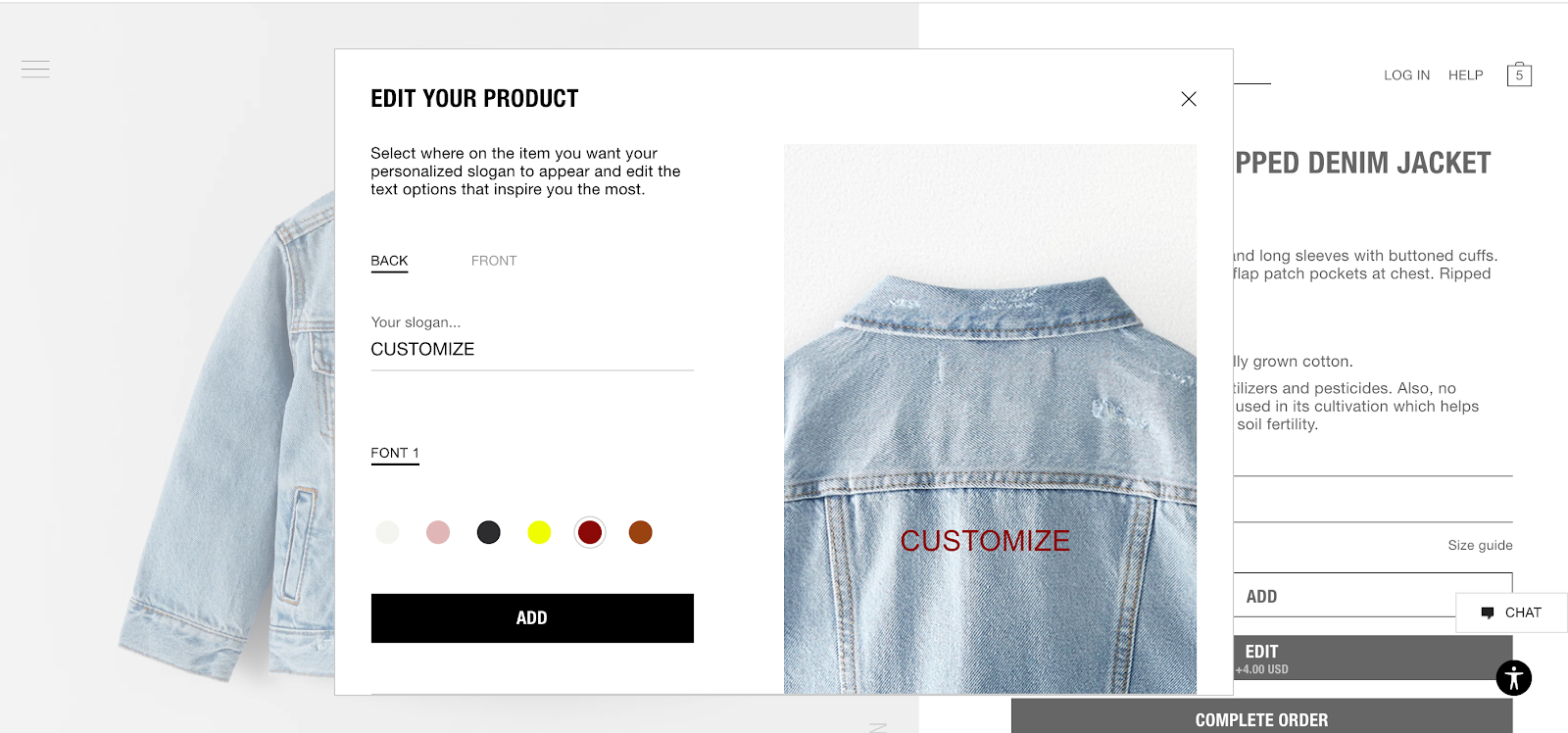 Even if the configurator isn't the best it's still a clear sign that customization is a growing trend and something that retailers should seriously consider to help stay relevant and competitive.
To see how other brands are utilizing configurators, check out our article 10 Brands Using Online Product Configurators to Boost Sales. If you're a fashion e-commerce retailer, get in touch with us to discuss how your business can benefit from online product configurator software.