Explore These Top 6 eCommerce Product Configuration Experiences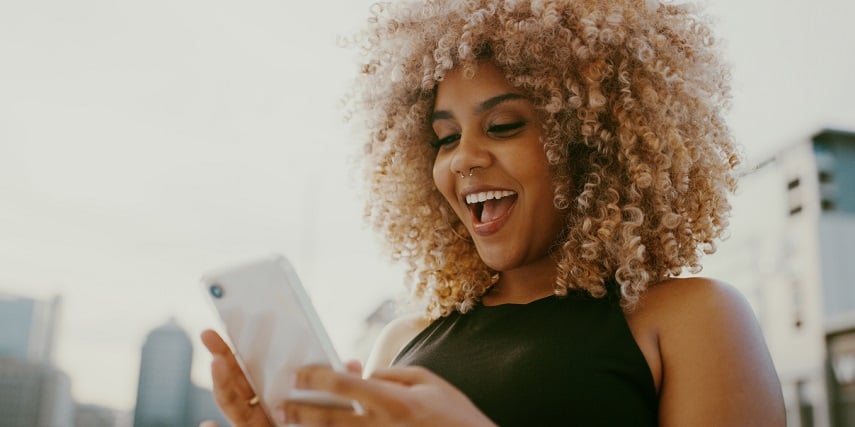 Although Thomas Fuller wasn't thinking of online shopping when he said, "Seeing is believing," the saying should be the motto of every eCommerce site. Browsers are more likely to purchase if they can interact with the product through product configuration experiences.
What is a product configurator?
Product configurators are software programs that allow consumers to customize a product. People can select from an array of options, such as color, fabric or size, to see how the changes impact the product in real time. 3D product configurators allow buyers to manipulate the product view to see how it appears from all sides.
Research indicates that providing an interactive experience, such as a 3D product configurator, increases the likelihood of a sale by 20%.
Is that true? Do operating eCommerce sites realize the 20% increase from product configuration experiences?
We decided to look at what companies saw after deploying product configuration experiences.
1. Guerlain
Guerlain has been in business for nearly 190 years, demonstrating decades of adaptability. The company's Rouge G product line exemplifies that flexibility. The collection includes lipsticks in 30 shades and 500 combinations of colors and cases that buyers can customize.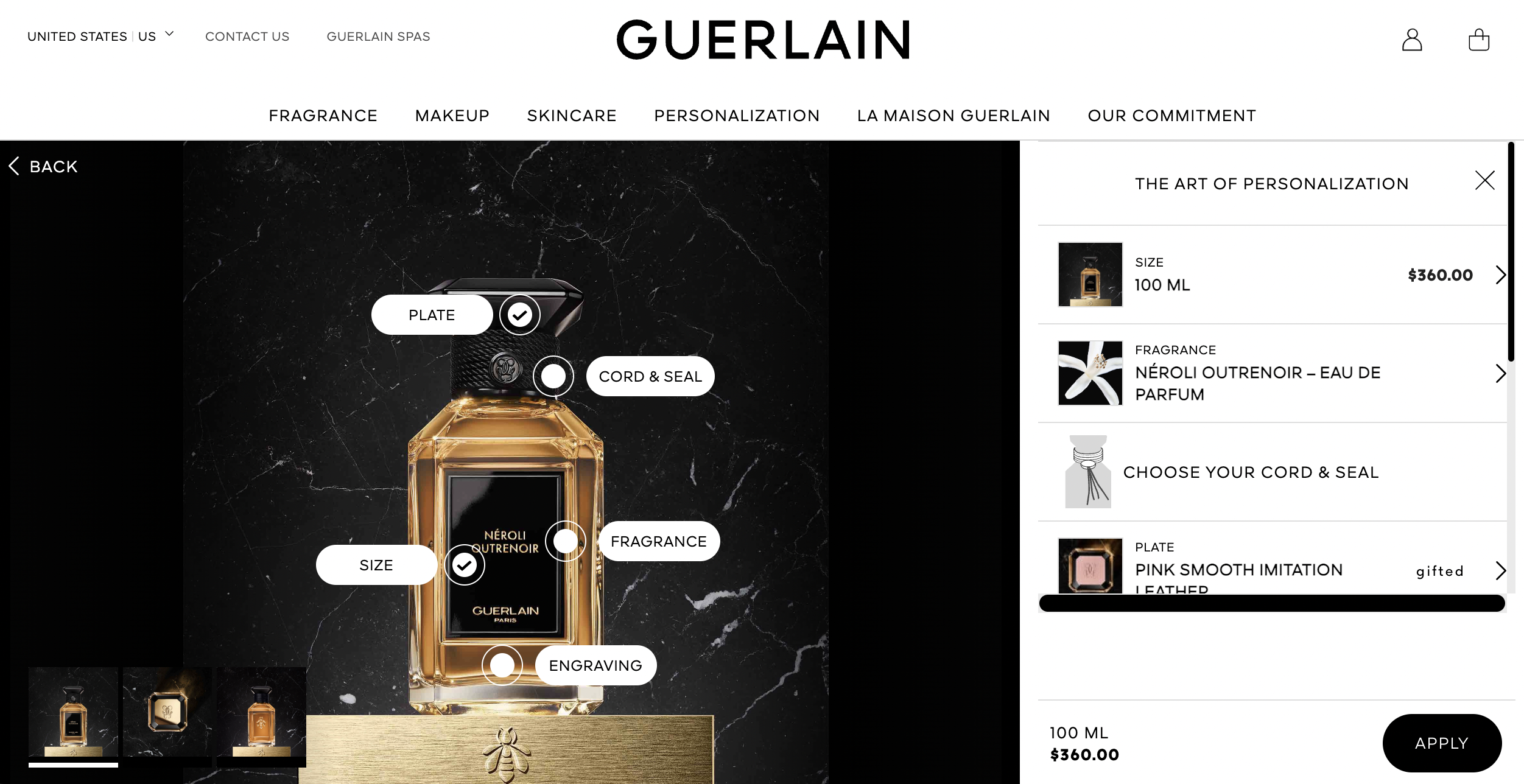 As part of the product configurator experience, Guerlain lets consumers select the case and the lipstick. The retailer also offers engraving. The experience lets consumers:
See the lipstick, case and engraving in different lights to see how it looks in natural or artificial light.

Customize the lipstick's shade and the case.

Personalize and view engraved messages.
According to the case study, the interactive pages had the second highest conversion rate of the Guerlain site, with a sales increase of 30% to 50%.
2. Chevy
When Chevy released its long-awaited C8 Corvette, it was not the only thing to create a buzz. Its 2020 Corvette Visualizer 3D Configurator also attracted consumers at a rate that paralyzed the website. Customers looking for a 3D experience were disappointed when the page displayed a 2D configurator instead.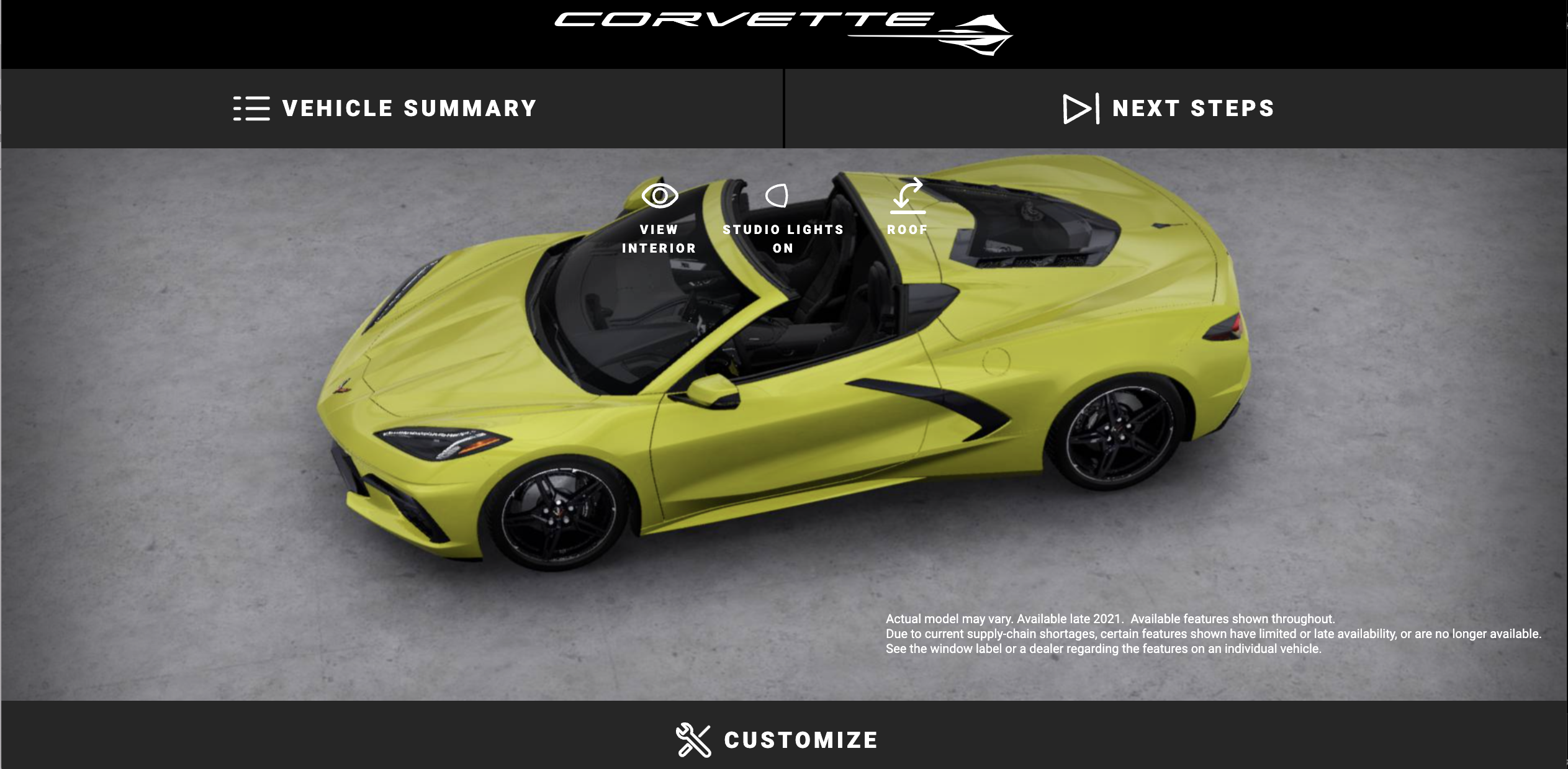 The good news for Chevy was the millions of Corvette fans who wanted to take the car for a virtual spin. The bad news was it did not have sufficient capacity to meet the demand. But after the initial glitch, Chevy had close to one million visitors to its website in two weeks.
Chevy's experience provides a cautionary tale for any business looking to sell online. 3D product configuration experiences increase the time consumers spend on a website, which increases the likelihood of a sale. However, the software and the site must be designed to meet the demand to avoid poor customer experience.
3. New Era
The New Era Cap Company began operations in 1920 in Buffalo, New York, and became the exclusive baseball cap supplier for Major League Baseball in 1992. So, who wouldn't want a customized baseball cap from New Era?
The company's product configuration experiences begin with a fabric selection. From there, customers can select the color of eyelets, the top button and the undervisor. They can choose a different color for each panel. Buyers can upload images or text to embroider on the cap in multiple locations.
According to New Era, the company has experienced:
51% increase in product views

70% in-basket add-ons

9% increase in returning customers
The 3D product configuration experiences have improved sales.
4. L' Atelier Paris Haute Design
If you're looking for the ultimate kitchen design experience, consider L'Atelier Paris Haute Design. The company has been designing, manufacturing and selling custom French ranges, cabinets and entire kitchens for years. But here's the problem — it only has four showrooms: New York, Los Angeles, Miami and Paris.
To widen its reach, the company looked at 3D product configurators. Given that every product is custom-built, the product configuration experience had to simplify the complexity of specifying a hand-built product. It needed to incorporate added features such as zoom and 360° views.
The solution allows designers and homeowners to create an entire kitchen, save the design to a PDF and then return online to make modifications. The product configurator has improved customer interaction and lets potential customers know the company's full capabilities.
5. Kashiyama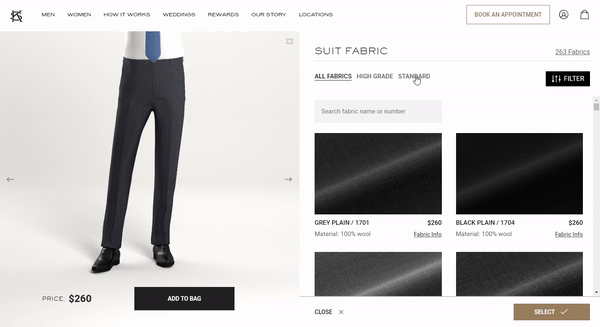 Kashiyama is a long-standing Japanese company making luxury suits for individuals with impeccable taste. Although the company increased its physical store footprint, it realized that customers were gravitating toward online shopping.
How could the company convey the value and personalized experience of purchasing a bespoke suit?
With over 1.2 million possible combinations of fabric, color and accessories, the company needed a way to simplify selection without reducing its product line. Through product configuration experiences, Kashiyama was able to deliver a production configuration experience that increased sales.
The solution even became an in-store sales tool. Employees could illustrate what the final product would be based on the client's preferences. As a result, Kashiyama has increased online engagement and simplified the in-store process.
6. Schmidt
Schmidt is a home design company. Whether it's a single room or an entire home, Schmidt helps designers and homeowners visualize their designs through its digital 3D product configurator.
For example, customers can design closets using Schmidt's interactive design tool. Potential buyers select from a range of closet layouts. Then, they begin the design phase by selecting materials, colors and plans.
Not only does the product configurator allow consumers to select the layout and materials for the closet, but it also enables the customer to visualize the closet organizer with the flooring and wall color. Buyers can see how their selections will look in their space before purchasing. Key advantages include:
Users can browse through an array of choices.

They can look through thousands of configuration options.

They can visualize their selection in their own space.
These capabilities resulted in twice as many appointments and an increased conversion rate of 66%.
Get started with Threekit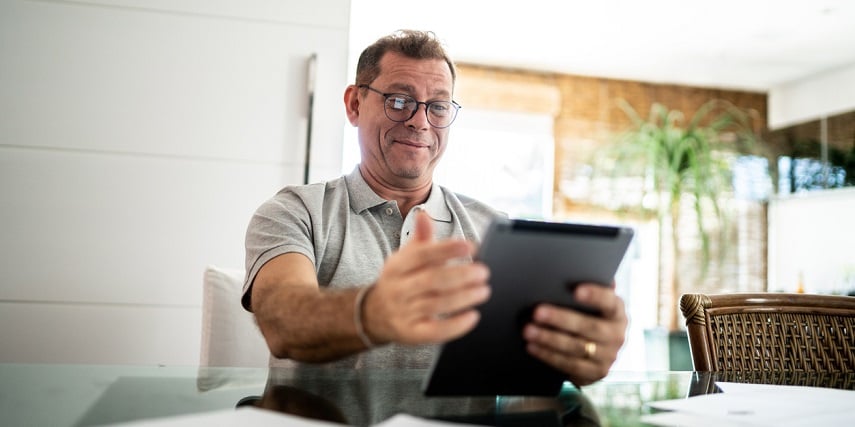 Whether your business is selling beauty products or one-of-a-kind kitchen designs, you can increase sales and delight potential buyers with interactive 3D product configuration experiences.
By working with an experienced company such as Threekit, you can avoid Chevy paralysis and achieve record conversion rates. To learn more about how product configurators can help your bottom line, talk to a Threekit expert.