Why Augmented Reality Product Demos Are Changing the Game
Augmented reality (AR) isn't new; the term was coined in 1990 by the aerospace industry, but its popularity has increased in recent years.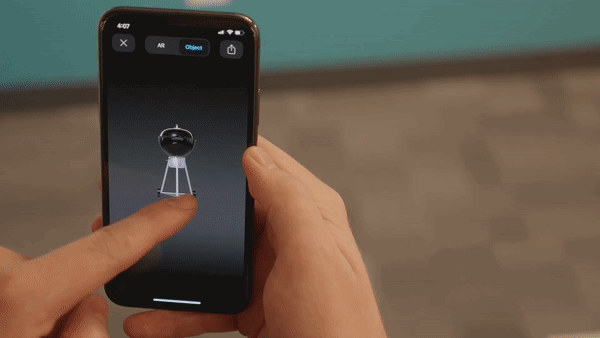 Augmented reality is the integration of digital information, in our case digital imagery, into the user's environment in real-time. By using a smartphone or tablet, a user can 'superimpose' a product into a particular room or space and experience, inspect, and manipulate that product as a photorealistic, dimension-accurate image. AR is different from virtual reality (VR): the latter is creating a totally immersive alternative reality.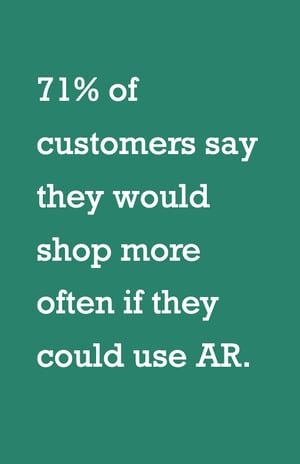 AR and VR can both can be used by businesses, but in this article we're going to focus on the effectiveness of AR and how it can enhance the process of product demos for both B2B and B2C businesses.
Consumer demand, retailer reluctance
According to our data there is a significant interest in augmented reality in eCommerce from consumers, but manufacturers and retailers still seem reluctant to adopt the technology. 71% of customers say they would shop more often if they could use AR. In terms of desired user experience, 61% of consumers prefer retailers with AR technology. 40% would pay more for a product that they could customize using AR. These aren't insignificant numbers so it's surprising that just 1% of retailers say they are currently using AR and 52% aren't planning on integrating AR into their retail businesses.
According to Google Trends, here's how the search term "augmented reality" has trended globally since October 2019: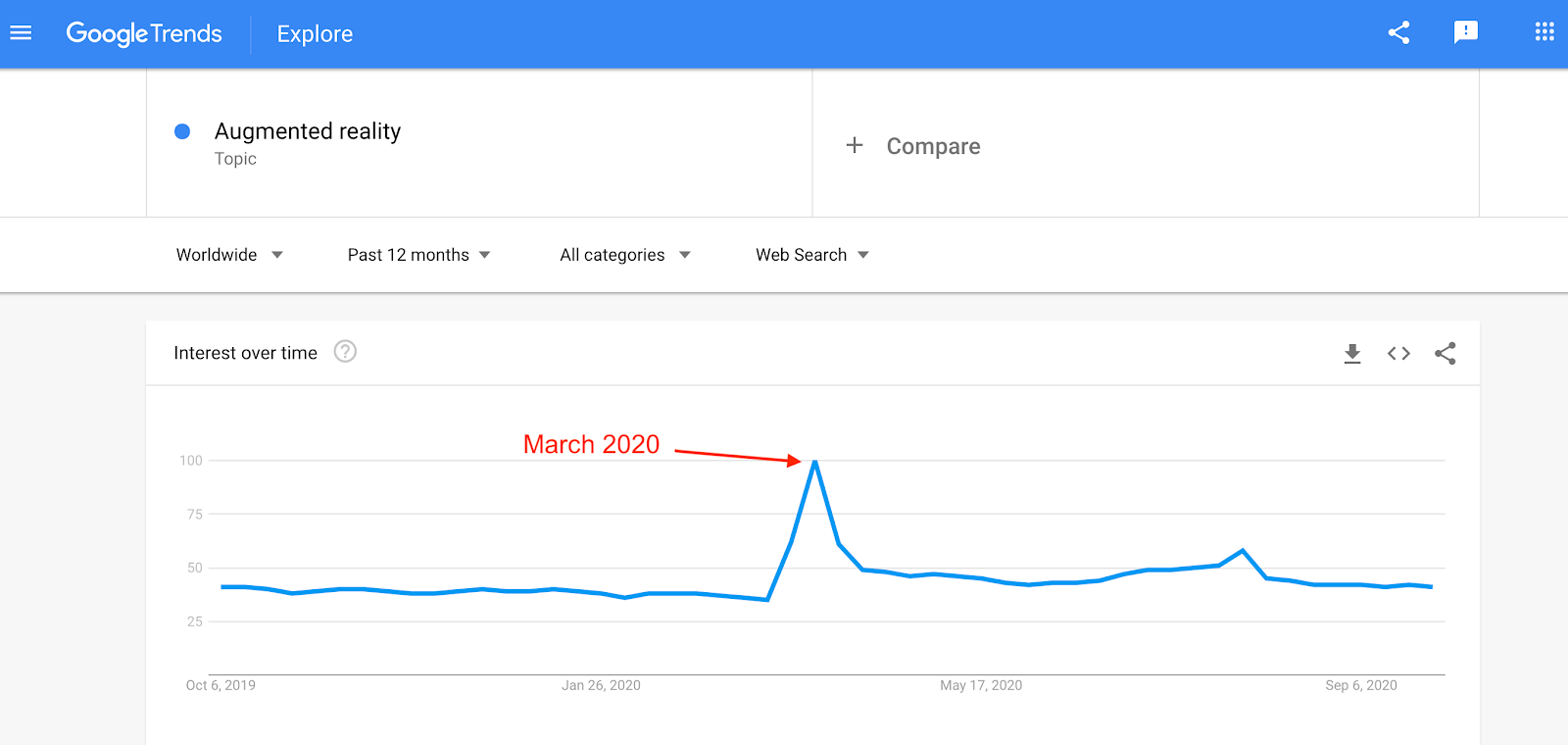 From October 2019, there was a stable level of search volume for the topic, but it spiked in March. This coincided with global quarantine measures and the impact this has had on businesses. After the spike, interest has remained higher than pre-pandemic levels. The trend is similar when we look at just the US data: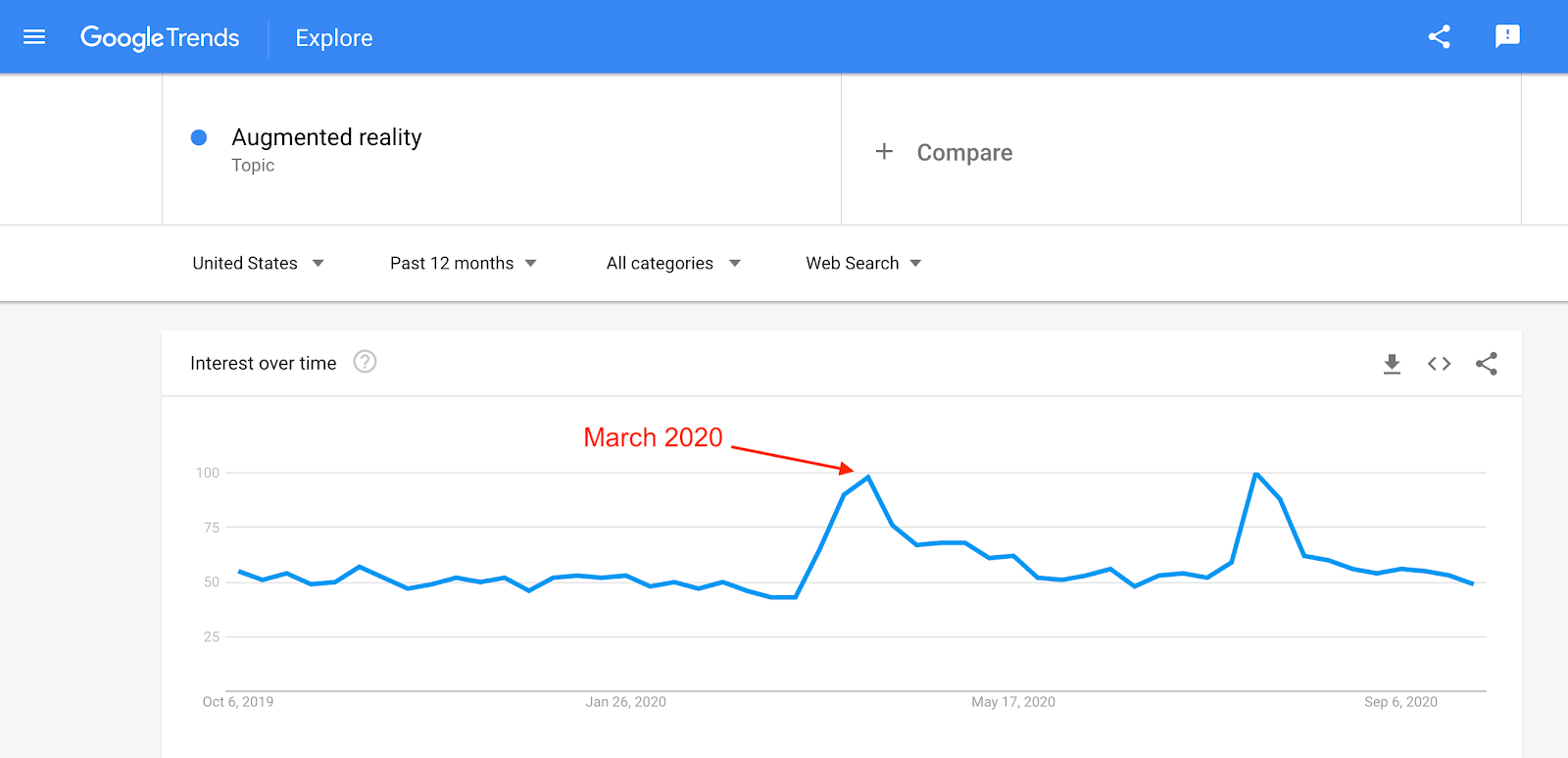 Trending levels pre-pandemic were generally higher in the US than globally. They increased after March's spike and there was a much more significant spike in August compared to global trends.
It's fair to say that this increased level of interest in augmented reality was fueled by businesses looking for alternative solutions to showcase their products now that things like trade shows, expos, in-person meetings, and on-site live product demonstrations aren't currently an option for most. Although AR is an asset for entirely online product demos, it's as effective for on-site events like those mentioned above. We'll discuss both here in anticipation that events will start to take place in the future.
Our guess is that if the same questions were asked of retailers today, the answers and the figures would be very different. 2020 has seen nice-to-have technology become business-critical must-haves.
If you're a business that relies on product demos, then implementing an augmented reality product demo might be the technology that keeps you relevant and the orders coming in.
New normal: The Augmented Reality Product Demo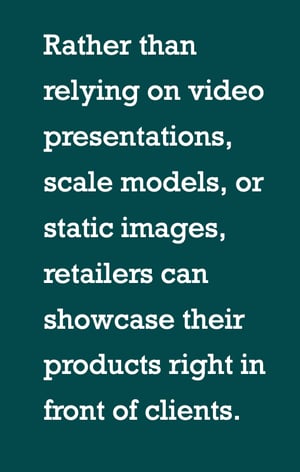 Augmented Reality for B2B Product Demos
Augmented reality is a game-changer for manufacturers of large-sized physical products. Before the advent of AR, sellers had few options to showcase their products: transporting them to the buyer, inviting clients on-site, or relying on technical drawings and photographs. Now clients can use AR to see products instantly.
Whether your products are big or small, AR is the perfect way to demo products at trade shows, expos, or conferences. Rather than relying on video presentations, scale models, or static images, retailers can showcase their products right in front of clients. This can be done at scale: Threekit's AR technology doesn't require an app, so businesses can share the link to prospective clients at booths or during large product demos.
Online product demos are increasingly popular and are fast becoming the norm, but they have a number of drawbacks, mainly their reliance on slide decks, spreadsheets, and 2D visuals. An augmented reality product demo brings online demos to life. Reps can discuss product benefits, dimensions etc. while their client is simultaneously inserting the product into the product's intended setting, whether that's an office or a factory.
Augmented Reality for B2C product demos
AR is not only the perfect tech for large, complex B2B products, it also has enormous benefits for consumer retailers and their customers.
Offering augmented reality is seen by consumers as a component of a premium service. So premium in fact, that 40% of customers would agree to paying a higher price for a product they were able to preview by augmented reality.
45% said the ability to use augmented reality brought them to a purchase decision faster. For retailers this means a reduced sales cycle and lower customer acquisition costs (for example, not having to spend budget on retargeting ads)
The reality of customer satisfaction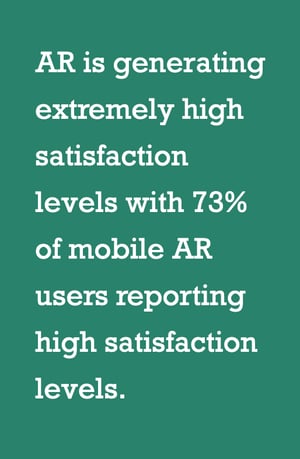 AR is generating extreme customer satisfaction with 73% of mobile AR users reporting high satisfaction levels.
AR product demos are the ultimate version of "try before you buy." Giving a customer the ability to see a couch directly in the spot where it'll go, or a new chair in their home office, increases buying confidence and dramatically reduces the chances of them being disappointed when the physical product arrives. The knock-on effect of buyer satisfaction is clear:
Reduced returns
Increased repeat custom
More positive online reviews
More customer-to-customer recommendations
Augmented reality in action
In the clip below you'll see a customer using augmented reality on their phone. In the clip, the customer is interested in buying an electric food mixer. Before augmented reality, the product information available would be limited to a list of specifications and a few static images. Some retailers might offer video—which is a great feature—but interestingly, an enormous 78% of customers who have experienced augmented reality preferred it over video.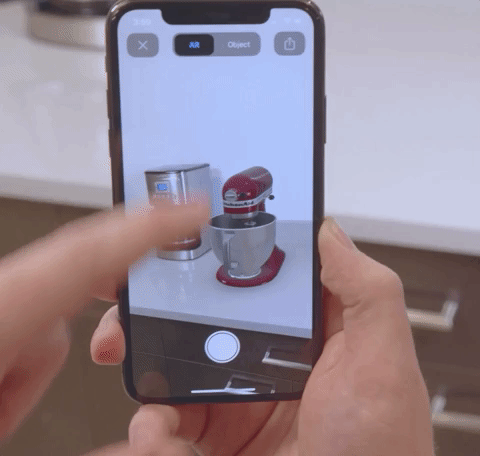 The user has selected the certain model, color, and size and is now using the AR function to insert the mixer into their kitchen. By doing this they can see how it looks, whether the size is right, and how it does or doesn't complement their other appliances. This is a much more powerful way to help customers make purchasing decisions than relying on static images, text, and the customer's imagination.
Augmented reality is becoming the new standard for online shopping and businesses need to take note or risk becoming less relevant and competitive. Don't just take our word for it: 51% of customers say that retailers are failing to take advantage of augmented reality. Are you?
For a more detailed look at this game-changing tech, check out our post on the state of AR on the web.