What Apple's Investment in Augmented Reality Means for Businesses
Let's face it: Augmented reality (AR) is altering our day-to-day lives faster than anyone could have anticipated. According to an IDC report, global spending on AR is forecasted to accelerate from $12 billion last year to $72.8 billion in 2024. The IDC's Worldwide Augmented and Virtual Reality Spending Guide also demonstrates that global spending on AR devices and services will continue to grow strongly during the 2020 to 2024 projection period, attaining a five-year compound annual growth rate (CAGR) of 54%.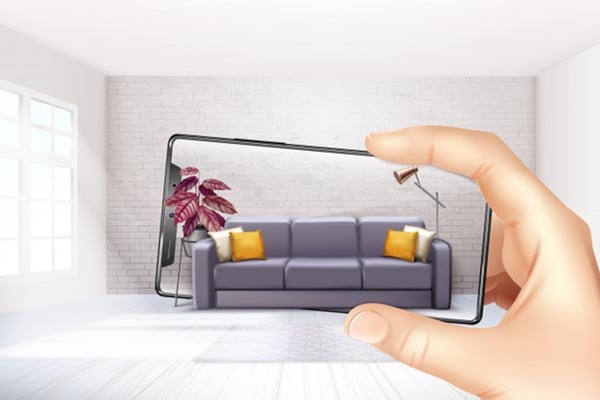 So, what do these predictions tell us, and why should businesses take a deeper look into augmented reality? Well, consumer spending on AR is and will stay the major part of the market. According to Goldman Sachs Research, AR tech has the potential to become the next big industry that can touch $80 billion annually ($35 billion software and $45 billion hardware) by 2025.
Due to the AR technology enabled by smartphones, AR devices are likely to reach a massive number of customers over the next few years because of more sturdy cellular networks. Smartglasses technology might be somewhat lagging behind, but numerous promising products are already available, and developments in AR wearables will carry on driving growth. The collective installed base of mobile AR devices and smartglasses could surpass two and a half billion units by 2023, producing massive prospects for groundbreaking AR applications. As these products become more omnipresent, AR will become less of an innovation technology and more of an essential aspect of customers' daily technology experience.
All these stats clearly support Apple's decision to invest heavily in AR technology. For years, there's been a consistent demand for AR technology among tech enthusiasts. However, the cost of the technology necessary to make it a mainstream product was exceptionally high. Times have changed, and now everyday users can interact with augmented reality in a way that was once implausible.
In this article, we'll discuss how Apple is leveraging AR technology and what it means for other businesses. Plus, we'll discuss how companies are heavily investing in AR, following in Apple's footsteps.
How Apple Is Changing The AR Game
Apple is leveraging AR technology as a way to become even more business-friendly. The novel iPhone's AR features are a wakeup call for all app designers, marketers, entrepreneurs, and technology frontrunners. It has unlocked the doors for a whole new realm of potential beyond our imagination. Technology is progressing to the next level, and realizing its potential to boost or sink sales is now a critical undertaking for companies.
Currently, Apple's Bionic chip and its inimitable neural networks mean that trainers can enhance your free throws and you can play Galaga without visiting an arcade, but there's more still to come. The company is already working on autonomous automobiles, an AR/VR/mixed reality headset launching as early as 2022 (which will compete with Facebook's Oculus and Sony's PlayStation VR), and smart glasses, all of which will have additional screens to augment. Apple is just getting started in a new ecosphere of screens.
In fact, Apple is expected to launch an augmented reality line of AR glasses called Apple Glass in 2023, in which both lenses are displays that support gesture interaction. Gesture control allows the Apple Glass to be controlled without depending on a controller that can be easily misplaced.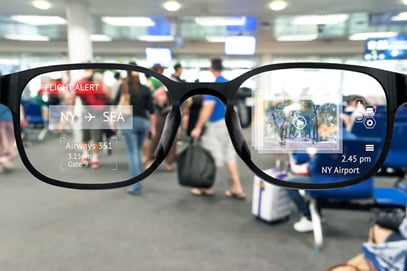 Apple's Quick Look for eCommerce Retailers
Using visual overlays to view furniture in a home or office in real time is one of the most common examples of how AR technology can be useful in eCommerce, and many retailers are using apps to achieve this function. However, when a shopper is viewing a product on, say, Safari, redirecting them to the App Store to download something new can cause just enough hesitation to make them change their mind. With this exact scenario in mind, Apple announced its Quick Look feature, which placed the "See this product in your own room!" idea right into iOS/iPad OS.
Quick Look provides immediate/single-tap AR experiences right within the apps that the customer already has, such as Safari, Messages, Mail, etc.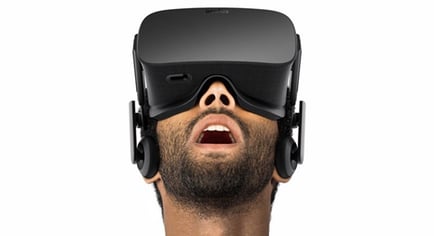 According to reports, Apple is upgrading its AR Quick Look feature to empower eCommerce sellers to sell their merchandise within the app for an instantaneous augmented reality experience. The merchant offers the 3D model (as a USDZ, a file format put up in partnership with Pixar) and Apple uses AR Kit, which handles the whole process from scaling to lighting to render virtual objects that look like they would in the real world.
These augmented reality shopping tools don't need any app. They appear in Safari and integrate with tools that use the camera viewfinder in Quick Look, which several eCommerce retailers already use. You can also embed Quick Look views in your applications and sites to let customers see exceptionally exhaustive object renderings in a real-life environment with support for audio playback.
In fact, many businesses like Home Depot, Wayfair, Bang & Olufsen and 1-800-Flowers have already started incorporating Quick Look after seeing the feature at WWDC in June 2019. eCommerce merchants are receiving new customizable buttons to help retail items to iPhone consumers using ARKit's Quick Look feature. Apple's AR for eCommerce businesses allows users to interact with their virtual content by moving and scaling it by means of touch gestures, or by sharing it with others via the iOS share sheet. Merchants can use the Quick Look button to let consumers make acquisitions, direct a customer to a support chat, or carry out several personalized actions.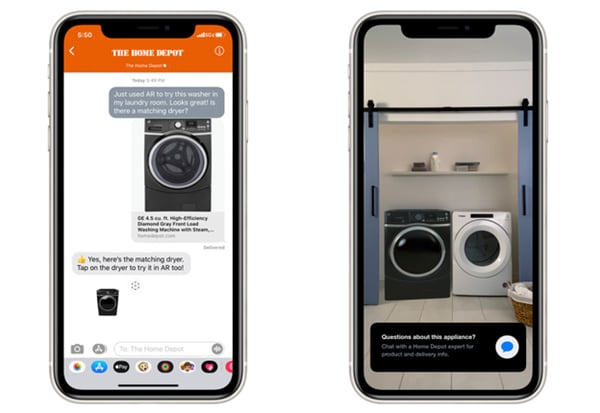 Source: TechCrunch
Developers can customize the button, which can be a buy button, activating an Apple Pay prompt immediately. Or, it can be customized to do just about any action a merchant may want. It can start a consumer support chat to allow a buyer to inquire about color choices, or it can direct them to local sellers who have it in stock so they can see it physically.
Apple is also producing spatial audio into Quick Look, which allows 3D models to produce sound from no matter where they have been virtually positioned in your space. The sound varies as the model is relocated. The evolution of AR technology, together with the impending deployment of 5G mobile network systems, is creating anticipation about the ways the technology will be utilized in eCommerce.
Apple's latest ARKit 3.5 leverages the new-fangled LiDAR Scanner and depth sensing system on iPad Pro to support a new cohort of AR apps that use Scene Geometry for improved scene understanding and object blocking. Currently, AR experiences on iPad Pro are superior with Instant AR placement, and better-quality Motion Capture and People Occlusion–all without you having to write any new code.
What does growth of AR technology mean for businesses?
Technology-based home design company Houzz is also using augmented reality to help customers imagine furniture and decor in their home. According to the company's CEO Adi Tatarko, customers who used their augmented reality tools were eleven times more probable to buy from them.
Build.com is another home improvement business that used an augmented reality tool on its website. This tool allows customers to see a number of its products to-scale in 3D through their smartphone screens. After examining customer behavior and its internal AR team creating new features, the company now has over 650 products and 1700 SKUs available to see in AR. The business reportedly observed that customers who viewed a product using augmented reality were 22% less probable to return it.
Unlike VR, augmented reality doesn't need a mainstream implementation of novel technology to prosper, as millions of individuals all over the world already have the essential hardware to use AR technology. The recent smartphone is geared up and ready to roll when it comes to AR applications. And this point hasn't escaped Mark Zuckerberg and Tim Cook, two of the biggest names in the technology industry today.
Facebook already appears to be experimenting with a major VR investment, but that doesn't mean it has ignored the potential of AR. Zuckerberg announced that the camera would become the first middle-of-the-road AR platform. In the meantime, Tim Cook has repeatedly said that AR is as big a notion as the smartphone, and all the latest iOS novelties definitely back this statement.
Increasing Investments in AR Technology
At times it's rewarding to follow the industry frontrunners, and in the case of AR investment prospects, you'd be wise to imitate the leading names in the technology space. As mentioned, Facebook is dynamically following up their VR game with AR technologies to grab their share in a collective market estimated to be worth more than $215bn by 2021. However, it's not just Zuckerberg's social media giant that's creating waves in the AR cosmos. Google has also announced Project Tango (originally introduced in 2014) and ARcore, enabling designers to create AR experiences on Android smartphones and tablets. Going forward, these devices will have AR competences in-built from the very start.
And just like Google's AR play, Apple announced the presence of ARKit as part of the contemporary iOS update. It intends to transform its operating system into the biggest AR platform on the globe. Therefore, if you were previously unsure about capitalizing on augmented reality, Facebook, Google, and Apple's investments in this technology should help you decide.
Wrapping It Up
There are plenty of reasons why your business should consider investing in AR technology. Augmented reality is already extensively accessible, as well as comparatively inexpensive in relation to VR.
Obviously, this isn't to say that creating an AR app is easy, or that it isn't a significant investment. But due to the huge expected number of iOS14 users, it's reasonable to say that it's definitely less risky. With a convenient distribution channel, businesses embracing AR won't be left in the offing for an involved customer base to take an interest in their merchandise.
Ready to embrace AR? Threekit can help.
If you're ready to make the move and embrace augmented reality, you'll need a capable team to break new ground. And with a gifted squad of 3D visualizers and AR specialists ready to help, ThreeKit can bring your AR idea to life.
Using configurable AR technology, you can configure and customize your own product, then instantly place it in your space. We can help you offer the most premium augmented reality shopping experience on the market. Our solution is perfectly compatible with all Apple or Android devices, no app required. And we support endless personalization and in-space placements. We've kept our fingers firmly on the pulse of the speedy AR industry. In short, we'll help you create a super engaging 3D experience so your customers can experience your products as if they were in person.
Our team has unrivalled industry experience in 3D visualization and augmented reality for eCommerce that bring products to life. With our end-to-end visualization solution, we'll be there every step of the way, eventually creating an innovative, AR-powered online shopping experience.
Now is the time to stake big on augmented reality. Join the leading movers and shakers in technology and embrace AR with ThreeKit. Contact us today to schedule a free demonstration of how AR can be the game-changer for your company now and in the future.