6 Basics of 3D and AR for eCommerce
Visual eCommerce has changed customer expectations about online shopping. It uses augmented reality (AR) and 3D visuals embedded on website pages and mobile apps to give customers a graphical, interactive representation of products.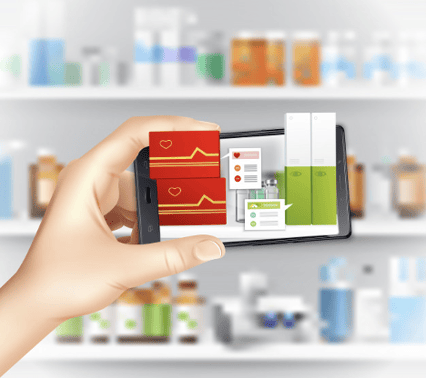 Online product configurators offer a variety of engaging interactions. Customers can browse and interact with products through touch, swipe, or by dragging items across the touchscreens of their mobile devices. Some innovative retailers have even started deploying 3D & AR applications in their physical stores. And a number of eCommerce retailers are also embracing AR/3D technology to boost customer engagement, grow sales, and surpass their competitors.
There are many reasons 3D/AR technology has become a compelling force in online retail. However, they all narrow down to a single factor: Customers. Today, customers want choice and convenience. They want an entertaining store experience, whether in-person or online. In some cases, they even want to feel a deep connection with the brand. Visual or immersive eCommerce can bring all these effects to customers.
According to the SAP/eCommerce Foundation 2019 USA eCommerce Report, highly engaged customers spend 60% more per transaction and buy 90% more frequently. This engagement is the reason 3D/AR will be integral to online retail into the future.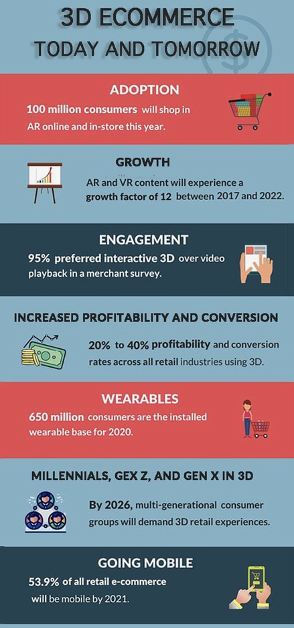 So, how do you upgrade from 2D images and get started with 3D and AR on your eCommerce store? Before you jump to execution, it's helpful to know the basic lay of the land and what you need in place to set the course for success.
Whether you host your store on SAP, Shopify, Salesforce, Magento, WooCommerce, BigCommerce, or another platform, here are the must-have basics for 3D and AR for eCommerce:
1) A digital roadmap
Augmented reality in eCommerce has numerous distribution points, producing infinite opportunities for improving the purchasing journey for customers. Whether you're beginning with social commerce via 3D ads on Facebook or using 3D and AR on your eCommerce website, having a roadmap is essential. From a strategic perspective, there are numerous moving parts, from 3D creative to execution, to testing and optimization programs, and so on. All of these have to be managed internally or via a technology partner.
To identify which distribution channel makes sense for your business, start with your objectives. Are you interested in refining engagement, brand lift, or purchase intent? For better conversion, consider including more 3D and AR product experiences directly on your eCommerce product pages.
One of the biggest challenges of 3D content production is scale. 3D creates a critical groundwork from which you can build countless different experiences that address your buyers' needs in new ways. Given the variety and absolute scale of product categories and exclusive SKUs you deliver to consumers, it's critical to develop procedures and tools that best showcase and systematize 3D content.
2) 3D Models
Both 3D and AR experiences need high-quality 3D product models. These models have to be formed, optimized for web or app, and in different file formats depending on distribution. These models need to be updated with product and possibly technology updates, and they need to be accessible for previewing and deploying.
There are a number of methods for 3D asset creation, such as photogrammetry, laser scanning, and 3D modeling. Businesses with internal creative teams or who are already working with 3D models may have this figured out. If not, it might make sense to partner with somebody who does. An extensive creative pipeline is essential to any 3D or AR approach. Without it, businesses will perhaps get bogged down fairly quickly with an unsurmountable 3D asset workload.
Learn more about 3D for eCommerce
When it comes to AR, having correct 3D product models is essential as the practicality of the experience is only as authentic as the models you're using. This is especially important for eCommerce brands that expect the 3D models to be representative of the quality of their physical products. You want the 3D rendering to look just like they would in real life.
The need for accuracy in 3D product models extends to all brands and retailers–and it's largely dependent on having access to great 3D artists. Customers are in search of as real of an experience as possible when it comes to exploring products. For online retailers, visualization is extremely important. Shoppers need to understand how a product that they see online or in-store will look and fit in their own space before making a buying decision. To create this experience–and to bridge the gap between the physical and digital worlds–it's essential that you use precise, high-fidelity product imagery, including 3D models. And the best models come from the best artists.
Whether internally or via external partners, eCommerce businesses should focus on developing a 3D artist pipeline that scales to deliver first-class 3D assets for numerous SKUs, optimized for several formats and channels.
4) Seamless Site Integration
Incorporating 3D models on the website may seem as simple as adding a few lines of JavaScript. However, that's only the case with an efficient platform approach, which includes hosting and quick delivery of the 3D models to an iFrame when they are called upon.
According to a Google study, 53% of mobile website visitors will abandon a page that takes longer than 3 seconds to load. Immersive eCommerce is as effective as it is available, which is to say that a proper, scalable integration of 3D and AR is vital for not slowing down a web page or disrupting a customer experience. If you are already on an eCommerce platform, it's best to select a provider that has an existing plug-in or app for that platform.
5) Data Capture
The prospects for data around 3D and AR interactions are infinite, so any integration should also include data capture and analysis. For instance, retailer Tenth Street Hats witnessed a 33% increase in conversions and 74% increase in engagement after incorporating immersive commerce on their website.
Immersive commerce (e.g., interactive 3D) generates better prospects for customers to understand your merchandise while enabling you to better understand customer perception of that same merchandise. This kind of quantifiable interactivity is hardly possible without leveraging data related to your 3D activity.
6) Product Benchmarking
Another best practice is to start with a practical number of products that you know the performance of and can benchmark against. Consider having extremely detailed A/B testing in place with different variations that can iterate and improve upon different user flows, CTAs, functionalities, instructions, etc.
Next, you can use the incremental revenue boost to fund supplementary asset creation across the catalog, while optimizing for engagement.
How to Measure the ROI of AR/3D
Remember, implementing AR or 3D technology into your eCommerce website or app isn't a one-and-done thing. You need to constantly monitor the results and tweak your efforts to yield a better ROI.
Once you decide to invest in an AR or 3D enhanced eCommerce site, you can take advantage of numerous types of analytic methods to identify how the experience impacts your purchaser's behavior. Some of these analytics tools for 3D/AR eCommerce include:

Google Analytics
Google Analytics and Google's Enhanced eCommerce Analytics are free to get started. These tools provide metrics at every stage of the sales process, such as where traffic comes from (mobile, tablet, or desktop), product performance, and conversion rates.
For a fee of about $150k per year, Google Analytics 360 offers comprehensive audit functions, nearly 100% accuracy, and data refresh within four hours. The paid version also includes Data-Driven Attribution modeling to learn about online buyer behavior.
Artificial Intelligence (AI) Analytics
Machine learning collects data in real time and applies it to enrich user data, identify users across devices, personalize ads intelligently, and leverage predictive analytics.
AI uses natural language processes (NLP) to contextualize and improve search results. As a result, visual search capabilities also improve product matches.
Embedded Analytics in eCommerce Platforms
Some eCommerce platforms have backend analytics integrated in their solution that provide insights almost instantaneously.
Social Media Analytics
AR/3D eCommerce creates new prospects to increase your engagement metrics; however, optimization remains critical. For any new initiative, test, optimize, and test again.
For example, when running 3D ads on Facebook, focus on maximizing the value of every 3D experience for both the brand and the consumer alike. Not only do you, as the brand, want results; Facebook also wants to put a product out there that actually works. So you have to be really stringent around the test methodology that goes behind everything.
Depending on the eCommerce platform, you can also connect your online store to your social media pages like Facebook and Instagram and track data for analytics.
At Threekit, we're excited about what the future of AR/3D eCommerce means for shopping as we know it.For businesses, it's an opportunity to form a deeper connection with customers, making accessible valuable product information in palpable interactive ways. For customers, it boosts confidence and abridges the path to acquisition so that more informed decisions can be made more quickly.
As we continue to roll out AR/3D eCommerce initiatives across a wide range of online selling platforms, we look forward to bridging the gap between in-store and online product experiences–one 3D/AR effect at a time.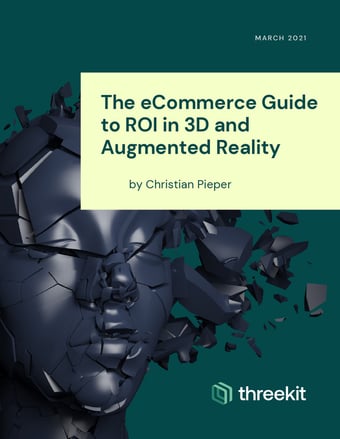 Download our eBook
If you're making the business case for 3D and augmented reality product visuals, this is the guide you need. Get real data on how this innovative technology pays off.