5 Things Furniture Sellers Can Do to Drive More Sales During COVID-19
It's a furniture seller's market right now. Furniture sales are skyrocketing amid COVID-19 lockdowns, even more than they normally do every Black Friday.
Now that people are inside all the time, they're buying office furniture for their work-from-home setups and investing in fun home decor to liven up their spaces. As the weather gets warmer, too, outdoor furniture sales will spike.
Furniture shopping was starting to move online before the pandemic, but now it's likely here to stay. Here's what furniture stores can do to ramp up their eCommerce strategy and drive more online sales while demand soars during COVID-19.
1: Use more and better images.
If shoppers can't look at your furniture up close in stores, your product images better tell them everything they need to know.
Make sure you have high-resolution, rich images for each product, and within each product page, have images for different configurations, add-on pieces, or various setups. Multiple images is key, because today's shoppers expect five to eight photos per product.
See Figure 1 for a product page from Crate and Barrel that does a good job of offering detailed visual information. This sofa has 11 high-res images, a mixture of white-background and lifestyle shots of the item from every angle.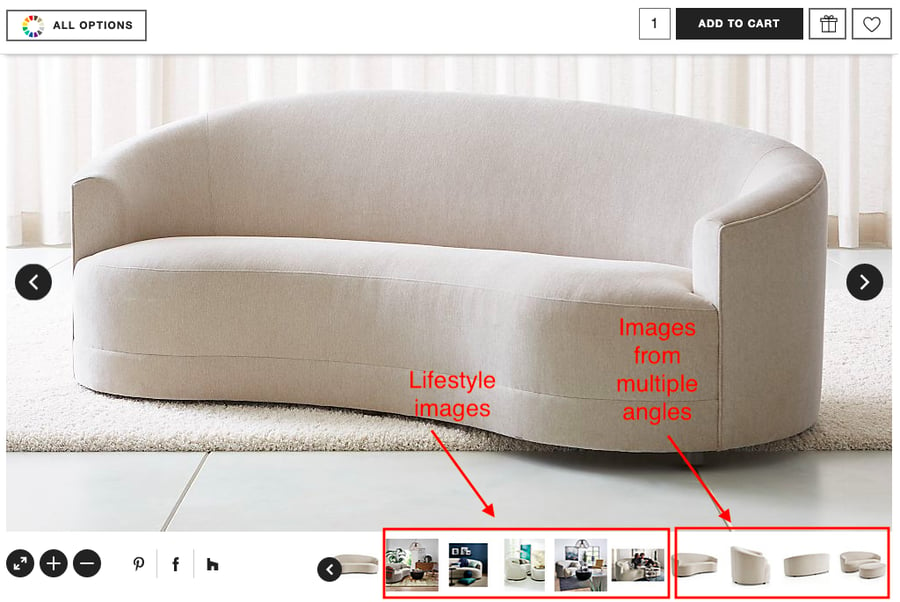 Figure 1 (source)
2: Provide an excellent online experience.
While Amazon may still be the go-to for online shopping, including within the furniture industry, COVID-19 has caused a decisive shift in consumers' attitudes toward the eCommerce giant. As Amazon workers went on strike in demand of better protections and benefits during the pandemic, many previous Amazon shoppers are eager to find alternatives.
So first of all, simply not being Amazon is a great selling point for your furniture business right now. Beyond that, providing a first-rate online experience can further convert former Amazon shoppers who are accustomed to its notoriously cluttered website.
Here's how to invest in an online experience that will set you apart from the competition, with some examples from Burrow's sleek website:
Cut the excess words. Shopping for home furnishings is a visual decision-making process. Let your beautiful product images do the talking in every section of your furniture website and keep words to a minimum. Here's Burrow's seating section in Figure 2:
Make your site mobile-friendly. People shop from all devices. Make it easy for them to browse your eCommerce website on mobile.
Streamline the checkout process. Shoppers hate the "sign-in" barrier at checkout, so much so that 30% of customers in one study abandoned their cart upon meeting it. Provide a guest checkout option, and design a payment process that's quick and user-friendly, like here in Figure 3:
Make it easy for shoppers to get in touch with a human. Customers might have a lot of questions about furniture items, especially regarding size, shipment, and custom features. Add a clear link to customer support resources.
Incorporate measurements. Speaking of size, help your shoppers out and do the measurements for them. Try overlaying dimensions on one of your product images, like Burrow does in Figure 4: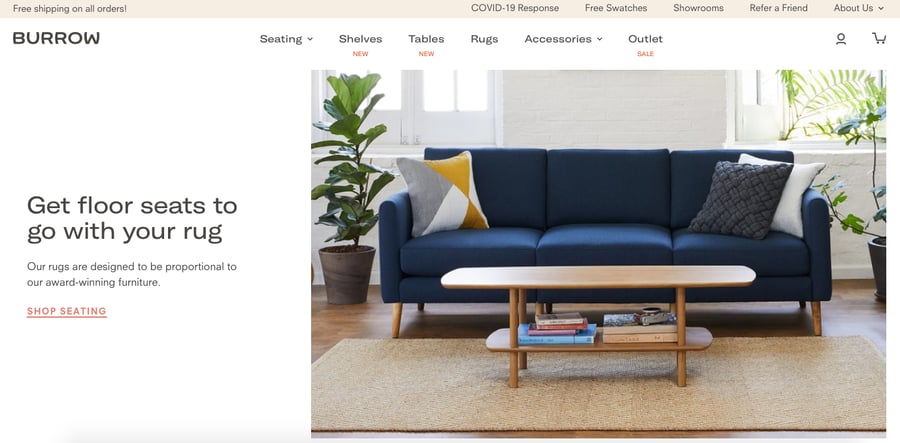 Figure 2 (source)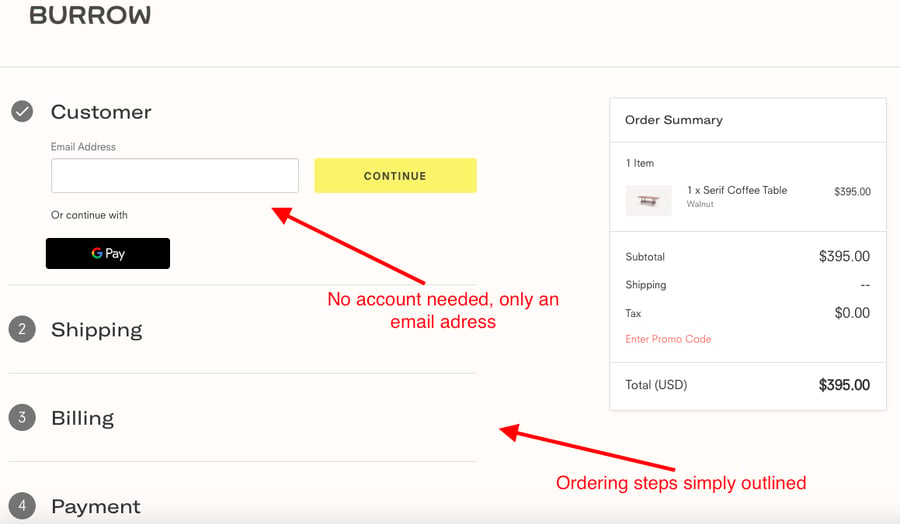 Figure 3 (source)
Figure 4 (source)
3: Show products in 3D.
Lifestyle photography projects are on hold right now. The good news is that 3D is a remote-friendly solution for scaling high-quality imagery of highly configurable products.
3D configurators let shoppers better visualize and interact with products, which has shown to increase conversions by 40%. The ability to zoom or rotate a product also builds shoppers' trust, according to one study.
Wayfair's "View in 3D" app feature lets customers do exactly that and play around with different materials and colorways to customize an item in real time, which is something you can't do in-store.
See for yourself with this office desk (or our other 3D product demos).
4: Offer AR.
Furniture shopping is heavily context-dependent. Most shoppers just rely on their imagination to visualize how a sofa will look in their living room. Now, there's tech for that.
Stand out from the competition by providing cutting-edge augmented reality (AR) eCommerce tools for your shoppers. This kind of feature gives them the opportunity to visualize a furniture item in their own space by projecting a 3D configuration of the product into a live or uploaded image of their space. This provides shoppers with visualization capabilities that a brick-and-mortar furniture store usually can't provide, let alone an online eCommerce store.
Lowe's' "View in Your Space" AR feature does just that, making it easy for shoppers to test out furniture in accurate scale and size in their home, all through the app.
Figure 5: Lowe's' "View in Your Space" AR feature
5: Beef up your social media presence.
Just about everyone's screen time is at record highs during COVID-19, and for many people, a good deal of that time is spent scrolling through social media. For furniture retailers, social platforms are a great way to convert scrollers into shoppers.
Leverage your product images on visual social platforms like Instagram to catch a user's eye. Then, take it a step further and take advantage of Instagram's Shop feature, which provides a seamless storefront experience for Instagram business accounts that incorporates product prices and descriptions into photos and lets Instagram users move from the app to your online furniture store with one tap.
See here how Article Furniture does it in Figure 6: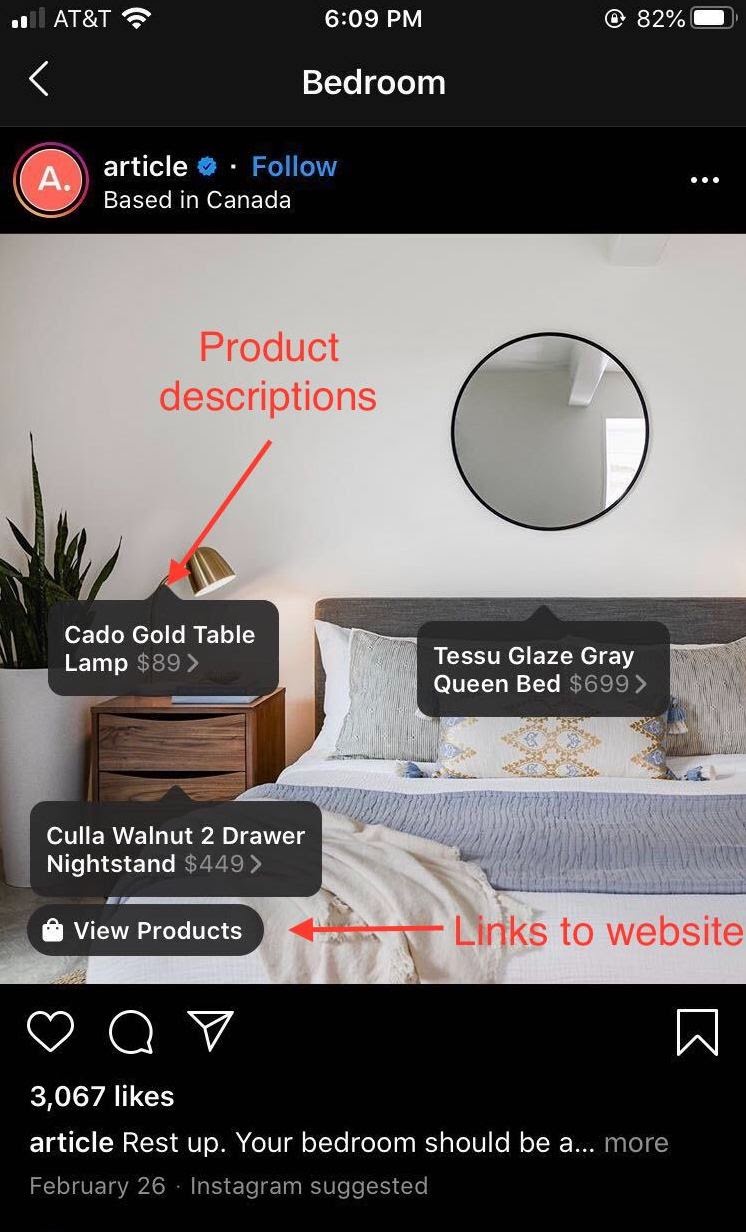 Figure 6: Article's Instagram Shop (source)
Make online shopping more like shopping in-store.
COVID-19 is the nudge many people needed to start shopping online for furniture. When an online furniture retailer can provide a smooth visual experience that emulates the best parts of shopping in stores, with added convenience and flexibility, customers will return to that brand for their interior design needs time and again.
Threekit provides product visualization software that creates photorealistic images, interactive 3D and augmented reality experiences that help businesses sell more. To learn more about how we can help your furniture brand thrive, get in touch with our team today, and we'll discuss your needs.