3D Product Visualization and AR for Manufacturing
Manufacturing has historically been an engine for innovation. From developing futuristic solutions for rapid prototyping, production, and delivery to innovative strategies for personalizing products for the consumer, manufacturers today are the foundation for the commercialized world we live in.
Manufacturers are prime candidates to capitalize on 3D product visualization and augmented reality technologies to communicate their product design to customers and to create entirely customized new products from end to end. Let's take an in-depth look at how manufacturers can thrive with 3D visualization.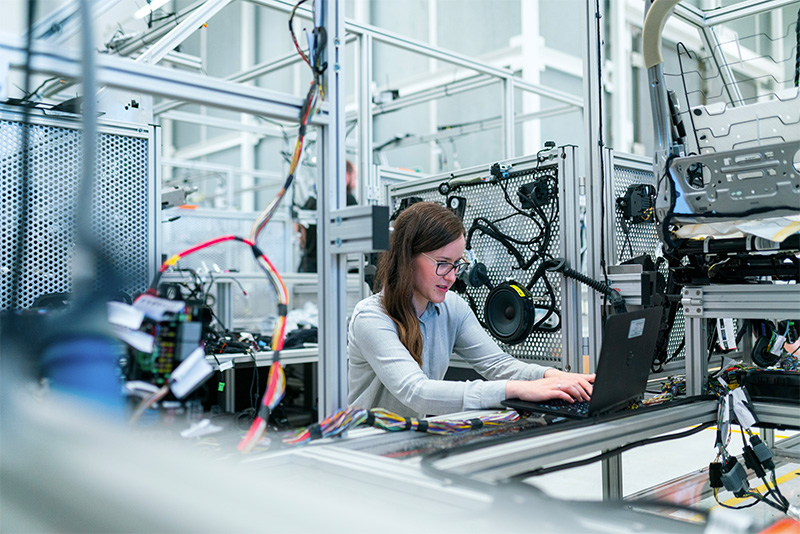 "I'm excited about augmented reality because unlike virtual reality, which closes the world out, AR allows individuals to be present in the world but hopefully allows an improvement on what's happening presently."
-TIM COOK, CEO, Apple
---
Why It Matters
For manufacturers, complex components are often difficult to communicate through drawings and product images alone. The benefits of 3D product rendering don't need to be explained here because you're likely very familiar (and thankful for) the benefits that 3D CAD models already provide. However, for clients who aren't familiar with 3D modeling software, a 3D product visualization platform can be the ideal solution to present objects through the web to your clients.
Especially for injection molded or blow-molded components, undulating forms can be difficult to describe through 2D drawings. Additionally, unless you have the lighting just right in a single-frame render, the customer might miss very important details of how the component will turn out compared to the ID's original model. But with a web-based visualization platform like Threekit, you can visualize a completely unique shape, then tilt, pan, rotate, and spin it to have the best possible understanding of that manufactured part.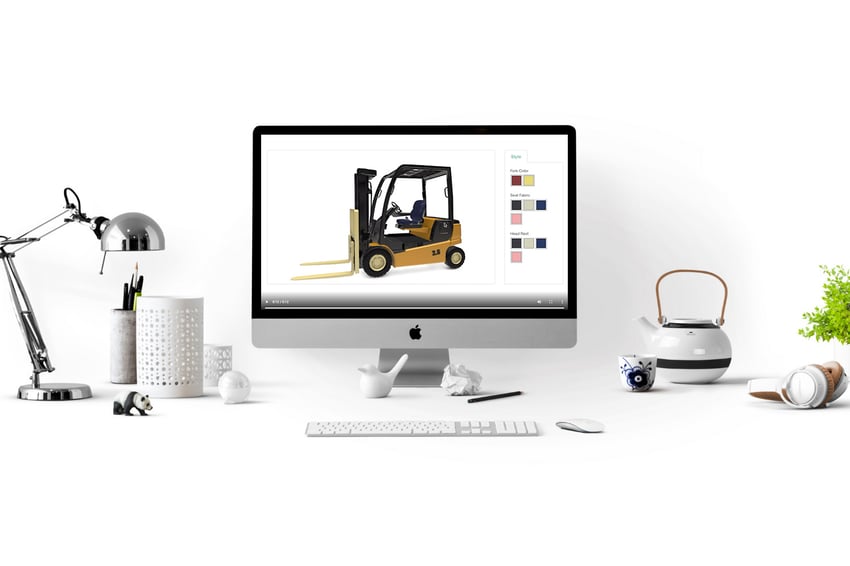 Here's why it matters, though. When the client's expectations are properly set through accurate product presentation, you're able to have more satisfied customers and fewer hiccups for your account management team.
Save time with a built-in materials library.
Threekit's platform includes a built-in material library that provides a wide selection of commonly used materials. This helps you to ensure that the production CMF (color, materials, finish) and texturing are being properly rendered in the viewer. Our material library is expansive, professional, and easy to use. For manufacturers, communicating how your components will appear post-production is vital for your customer happiness.
Customers are able to configure your products on their own through our web-based configurator. Your team is then able to automatically generate and export production-ready models, CAD files, bill-of-materials, assembly instructions, and cut patterns as quickly as users configure them. This ensures that every product is being manufactured according to customer specifications.
More importantly, your team is able to save an incredible amount of time during the pre-production process. For manufacturers, using a web-based 3D product configurator ensures that the right products are being made for the right customers, saving your team time, expenses, and materials.
Boost your sales with highly accurate 3D visuals.
Your sales team can benefit greatly from a web-based 3D product configurator because it opens your potential customers up to the possibilities that your manufacturing team can produce, from being able to rapidly render material samples and combinations to demonstrating how a component compilation can provide a wider product line. Customers will have the freedom to explore and design in a simplified workspace, and your team will be able to directly export customer configurations to the production team.
What's great about this is that customers will know what they're receiving. Customer happiness starts long before production, and providing a clear communication channel with the customer as to how their product will look and feel post-production blazes a clear trail to the highest levels of customer satisfaction.
Provide built-in transparent pricing.
Transparent and accessible pricing information for your customers guides them through the configuration and buying process. With our web-based 3D configurator, users can choose different iterations of your products and have the prices update in real time. You want your customers to be able to explore their options with your products without getting overwhelmed. This feeling of being overwhelmed is called decision paralysis, and it occurs when people have to select from options that are difficult to compare. The more options that are available, the more of a hassle it becomes to choose one. Often, your customers' most useful parameter (or tool) for eliminating options is pricing.
Generally, your customers will start with a budget in mind, so product configuration with automatic pricing updates gives customers the power to quickly eliminate options that are way out of budget and opt for the most cost-effective option. Maybe some material is out of their budget, or maybe your customer feels that the surcharge for a glossy finish just isn't worth it. The point is that when the price is right in front of them, customers can more easily overcome decision paralysis and narrow down their options to make a buying decision.
Go from CAD and back again.
With Threekit, your team is able to import your existing 3D models into the visualizer. Threekit's Virtual Photographer platform empowers your team with the ability to create tens of thousands of high-quality product photos from your existing 3D model. For most teams that do most of their design work in Fusion or Solidworks, presenting photorealistic 3D models in Threekit's visualizer is a seamless experience.
Once your customers are able to configure your product to fit their needs through the 3D product configurator, your team can export the client's configurations to CAD to create flat patterns and bill-of-materials. With Threekit, going from CAD and back again has never been easier.
Plus, your team is able to give your customers the personalized experience of being able to configure your products in 3D so they can make the best selection imaginable.
Bring your components to life in AR.
Augmented reality can give your team the ability to visualize a true-to-life model of your components using the camera on a mobile device. For your customers, that means being able to see how a finished product will look on the shelf or at home. AR is revolutionizing the eCommerce shopping experience–as well as the process of how teams collaborate. By integrating AR into the design process and production from the beginning, your team will be able to make informed decisions about proportions, material choices, and more. When collaborating with the industrial designer on the project, your team will be able to coordinate how updated designs will impact the manufacturing process by having a real-life visual of the product.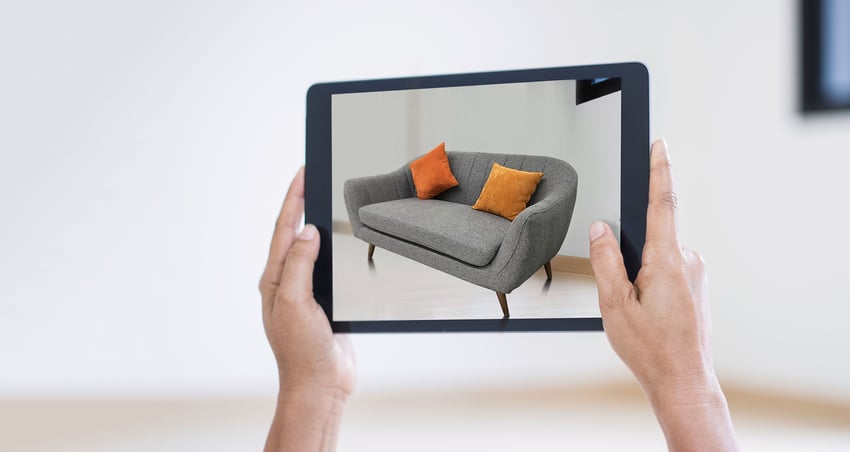 For customers, this means being able to truly see what a product will look like in the real world–taking product photography one step further. This can help your team to manage customer expectations from design to delivery.
---
Here are 20 augmented reality statistics you should know in 2021.
---
Collaborate with your customers.
There's nothing more powerful for business than being able to have a clear line of communication with your customers. In 3D, more visual and descriptive information can be communicated with your customers than any other medium. As a manufacturer, being able to understand exactly what the customer wants and communicating exactly how a product will turn out can mean the difference between a repeat customer for life and a one-and-done product.
As production costs become more competitive, finding tools that empower your team with better communication and empower your customers with the ability to customize and configure a product to meet their needs can give your business the competitive advantage it needs in 2021.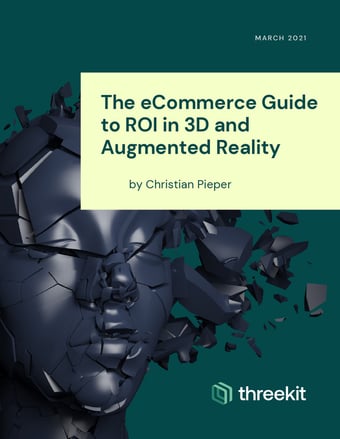 Download our eBook
If you're making the business case for 3D and augmented reality product visuals, this is the guide you need. Get real data on how this innovative technology pays off.