Made for Millennials: 3D Product Configurator Software
There's been so much talk over the last few years about the importance of millennials in the consumer market. So in this article we're going to give you the facts about why implementing online 3D product configurator software should form a key component in your strategy to attract this increasingly lucrative demographic.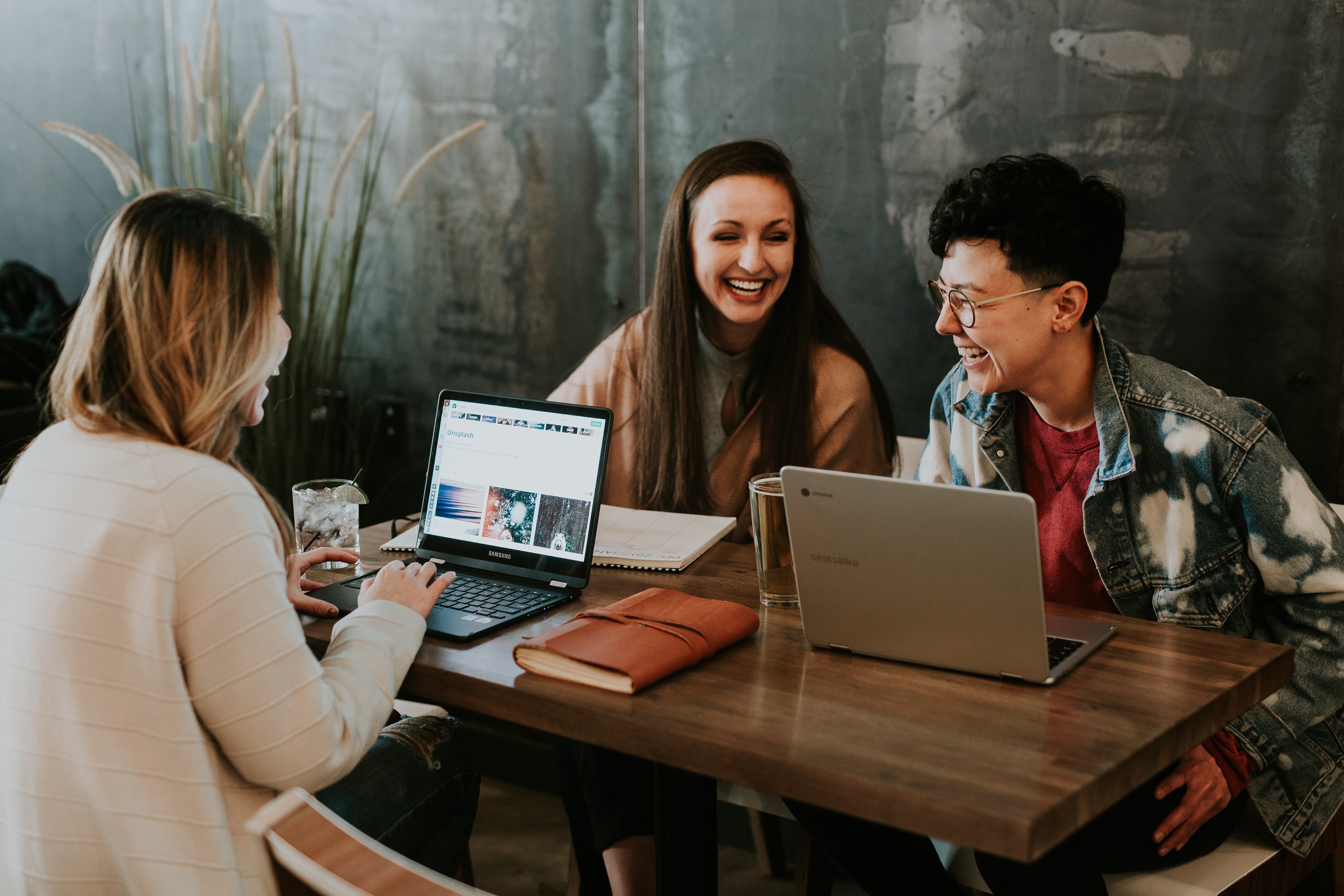 The facts show that millennials are a demographic retailers shouldn't be ignoring:
Millennials are set to take a 30% share of the retail market in 2020 with a colossal $1.4 trillion purchasing power
There were more than 72 million millennials in the US in 2019
They're the largest generation in full-time work
Millennials spend more per shopping trip on consumer goods than any other generation
Digital natives, eCommerce veterans
Are they shopping online? Absolutely! In terms of devices, 92% of millennials own a smartphone, 64% a tablet, and 85% use social media. Not only are they digital natives, they're e-commerce veterans: 40% of male millennials and 33% of females said they would buy anything online if given the opportunity.
So, we know millennials are out there looking to spend sizable amounts online but what are the demographic's particular shopping preferences and how can an online product configurator tailor to them?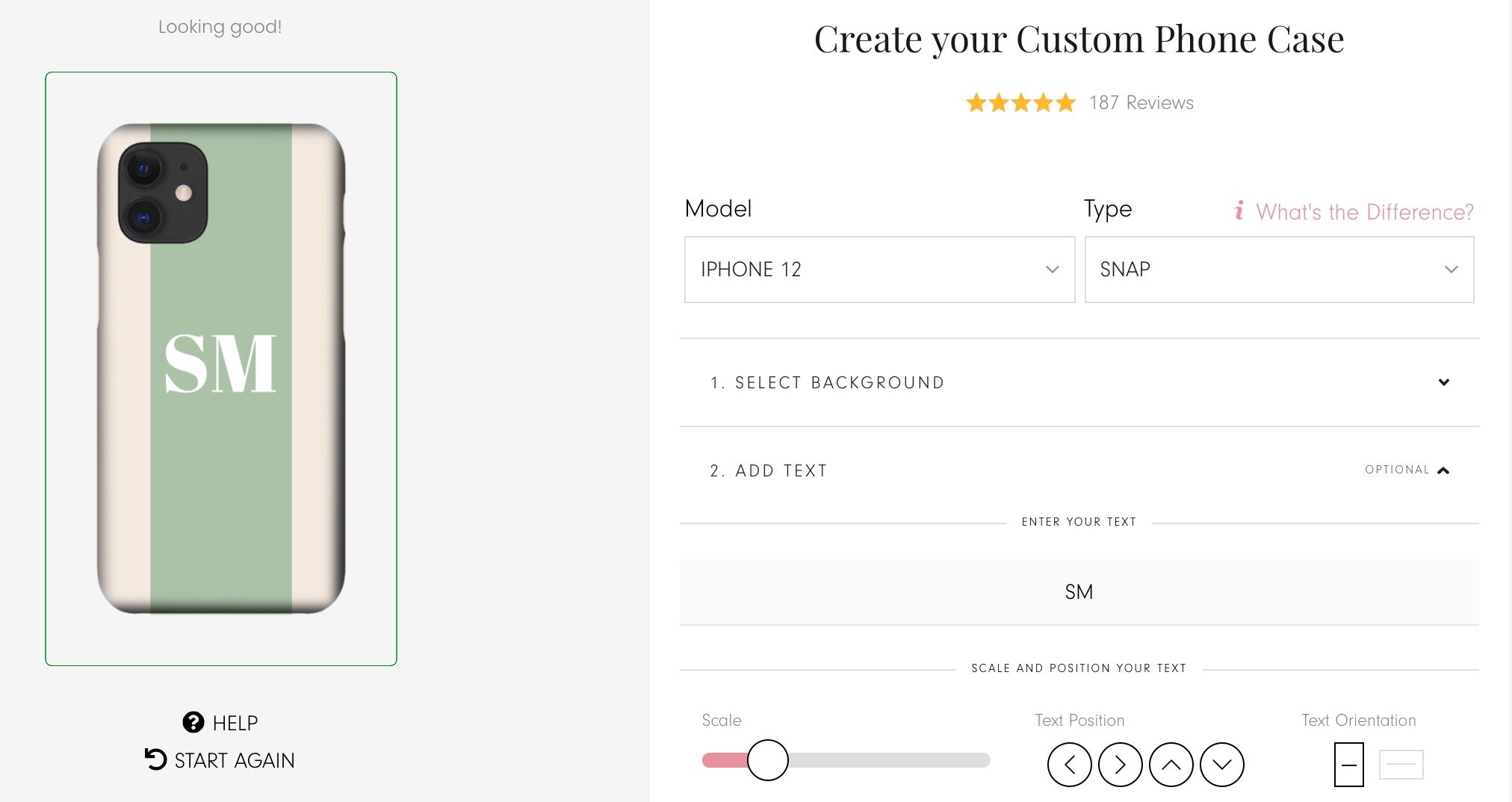 Generally speaking, millennials are done with the mass produced, off-the-shelf consumption of their baby boomer parents. Brought up as highly individualistic (but with intense social awareness) millennials are always looking for "unique" products that reflect their tastes and their values.
For businesses this means creating the appearance, if not the total reality, of offering products and services that are designed with an individual in mind or giving individuals the opportunity to put their own stamp on things. Millennials don't want to be sold to—they want to be co-creators.
Customizing Creates a Positive Psychological Response
In a TechCrunch article Liraz Margalit, previously Head of Behavioral Research at Clicktale, describes why customization is so powerful generally and how it strongly meets the customer characteristics of millennials.
Customizing, or co-creating, generates an emotional attachment to the finished product; it reflects a person's tastes—they've given something of themselves in the creative process. The emotional attachment leads to ownership attachment, the feeling that something is "mine" even if you don't legally own it.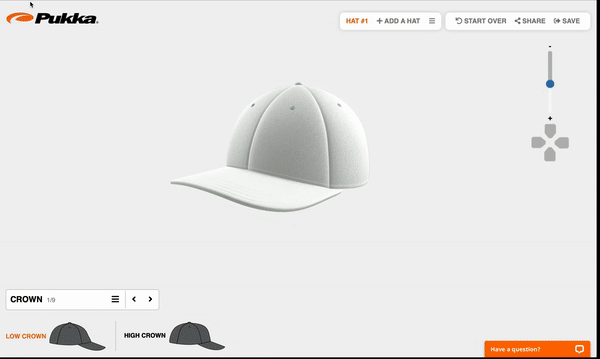 What 3D configurators have over static images and text is the ability to imitate the feeling generated by touching or handling physical products in-store. Customizing elements of a product generates a response of how it would feel to own it. The psychological response leads to increased customer engagement and an eventual purchase.
Customers Who Customize Pay More
The Motley Fool reported that a product customized online can sell for up 50% more than a product purchased in store. This is especially true of a generation entirely at home shopping online and who value bespoke, customizable products more than the mass produced. The backlash against fast fashion in recent years demonstrates this.

If a millennial feels that a brand understands them, tailors products and services to their preferences, and offers something of "value" they are more likely to stay loyal to that brand. We're using "brand" intentionally instead of "business" because millennials are far more interested in engaging with, and are less suspicious of, brands rather than seemingly remote conglomerates.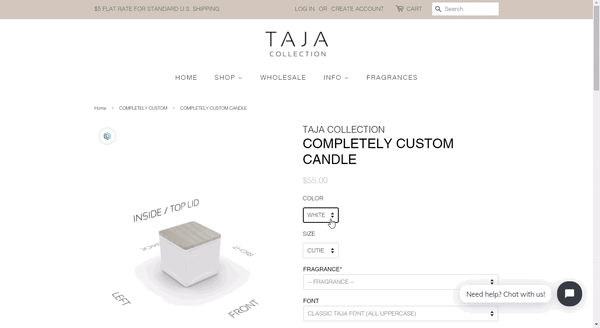 You only have to think of how passionate and loyal Apple users are. Part of the attraction to Apple products and a reason why so many people stay within the iOS ecosystem is because the products aren't just functional.
Instead, they say something about the person who owns them. They signal meaning, values, status, and fashion. They're a lifestyle choice, not a consumer product. It's no surprise that Apple offers customization: for example the brand uses a product configurator for its Apple Watch product.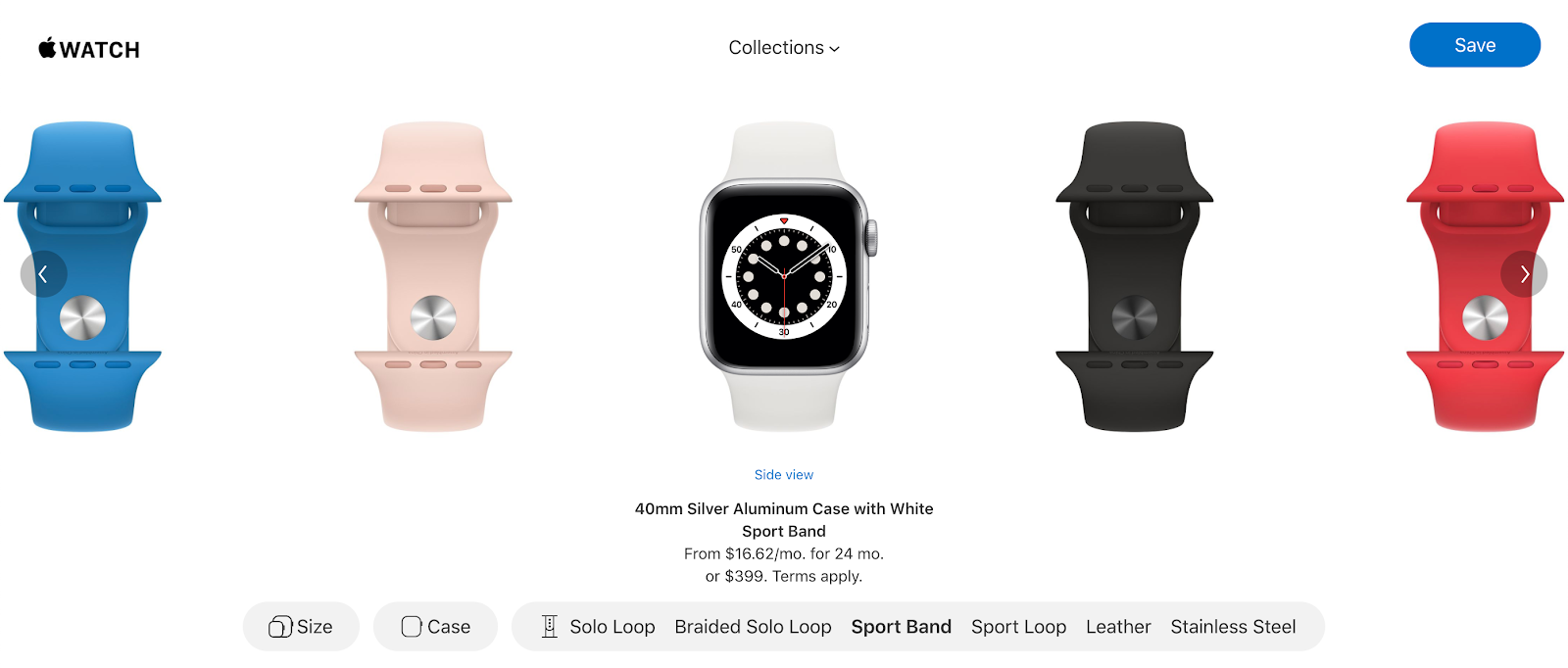 Customization should help, not hinder, the buyer's experience
Everyone likes to talk about the decrease in attention spans, especially among millennials and Gen Z. Online product configurators are a great antidote to the tendency to get distracted online. A configurator removes the need to wade through endless product pages. Instead users are given the opportunity to design a product exactly the way they want it.
With this is in mind the use of product configurators should be simple, intuitive and engaging. We've tested a lot of configurators and many are let down by clunky interfaces, confusing options, and poor load speed.
Millennials will be the first to bounce if the product customization process takes too much time or requires too much cognitive investment. Keep the interface simple, the options intuitive, and the load speed fast.
Nike
One global brand that really knows how to market to millennials is Nike. Their Nike By You line—the name says it all—is based completely on customization using a product configurator.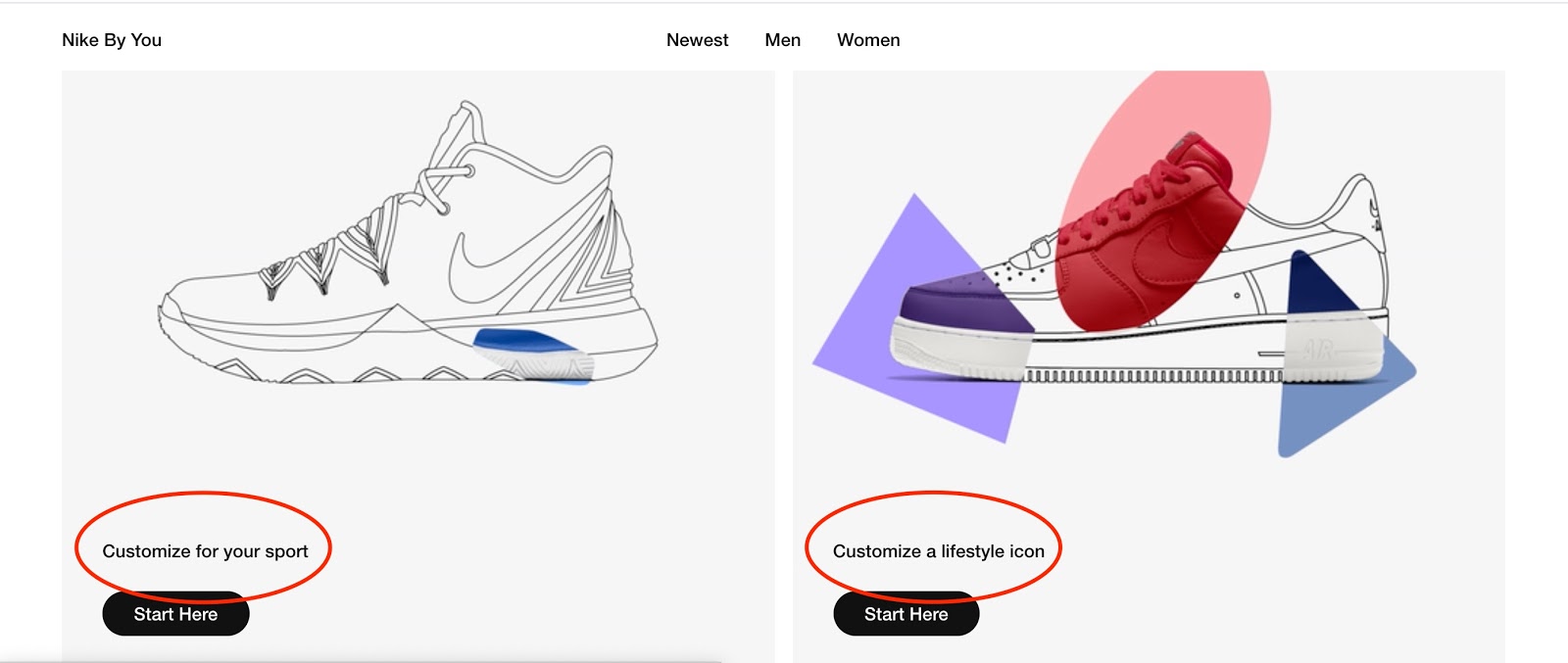 Even the product copy is geared towards creation rather than purchasing. Instead of "customize your sneakers" we're asked to "customize for sport" or stronger still "customize a lifestyle icon". The latter is really telling: you're not buying footwear, you're co-creating an aspect of your lifestyle. Nike By You describes the 2-step process, again highlighting the creative rather than consumer process: "1. We provide the canvas and tools 2. You create something that's uniquely your own."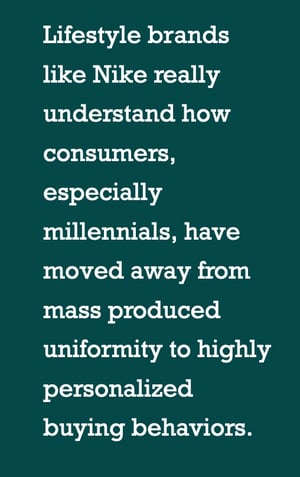 Lifestyle brands like Nike really understand how consumers, especially millennials, have moved away from mass produced uniformity to highly personalized buying behaviors. In terms of the configurator itself, there's a good range of color options and you can view the sneaker side on and from above. There's no zoom or rotate function during the design process but once you've made changes the sneakers are presented in a series of six close-up photos from all angles, including the soles.
You don't need to be a global brand like Apple or Nike to target millennials. In fact, small, artisanal brands can be hugely successful with a demographic concerned with customization, traditional craftsmanship, and sustainability. Giving your millennial customers the opportunity to actively engage with a brand, co-create their products, and provide a simple and easy-to-use configurator will help you build brand loyalty, recommendations, and repeat custom.
To see how more brands are online product configurator software, check out our article 10 Brands Using Online Product Configurators to Boost Sales. Ready to start exploring how your business can meet the expectations of a crucial demographic?