Clothing is the most personal and persistent expression of one's style. Which is why a 3D configurator for clothing retailers makes so much sense. Increasingly, people are shopping online, and they don't want to sacrifice the opportunity to impose their preferences on their purchases. If there is a way to make a piece a little more personal through color, cut or added elements, brands are wise to offer that option through a configurator. It gives shoppers more ownership over their experiences. But don't just take our word for it.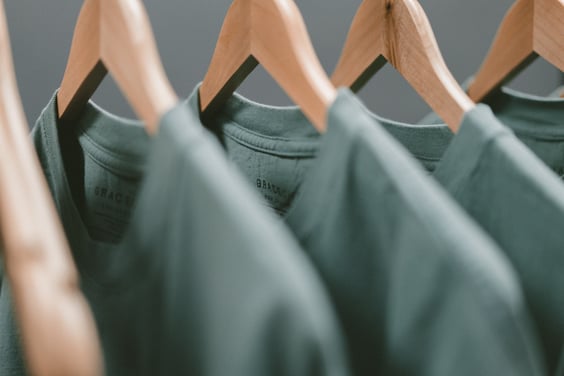 During a recent webinar, Nosto provided the following statistics:
75% of consumers prefer brands to personalize messaging, offers, and experiences
94% of companies see personalization as critical to current and future success
Contents
3D Configurator for a Polo Shirt
---
3D Configurator for a Polo Shirt
The polo shirt is a versatile staple of the American wardrobe. And there are no signs it'll disappear any time soon: according to MarketWatch, the polo t-shirt market is a five billion dollar industry that's projected to grow another $700 million by 2024.
Demo Our 3D Configurator for a Polo Shirt
When it comes to shopping for polo shirts online, chances are customers already know the look and fit that suits them best – they're just on the hunt for a new print or color to add to their collection. Still, it's hard to beat the familiarity of browsing for polos in-store.
Thanks to Threekit's 3D configurator, looking at 3D-rendered models of polo t-shirts is like a trip to Ralph Lauren without leaving your living room. Customers can use this tool to feel confident about choosing their favorite style before they buy with the convenience of shopping from home.
Decrease Returns with a Trustworthy Polo T-Shirt Color Selection
A polo shirt is the kind of inexpensive online purchase that has low stakes for shoppers: if they don't like it, they can easily return it. While that's little sweat for the consumer, that's bad news for retailers. Return rates of online merchandise can be as high as 40 percent, which means lost revenue and additional shipping costs.
A big component of a shopper's confidence in a shirt purchase is color. Threekit's 3D product configurator give shoppers a highly realistic preview of every color offering available for a polo t-shirt. For instance, a 3D model can show a Lacoste polo in red, green, blue, purple, or black.
Improved image accuracy means shoppers will be a lot less likely to return their shirts: the real thing looks exactly like what they saw online.
3D Renderings Showcase the Details Polo T-Shirt Shoppers Care About
Fabric, buttons, collar shape, logo size – these are the elements that pull together a great polo shirt.
A 3D model can capture all of these details. Shoppers can interact with a 360-degree model to get a close-up view of these features as they'll appear on the shirt. It's hard to extrapolate from just one cropped static photo how a collar will look. But this tool gives customers a full, spinnable view of the shirt, as if they were getting a closer look at a shirt in a store.
Plus, rotating images have conversion rates as much as 30 to 40 percent higher than products that don't have them.
Ready to bring the magic of 3D demos to your polo t-shirt operation? Get in touch with Threekit today!
---
3D Configurator for a T-Shirt
The beauty of shopping for t-shirts online is that because the style is so standard, shoppers can focus on finding the unique designs they like. Better yet, they can customize their own tees to bring to life the exact shirt they had in mind.
Still, customers want a sense of what their t-shirt will look like in real life before they make a purchase.
Demo Our 3D Configurator for a T-shirt
Interactive 3D Models Boost T-Shirt Buyer Confidence
With Threekit's 3D product configurator, shoppers can browse t-shirts online in the same way they'd thumb through a rack of tees in-store: they can look at every style from any angle. 3D models allow customers to virtually interact with different t-shirt designs before they choose their favorite.
An interactive 360 viewer lets a shopper rotate an t-shirt in any direction – which makes it easy to check out a design on both the front and back of a shirt. Shoppers can also use the tool to zoom in on the little details that make a graphic tee design unique.
Other e-commerce technologies can't compete with the appeal of 3D models: 3D imagery market research found that 82 percent of visitors to a product page activate the 3D view, and 95 percent of respondents prefer an interactive 3D representation to video playback.
The trustworthiness of 3D-rendered product visualization boosts boost buyer confidence. The same market research study found that conversion rates increased by almost 40 percent for products in categories that had been 3D digitized.
A 3D Product Configurator Brings Custom T-Shirt Designs to Life
Custom t-shirt purchases are on the rise: the market is expected to grow to $10 billion by 2025. Digital printing technology makes it easy to print any artwork or graphic file onto a garment, meaning customers can pick from endless styles to make their own design. But first, they'll want to visualize the final product of that drawing they want on put on a t-shirt, for instance.
Threekit's interactive 3D product configurator gives shoppers the chance to view high-quality renderings of their custom t-shirt designs in real time. CAD files or static images simply aren't as life-like.
Interactive 360-degree experiences work best when an item is highly customizable or personalizable. T-shirts are exactly that. When shoppers have the confidence that the piece they're creating looks exactly the way they want it, they're a lot more likely to make a purchase.
---
Threekit is product visualization software that creates photorealistic images, interactive 3D and augmented reality experiences that help businesses sell more. To learn more, please schedule some time with one of our teammates.
Article Categories: 3D Demo, 3D Configurator