Getting the Most Out of 3D and Augmented Reality for eCommerce
This post is part of our Threekit Webinar Series, a blog series where we recount the most pertinent takeaways from the Threekit insiders and guest experts who are thought leaders in the 3D and augmented reality space.
---
As the digital evolution continues, the way we market our businesses goes along with it. The need to leverage the latest online eCommerce technology is critical for staying relevant.
Recently, three industry leaders from Threekit gathered for a virtual chat about how businesses like yours can transform their marketing with 3D visuals and augmented reality for eCommerce. Here's what they discussed.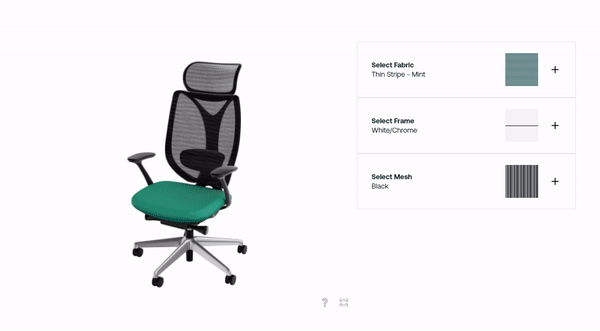 The Product Experience Gap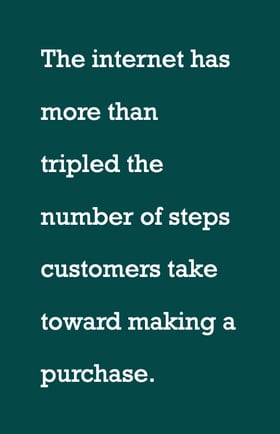 There will always be a gap between the traditional brick and mortar shopping experience and digital marketing. But that gap is closing at a breakneck pace.
Consumers have endless possibilities at their fingertips. Retailers do need to drive in store traffic but there are more opportunities than ever to connect online as well. In the traditional in store experience, customers pay that company money because they're able to see, hold, and touch the products. That's what convinces them to buy. Today, visual experiences online are enabling customers to get up-close looks at products as well, and even provide them with more information. In fact, the internet has more than tripled the number of steps customers take toward making a purchase, which include research, online ads, and social currency for brands. That's why it's more important than ever for businesses in every category to differentiate themselves online.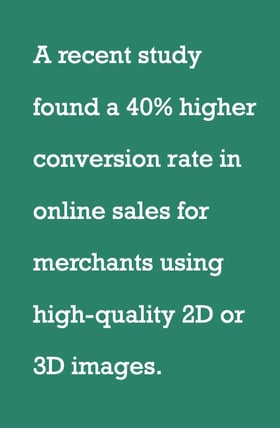 Buyers Respond to 3D
It also proved that there was an 80% reduction in returns when using immersive 3D technology that bolsters buyer confidence. And, that same study noted 20% higher order values when companies configured upsell options within the visual experience.Companies leveraging the Threekit visual platform are seeing massive gains in revenue and overall success, and there's evidence to prove it. In fact, a recent study found a 40% higher conversion rate in online sales for merchants using high-quality 2D or 3D images.
Use Case: Xenith Helmets
Threekit helped an athletic helmet manufacturer, Xenith Helmets, introduce true-to-life virtual photography along with an immersive customization experience to their online experience. Beyond the hundreds of permutations and extreme close-ups users could explore, the virtual images even included life-like reflections to resemble an in-person experience as closely as possible.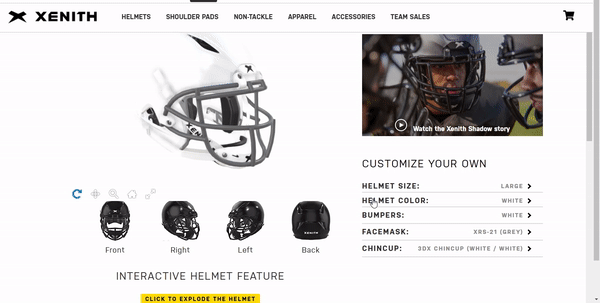 Use Case: Crate & Barrel
In another category, interior décor, Threekit helped Crate & Barrel create equally realistic experiences for online shoppers. Naturally, every piece of furniture needs to be just right to fit in with a customer's home décor. The Threekit visual experience included color swatches users could select in real-time to see exactly what each piece of furniture will look like in every available shade. We were able to produce more than two million permutations from the Crate & Barrel catalogue without ever having to do a single photoshoot. This not only saves on time and resources, but also boosts consumer confidence when exploring for that perfect sofa or end table.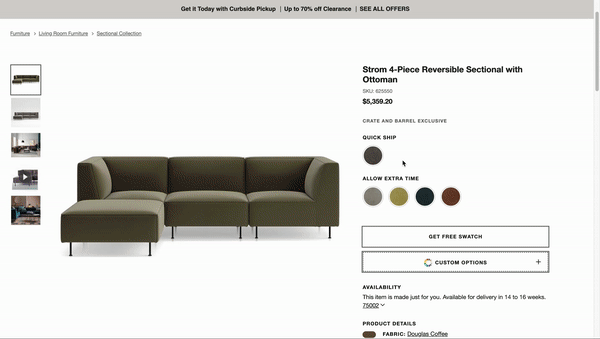 How to Prepare for 3D Configuration
At Threekit, we believe all businesses dealing in physical products of every variety will see major benefits from 3D and AR. But each business has its own needs and applications. Here are a few steps to help you prepare to make the most of 3D and AR.
1. Create a 3D Vision
Understanding your perspective is the first step toward envisioning the right use of 3D for your business. A close second is to understand your user, or customer, and what they'll find most satisfying in a 3D visual experience.
2. Motivate Your Resources
It's critical that you involve your team early to ensure every aspect of the process is planned for the journey ahead. It's also incredibly helpful to empower decision makers within your organization. Much like online customers, employees love to feel empowered.
Watch the whole webinar now.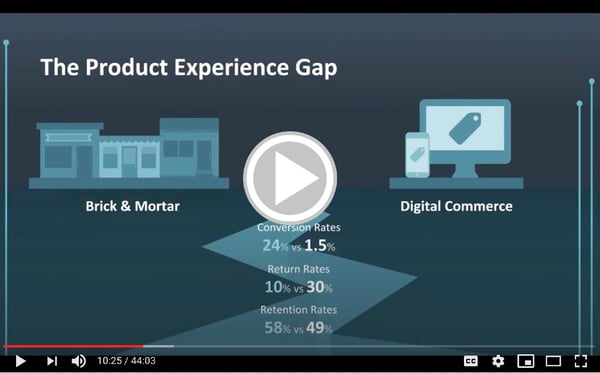 3. Support the Creative Process
Engage your various internal teams regularly. Implementing a 3D and AR marketing plan is exciting and everyone will want to be involved. Tap into that energy. Also, find as much hard data as possible through focus groups. The only people who truly know how a user will react are the users themselves.
4. Prepare Your Assets
Most likely, you have a wide breadth of product offerings to cover. Make sure you're prepared for every possible permutation by planning and analyzing all of your potential configuration options.
5. Plan for the Future
Working smart will pay off down the road. As the digital marketplace continues to evolve, you'll need to continually upgrade your 2D images, 3D images, AR experiences, and VR experiences. Automated rendering is the perfect tool to help you stay ahead of the curve.
As consumer expectations continue to grow, it's more important than ever that businesses provide the highest quality visual experiences possible. The team at Threekit is already preparing for what's to come and can help your marketing team do the same with our industry-leading 3D and AR capabilities. If you're ready to make that happen, get in touch with us today for a consultation or demo.