10 Brands Using 3D Product Visualization Effectively
3D product visualization is an art–and not just in terms of the product design itself! Yes, the visuals are stunning in their own right, but what's equally impressive is the creative ways in which many eCommerce retailers are using this technology to sell their products.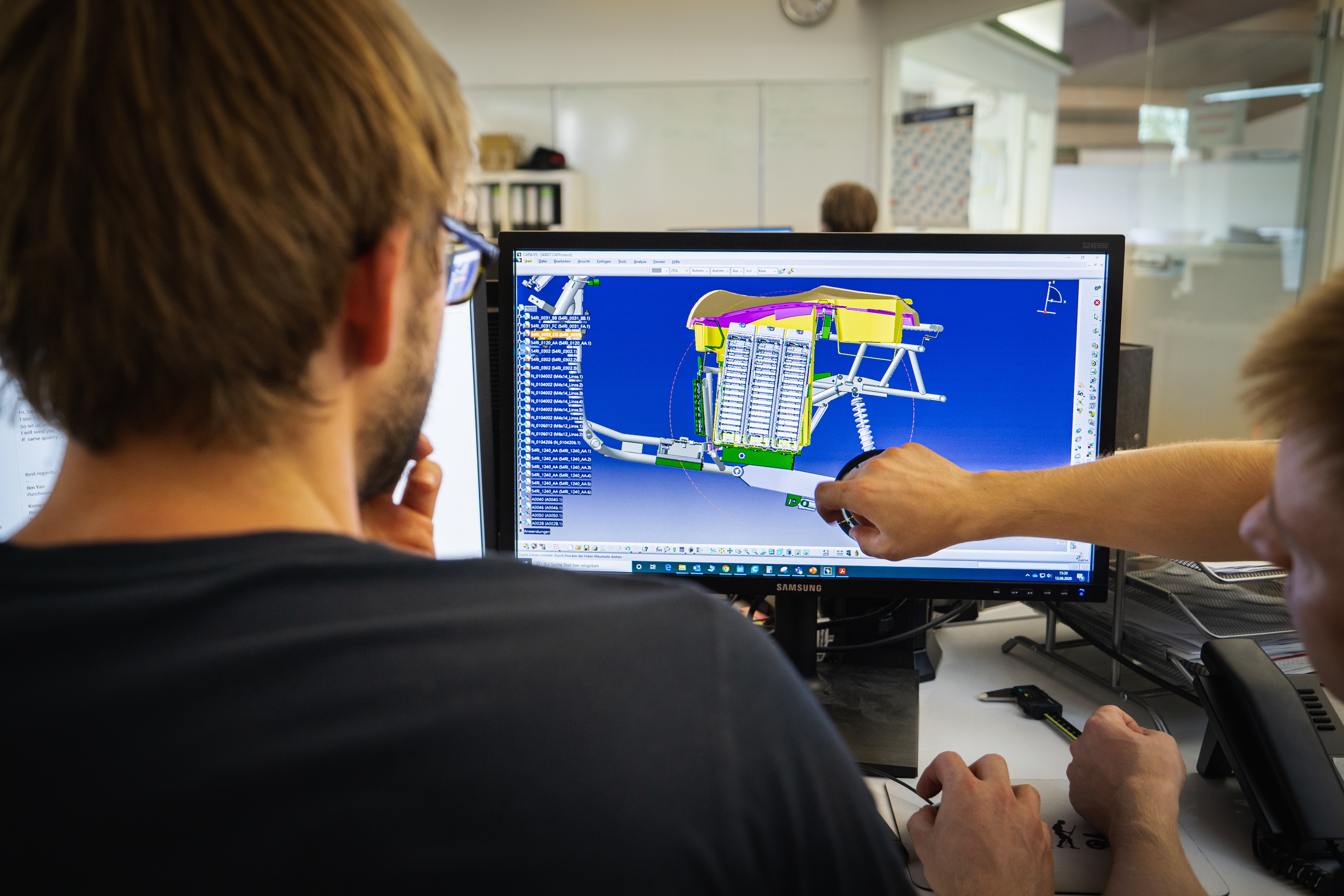 From real-time product customization to augmented reality, 3D product visualizers are helping online sellers to boost conversions, reduce returns, scale their product offerings, and improve customer experience.
If you're thinking of adding a visual product configurator to your arsenal of online marketing tools—or if you're already using it and want to expand your efforts—here's some inspiration. The following ten brands are Threekit clients that are using 3D product visualization services to their full potential.
#1: Crate & Barrel
Crate & Barrel sells stylish, timeless home furnishings across nine countries, and they've endeavored to create a seamless experience for both online and brick-and-mortar shoppers. To this end, Crate & Barrel uses furniture visualization technology to sell their customizable pieces, such as this sofa, which comes in a variety of colors and fabrics.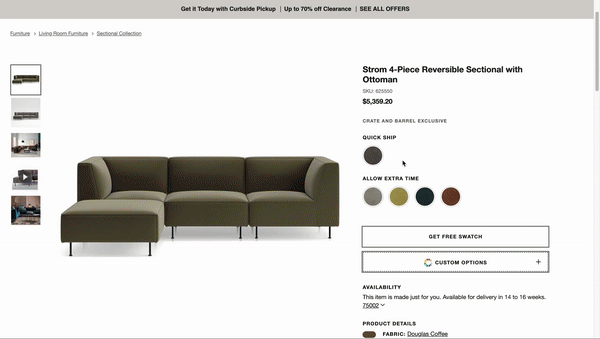 #2: Roam Luggage
Roam Luggage encourages people to express themselves with luggage that features bold, colorful, striking designs. And what better way to do that than by enabling customization with a 3D product visualizer. Roam's tool lets shoppers customize the front shell, back shell, and trim of any suitcase sold on the website. Customers can also use the technology to pop the virtual suitcase open and look inside.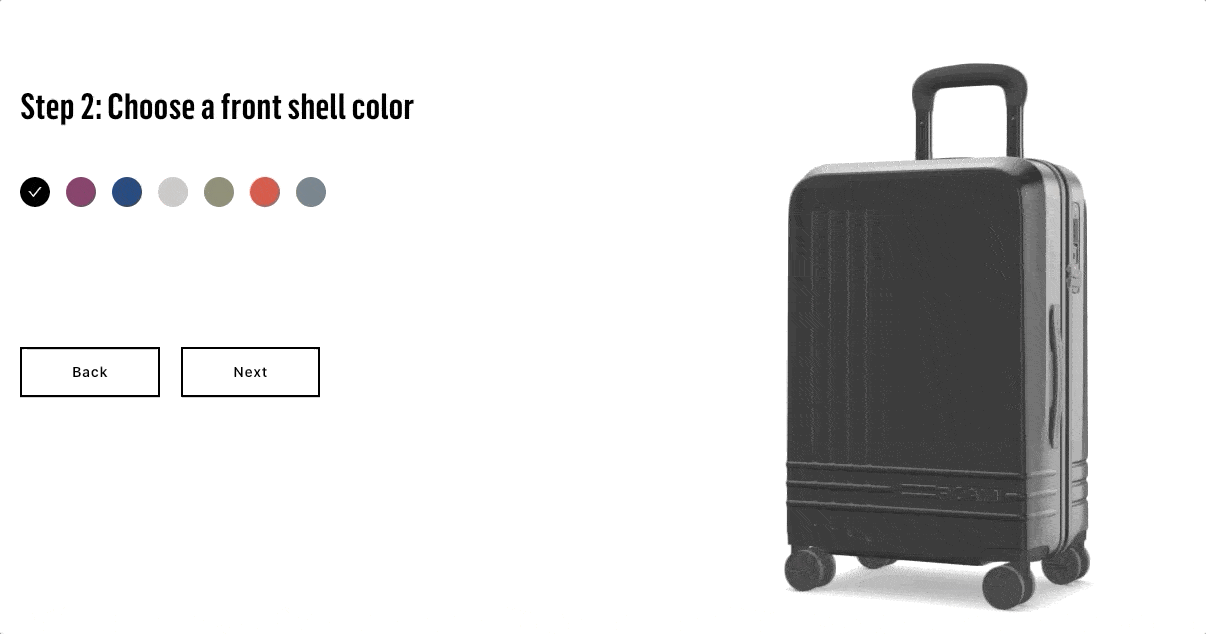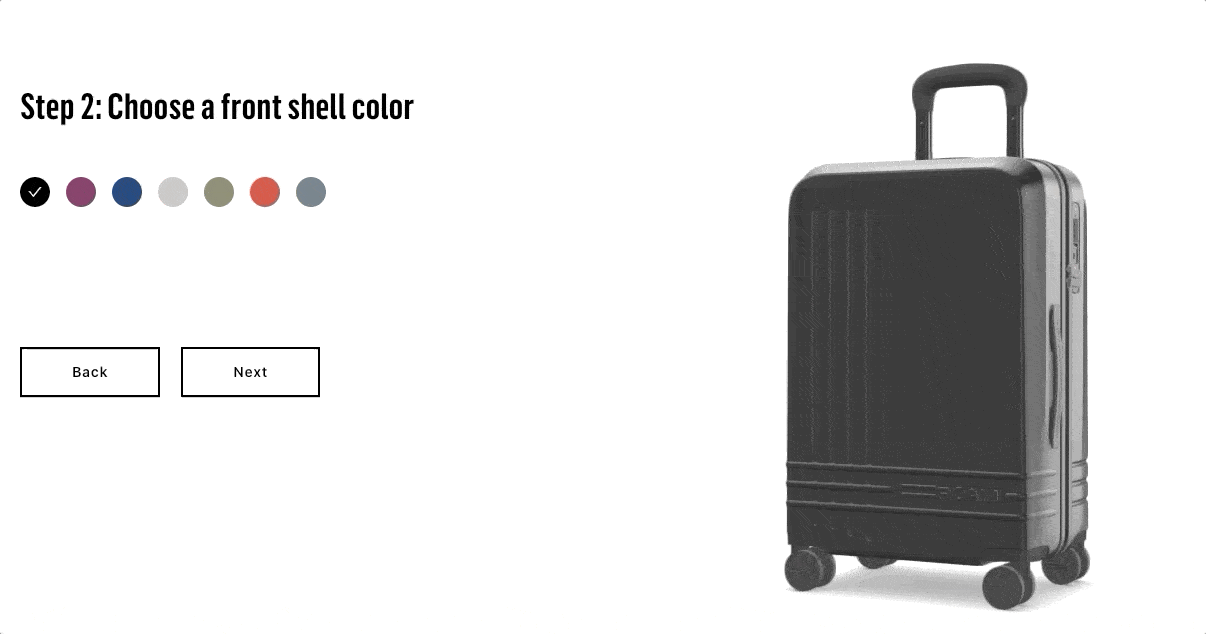 #3: BostonTech
Taking ergonomic office design a step further, Boston Tech turned to Threekit to create a world-class 3D visualization tool that delivered results. Today, Boston Tech uses a 3D product visualizer to sell 80% of their products. This gives retail consumers and corporate buyers the peace of mind that comes from knowing what they're getting before they buy.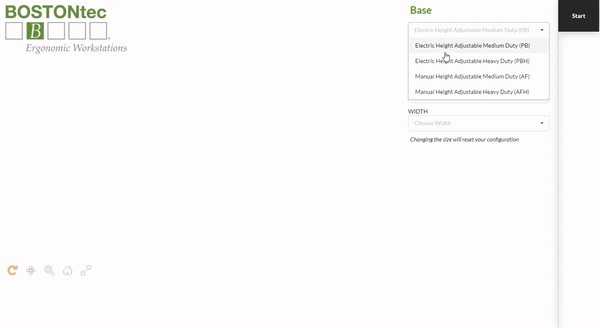 Want to learn more about Boston Tech's use of 3D product visualization? Read our case study.
#4: Lovesac
When you brand yourself "the world's most adaptable couch," it only makes sense to feature 3D product visualizer on your website, demonstrating the many possible configurations of your products. Lovesac sells what it calls "sactionals," which are indoor and outdoor sectional furniture pieces that combine flexibility, comfort, and design. Shoppers can use Lovesac's visualizer to assemble inserts, view product dimensions, and customize colors, fabrics, and more.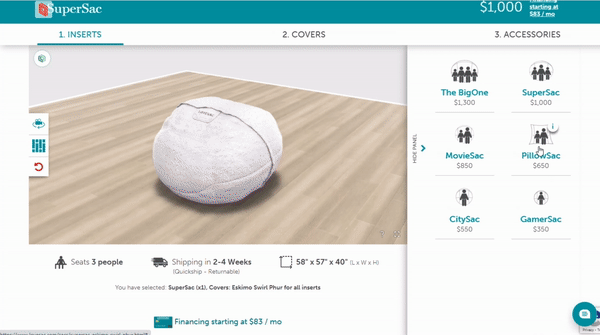 #5: J. Press
J. Press sells custom tailored shirts. What makes them stand out in a crowded market is the degree to which their customers can customize those shirts. Who knew there was such a mind boggling array of choices when it comes to shirt customization? With so many choices, the final product would be impossible for customers to imagine without the help of a 3D product visualizer.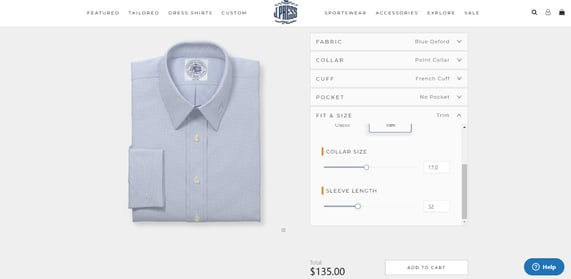 #6: Modarri
Modarri sells customizable, handheld toy cars. Started by toy industry veterans, the team set out to combat the throw-away culture surrounding so many modern toys, where kids play with toys once and discard them. Instead, the founders set out to design high-quality toy cars that kids and parents can customize online before purchasing. This made Modarri an excellent candidate for 3D product visualization.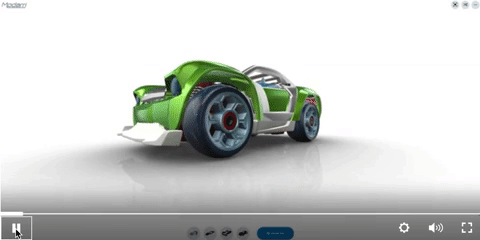 Want to learn more about Threekit's work with Modarri? Read the case study.
#7: Kashiyama
Tailored suits are a big investment, and people want to know what they're getting before they purchase one. Kashiyama took suit shopping to the next level by allowing their customers to visualize the style and fabric of their suit before placing the order. Then, the customer sets up an appointment to be measured in person, allowing Kashiyama to craft the perfect suit.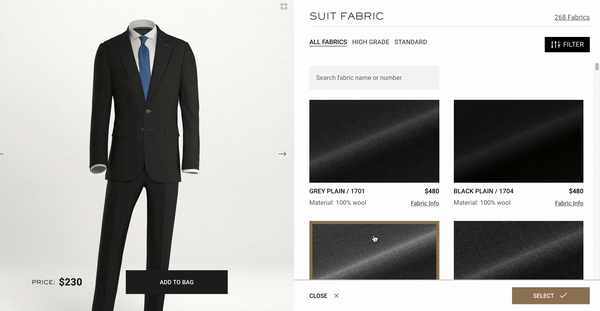 It's an excellent example of how companies that still require some in-person interactions can benefit from product visualization. After all, there's simply no way a brick-and-mortar shopper could fully appreciate their many different customization options without a 3D product visualizer.
#8: Hangout Lighting
Hangout Lighting sells customizable home lighting features that add personality to your home, and they have so many different options that it would be impossible to take photographs of each product configuration.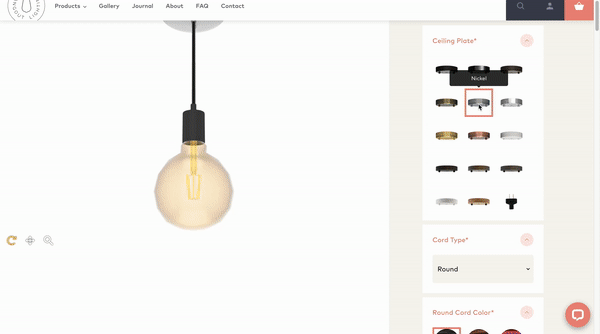 Why? Well, we did the math for the product you see below, and given all the variables, they would need photographs of over 90,000 different lighting fixtures to display every configuration.
Instead, product rendering services came to the rescue: Hangout had Threekit design 3D photorealistic renderings for each of the component parts. That way, shoppers could see what their customized lighting would look like with a few simple clicks.
#9: Herman Miller
Just like with lighting fixtures, office chairs come in a wide range of options, and it would be impossible to present photographs of every conceivable configuration. Instead, Herman Miller uses a 3D product visualizer, empowering shoppers to customize each chair in a virtual showroom.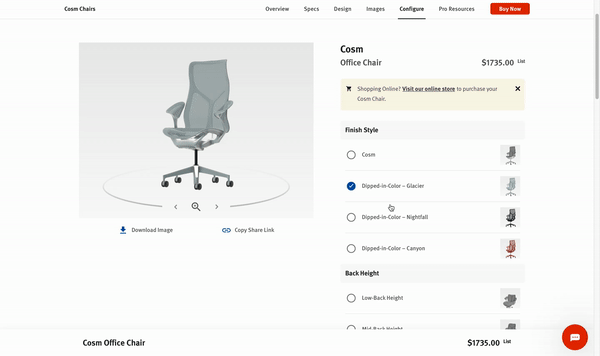 This is helpful not only in Business-to-Consumer (B2C) sales, but in Business-to-Business (B2B) sales as well. Salespeople use the 3D product visualizer as a sales enablement tool, and corporate buyers love it because they want to know what they're ordering before they order thousands of chairs.
#10: Coalesse
Coalesse sells chic, modern office furniture, and they turned to Threekit to build a 3D product visualizer for a specific product—a unique chair called the LessThanFive. A simple but high-quality product, Coalesse partnered with Steelcase to offer a highly customizable product, giving customers the opportunity to choose from a wide range of colors, patterns, and more.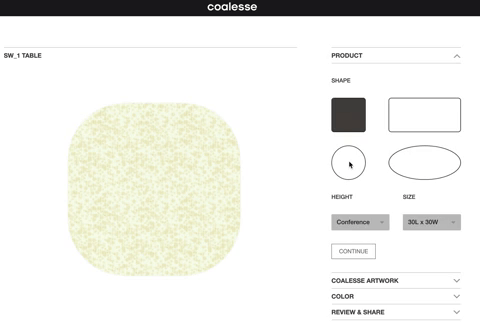 Want to learn more about Coalesse's LessThanFive chair visualizer? View our case study.
What can a 3D product visualizer do for your business?
Do you work for an eCommerce company that sells highly customizable physical products? Would your customers see value in augmented reality, which would help them visualize products in their real-world environment? If you answered yes to either of those questions, a 3D product visualizer could help you showcase your products in a way the increases customer engagement and boosts conversions.
You can learn all about this cutting-edge technology by exploring Threekit's Ultimate Guide to 3D Product Configurators.
Then, when you're ready to see a 3D product visualizer in action, schedule a demo and see what Threekit can do for you.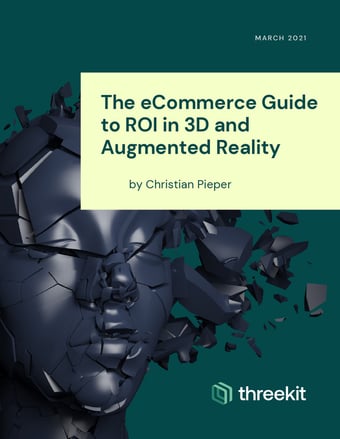 Download our eBook
If you're making the business case for 3D and augmented reality product visuals, this is the guide you need. Get real data on how this innovative technology pays off.