How visual commerce delivers big results for furniture companies
Introduction
The future of furniture
configuration, today
When it comes to business innovation, change is inevitable and essential for growth.While the furniture industry fared well during the pandemic, the landscape is starting to shift. With lingering supply chain woes, inflationary pressure, and evolving consumer sentiment, the time to pivot is now.
These next few years will be difficult for many reasons, but with great challenges come great opportunities. With our 3D Configurator, you can make big moves right now, securing your position as an industry leader while leaving your competition behind.
We're talking to furniture companies about their product visualization challenges every single day, and we hear the same three things on repeat. Read on to see if any of them resonate with you and how you can engage visual commerce to get ahead and stay there.
of shoppers buying a desk will make
an online purchase
expected growth in customers purchasing furnishing and appliances online even after the pandemic
of customers looking at furniture online are ready to buy
Section 1
If you can't show it, you can't sell it
Traditional configuration processes rely on standard photography and renders, which can be problematic and limited, draining more time and money than necessary. Renders are often presented in a fixed UI, requiring tens of thousands of lines of code to position on an eCommerce site. For many furniture companies, depending on a broken, outdated system of manual steps is simply not an option.
Lovesac boosted attachment rates and upsells by 15% becausecustomers could view similar and complementary products together in real time, seeing for themselves how certain products fit together.
Our 3D Configurator replaces code with rules to plug in different components or add features. Tufted buttons on an ottoman? No problem. Wrong color end piece? Change it in seconds. Customers can reuse components whenever they'd like, for as long as they'd like. This makes design fluid and fast , truncating feedback loops and approval time to get more furniture customized and delivered..
Section 2
The industry's dirty secret: render shops eat up budgets and don't scale
Most rendering shops can provide 3D visualization and create every variation of sectional pieces right up until you want to add to the collection or make changes. Then, it's back to the beginning to face a mountain of revision work. Since most rendering work is done manually, the revision process commands a steep price tag and tons of time, not to mention the potential for human error. While all this is happening, customers wait in the wings to review the next round when they could be off and selling.
With A 3D Configuration Platform
Scability
Edits can be made at scale quickly, without the hassle of manual setups.
Flexibility
Change lighting, color or angles with the built-in flexibility of choice.
Time
Customers can quickly make changes without losing time or resources in the process.
Because visual commerce solutions are software-based , you can automatically apply an update -- change a side arm or add a pattern to a base color -- in seconds. A software platform like Threekit can deliver the flexibility and scalability that a render service cannot. Without that streamlined efficiency, the rendering process is quickly becoming the second choice for furniture makers.
This tiresome, costly process can run approximately
$100k+
each time. When they adopt a visual commerce solution, all of their office chair image configurations can be done digitally.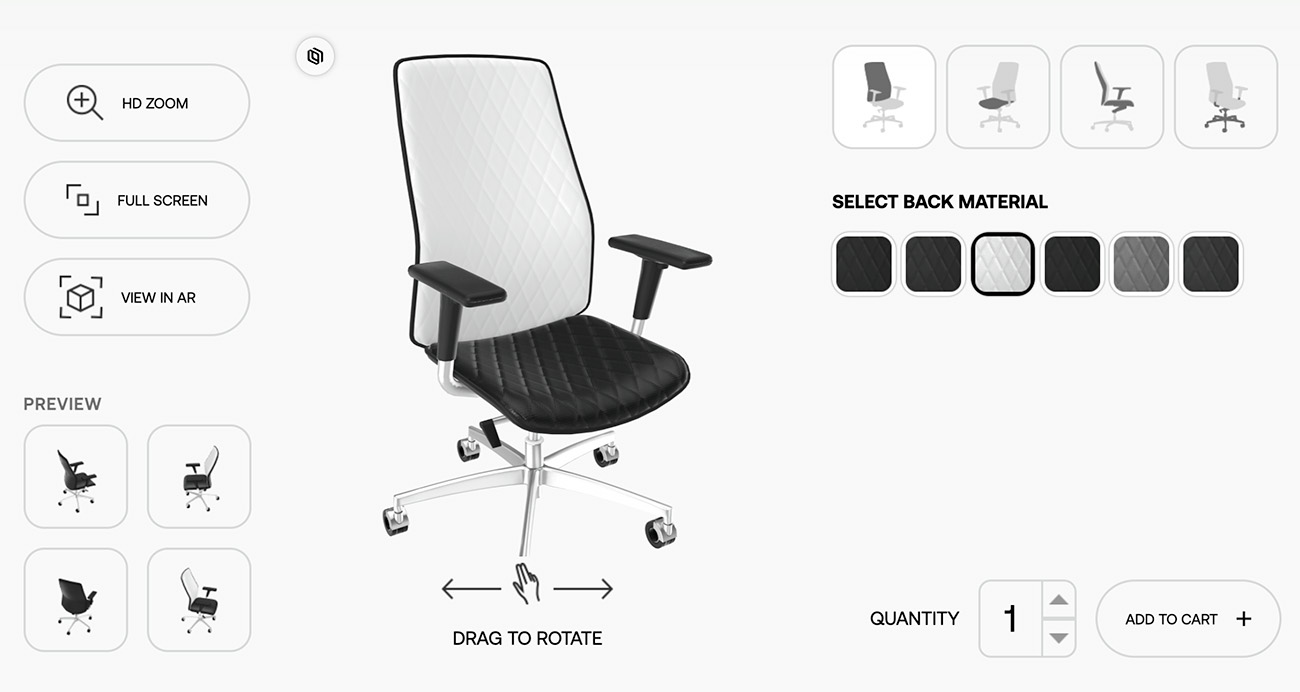 Section 3
Traditional configuration solves for the front end, not the back
While seamless integration is often secondary to amazing product visuals, it's actually the more important component to effectively selling configurable furniture. And if you're considering 3D configuration, one of the first questions you should ask is "Do you integrate with my eCommerce platform? What about my PIM, ERP or DAM?"
You'll be surprised to find that most 3D configurator platforms do not integrate into an existing tech stack....at least not easily.
This means that sales are not automatically enabled, as there's no easy way to plug in assets for immediate use. This not only adds to the delivery time, it can often frustrate a busy IT department. And since traditional rendering can't connect the two main systems of ERP and eCommerce, there's a wide gap between how you sell and how you deliver. Creating that connected back-end system requires a robust API for tech stack integration, a manageable dashboard and a responsive UI, plus a certified, secure platform that performs quickly. Building this from the bottom up is cost prohibitive, especially for a new furniture business. Instead, Threekit's 3D Configurator delivers everything you need to showcase every product variation while keeping costs down.
Our backend system configures all the variables, directly connecting to a manufacturer who can then start creating the furniture. Everything is handled from the configuration platform, including communications, fulfillment, and delivery.
Without the advanced technology and built-in benefits of our 3D Configurator platform, customers must endure frequent pain points to deliver the same customized piece.
Visual commerce office an engaging, totally satisfying customer experience, which is arguably the most important sales tool for every company.
Section 4
Three reasons to choose our 3D Configurator
IT DRIVES CUSTOMER ENGAGEMENT
3D configuration allows for rotations, spins and views from every angle, so that every facet can be examined and adjusted as needed. Customers can try new concepts, add features and get feedback without having to make a new test product or request a one-off render. Edits are fluid, quick and made to scale without any physical re-shoots or retouching.
Before and after 3D configuration
Designed in CAD, then a sample is manufactured. A clunky, time- consuming process of trial and error that requires specialists to manage.
Designed using a database of material, samples are hyper-realistic, virtual photography. Choose colors, modify existing designs using rules and logic that give way to endless creative possibilities.
Inefficient rounds of feedback: Remaking the product for each adjustment, again and again, is a slog against time and resources.
Without a centralized place to track approvals, the wrong products get made or never make it past the configuration stage due to flawed logic.
Centralized and tracked so everyone can review feedback, updates and changes.
Hard to assess, often uses complicated logic and rules and costly CPQ that requires integration.
Leveraging 20+ years of CPQ experience, our pricing is built into our platform and can handle basic to advanced configurations.
Outsourced at $50 to $100 per finished photo, it can take months to complete.
Streamlined for efficiency, Threekit is the only platform that offers 3D, AR, and virtual photography from the same base file.
Upload to DAM and PIM (Digital Asset Manager and Product Information Manager)
Often difficult to organize and maintain as the volume of assets grow exponentially.
Assets are automatically tagged for faster, easier organization.
Downloading assets only to upload the same asset to an eCommerce platform is a slow, remarkably inefficient process.
Approved assets are automatically uploaded to your eCommerce platform straight from our platform.
Asking potential customers to browse photos, fill in a few form fields just to order a render or swatch isn't a compelling or exciting invitation to start configurations.
Configuring the actual product based on rules and logic, then seeing it built to exact specifications, showcasing all angles in 3D, with high-quality VP images in an AR setting, makes for the most compelling sales experience.
The limits of SKU's are baked into eCommerce platforms and other IT, making it impossible to upload multiple variants without manual intervention.
Threekit dynamically creates SKUs so customers can create millions – even billions – of potential SKUs that get produced only when purchased.
Translating orders from the platform to someone on the shop floor, to change a color or pattern for instance, has great potential for miscommunication and errors.
Custom orders are translated and delivered right from our platform, so when product information hits the shop floor, it's comprehensive and as accurate as possible.
Section 6
Make the change to visual commerce
We get it. Change is never easy and it doesn't happen overnight, but it's key to the digital transformations that make furniture companies nimble and more responsive. Your customer experience is more than a series of clicks in a sales funnel, it's what separates you from your closest competitors. 3D configuration is the experience customers prefer, so why not give it to them? With Threekit's 3D Configurator you'll deliver customer satisfaction and watch your business grow at the same time.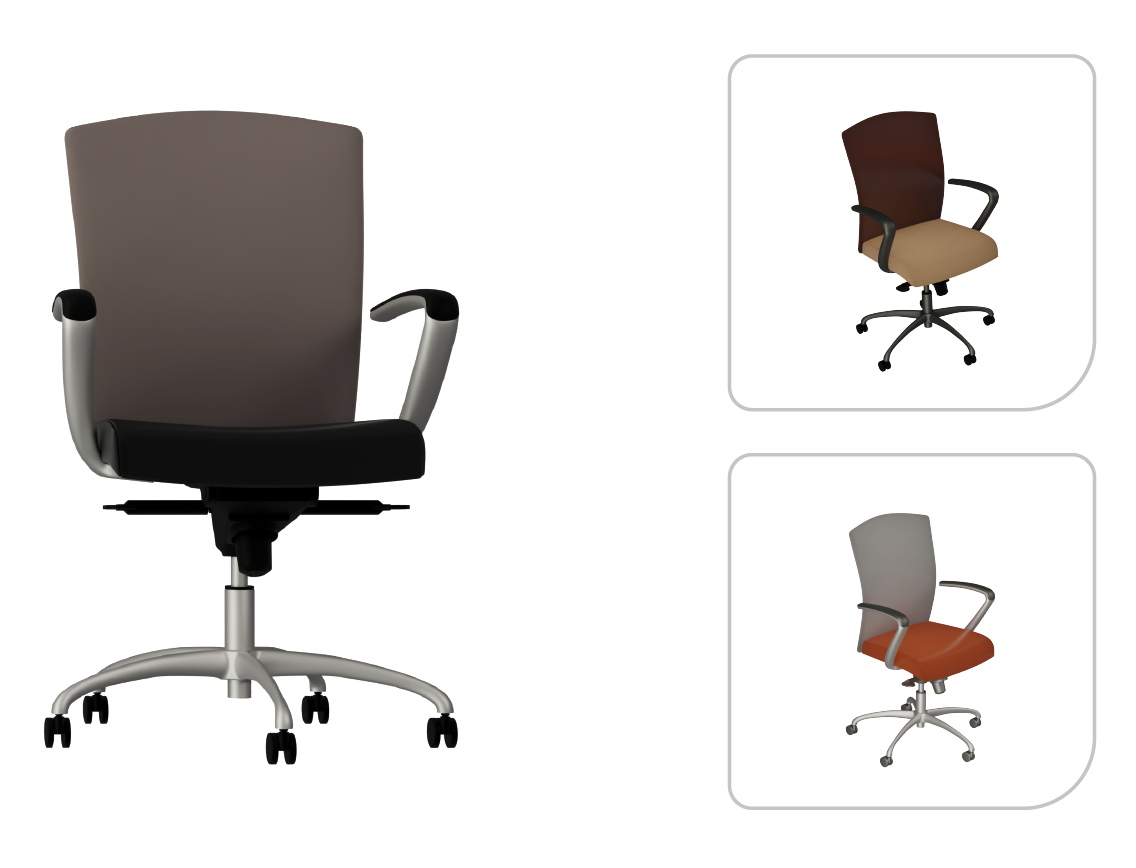 Threekit provides an engaging, totally satisfying customer experience, which is arguably the most important sales tool for every company.
THREEKIT'S VISUAL COMMERCE PLATFORM
• Integrates instantly, plugging right into the systems you need to sell
• Leverages rules and logic (instead of code) for more flexibility
• Enables fast, dynamic SKU management
• Invites customers to the table with engaging, intuitive UX designed for configuration