Organize and visualize your entire spare parts catalog so your users can identify replacement parts with confidence

Lower costs associated with returns, photography and manual renders for highly configurable products
Deliver visual product configuration to drive self-service sales inside your sales portal
Threekit for after market parts
Reduce mean time to repair and improve aftermarket parts sale
Frequently Asked Questions
What is a visual product configurator for Salesforce?
A visual product configurator is an easy-to-use online tool that allows buyers to customize and visualize products in real time. By using this tool, shoppers can make purchases within a short period and with confidence, as they already know what to expect and have more personal stakes in the product.
Essentially, a visual configurator takes the guesswork out of shopping for any customizable products, making it easier to close deals. If you own an eCommerce business, it will supplement your efforts of offering the best online shopping experience.
For example, if you sell furniture, you can use it to show buyers how the products look when different features are swapped or added. You can ensure they have a clear picture of what they are looking for in just a few clicks.
If you are looking to offer the best shopping experience today, sell effortlessly, increase your revenue, and attract more customers, then a visual configurator is one of the tools you should invest in.


What are the benefits of using a product configurator on Salesforce?
There are many reasons why a product configurator is good for your eCommerce business. Here are four benefits you can observe by using a product configurator today:
1. Generate error-free quotes.
Before the advent of CPQ, it was not easy for sales teams to produce error-free quotes. During the back-and-forth discussions with the customer, most missed crucial details and errors crept in that frustrated the customers. For example, a sales team could forget to update the quote after discussing it with the buyer.
If you're still doing it the old-school way, such errors can hurt your brand more than you think. You also risk going out of business if your buyers become frustrated with their experience. A product configurator ensures the sales workflow is maximally streamlined by automating the process and eliminating such errors.
2. Optimize processes between teams.
For years, sales and engineering have operated as two distinct teams working under the same roof. Manufacturers are redefining how these teams work by introducing visual configurators into their CPQ system and integrating them with ERP, CAD, and CRM. That is making it possible for teams under the same roof to collaborate and make decisions at a much faster rate.
3. Increase product control and visibility.
How to showcase products in the best way possible is one of the major challenges retailers and manufacturers face daily. From making adjustments to the initial designs and adding discounts to encouraging upselling and closing the deal faster, brands go through all kinds of headaches to make the product most attractive and shorten the sales cycle. A product configurator streamlines the process by allowing manufacturers and retailers to control how they showcase their products. Best of all? It allows them to increase the visibility of other products—for example, today, it is easier for sales teams to pick products from the salesforce products book and use them to create bundles of related products.
4. Close deals faster.
Visual product configurators are a win for both the customers and the sales team.
From the customer's side, the configurator makes it possible to close the deal faster by giving them the flexibility to construct products they prefer, even the complex ones, without the need to engage sales teams with questions or concerns. Armed with the pricing details and all the components they wish to see in the final product, they can proceed to close the deal efficiently.
When it comes to the sales teams, the configurator allows them to create product visualizations without involving the engineers. This significantly reduces the time customers had to wait to hear from sales teams and get quotes. Ultimately, this makes it possible to close the deal faster.
Why should I use Threekit's product configurator?
Threekit's visual product configurator empowers you build a better product experience for your customers today. It is designed for retailers and manufacturers to streamline sales by implementing a CPQ (Configure Price Quote) process.
Using this configurator, your buyers can customize products with interactive 3D augmented reality and virtual photography to create an eCommerce experience that drives conversion. The configurator allows them to interact with products they intend to buy in real time through tweaking their features, colors, configurations, and materials. With additional control over the process, they are more confident and willing to make a purchase.
Threekit's ability to show every single possible combination of a product makes it ideal for retailers that sell configurable and customizable products. It ensures you don't have to worry about expensive photography to provide your customers with the best, most visually engaging shopping experience. Furthermore, it takes away the tedious and time-consuming process of creating 3D designs for each product variation.
Stop for a second and think of the amount of time and resources you would need to show every possible combination of your products to different buyers. Doing that the old-school way would mean receiving product specifications from every potential buyer—and repeating the same cycle until the customer is happy. Threekit's solution eliminates the need to receive multiple product specifications from buyers, making your work easier and ensuring you offer the best buying experience possible. Bottom line: everybody wins.
How do I set up a product configurator on Salesforce?
STEP ONE
Import or Create Files
The whole process starts with files, and we'll work with what you have. You can import a 3D or CAD file. If you don't have those, we'll build a 3D file from representative photos and materials that you send to our team.
STEP TWO
Plug into the Platform
Once in-hand, we import your 3D files into the platform as models, materials, and assets. We then use the rules from your product catalog to create parameters for how a customer can configure the product on your Salesforce store.
STEP THREE
Go Live
We place the player on your Salesforce store with a built-in user interface.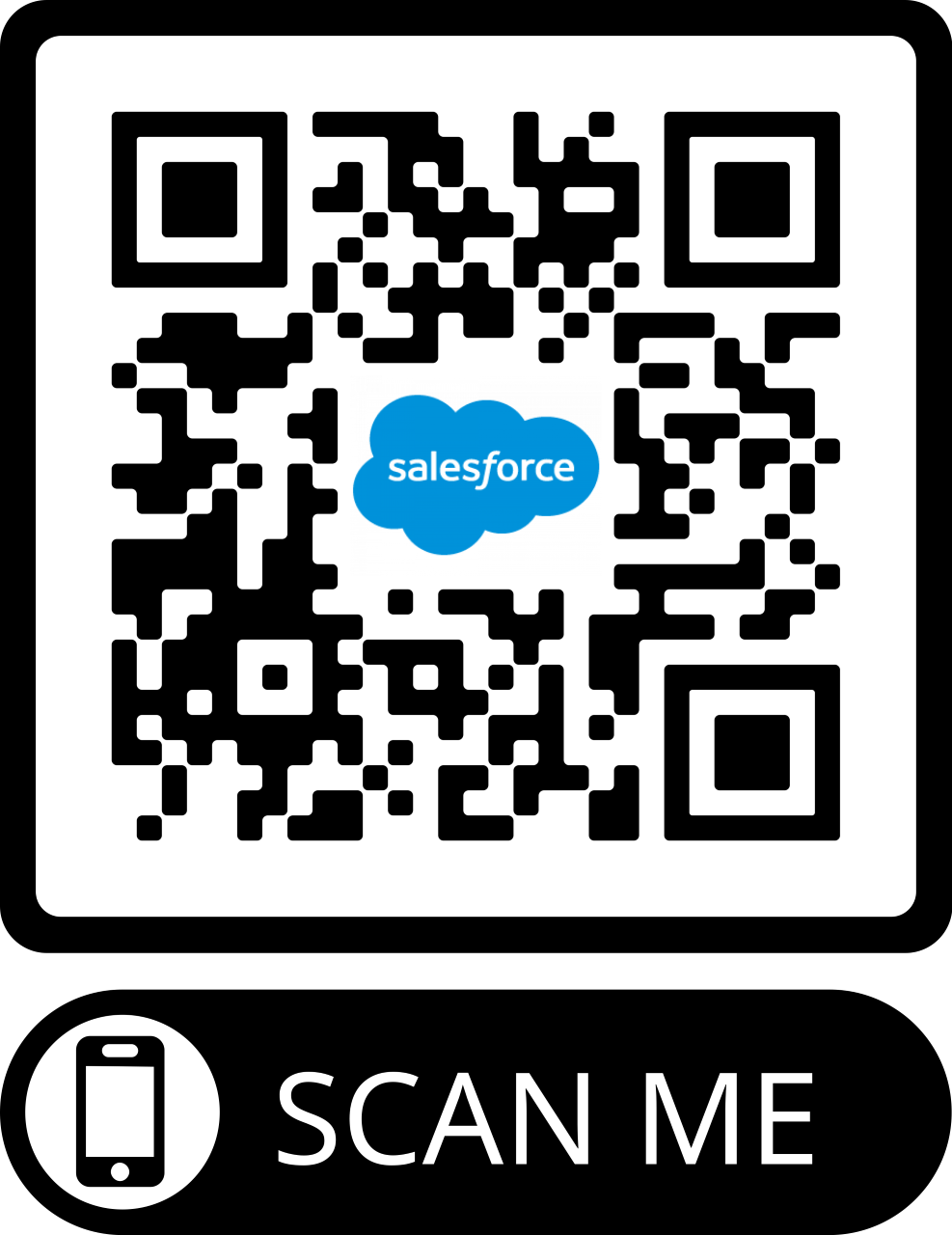 Experience the power of Threekit on Salesforce firsthand.
Scan this QR code with your phone camera and click the link
Try our demos
Want to understand all the features that make Threekit on Salesforce so powerful?
Take a look.
Works Across Clouds
Integrates seamlessly with Salesforce CPQ, Salesforce Commerce Cloud, Salesforce B2B Commerce Cloud, Salesforce Sales Cloud and Salesforce Service Cloud.
Automatic Order Processing
When a configuration is complete and the shopper presses buy, Threekit automatically generates the order with exact product specs.
3D Asset Management
Store your product data as individual models, materials and textures to enable wide-scale repurposing. Learn more
Manufacturing Outputs
Automatically generate bill-of-materials, assembly instructions, CAD files, cut patterns and more. Learn more