What can product customization do for you?
Experience the difference a product customizer makes.
Want to learn more about product customization?
Here are the answers to your frequently asked questions:
What is 3D product customization?
With 3D product customization, shoppers can choose different customization options to personalize the product. The consumer uses a product customizer to see a tailored product in augmented reality. The 3D product customizer allows shoppers to select and modify product customizations in real time, including add-on features. It also provides a price quote for the custom product.
What is product customizer software?
Product customization software is the backbone of a fun, interactive experience for shoppers. It creates a unique, one-of-a-kind product tailored to exact consumer preferences. Retailers can upload image files in PNG format to create and visualize products.

Since customer experience is key to driving eCommerce merchant and online retailer sales, product customization software boosts customer happiness.
What is the difference between a product customizer and a product configurator?
While both product configurators and customizers improve online shopping, there are a few important differences between them.
Product configurators help streamline operations for sales items that have to be built in very specific ways. Furniture shopping provides a great example of the need for product configuration: someone buying a couch for their house can choose among different fabrics, but also move around different types of chairs to find the best home layout. Check out Threekit's 3D product configurator examples. Product configurators are useful for business-to-business (B2B) needs, or for experienced shoppers who know a lot about your products.
Product customization, on the other hand, allows shoppers to tailor a product to their own specifications by choosing among different variants. The end result is a unique product reflecting the customer's exact preferences. Industries such as jewelry, clothing, and furniture are ideal for custom products.
While product configurators and customizers both boost sales, product customizers also improve customer satisfaction by providing a unique, personalized product created to the buyer's own specifications. Because the product is uniquely tailored, shoppers are willing to pay more–20%, on average–for a customized product.
Can I see some examples of online product customizers?
How does a product customizer affect pricing options?
Shoppers are more likely to be happy with a customized product, since there is a made-to-order aspect to the product customizer. Consumers can specify options in the product customizer and obtain a price quote in real time. Threekit's product customizer updates price information as the customer selects different preferences.
How do I customize products on a Shopify or WooCommerce store?
As eCommerce websites such as Shopify and WooCommerce become more popular, differentiating your products and shopping experience will only become more important. You can use a product customizer on your Shopify or WooCommerce store.
According to Shopify, online merchants using augmented reality and 3D viewing functionality observe a 250% increase in conversion rates. To add product customization to your Shopify store, you can add product options directly from the Shopify dashboard, but there's also an easier way with Threekit's Shopify app.
You can also use product customization on WooCommerce, another eCommerce merchant. Threekit works with WooCommerce sellers to add 3D visual product customization using augmented reality and virtual photography with their WooCommerce platform integration.
Case Study

"Threekit's 3D configurator allowed us to show our products beautifully but also hand over the reigns to our shoppers and let them make each 'Sactional' their own. It's an awesome customer experience!"
- Shawn Nelson, Lovesac CEO
Lovesac chose Threekit to power their product customizer experience for their highly-configurable (and comfy) furniture. Now it's helping drive their traffic and close online sales.
There's a reason they call them "custom-ers."
When e-shoppers can customize products, they buy more, pay more, and return less. An online product customizer powered by Threekit turns your eCommerce store into a virtual showroom experience.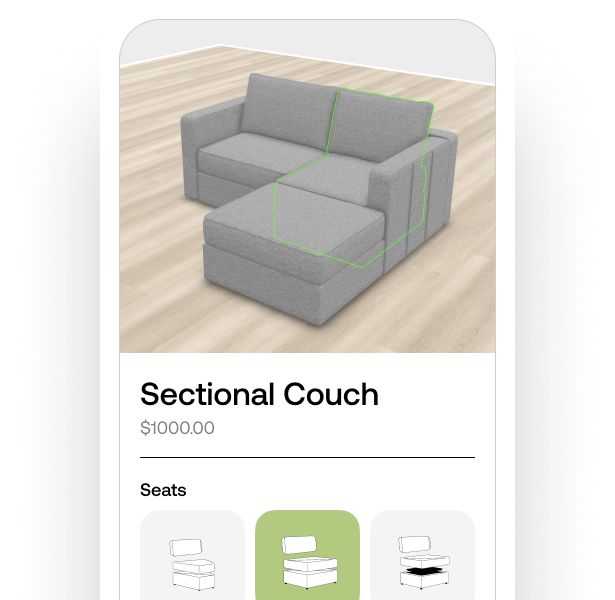 Product Customizer Solutions Built for You