Case Study

Background
J. Press was founded in 1902 by a Latvian immigrant who aspired to be a Rabbi but soon after he started working for a Tailor, discovered a passion - and opportunity - for making custom clothing.
Fast forward 100+ years and J. Press has a strong trade in the Northeast and to this day, makes all of their shirts in the US. But now, they also have a growing eCommerce business.
Opportunity knocks
With J. Press's loyal following visiting their stores in the Northeast, customers who moved farther afield wanted more convenience and started to interact with the brand online.
Custom shirts have been an area of strong sales for J. Press and customers began asking if they needed to come in the store to do this experience.
Isaac Metlitsky, Sr. Manager of Web and Digital, and Jon Callahan, Vice President of Stores, J. Press, realized that to satisfy customer demand and expand outside of the Northeast, an online shirt customizer was needed.
They also realized limitations for custom shirt making in-store: every single option might not be on hand and while you usually can touch the fabric, envisioning the end product of a custom shirt was difficult without putting all the pieces and fabrics together.
The Solution
J. Press partnered with Threekit to create an online shirt customizer that allowed customers to build their ideal shirt but also create a luxurious experience that upheld J. Press's immaculate brand.
The online shirt customizer allows customers to choose from 80 fabrics, 3 collar styles, 3 pocket options, 2 cuffs types, and 2 different cuts; creating close to 3,000 product combinations in seconds for their customers.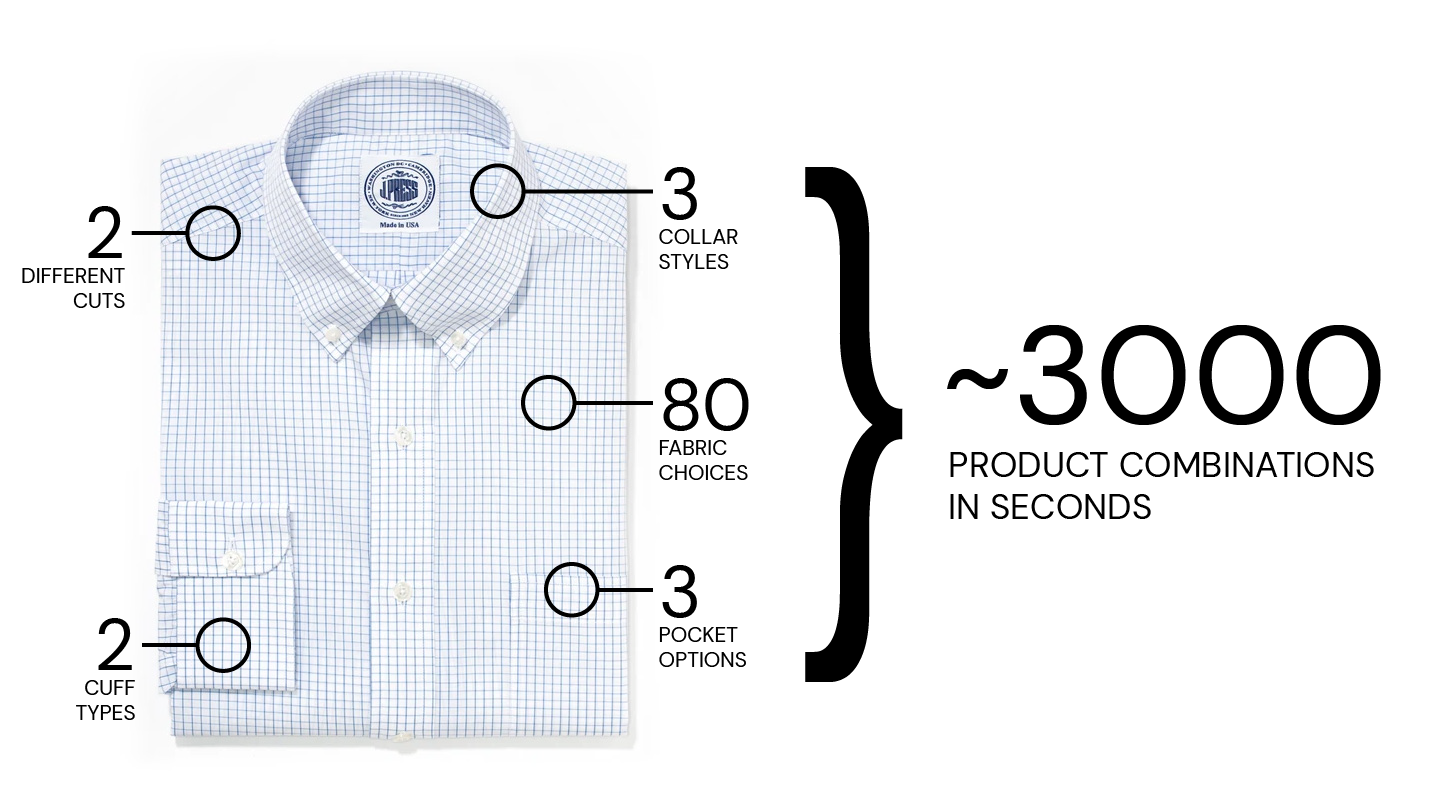 Outcome
"We're very impressed with what Threekit built and brought to the table- it's very concise and easy and has helped scale our eCommerce business."
The Threekit and J. Press custom shirt maker has made it simple for J. Press's customers to design and engage the brand online. They have sold 3X more online in the 6 months since the shirt configurator launch than the entire 18 months the program has been available in stores.
Surprisingly, it also is helping the brand to achieve its goal to expand internationally and to a younger audience as the unique experience helps the brand differentiate itself from other shirt makers.
"We've really been able to reach a whole different audience group that we haven't really accessed before. A customer that loves shopping online or is far from a store has been given the opportunity to experience our MTO shirt program through Threekit's customizer."
For more than 100 years, the J. Press team has built incredible shirts and with Threekit and an incredible eCommerce experience, the team is well positioned to continue for the next 100.